Silk, is a platform used by over 16,000 people to share their collections, opinions and data related to pretty much anything, ranging from their favourite coffee places to the latest statistics for their beloved sports teams.
Essentially, Silk allows you to quickly and easily organize data within a very clean, simple design,which helps focus on the content your Silk site is trying to present. Silk excels with the visualization of information by providing options for the use of crisply designed graphs and charts.
Now, Market Wired  – the company behind Silk, have announced the release of a new Silk service, build from the ground up for enterprising companies and organizations.
Silk For Teams
Within Market Wired's official release notes , the cloud-based publishing providers said the following regarding their new venture:
With the new Silk for Teams, Silk allows companies or organizations to build private, secure Silk sites backed by a rapid-response support tier for paid subscription customers. Proven use cases for Silk include project management, customer relationship management, historical data capture and analysis, human resources intranets, competitive analysis, and lightweight graphics generation for reports and websites.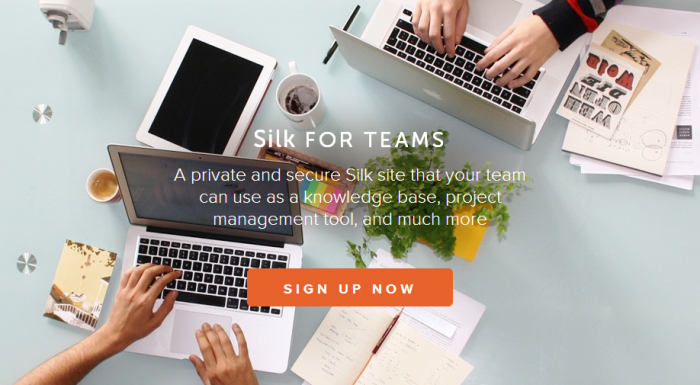 People who work together on different projects within one body or company need to share and update information in a way which is quick, easy and easy to share. Silk For Teams makes this happen, by allowing organizations to privately share in-house knowledge and data throughout their staff or user base via a Silk-based website.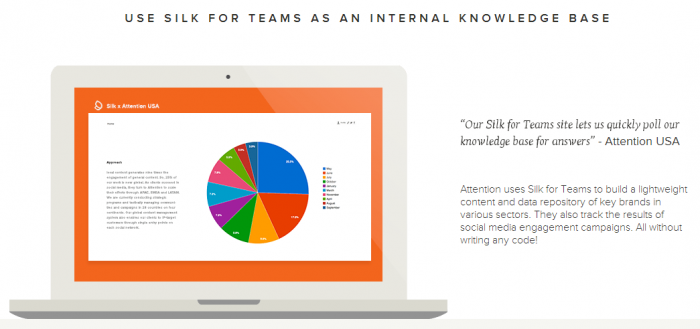 Using Silk For Teams, internal knowledge bases can be formed which help organizations detail project tasks, analyse online engagement, combine Word & Excel documents, and much more.
New Enterprise Assosciates Investment
As well as revealing the all new Silk For Teams service, the Silk project was given one more boost, thanks to a hefty $1.6 million investment made by New Enterprise Associates. Market Wired's official release notes had the following to say:
The extended financing round brings total funding to date of $3.7 million, and includes investments from NEA as well as Skype co-founder Niklas Zennstrom's venture fund Atomico. Silk's founding team previously launched Xopus, which was acquired in 2010 by publicly-traded SDL, the global customer experience management company. Xopus offered a solution for enterprises looking to make use of structured and complex content. 
Additionally, Silk rounded off their newly improved, further funded platform by offering the service – along with thousands of Silk sites, on a new, shorter www.silk.co domain.
To find out more about Silk, Silk For Teams, and to also create your very own Silk website, visit their official website .