SiteExecutive 2012 promises to treat your content with care allowing you simple and complete content control. Since content needs to look as beautiful on the small screens as it does on the larger displays, SE2012 introduces responsive support.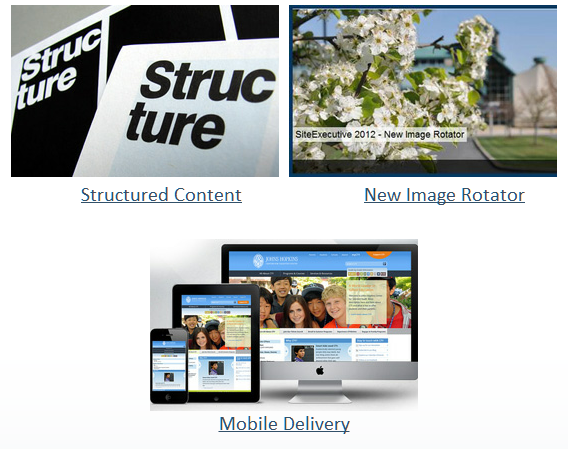 Structured Content – Web Content Creation Simplified
The process of creating, correlating and distributing content can be simplified with the separation of content and presentation. Structured content enables users to define content types, presentation layers and collection methods not only in SiteExecutive, but for other devices as well. Through REST, a form of API, external systems are able to consume the data directly from structured content and deploy that content on their own devices.
Predefined fields allow for simplified content creation, requiring less time and effort. Content types are defined and created specific to organizations' content strategy and goals using a variety of field types including WYSIWYG, Dates, Text, Numerical, Picklist/Selectors (populators), Image, and Video. Presentation layouts define how the content gathered from the content fields should display on the website, while URL interpreters and Viewlets determine what data to display in which channel (i.e. web, mobile, social media, etc.)
Enhanced Mobile Delivery Processes
The ability to reach all users regardless of device is crucial. Bridging the gap between mobile and desktop devices is easy in the latest version of SiteExecutive, which introduces support for Responsive Web Design using external style sheets. Responsive Web Design uses CSS media queries to detect the browser screen size and capabilities to deliver a tailored experience regardless of screen size.
MediaExecutive, (hosted online video service) now simplifies the delivery of video to mobile devices via streaming video support for Apple and Android products. Video is automatically encoded to the optimal format for mobile delivery using HTML5 video encoding, ensuring an optimal viewing experience across multiple device types.
For more information visit: siteexecutive.com