Do you want to improve your company culture while also getting your employees to share your content? Would you like to choose the right employee advocacy tool to help you achieve this?
Work occupies a major chunk of your employees' lives. They spend about one-third of their days working, and on average, 89% of them are satisfied with their jobs. As it is a major part of their lives, they will chat about work life both online and offline. 50% of employees already share content about their employers online, and many of them are always on the lookout for quality content to share.
Therefore, it is important for companies to equip employees with the right information. Employees can share this information while having conversations on social media.
An informed employee will share the latest and most flattering information about your industry and company. This can help create a positive brand impression and drive back traffic to your website, as employees can increase brands' reach tenfold.
The best way to keep employees informed is with an employee advocacy platform. Choosing the right platform can be hard, though, as there are so many options available. Two of the options you can't go wrong with are Smarp and Dynamic Signal. Both have their strengths and weaknesses. I have compared them side by side in this article, to help you select the right one.
Check out what they offer, and pick your favourite.
Smarp
Smarp is a full-featured employee advocacy tool. It has all the functionality you need to spark lively internal discussions and encourage employees to share content onto social media.
One of the best aspects of Smarp is how easily you can use it to queue up content for group sharing. You can post links, images and text messages. You can also move the content so that the most important content appears at the top and apply categories, so that your team members can work with topic-specific feeds. To save time, you can even integrate your social media accounts and RSS feeds so that content appears automatically. Posts can also be scheduled in advance to go live and be archived at set times.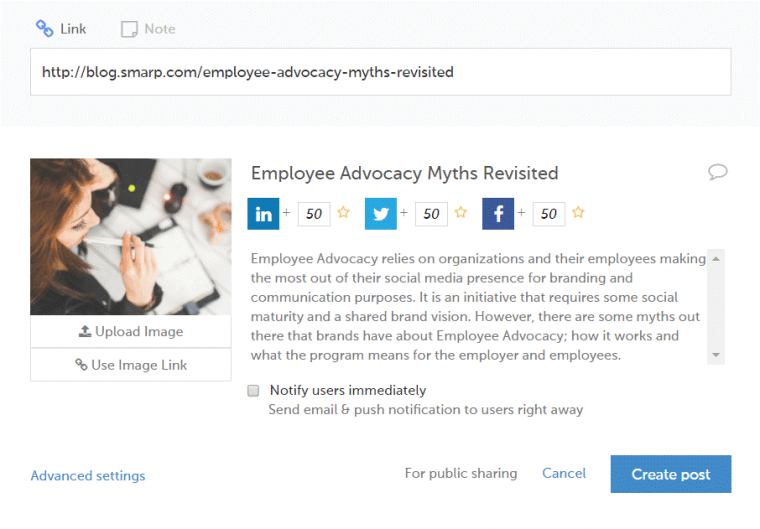 Employees can access this information via their browsers – or Android and iOS devices. They can comment on this content and share it with their friends and followers on social networks like Facebook, Twitter, Linkedin and many more.
Smarp also integrates with apps like Slack, MailChimp, Google Analytics and Dropbox. This simplifies various tasks and makes it easy to track performance metrics, like traffic generated.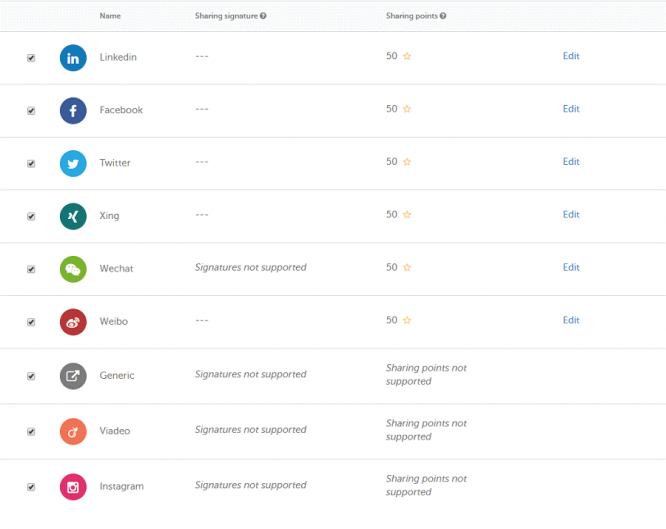 Their advanced gamification features entice employees to share more by making sharing an enjoyable experience. One of these features is leader board that creates a contest between employees. Employees also get points for sharing. These points can either be exchanged to donate money to charities or to claim rewards.
Smarp's messaging and communication features aren't the best. The only way employees can communicate with each other and with the company is through comments. Of course, you can track employees with analytics, but if you are looking for more detailed written communication this isn't the best option.
Smarp's advanced analytics is second to none. They provide both companyanalytics for admins and personal analytics for employees. Using company analytics, you will be able to see your best performing content and most influential employees. Smarp also calculates the "estimated earned media value" of employees' shares.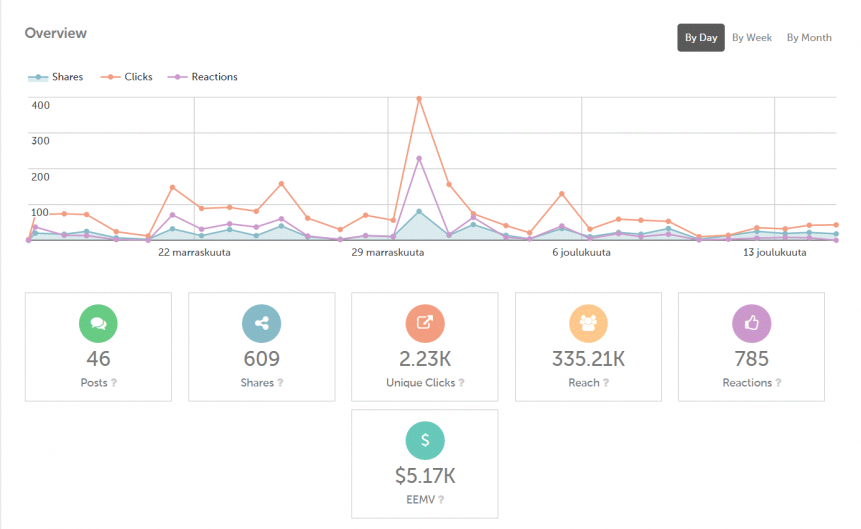 The employees' personal analytics helps them check how their shared content is performing across social media. They also have a feature called SmarpScore that makes it easy to measure their performance.
Most employee advocacy software companies get you to sit through a demo. You will only be able to sign up and get a quote after this taxing session. But not with Smarp. Here you can instantly sign up for a free 14 day trial and test drive the tool. Pricing is also available publicly. It starts at 3.5€ / user / month. If you prefer a demo they have that option too.
Smarp's strength lies in keeping employees informed and getting them to share your content.
Dynamic Signal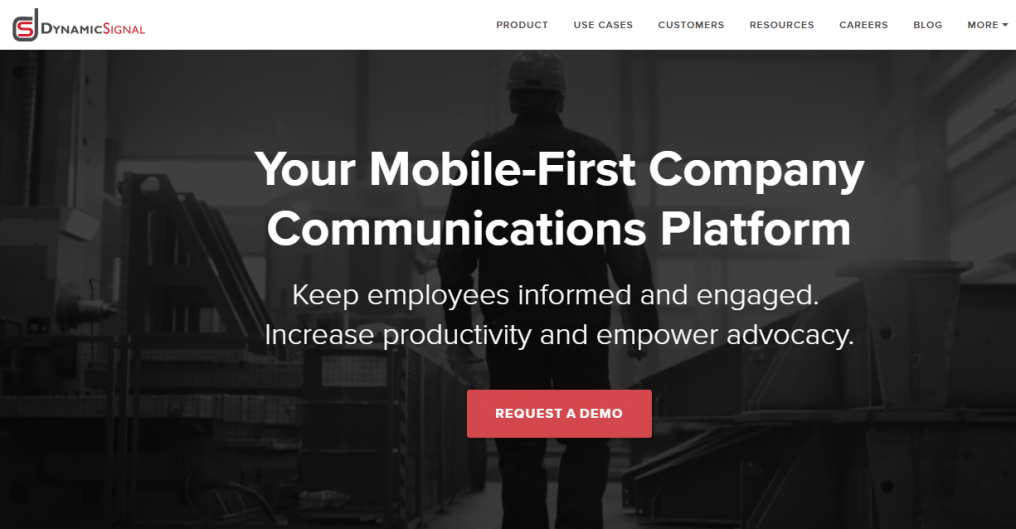 Dynamic Signal isn't as comprehensive a tool as Smarp. But it does do everything it needs to, and it also sports some great features that other employee advocacy tools do not.
Dynamic Signal has well-designed native mobile apps that make it easy for you to share latest news and other content with your employees. Delivery and readership of messages can be tracked. This helps you share content at the right time with only interested employees.
You can also alert employees about the latest content using Facebook Messenger, SMS and Slack.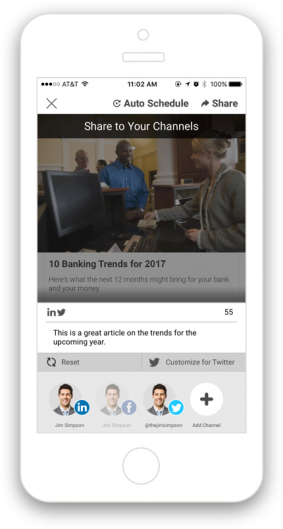 Employees can share content they like on to social networks like Facebook, Twitter and Linkedin.
Their advanced communication features help you get detailed feedback from employees through quizzes and surveys. This will help you build an engaged internal community on the app. You can also use the data to craft a work culture that will improve company performance.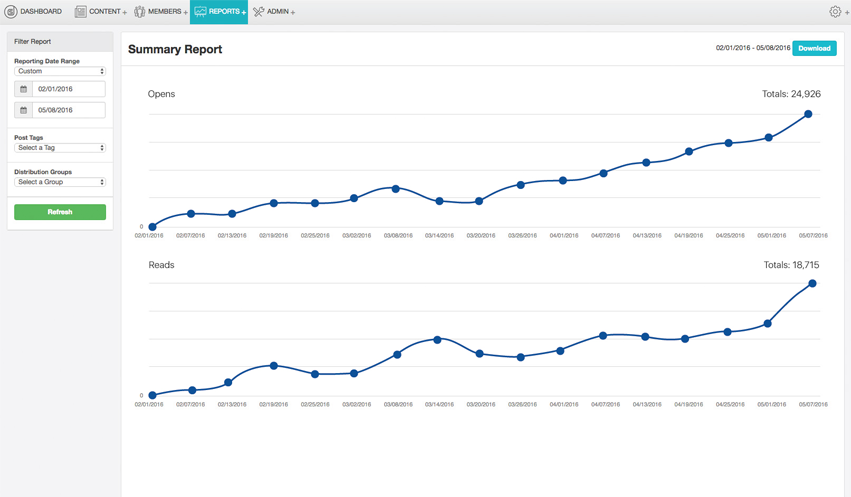 You also have detailed analytics to track other metrics that you cannot obtain through communication only.
Sharing features aren't very well developed, though, as Dynamic Signal is more focused on improving communication.
It is necessary for everyone to sign up for a demo. Pricing information can only be obtained after this session. You cannot sign up for a trial instantly.
Summary
As you can see above, both of these employee advocacy tools have their pros and cons. Smarp is a more well-rounded tool, but it lacks some internal communication features, while Dynamic Signal is more focused on team conversations.
You should choose the tool that satisfies all your needs. If you are looking for one to help understand your employees better, Dynamic Signal is the best option, while if you want one to help your company content's distribution and performance, you should go with Smarp. Also, Smarp is the better choice if you want self-service onboarding.
Have you used both the above tools? Which is more useful, Smarp or Dynamic Signal? Please leave your comments below.