Everywhere you look these days, there are experts and articles talking about the importance of social media for business. Whether it's discussing Facebook, Twitter, Instagram, or LinkedIn, I could point you to 100 articles which offer 100 reasons why each one should be a crucial element of your marketing campaign.
So, unless you've been living under a rock for the past few years, you're probably pretty clear on the importance of integrating social media into your gameplan for success.
But what's the next step?
SocialEngine have answered that question with a social media network that is designed specifically for your customers or employees, and managed by you.

SocialEngine has been around for a while now, and the company have continuously upped their game to meet consumer demands. For that very reason, they've been hugely successful with their latest offering.
Available as a PHP download (starting with a one of payment of $299 for their Starter package), or as a cloud-based subscription service for $39 a month, SocialEngine claims to provide the best solution for creating your own social network.
Getting Set Up
Everything about the initial online setup is easy and intuitive. Name your site, choose your URL, fill out a few questions (or don't, it's up to you), and you're ready to roll.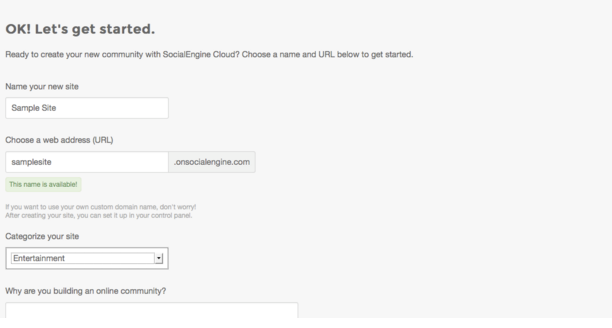 When you first log-in, you're greeted with an incredibly simple layout which allows you to control billing, account information, subscriptions, and support tickets from one screen. A clearly labeled button takes you to your site's control panel, and I thought this created a nice separation between the overall controls of the site and the visual control of the front end.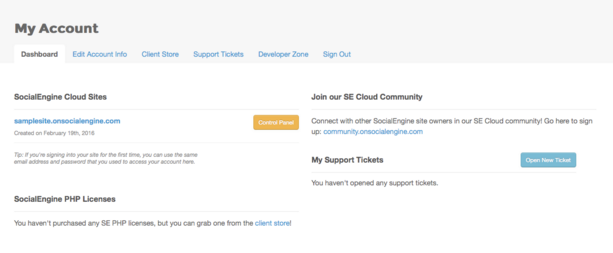 The layout is simple, cleanly designed, and offers a ton of options. With SocialEngine, it seems that intuition is the name of the game.
Excellent Design
This kind of complex site could have been a design nightmare, but the team at SocialEngine have made their design and admin interface extremely easy to use. Every single thing you need to manage this site is just a click away.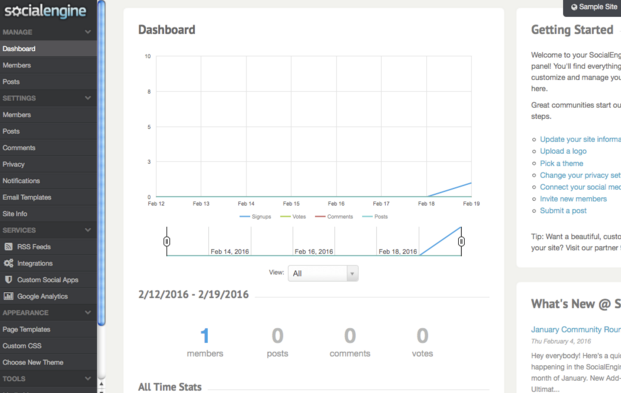 The interface is drag-and-drop based and clearly labeled. From here, you can set your email templates, add Google Adsense or Analytics, manage members, and manage themes and add-ons.
It's incredibly powerful and all encompassing.
Price Comparison
PHP Download
The PHP download option is a pricey option, but it allows full control over the source files – which may appeal to some businesses. The Starter package ($299) doesn't include the option for forums, video sharing, blogs, or instant messaging. So, if you'd like these included, you need the Professional pack which costs $449.
Both Starter and Professional packs come with only 30 days of free support and the option to pay for an installation service for $30 extra.
To get free installation and up to 60 free days of technical support, you need the Advanced download which costs $699. For that price, you can avail of additional features such as music sharing. It's pricey, but probably worth it if you want complete control of the source code.
Personally, I thought the support packages for the Starter and Professional packs could have offered a bit more, given the price point. Just 30 days of free support doesn't seem like anything near enough for launching a PHP package of this complexity.
Cloud-Based Service
SocialEngine's cloud-based subscription might be a good option for those with a stricter budget and less technical expertise. Pricing runs at $39 a month or the equivalent of $29 a month if you pay a year in advance.
This price includes full access to their customer support service, where you can get in touch via a contact form, email them directly, or use the live chat option. All of these are 24/7.
You get the exact same features as with the PHP download, with the exception that all the information is stored on SocialEngine's servers.
The yearly service for $348 seems to be a no-brainer. It offers practically all the features the PHP download version does, with customer service included for just $50 more than the Starter package. Sure, it's a yearly payment versus a one-off payment but it's seems like money well spent to me.
Both price choices offer a generous 14 day trial to assess their service in full.
Feature Rich
Make no mistake, SocialEngine provides all of the tools you could ever need to match Facebook, Twitter, LinkedIn, Reddit, or Pinterest – feature for feature. It's incredibly comprehensive and even lets you pick a theme to match these sites in style and feel.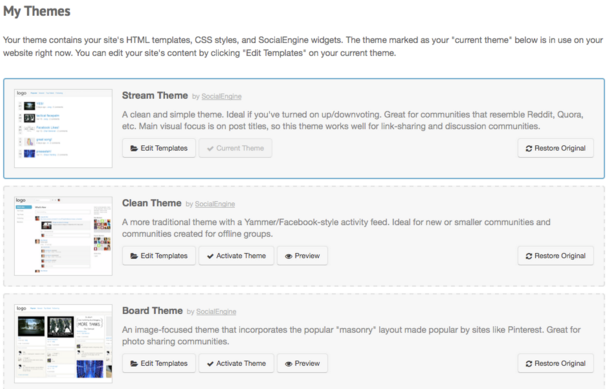 The extensive gallery of plug-ins will allow you to mix and match all the best features of the social networks to your own preference, so that you can create a completely unique site.
Both download and cloud options have a wide range of privacy options that are incredibly easy to control.
No Branding
The SocialEngine team have resisted the urge to allow branding on their build, which allows you to completely control the branding of your site from top to bottom. None of your members will ever know that SocialEngine powers your site. You control the logos, the colors, and the content. It's a great feature for large companies who want to have a custom build, without the investing the megabucks it would cost to build and maintain this kind of project from scratch.
Pros:
One of the most comprehensive community building apps on the market.

White label feature lets you brand it exactly as you like.

Tons of features and customizable options.

Excellent UI & UX design.
Cons:
Price-point for the source code download is a little steep and feels like a railroad to their subscription model.

Customer service options limited on the cheaper subscriptions.

The Basic packages feel a little sparse on features like HD video and audio.
So What's The Verdict?
Whether you're trying to create the next Reddit or simply make an internal social network for your employees or customers – SocialEngine gives you the power to do it.
Do I have any issues with it? Sure – the PHP download is incredibly pricey and doesn't offer enough free support, unless you want to drop nearly $700. Having to pay extra for support after the 30 or 60 days expire is a bit cheeky when you consider the hefty download fee.
However, outside of my price concerns for the PHP download, this is a superb product. It has tons of features, an intuitive design, excellent support on the cloud-based version, and extensive free trials. If you're in the market for something like this, I definitely recommend giving Social Engine a try.
You might not end up as the next Mark Zuckerberg, but SocialEngine will get you as close as you could hope to get on the technical side.
To sign up for a free trial with SocialEngine, just click here. And don't forget to let us know what you think the comments section below.