Following the recent success of Metrics for iPhone, Squarespace have now released Squarespace Metrics for iPad  as a universal download.
Squarespace is a hosted website builder which powers millions of websites around the web. The platform was also named the winner of our 2012 Critic's Choice Awards for Best Website Builder.
With Squarespace Metrics, iPad users can now monitor key performance indicators and interactive charts for their Squarespace sites and connected social accounts.
Handcrafted for the iPad
Squarespace have taken care to bring iPad users a unique experience with this release, claiming that the app has, "a beautiful new interface that was handcrafted for the iPad."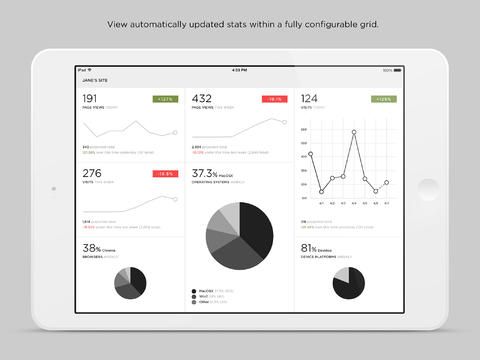 Here are three of the main features found within the new Squarespace Metrics iPad app:
Auto-play:  A new feature that automatically scrolls through each page of your data, allowing you to monitor all of your website analytics completely hands-free. All data is automatically refreshed, making the app a great dashboard to showcase your website performance.
Multi-column Layouts:  Want to change the way your data is presented? This layout option allows you to visualize all of your key performance metrics at once, and order them in a way that makes the most sense to you.
Multiple View Options:  Sparklines, pie charts, and lists all display seamlessly on your tiles to give you insight into each dimension of your website data. Natural, smooth animations guide you as you select each tile for expanded, detailed information.
You can download Squarespace Metrics for iPad for free from the Apple App Store. A Squarespace 6 account is required.
Squarespace offer a 14-day free trial, and can also be further explored through our CMS Directory.