I kid you not, if you want a high-converting marketing strategy that can help you get qualified leads — or even sales from the get-go — then you need to start running live webinars.
What makes live webinars awesome is the fact that not many people use it despite its capacity to bring in money — truckloads of money, to be more specific.
I mean, sure, there might be several people using live webinars right now. However, unlike those who market through blogging, publishing social media posts, and other marketing methods that don't require them to interact with their audience in real-time, those who run live webinars can still be considered as a minority among marketers.
Of course, you can't blame others for not joining the live webinar bandwagon. After all, running a webinar requires preparation, technological know-how, and confidence that would enable the presenter to engage with their audience without choking in fear (among other things).
Which Webinar Platform to Use
While there are several amazing webinar platforms online, I'd like to highlight Clickmeeting since it is down hands down one of the best in the industry.
Not only that, but the platform is dead easy to use, and their subscription plans are very affordable, too.
Without further ado, let's look into the strategies that you can use to turn your live webinars into money-making machines.
1. Affiliate Links + Resources Page
The idea is quite simple, when running a live webinar, you can add a resource page where you can direct those who are participating so they can use the same tools or products you're using.
You can add all your tools to your resource page then use an affiliate link for each of your tools. That way, should your participants use them, you'll get passive income.
If not in your resource page, you can add the affiliate links to your online tools in your "Waiting Area."
Because Clickmeeting's platform is very intuitive, you shouldn't have any problems setting up your waiting area and adding your tools and your affiliate links there.
When setting up an event, Clickmeeting will allow you to set up the specifics of your live webinar (like your waiting room).
Here's how setting up your waiting room looks in Clickmeeting.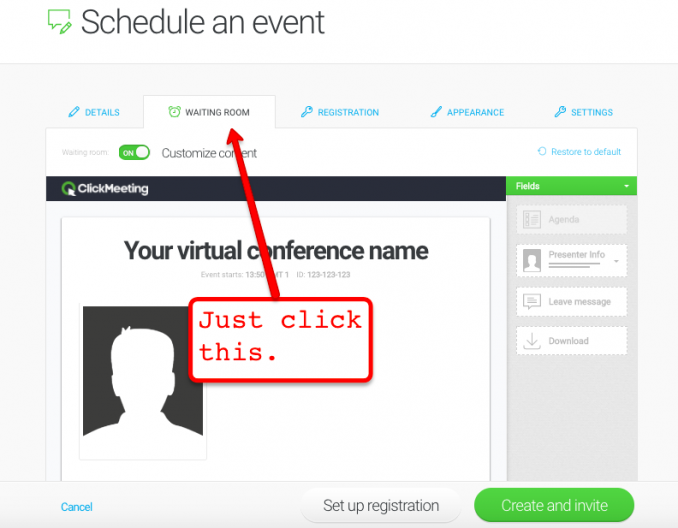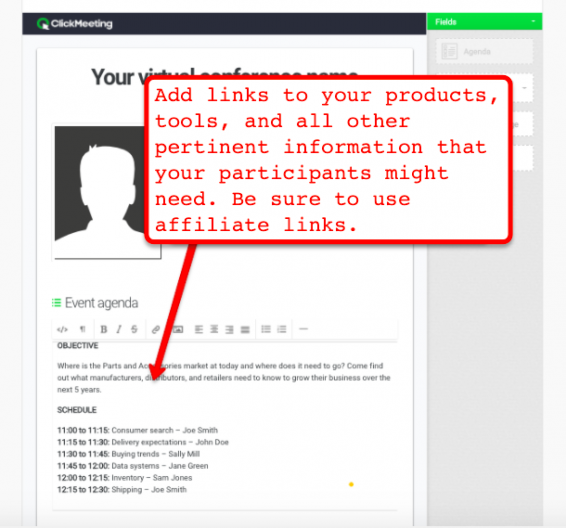 The platform looks pretty intuitive, doesn't it?
When you have your affiliate links in your waiting area, your participants won't have a hard time finding all the tools you're using so they can start purchasing it for themselves,
2. Offer a Coaching or Membership Program
Coaching programs and live webinars are a match made in heaven.
Whether you're still in the process of bringing your prospects into your membership program, or they've already subscribed to it and are now looking to learn from you, you can use live webinars to help you accomplish your goals.
For example, in the case where you're still convincing your audience to signup for your program, you can tell them about your coaching offer within the live webinar.
Also, since you've already captured their email addresses during registration, you can retarget them by sending compelling email messages in the future.
When setting up your registration form, be sure not to overwhelm your audience with questions or unnecessary registration requirements.
Checkout ClickMeeting's registration templates to have a better idea of what information others are asking for on their registration page.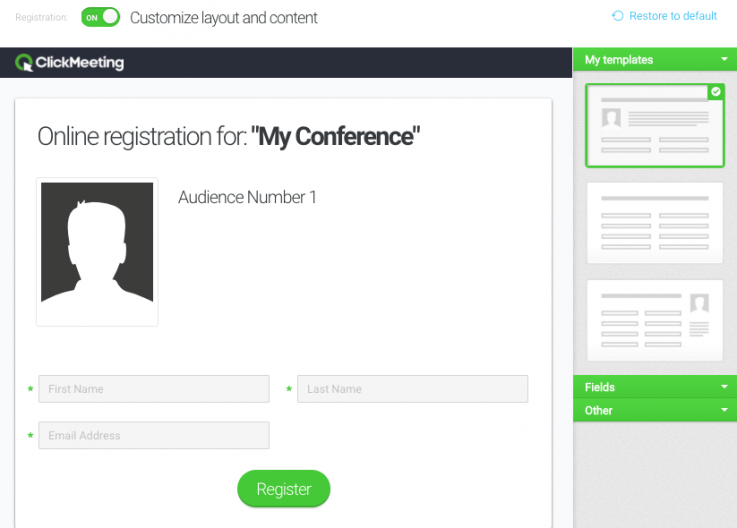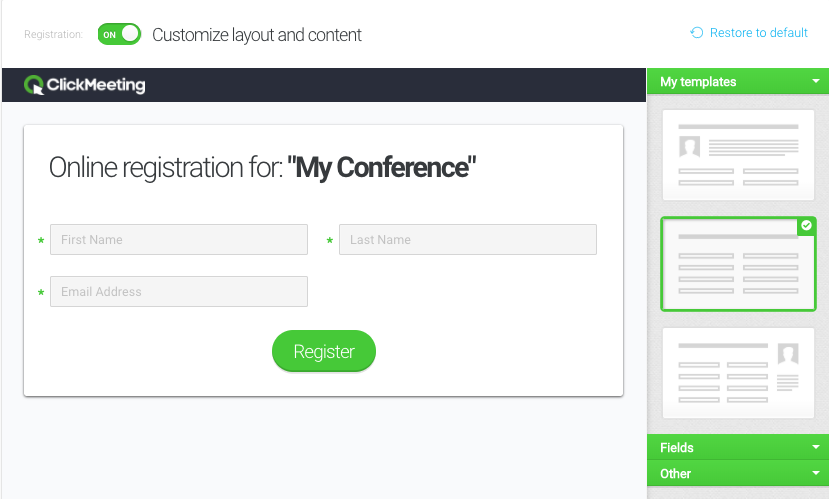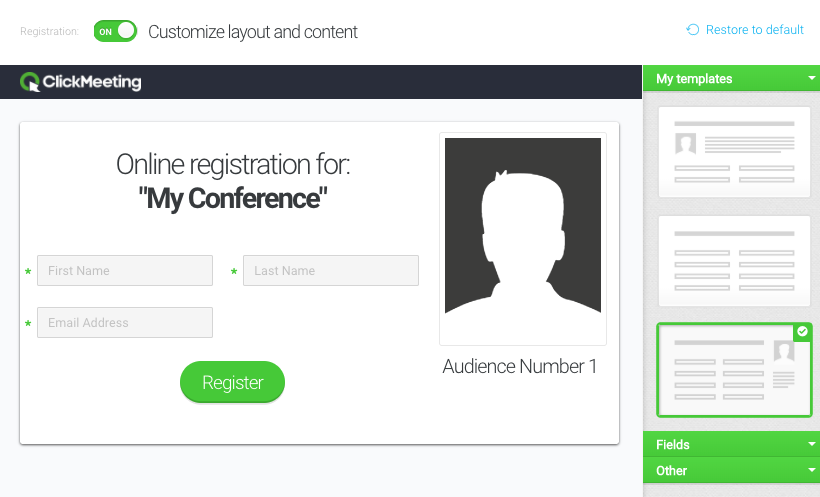 As you can see, asking for your participant's name and email address are often enough. However, if you need to add other fields to your registration to run your live webinar effectively, then you can go to the "Fields" section. You can also go to the "Other" section if you'd like to add more details about your event on your registration page.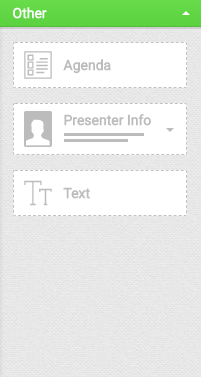 3. Sell Your Live Webinar
Why make money out of your webinar one time only — during your live event — when you can record the whole thing and sell it again and again, instead?
If you do this, you'll get more mileage out of your live webinars.
For as long as your webinar isn't outdated, you can continue offering it to your audience.
What's more, there are several ways you can use a recorded webinar:
You can use it as a lead magnet.

Sell it as premium content.

Turn it into a gated content so others would have to make some sort of action (like sharing, liking, commenting, etc.) before they can access it.

Turn it into a freebie.

Or you can add it as an upsell on one of your other courses.
If you use your imagination, the possibilities of what you can do with your live webinars are limitless. And it all starts with you recording the entire thing so you can use the content several times over.
If you aren't familiar with how to record your webinars, Clickmeeting has a built-in feature for that. You no longer need to use third-party apps to start recording. Simply go to the "Settings" tab, then tick the "Recording Auto-Start" box.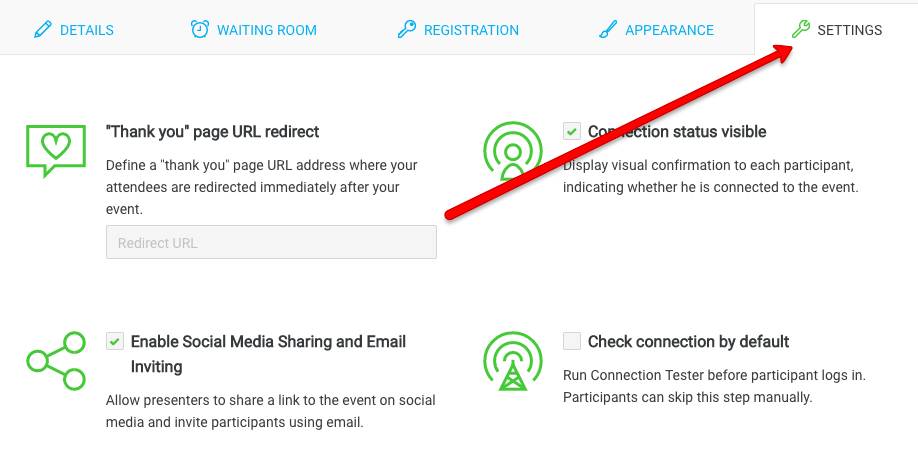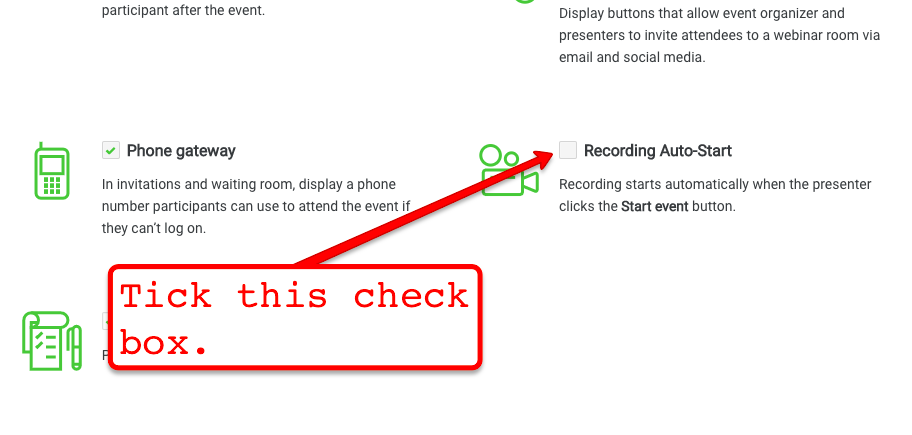 Bonus Tips for Conducting Live Webinars
Just like in most things in life, live webinars will only do you wonders IF you're doing it right.
No matter how powerful the method is, if you're doing everything haphazardly, you won't get far with what you're trying to accomplish.
That being said, allow me to share with you four tips to help make your live webinars more successful:
Pre-market the event. Think about doing a mini product launch. It wouldn't be wrong of you to approach your live webinars with that kind of mindset because webinars are, in fact, products in their own way.
Engage your audience. Ask them questions. The last thing you want is to keep on blabbering for countless minutes. If you don't mix in questions or other engaging activities in your webinar, your participants will most likely get bored.
Don't be afraid to pitch your products/services.
Focus on benefits and not features. 99% of the time, your participants joined your webinar because they need something and they think your webinar can help them obtain what they need.
That being said, quit talking about how your product has hundreds of features. Instead, focus on telling your audience how easier their life would be if they had your product.
Remember that there is a big difference between features and benefits. Be sure to highlight the latter.
What's Next?
How have you been milking your live webinars?
Is there a webinar guide that you can share with our readers that can help them with their journey towards monetizing their live webinars effectively?
If you answered with a "yes," then please share your thoughts in the comments section below. Cheers!