Have you ever wanted to offer personalization to your users on the through your website? Are you running Sitefinity? Now you can! Telerik has announced two new connectors for their popular .NET CMS platform that are intended to offer a broader range of personalization options that have previously not existed.
"We live in a real-time world in which customers don't want to wait or feel unknown or underappreciated. That's why personalization has become so key to those organizations looking to conduct business online," said Martin Kirov, Executive Vice President, Sitefinity division, Telerik. "Our customer base is made up of some of the largest, most well-known organizations in the world. They account for more than 70,000 users with daily web traffic in the millions. They depend on us to offer solutions to not only compete, but to strongly stand out in the face of an ever-evolving and crowded online marketplace."
Sitefinity  Connector for Marketo  —Monitors and tracks visitor behavior; increases conversions and improves sales by transferring online data (page visits, form submissions and file downloads) to build lead scores for personalized nurturing campaigns and more dynamic website experiences. Learn more about the Sitefinity Connector for Marketo  here .
Sitefinity  Connector for Salesforce.com  —Empowers the sales organization by populating the CRM with data (form submissions, recently viewed pages and file downloads) to build personalization rules and to customize and enrich the visitor's online experience, based upon their persona type.
"Today's customers want an experience that is customized just for them, whether they are browsing a website or receiving an offer. The power of the Sitefinity and Marketo integration now means that these two customer experiences can be intelligently connected," said Robin Bordoli, Vice President of Partner Ecosystems at Marketo. "Data sharing between Sitefinity and Marketo means marketers can now personalize and synchronize content and themes across all channels and touch points with potential buyers, including web content and lead nurturing campaigns."
Screenshots: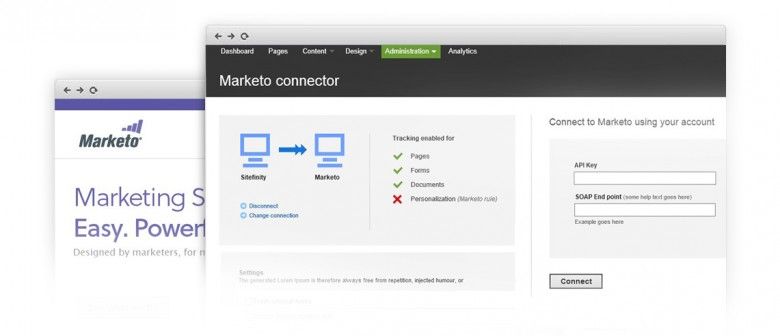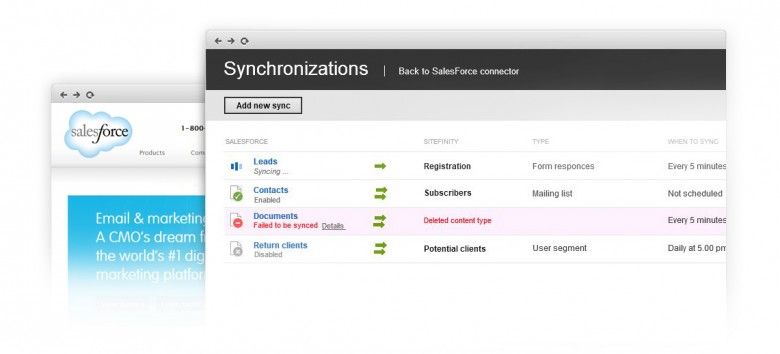 Learn more about Sitefinity.