The progress continues for The People's Choice CMS Awards 2015, with the voting stage now well and truly underway. In fact, 500 votes were cast in the very first hour of the polls being open.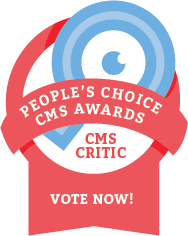 This year marks the fourth consecutive year of CMS Awards here at CMS Critic. The awards are made up of; The People's Choice Awards, and The Critic's Choice Awards.
The awards were originally designed to give the public a way to get behind their favourite products, and also to recognise and reward the progress made by CMS vendors large and small, new and established.
Today, the awards play a big role in the decisions of many soon-to-be webmasters hunting for a sutiable CMS. In fact, CMS vendors themselves have vouched for the importance and relevance of the CMS Awards.
The Most Inclusive Category List. Ever.
With the nomination stage now complete, a range of vendors (all of which were selected by you) are now battling within their respective categories.
We've worked hard to make the categoriy list as inclusive as possible this year. The list includes:
Best eCommerce Solution for SMB
Best Website Builder
Best Enterprise Portal
Best CMS for Marketers
Best CMS for Developers
Best CMS for Personal Websites
Best CMS for Enterprise
And Many More
The full list of categories, along with the three products nominated for each one, can be found on the voting page.
To make voting easier and more informed, we've linked to each individual solution so you can explore the candidates before voting for your preffered CMS.
With that being said, it's time to get voting for your favourite CMS. Don't delay, though, because the voting stage ends on January 1st, 2016.
Who are you voting for? Let us know in the comments below.