The list building needs of large publications and high-traffic sites — the ones that get hundreds of thousands to millions of pageviews per month — are different from most websites.
Among all the other things, such sites require a list building solution that is scalable, speedy, and reliable. If you too are looking for a lead generation tool but don't really know what features to look for in it, run the options you've shortlisted through the following feature checklist. It lists the must-haves and nice-to-have features in a lead generation tool that actually gets results.
How do I know?
Well, at Digioh, we serve some of the biggest online publishers including the likes of Healthline and Nascar. We talk to publishers every day and work with them to help them meet their list growth targets with Digioh.
I hope I've got you on board now. So, let's look at the features.
#1. Doesn't affect ad revenue
Lots of publishers show interstitial ads (ads that cover the full screen). These ads generate a large part of their revenue. Publishers almost always reserve such ad slots for ads and don't even consider showing opt-in forms in them because they view it as REVENUE LOSS. Which it is … but ONLY when there's an ad to show. But the truth is that it's not always that a publisher has an ad to feature.
In such cases where a publisher doesn't have an ad to feature, the publisher doesn't just not make ad money, but also loses an excellent chance to get subscribers because interstitials are awesome at getting subscribers.
The biggest publisher in the faith marketplace, Salem Web Network, lost thousands of subscribers because of reserving the interstitial slot exclusively for ads. But when it switched to Digioh, it was able to use the same interstitial slot for showing both ads and signup forms. This became possible because of Digioh's ad suppression feature. Digioh can understand when an interstitial ad is about to fire, and it suppresses the signup form in all such instances. Likewise, at times when there are no upcoming ads, Digioh shows signup forms.
Samantha Royer, Senior Marketing Manager, Salem Web Network tells:
"We've historically lost out on anywhere from 5-10k subscribers in a month having this suppression feature available to us. Now that we've more than doubled our email growth, that could cost us anywhere from 10-20k+ monthly subscribers pending the duration of the ad buy."
Feature check:
Ability to use the same interstitial slot to show ads as well as opt-in forms (and making sure no ad revenue is lost)
#2. Is mobile friendly (and has lead generation tools that are safe to use despite Google's latest mobile lightbox guidelines)
Until now, publishers mainly complained about how browser-based ad blockers got in the way of their ads and signup forms (especially interstitials). However, they now have a new challenge to overcome to save their mobile subscriptions. From next year, Google will penalize sites that use intrusive lightboxes on mobile devices.
So, your mobile organic traffic could get hit if you use wrong lead generation tactics on mobiles like:
Show a lightbox that covers the full screen

Display an interstitial that a user has to dismiss to be able to access content

Use welcome mat kind of opt-in forms, where the fold area of your mobile site is nothing but an opt-in form

While you'll have to be cautious, you obviously can't stop showing opt-in forms on mobiles because a big part of your audience could, in fact, be accessing your site from their mobile devices. The leading publisher in the trucking domain, Overdrive, gets as many as 400+ subscribers a month from its mobile popups alone with Digioh.
Digioh doesn't just have mobile friendly popups, but we've recently rolled out an entire suite of mobile lead generating tools to keep our users' mobile list growth potential intact.
Feature check:
SEO-compliant set of mobile lead generation tools
#3. Can read cookie values to identify subscribers from other visitors
Publishers often have multiple offers to promote to their visitors. Not only that, they've several offers to cross-sell to their existing subscribers too. For example, if a visitor is a subscriber, you'll try to cross-sell another complimentary subscription to them. Or, you might try to sell tickets to the latest online or local event. In case they aren't a subscriber, you might want to give them a personalized subscription offer.
But to make the right offer to the right visitor, you need information about the visitor's subscription status. This information can be found via cookie data.
A tool like Digioh can read cookie data to understand if someone has already subscribed. And you can use this knowledge to decide which offer to show — the cross-sell offer or the subscription offer.
Paul Daniel from the Overdrive team tells how Overdrive uses information about a user's subscription status to determine the offer to make:
"Right now, we are primarily segmenting non-subscriber visitors to our website so that we can target them for newsletter and magazine subscriptions. We have also run a limited amount of promotions to current subscribers that cross-sell paid products. The conversion rates have been excellent."
Feature check:
Cookie data reading
#4. Can make targeted offers
One of the biggest list building challenges that a publisher site faces is to engage a highly diverse audience. Even though the audience is specific to a niche, it still has many segments that have varied interests.
Take the popular gaming niche publisher GameRant, for example. Although the site is about gaming in general, its readers comprise lovers of different games. There are readers who love Pokemon, while there are those who're fans of Call of Duty. When Gamer Rant showed a generic opt-in lightbox to its visitors, it got just 30 signups/day. Vic, GameRant chief, observed, "A generic sitewide pop up did not work very well."
But once it started making targeted offers, i.e., personalizing opt-in offers on the content of the pages a user was reading, it saw its subscriptions jump to almost 120 signups each day.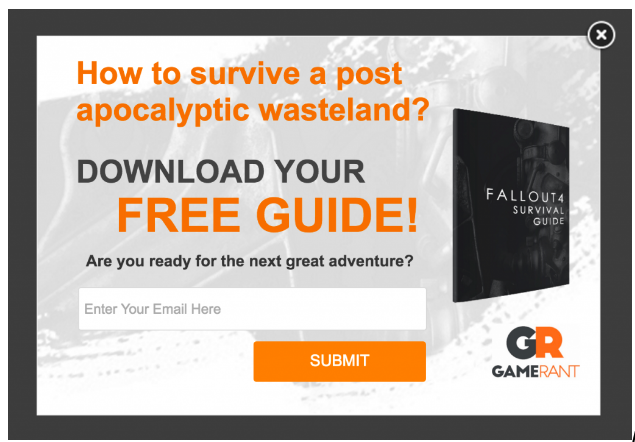 Digioh helps you make targeted offers based on:
The posts or pages a reader lands on

Their browsing or site visit history

Location

Referral source
And many other parameters.
Of all these targeting parameters, the referral detection feature deserves a special mention because every publisher has online partners that send dedicated recurring traffic. Obviously, different referrals send different kinds of traffic that have different interests and content preferences.
Showing a generic opt-in offer to such a diverse referral traffic doesn't get great results. To maximize the lead generation opportunities in these cases, it's important to personalize opt-in offers based on the referrals.
Digioh offers referral detection right out of the box.
#5. Integrates with Google Analytics (or other analytics software)
Sometimes the biggest challenge that publishers face is not to get emails, but it's to get quality subscribers. It's to find subscribers who don't just sign up for the free version but also upgrade to the premium one, or those who buy the recommended or advertised services and products.
Calculating a subscriber's quality in terms of the money they spend or their engagement metrics with your site is possible with mapping their journey and tracking their purchases and interactions with your website.
Digioh can gauge such quality because it can fire goals in any analytics software and track them to conversion. These goals could be monetary values or ad clicks too.
Feature check:
Measuring lead quality
#6. Can create accounts for subscribers
Creating subscriber accounts helps publishers in monetizing their lists better. Moreover, when these accounts have a subscriber's information like their city or country, they're even more helpful in pitching advertisers or for giving them more insights into your lists (so they can pay you higher).
However, you'll agree that it's one thing to get an email … but getting someone to signup for an account is a completely different story.
But a well-thought-out lead generation tool like Digioh can dynamically create a user account once a visitor signs up for your list. Also, Digioh fetches the subscriber's location from their IP address and adds this information to the account. (The account password is generated in real time by Digioh.)
Feature check:
Automatic backend account creation
#7. Can create thousands of personalized opt-in offers dynamically
Online publishers have thousands of articles contributed by hundreds of writers. Not only that, there are also tens of categories, and many more tags.
All these are excellent parameters for personalizing opt-in forms. For example, you can personalize an opt-in form based on the name of the columnist whose story a visitor seems to be reading.
But as you can imagine, this could mean creating 100s of opt-in form copies, which is almost impossible. Dynamic personalization is the solution here. In dynamic personalization, all you need to do is create a template opt-in form. You can create something like:
Sign up to get all our <tag> stories in your inbox.
And then the lead generation tool fills out this tag by fetching the relevant values from the content the user is currently browsing.
For example, in Digioh, a user can set Digioh to choose the value of the category a user is reading and fill it into the template. So, 'Sign up to get all our <tag> stories in your inbox' becomes 'Sign up to get all our presidential campaigns stories in your inbox' if the reader is reading a story from the presidential elections category.
You can use any value to set this rule. Tags, author's name, anything.
Feature check:
Dynamic opt-in offer personalization
In addition to these features, you'll also need a dedicated account manager…
Just checking a tool for its support options might not be wise. Because although most lead generation solutions of this scale offer good support, it's not the same as having a dedicated account manager. A dedicated account manager can help you get started immediately and work with you to devise a personalized lead generation plan.
Digioh has been assisting lead generation of several thousands of publishers and is proud to offer a dedicated manager and priority 1-on-1 access to all our customers.
So are these all the features you need in your list building solution? And is Digioh perfect for your website?
Well, it turns out that no list of features can actually cover everything you need. At Digioh, we've custom coded a lot of features based on the needs of our readers.
In fact, our power users tell other users that "[they shouldn't] be afraid to ask for help or pitch new ideas, because even if Digioh doesn't have the capability to fulfill a specific need, they always have suggestions with suitable alternatives or are willing to help brainstorm how to make it possible."
We understand that different publishers have different KPIs, and so we don't just help them setup lightboxes according to their needs, but also help them optimize their lead generation efforts.
Now to find out if Digioh is the best list building solution for you, signup for a free Digioh demo. Once you fill the form, our marketing team will contact you about the next step.