Whether you're searching for your first CMS or you're planning to upgrade soon, there are a handful of things that are available with the top tier of content management systems on the market today that you simply shouldn't do without. Make sure you get the most bang for your buck by investing in a CMS that has the following top 5 benefits:
1. Supports COPE
If you haven't heard of the content publishing strategy made famous by NPR, "Create Once. Publish Everywhere." is all the rage, and your CMS should provide all the tools you need to accomplish it. At its core, COPE is a strategy for getting the most out of your costly content by reusing it and repurposing it across multiple channels, pages and sites.
In order to support a COPE strategy, your new CMS should go beyond just allowing content to be used across sites. It should make this extremely easy by offering easy-to-use indexing, RSS feeds, central image and content repositories, and managed links, to start. It should also allow you to output your content in multiple formats for multiple sites and pages, publishing to multiple servers, for optimized use across multiple devices.
2. Provides a Superior Editing Experience
One of the defining features of content management systems is the ability of non-technical end users to create, upload, edit and publish content to the web. However, not all user experiences are created equal. Think about how many people will be editing your website—not just today, but in a year or two as well—and consider their level of technical ability. Having a beautiful interface is nice, but there are many other important parts of the experience to think about. Here are some questions to consider regarding your users:
Is there a maximum number of contributors?
Does the application offer true in-context editing and quick edit links to make editing the correct pages and regions as easy as possible?
What type of organizational structure does the CMS use, and is it something your users will easily adopt?
Does the CMS have drop and drop functionality for moving assets, such as pages and folders and for uploading images and other files?
Can you customize the roles and abilities for your content contributors, or are the user types rigid, out-of-the-box profiles?
It's important to look beyond your impressions in the first two minutes and actually practice accomplishing some tasks and testing the software with your end users for at least 30 minutes to an hour.
3. Improves Your SEO
There are a number of things your CMS can do or provide in order to support your search engine goals. Some basic things to consider are the URL naming convention, custom and standard metadata fields, keyword tagging, spell-checking and broken link checking, as these can all affect your search engine results placement. Some advanced features are integration with social applications for easy promotion and sharing, Google Analytics connectors to provide analytics information inside the CMS where you edit your pages, page load time calculators, and notifications and automatic archiving when pages expire.
While all these things will impact your SEO, they don't necessarily help your SEO. More precisely, they just won't hurt you. With the increased emphasis on fresh content, you need a CMS that goes beyond the "SEO Checkbox" items. Some features that your CMS can provide that will actually help with your SEO are content freshness reports to tell you when stale content needs to be refreshed or unpublished, incredibly easy user interfaces to help you get more contributors creating content (see #2 above), and integrated content marketing tools to help you further optimize, promote and measure your content.
Check out my post from last week on why it's not enough to just manage your content anymore.
4. Enforces Brand Consistency
Depending on the size of your organization, you may have several pages on a single site, several interlinked sites and microsites, or literally thousands of sites with millions of pages. Likewise, you may be the only editor, have a handful of content contributors and editors, or manage a very decentralized team of authors, editors, designers, approvers, and managers using the system. Whatever your size and structure, though, you likely have a brand to maintain. Any CMS should help you maintain that brand consistency, but some do it better than others.
For example, you should be able to define a look and feel for a site by creating CSS files and templates for each page type on your site. You should look for a CMS that provides a central repository (see #1 above) for your logos and managed links, footer information, CSS files and formats and templates. That way, if you change something in one place, that change will flow through to all pages and sites where it is being used. A superior CMS will also make it easy to stamp out new sites by copying entire sites (link re-writing included), so you can maintain the same look across all your micro-sites, department sites, landing pages or product sites.
5. Provides Actionable Reports
Let's be honest, reporting isn't the sexiest component of a CMS, but it is a necessary part of business and can be very powerful when used correctly. Instead of choosing a CMS that provides a laundry list of useless reports, look for a system that provides powerful, actionable reports that you can really use.
Reports like broken links, misspellings and accessibility issues for both pre- and post-publishing are incredibly helpful for SEO and to create a positive experience for your web visitors. Additionally, stale content reports, publishing notifications, and login and usage reports can be especially useful to both administrators and content contributors. Other reports that may come with the content marketing tools to complement your CMS include keywords, search terms, visitors, page load times, inbound and referral links.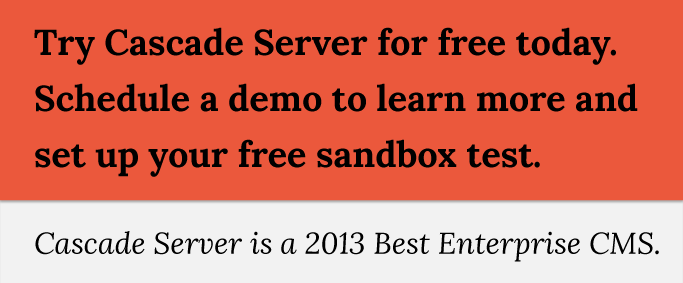 When you search for a first or replacement CMS for your company, there will be a number of different features and benefits to evaluate. In addition to looking for these top 5 CMS features, you'll also need to evaluate many other options. Ultimately, the most important part of the process is planning and understanding your particular needs based on your organization's size, resources, technical skill level and marketing needs. Once you figure our your needs, it will be much easier to evaluate potential solutions.
For more information about Cascade Server Enterprise CMS, contact us to schedule a demo and set up a free testing sandbox.