Joomla's popularity stems from its open-source nature, ease of use, and rich functionality.
Joomla is also a reliable assistant in expanding the website reach, which is possible due to its compatibility with modern browsers, multilingual support, and SEO-friendliness. These and many other things are constantly increasing the Joomla community.
If you belong to users of this CMS too, we have prepared a cool set of free Joomla templates for you. Of course, if you'd like to find a premium Joomla solution for your website , there is a large number of themes available. However, if you are eager to save money, you could try downloading a free theme. It is definitely a smart choice in such an undertaking. Finding a decent-quality theme available at no cost may take a lot of time, that's why we've decided to facilitate your efforts.
Check our set of free Joomla templates offered by trustworthy companies, and you are guaranteed to find the right design for your site. You probably know about the major Joomla update to version 3.x. The web technologies are constantly changing and so is Joomla. In this compilation all the templates are compatible with the latest versions of Joomla 3.x. Some of them still work well with version 2.5, so we included this information in the description of each template.
Ulmus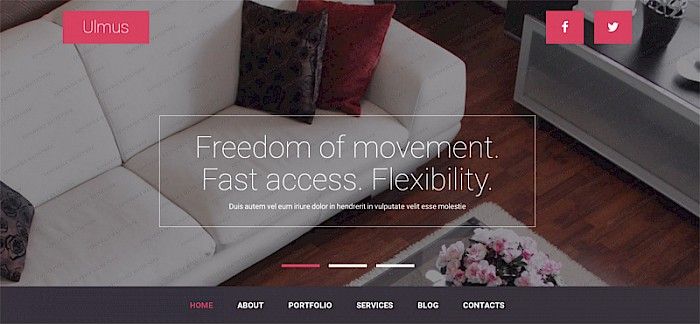 Ulmus is a powerful, feature-rich Joomla template that suits for companies who specialize in interior and exterior design, furniture, hotel business, architecture and other related fields. Parallax scrolling and lazy load effects can add spice to your website. The theme is compatible with Joomla 3.0.x-3.3.x versions.
Magazine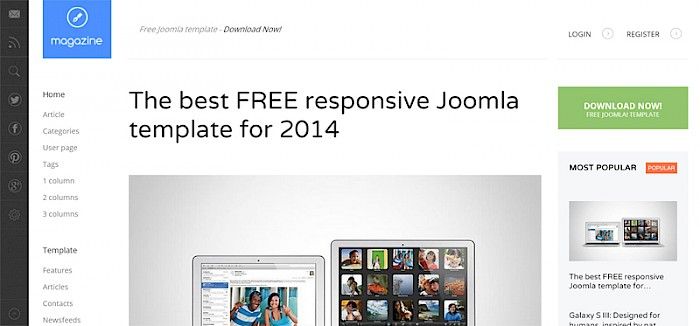 Magazine is a light-weight Joomla template compatible with both 2.5 and 3.3 versions. It is responsive and looks great on different kinds of devices. The theme also provides you with different page layouts.
Meet Gavern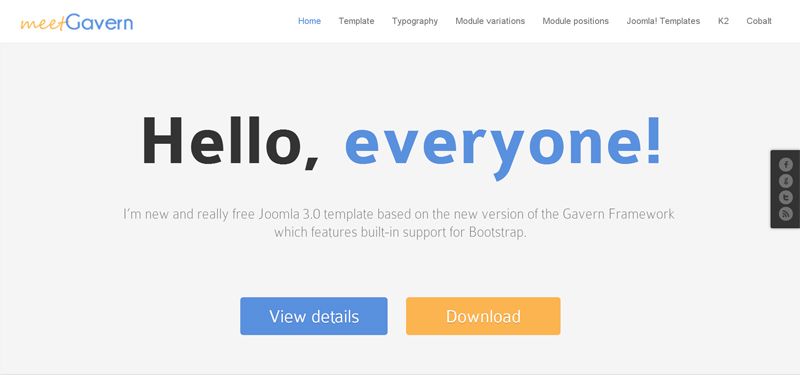 Meet Gavern is a responsive theme with a two column layout which is compatible with Joomla 3.2. It is built with Bootstrap framework and suits well for business related websites.
nuModusVersus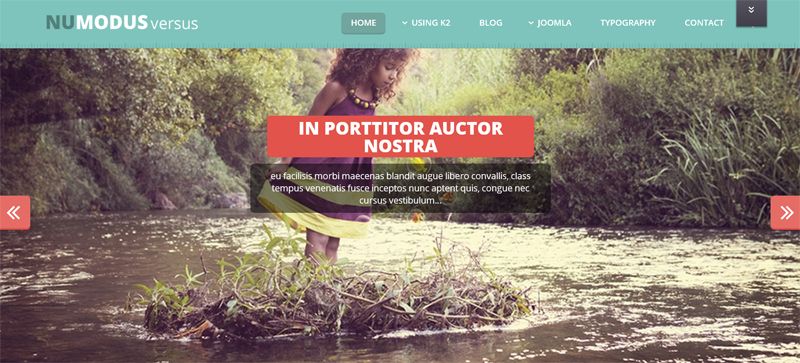 The theme has three variations of a color-scheme and a pack of nice icons that can be featured on the front page. It can be used with the latest version of Joomla, but if you haven't updated your website, version 2.5 is still supported.
Takai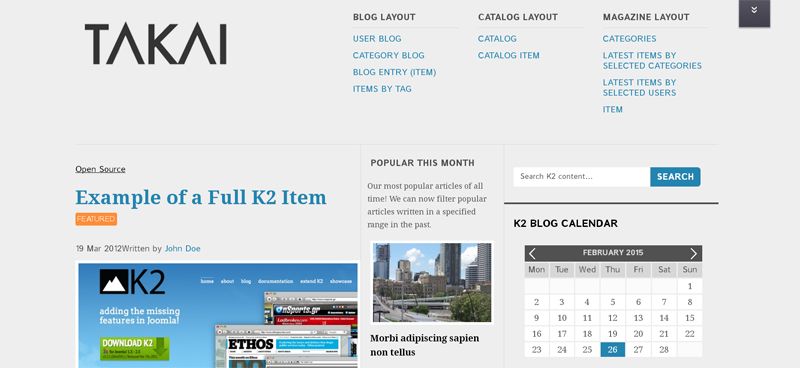 Takai is a simple Joomla template that had been used as an official demo page of the well-known Joomla extension K2 back in 2012. The theme has all the coolest features of K2. Right now you can download it and install on your website, as it is a great theme for any Joomla beginner. Both 2.5 and 3.x versions are supported.
Helix II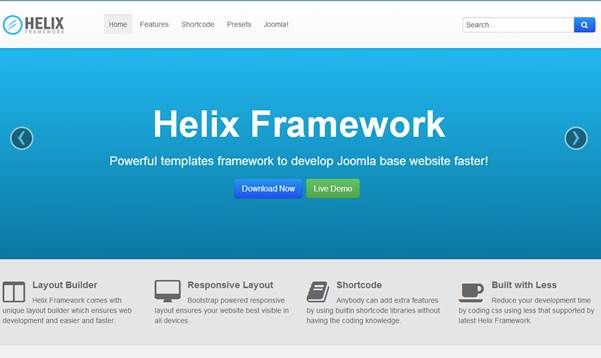 Helix is a Joomla template based on Helix Framework, developed by JoomSharper. It is fully responsive and open source which means you can download it and use for free. It also has a set of useful shortcodes. Helix template is compatible with 2.5 and 3.x versions.
Radon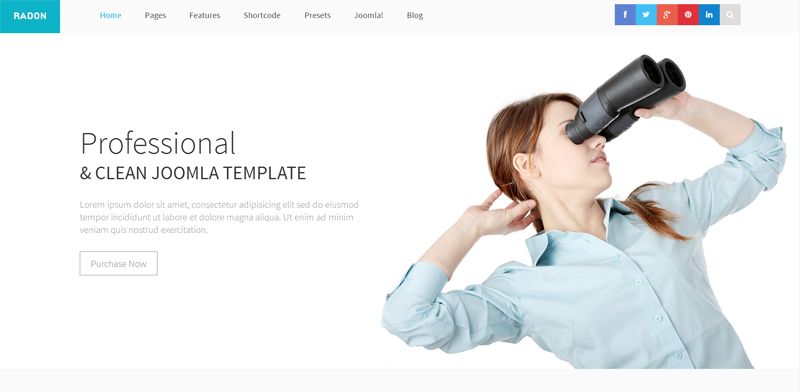 Radon is yet another theme built with Helix framework. It has different types of page templates, such as business, portfolio, corporate, agency, etc. It has rich administration features and is compatible with both Joomla 2.5 and 3.x.
Section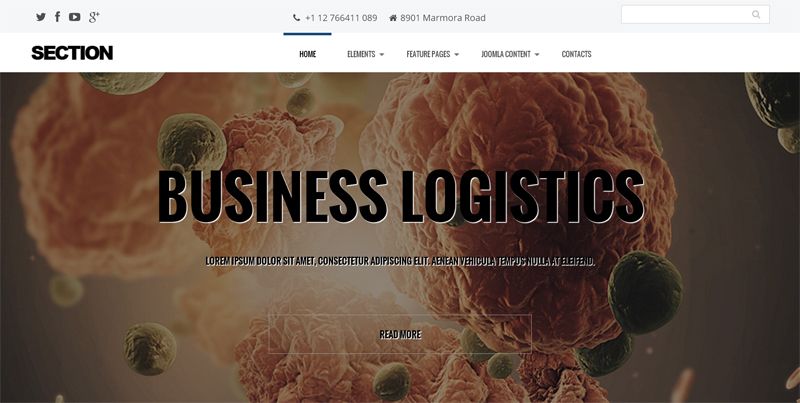 This template can suit nicely for different types of websites, as it is multipurpose. With its help you can create a business site, photographer's portfolio, agency website, etc. It is responsive and has a lot of useful features. The template is compatible with Joomla 3.x.
Eximium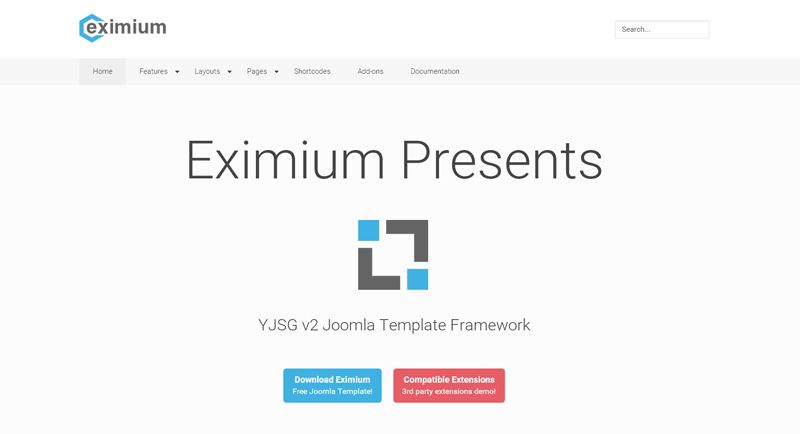 Eximium is a template based on Yjsg v2 Framework. It has an appealing flat design, different types of website layout, and a large number of other helpful features, so you won't even need to install additional extension for your website. It works well on both 2.5 and 3.x versions of Joomla.
BaseLine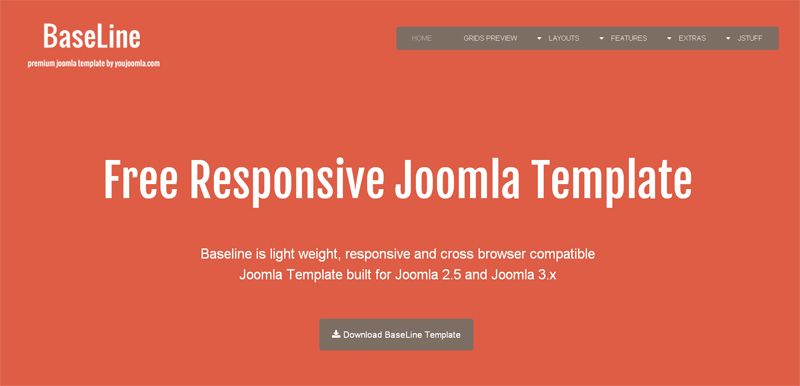 BaseLine is a bright, light-weight theme with minimalist layout. It doesn't have any excessive design elements, the only thing that draws our attention is a call-to-action button in the center. BaseLine is compatible with versions 2.5 and 3.x.
Shoe Store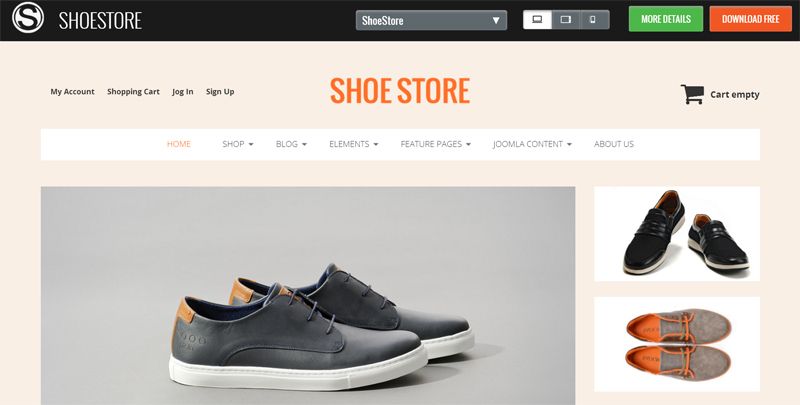 Shoe Store is a great VirtueMart 3 powered Joomla template that makes it a great choice for any eCommerce website. The theme is simple, good-looking and is compatible with Joomla 3.3.
Free Estate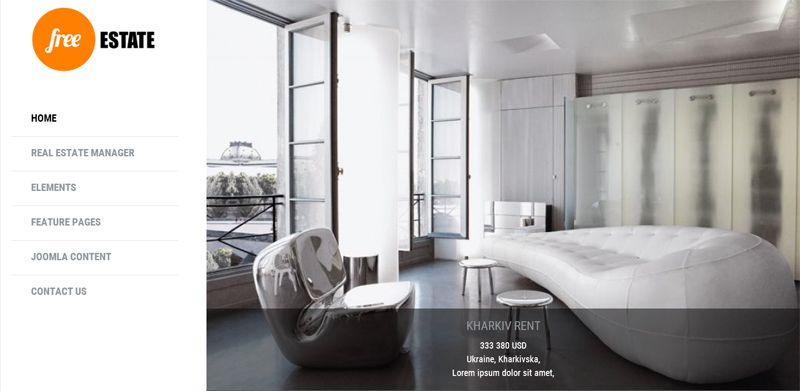 Free Estate is a clean, responsive Joomla template. It has a large image slider on the home page, and some useful modules, such as a search module, Google Maps module, etc. The theme is compatible with Joomla 3.x.
JA Elastica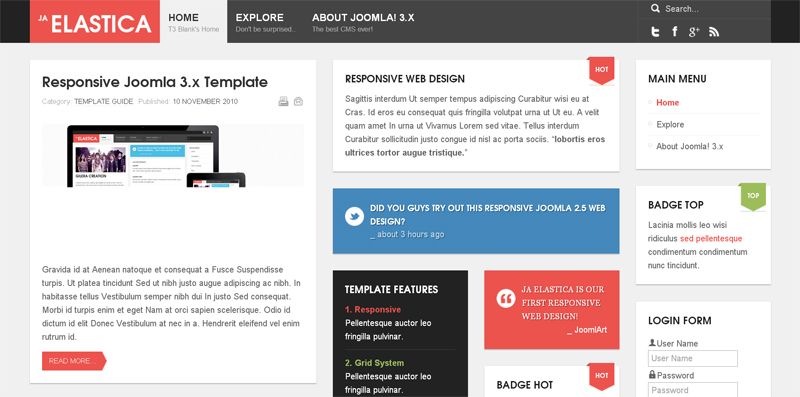 Elastica is fully responsive template, compatible with versions 2.5 and 3.x. It is well suited for different kinds of devices, including mobile phones, tablets and laptops. The layout is clean and simple.
Purity III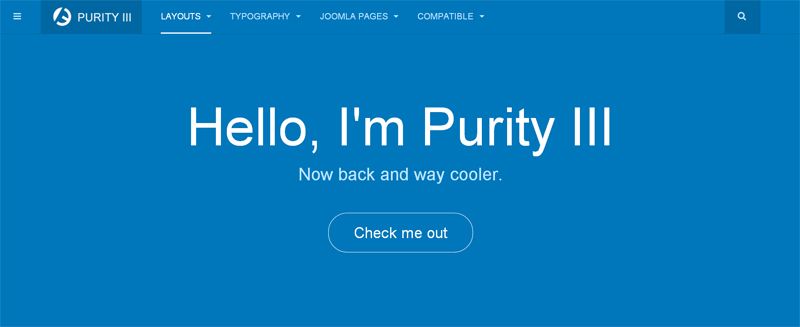 Purity III is a minimalist free Joomla template that can be used as it is, or you can customize it and add big-resolution hero images and ghost buttons. It has a clean drop-down menu and small logo at the top. It is compatible with the latest version of Joomla and can suit well for a business website.
Mondrian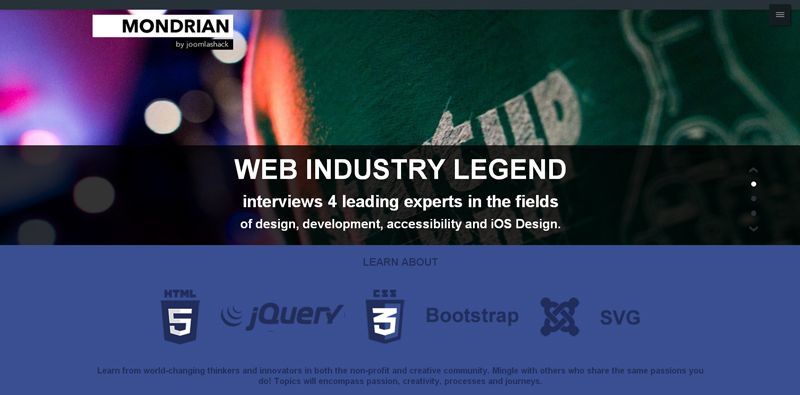 The theme has two different color options. The layout is responsive and fits nicely into different screen resolutions. The typography may seem a little oversimplified, but that can be easily changed. It works well with versions 2.5 and 3.3.
Wright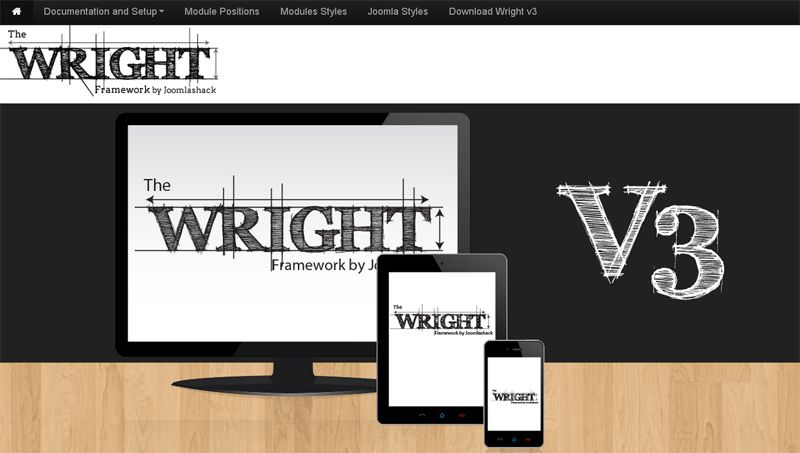 Download: https://www.joomlashack.com/free-joomla-templates/wright-free-minimalist Demo: http://wright.joomlashack.com/demo/ Wright is a simple minimalist template built with Wright Framework – one of the most light-weight Joomla Frameworks. It has a minimum set of features, but provides you with speed and responsive design. It's compatible with versions 2.5 and 3.3.
Time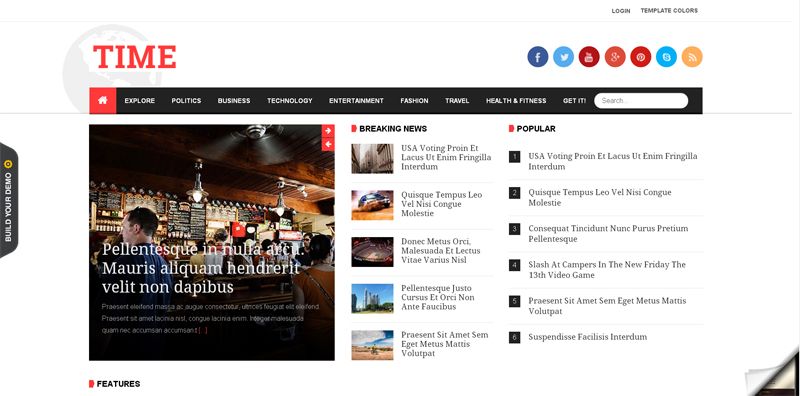 Time is a perfect theme for a news portal. It has a multi-column layout, an extendable mega menu and image sliders. At the top you can see various social sharing buttons. The theme is responsive and looks good on different devices.
View this theme Live demo
One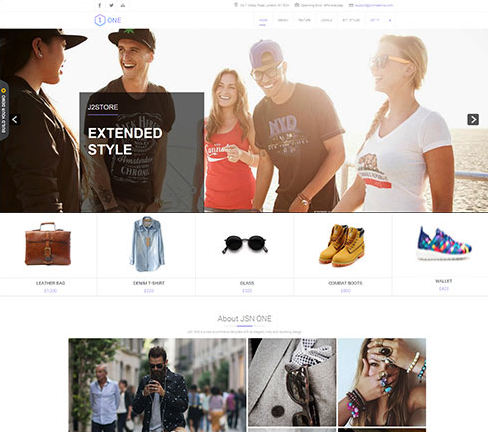 This is a free stylish Joomla template with a big image slider on the front page. It has a special emphasis on visuals and typography. The theme may be a great fit for various types of websites.
View this theme Live demo
Business Template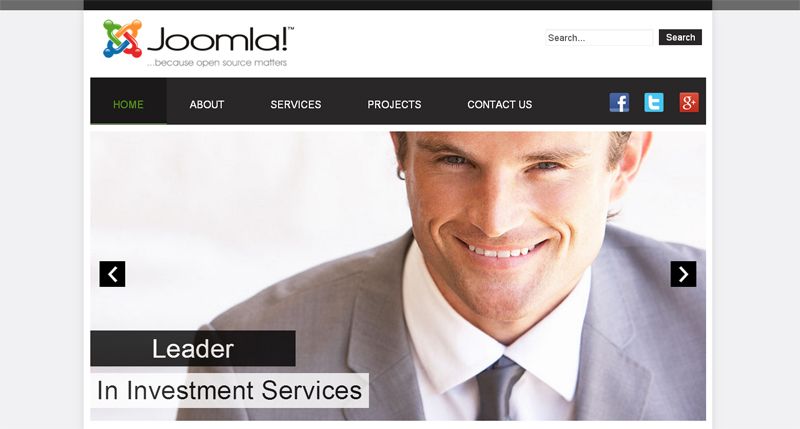 This is a simple Joomla template built for a business website. It has some basic features, such as an image slider, and three social media buttons. It may be a nice solution for those who are new to Joomla and don't require additional functionality. It's compatible with Joomla 3.0.
YouGrids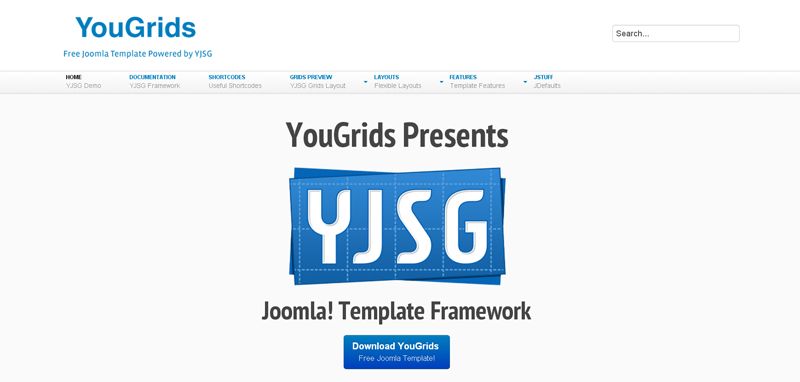 YouGrids has three layout options, mega menu, different SEO features, a large number of shortcodes and font types. Moreover, it is responsive and looks great on different screen resolutions. It is compatible with a large number of Joomla versions, including 2.5 and 3.x. That's it for now. You have looked at some great free designs for your Joomla website and hopefully have chosen the one that suits your needs. Which template did you like the most? If you know another awesome free Joomla template that wasn't included in this roundup, please let us know. Share your thoughts in the comment section below.