Weeding through the various CMS on the market to determine which ones are strongest for specific industries can be a challenge. In an effort to help make things a bit clearer, we present you with our take on which are the Top CMS for Healthcare.
Governments of industrialized nations all across the globe recognize how important it is that patients in their healthcare systems receive the best care possible. As a result, they have come to recognize the importance of legislating better record-keeping and information management across these systems.
Today, this means the careful use of technology to manage content responsibly and effectively. Security, of course, is a key component in this mission. Access across devices must also be seamless, and systems should be adaptable to the ever-merging world that healthcare seems to have become. A high level of customer service – accounting for varying levels of technical savvy among healthcare employees – is also a crucial point to consider. With these many important characteristics in mind, the following 6 CMS are the ones the healthcare industry has come to turn to today:
OpenText

OpenText offers many helpful Web 2.0 features – for an online physician and patient experience that is both practical and engaging – as well as enterprise-wide paperless solutions. These paper-free options include digital storage of MRIs, X-rays, etc., as well as paperless billing, HR, and insurance records. What's more, OpenText provides auditing trails to ensure regulatory compliance as well.
Visit them on the web: OpenText
Lexmark

Like OpenText, Lexmark document management solutions for healthcare allow for fewer paper documents (including automated delivery of orders to pharmacy, radiology, and dietary service areas, among other departments), all with the goal of better patient care at lower costs. Through a simple pull printing and tracking solution, stronger compliance is also achieved, as patient information is thus better protected.
Visit them on the web: Lexmark
Meditech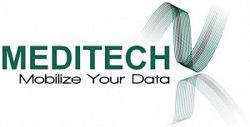 Regardless of which software a healthcare organization has been using, Meditech's enterprise content management system aims to meet government requirements through its interoperable unified patient record, securely accessible from anywhere. This EHR (electronic health record) serves a wide range of facilities – from hospitals, ambulatory care centers, physicians' offices, long term care and behavioral health facilities, to home care organizations worldwide. The system also promises to make electronic submission of outpatient prescriptions a reliable reality that reduces medication errors. Furthermore, Meditech EHRs aim to make a difference in an era when organizations are increasingly merging, joining care networks, or adopting shared models.
Visit them on the web: MediTech
OnBase by Hyland Software

Hyland Software's OnBase enterprise content management boasts of a 98% customer renewal each year and an exclusive endorsement by the American Hospital Association (AHA). Using customer input, as well as an in-house team including experienced nurses, therapists, and directors of HIM (health information management), OnBase's solutions facilitate audits and other compliance requirements, and automate not only patient care but other important organizational processes as well, including administrative and patient financial services. In doing so, OnBase aims to reduce operational costs and improve patient care by allowing practitioners to access information from disparate systems exactly when they need it – through secure, remote log-in as well as by assigning document expiration dates (at which time information deletes automatically).
Visit them on the web: OnBase
MedTouch

MedTouch for Sitecore is an award-winning CMS that powers everything from public-facing websites to employee oriented intranets (including mobile solutions) for health plans, physician groups, and hospitals. Client support includes CMS migration, infrastructure consulting, administrator training, and system audit and evaluation.
Visit them on the web: MedTouch
Cascade Server by Hannon Hill

Hannon Hill's Cascade Server CMS provides technical and non-technical users alike comprehensive toolkits that work with any database, operating system, or web server. Cascade Server also emphasizes a special type of open door policy, as it not only takes pride in its customer service but also prides itself on the way in which it enables clients to interact with one another through an online help forum. The company welcomes clients to contact their support team as often as they like, any time, and weekly Tuesday webinars focus on new tips for users. Hannon Hill even provides free access to web services projects and migration tools, with a large quantity of Cascade Server's code made available directly to clients.
Visit them on the web: Cascade Server
In an age of automation, the use of online technology may seem like nothing more than a convenience for many businesses; however, high-quality CMS technology for the healthcare has become recognized as an absolute necessity when it comes to meeting not only privacy regulations but also government requirements to use systems in ways that meaningfully improve patient care. As more and more software companies step up to this challenge, healthcare organizations are coming to expect, as well, to be able to take advantage of technology that also works with existing systems, making all facets of managing a large organization run smoothly and seamlessly, from the billing department to payroll as well.