Has there ever been a period in history where we have been as obsessed with optimal productivity and output as we are now? I sincerely doubt it. This growing need to increase efficiency and "better ways of working" is reflective of our constant struggle to maintain the elusive work/life balance. And the currently over-saturated market of productivity apps is a clear demonstration of that.
So how do you separate the wheat from the chaff?
Today, we're going to compare two of the most popular productivity apps on the market: Trello vs Asana. These project and task management based apps entered the tech space pretty much around the same time. Trello was introduced by Stack Exchange CEO Joel Spolskey and current Trello CEO Michael Pryor in 2011, until it was then acquired by Atalassian in 2017. Asana came along about 2 months later after a launch by Facebook exec Dustin Moskovitza.
Although the market is bursting at the seams with productivity apps right now, these two tend to dominate when it comes to all things project management. They nailed down deals with some of the top Fortune 500 companies from day one which pretty much brought them right up the ranks and they're just as popular with smaller companies and startup organisations. If you're running an Agile team, it's a no brainer to on-board one of these apps, but then again – there is so much more to these productivity apps that simply managing work related projects. These apps have been developed to help you to manage your entire life as efficiently as possible.
With a range of easy to use features, great design, and continual improvement and progression, it's a difficult task to choose a winner between the two. But we're going to give it a go. Let's start with an initial beginner's guide to each.
Trello Vs Asana – The Contenders
First let's take a look at contender #1, Trello.
Trello: A Quick Overview
Trello was actually one of the first project management apps on the market that took things in a very different direction. Trello is based on the Kanban approach which is a visual way of managing tasks on a project board. Think "white board with sticky notes" but on your computer screen. This very visual approach makes it easy to get an instant progress overview and it can be invaluable to busy project managers. Want to know how Trello works? Here's a basic overview of how to get started:
The first thing to do when you sign up to Trello is create a board.
Boards are the brains behind Trello. This is your homebase. Once you've set up a board (for a work project, home project, whatever you like) you can assign tasks within that board that have to be completed and can also be checked off once they're done. Boards can be public or private, so you might want to keep your work items lowkey but leave your party planning board public so everyone can get involved.
When you've set up a board, you can create lists and cards.
Lists are columns that hold your tasks and you can drag and drop cards/tasks from one column to the next as you project progresses. For example. It's quite common or users to name lists "to do", "doing" , and "done", so it's pretty obvious that the workflow works! Also don't underestimate the satisfaction of looking at your "done" list at the end of the day.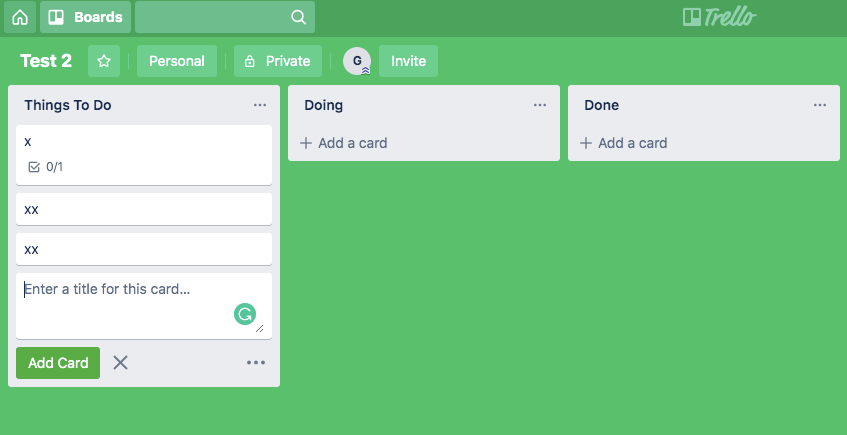 Once you've set up your first Trello board and a series of lists (or columns), you can start filling them up with cards. In this example, these can be any to-do list items that you have lined up for that week and at what stage you're at in the process, i.e. do you need to start tomorrow? Are you halfway through? Or is the task completed?
If you're working with colleagues or friends on a task, you can assign these cards you've created to anyone else who is working with you on it. As you assign the task, you can add an array of useful information such as the due date, further details on the task, any relevant comments, checklists that need to be completed, and attachments you want to add, etc.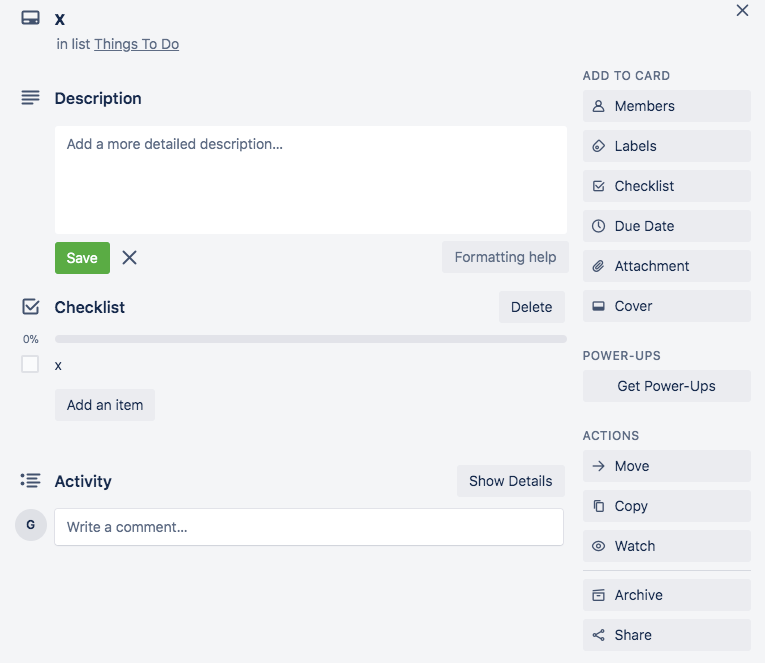 Now for contender #2.
Starting Off With Asana
In Asana, teams are organised around projects and it's completely project based. Teams collaborate in Asana via organised lists of tasks and in comparison to Trello it's definitely more "linear" rather than "visual" in its approach.
In Asana, projects involve lists of tasks that teams collaborate on, e.g. you can create different Sections for each project and create a list of tasks related to that specific section of the project. Each of those tasks can then have its own sub-task so that you can create a "nesting" of tasks. You can tag people in the tasks, add comments and files, create even more subtasks, and add descriptions. Almost whatever you need to complete the task can be added here. This is really useful if you have a very comprehensive and detailed list of tasks involved in a project. In comparison to Trello, which can get pretty messy as a project develops (there's a LOT of scrolling involved to navigate through tasks), Asana is a lot easier to manage at this level.
Users can use a pre-existing Asana template (which are all absolutely fine to use) or create custom template to meet their exact requirements.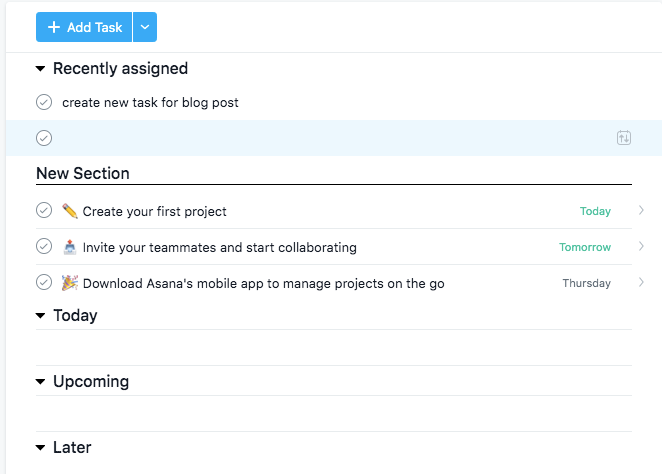 Adding information.
Once you've created a task, you can add lots of details similarly to Trello, such as comments, attachments, and checklists.
Creating Your First Project
You can create your first Project before or after you've added tasks. When creating a project in Asana, you have a choice between a list or board view layout and you can also set the privacy setting for the project at this stage too.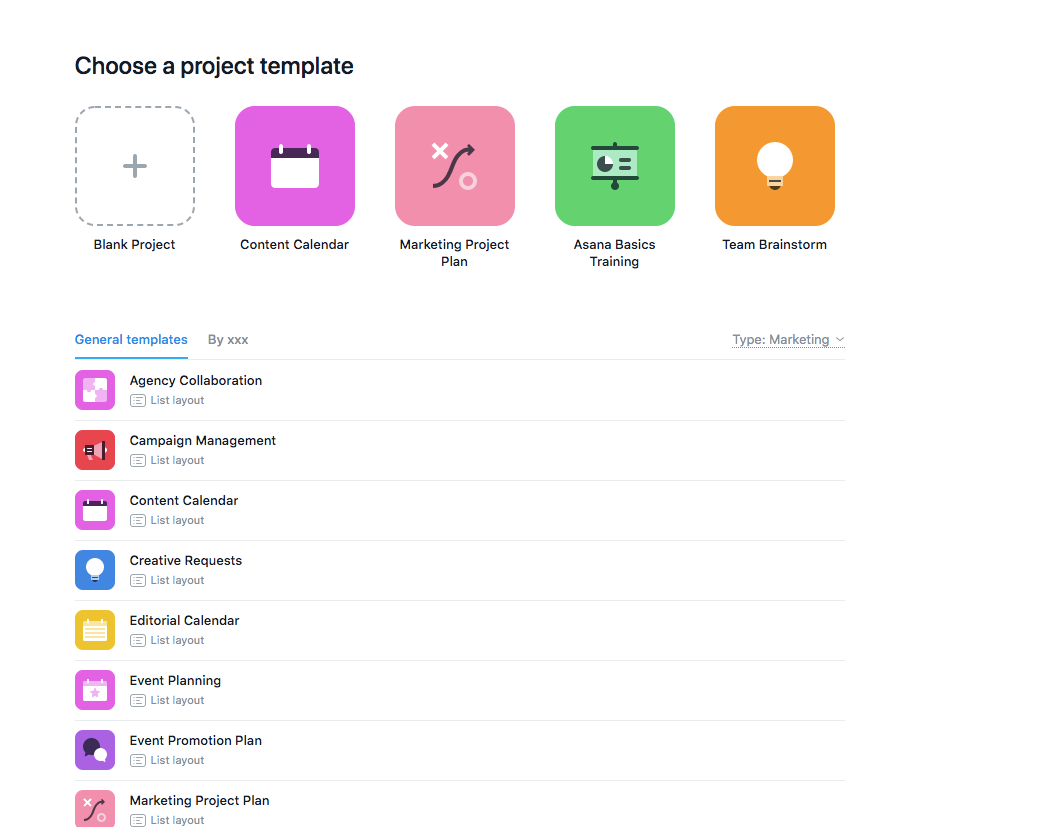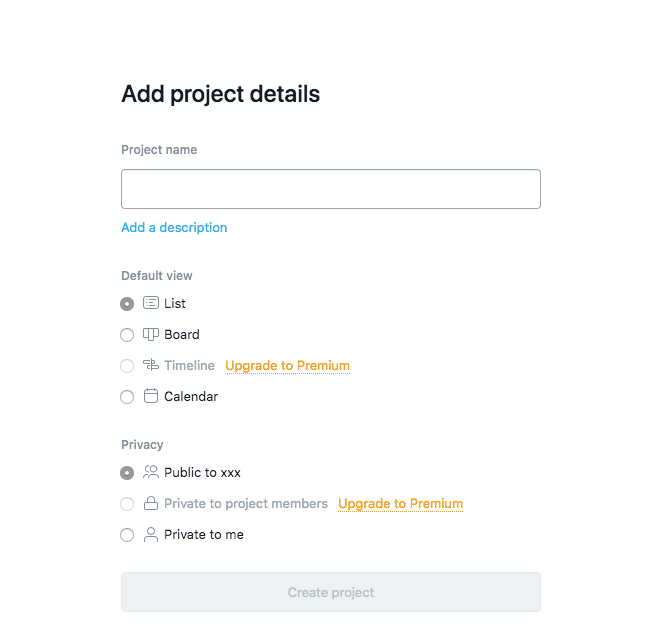 Adding Columns
If you opt for a "board view" layout in Asana, your columns will automatically set up and default to "To Do", "Doing", and "Done".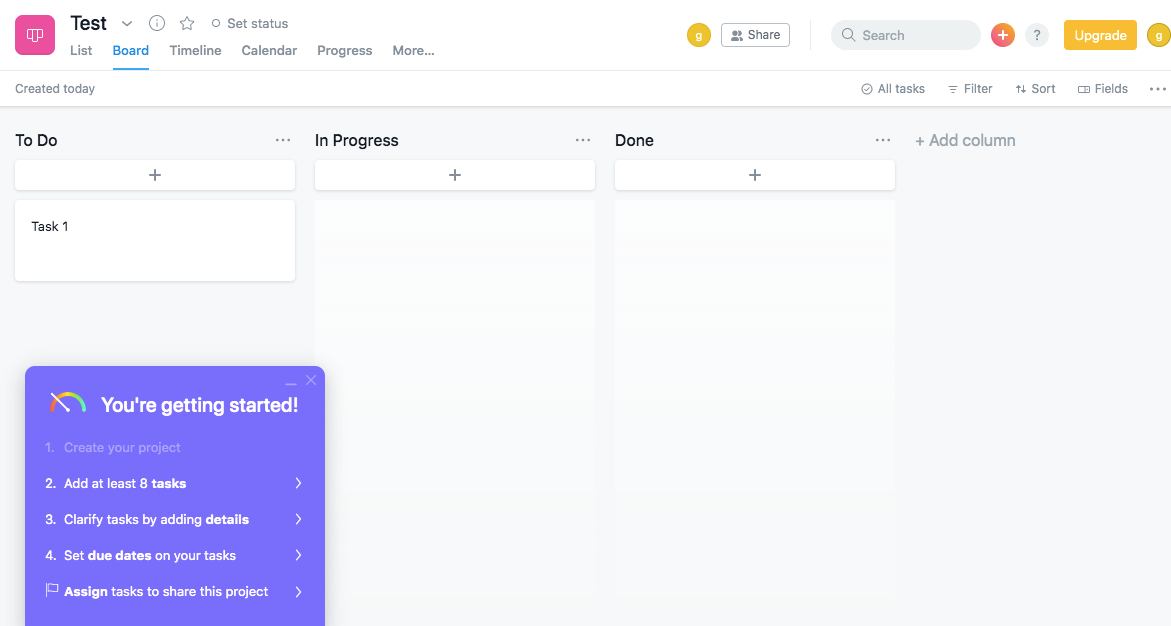 You can stick with these if you wish or you can rename them and add other columns according to your project requirements.
OK, But What's The Main Difference?
In my opinion, the main difference between Trello Vs Asana lies in the UI and usability. The caveat here is that this ease of use is going to be heavily dependent on your own style of work and what type of UI you're used to, in addition to your natural preference. But for now, let's take a black and white look at it.
Trello runs on a Kanban system, so at its core it's a to-do list made easy. It is extremely adaptable and has expanded into an incredible project management resource, but ultimately it is a to-do list app with a lot of features that make it work in more advanced ways. So, is this a good or a bad thing? I believe it's a good thing. Because of its origins, Trello is extremely intuitive, whereas Asana has been built as a project management tool for teams from day one and the little intricacies that make it a better option for very robust teams and organisations can alienate smaller teams and single users.
It might be argued that Asana is a "level-up" from Trello if your Trello boards start to become too messy and convoluted. But I'd argue that if you have the correct internal processes in place, that simply won't happen in Trello. Trello is all about having a process, and once you have one, it does its job to support that process.
Trello is designed to help you navigate your whole life, not just your workload. And the level of simplicity at which it does this means it appeals to both technical and non-technical users, which is what gives it an edge over Asana. If i was looking to roll out a new project management system to a mixed team of tech and non-tech employees. I wouldn't think twice about opting for Trello over Asana. Because it's "better" overall? Debatable. But because it can be grasped very quickly, it would win every time.
Still Unsure? Let's Weight Up the Pros and Cons of Trello Vs Asana:
Trello: Pros
Free to sign up, no credit card details required.
Very flexible, you can design the exact project management system that works for you and it's not limited to project management either.
Super useful features like color coding, comments, and mentions, which allow for instant collaboration.
No limit to the amount of team members in the free version.
Doesn't go overboard with features. You get what you need.
Simplicity: easy to use and visualise project progression with access to help when needed.
Available on iPhone and Android.
Unlimited usage, i.e. create as many Trello cards and invite as many users as you like.
Integrates with apps such as Google Drive, Slack, Dropbox.
Trello: Cons
Can get messy with larger projects if you don't already have your own system in place. If you don't put a process in place when you start using Trello and get everyone on the same page, things will get complicated fast.
You can only export when using a paid plan.
The visual style won't suit everyone's way of working.
Asana: Pros
Asana has a more sophisticated style. The UI is more refined and you'll only see options and menus appear when relevant.
It's free to use for up to 15 people per team.
Easy to quickly add new tasks.
Email integration.
The app is available on iOS and Android.
The condensed task view makes it easier to get a quick bird's eye look at a project and instantly access the section you need to work on compared to Trello.
Asana has built-in help available that makes sure you never get stuck for too long.
Like Trello, Asana offers a number of integrations such as Slack, Dropbox, and Google Drive.
The Portfolios feature allows larger teams to manage multiple projects at scale as each can be seen in a grid-style view.
Asana: Cons
Team members limited to 15 in the free version.
Only one member of a team can be delegated to each task.
The interface can seem busy at times.
Depending on how tech-savvy the user/users are, it may take some training to get everyone using Asana optimally.
Trello Vs Asana – Let's Talk Pricing
Both Trello and Asana offer a free basic option for a limited number of users and features. None of which are exactly extortionate, but if you want to use this in a business capacity the free version will simply be a "try before you buy" option for you.
Most Trello teams will start with basic and update to business or Enterprise a while later in order to access things like 3rd party integrations. For more on Trello pricing, click here.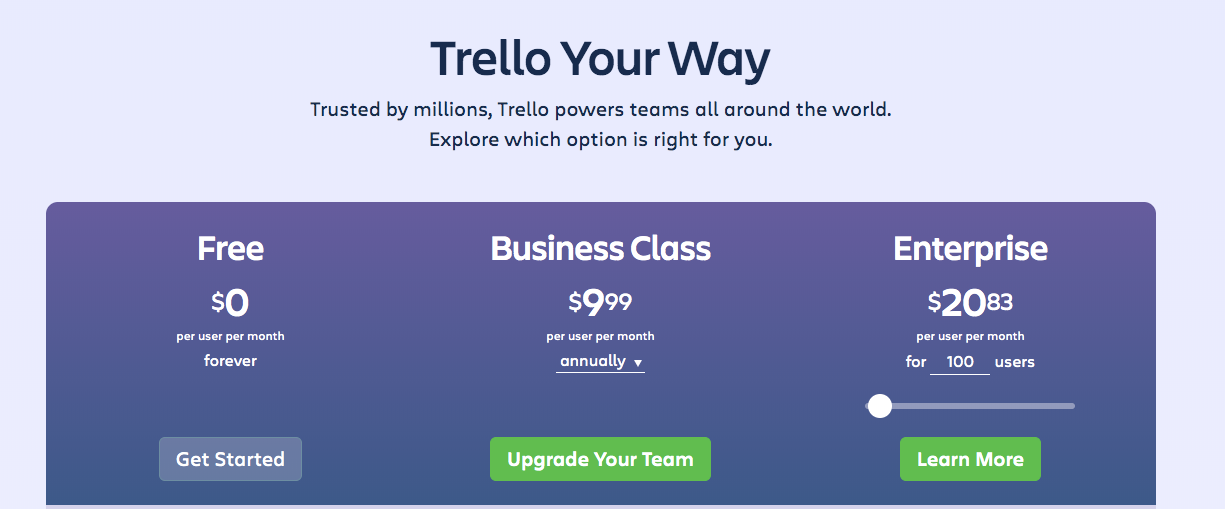 Asana is a little pricier but there really isn't much in it. For Enterprise rates, you'll need to contact their sales team directly. For more on Asana pricing, click here.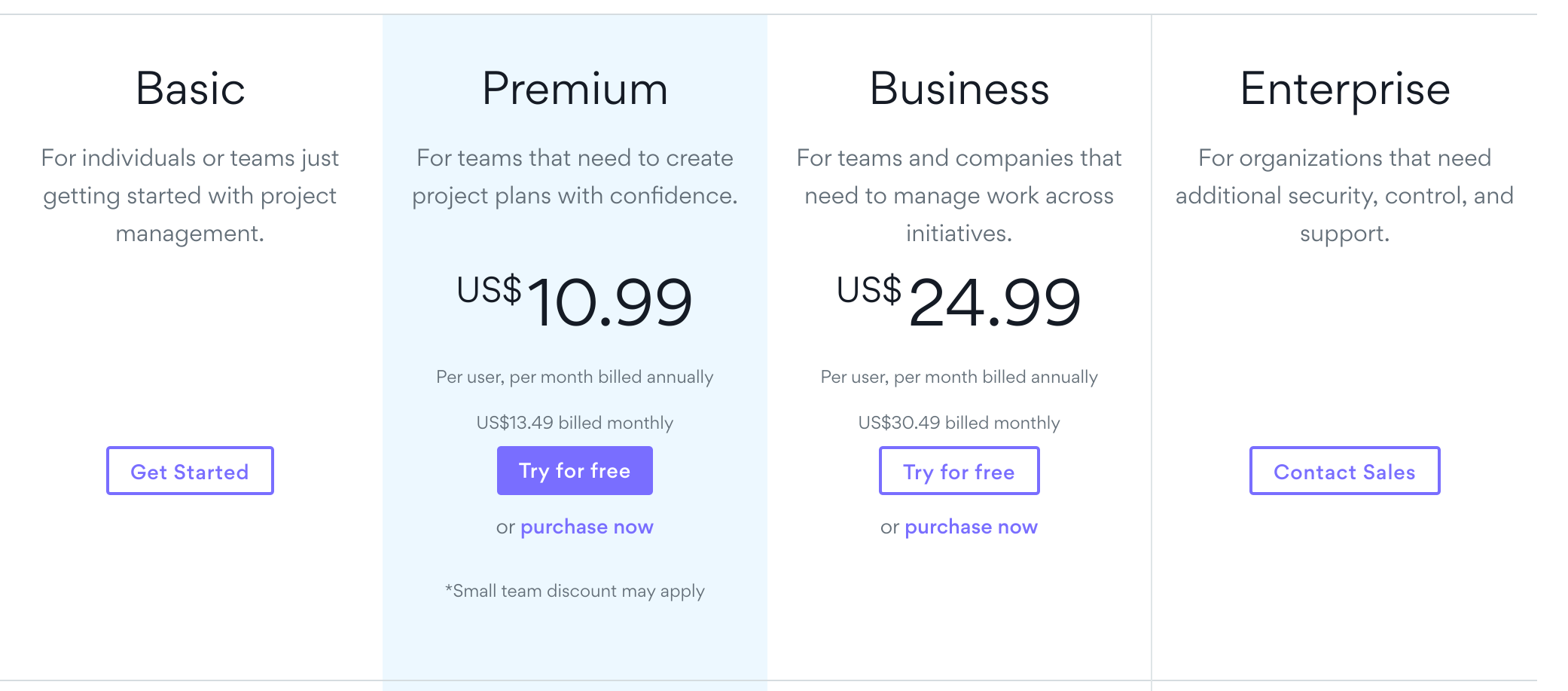 Trello vs Asana – Which is Best for You?
The differences are so minor that it's really a question of personal preference. Trello is undoubtedly the more visually appealing option with more ease of use, but it tends to lose out to Asana once the projects start to pile up. In comparison, Asana can seem a little more daunting to set up but it is that little bit more powerful when it comes to managing large-scale projects, especially when you're managing multiple teams and projects at once.
The best thing about both of these platforms is that they're free to try, so why not give both a try and see which works best for you and how you like to work? We'd love to hear whether Asana or Trello wins out for you in the comments section below!
Looking for more great comparisons? Check out the following articles: