Remember that story we shared with you on May 11th about Twitter acquiring the staff of the email marketing firm, RestEngine? There was quite a bit of conjecture circulating as to how they would be making use of these people and now, things seem a bit more clear.
On Monday, Twitter began offering a Twitter email digest which is delivered to your inbox once a week and summarizes the top stories from the popular network.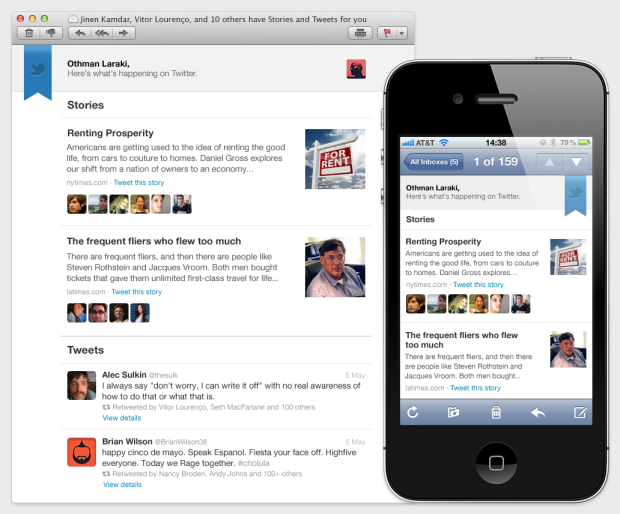 According to the announcement:
This summary features the most relevant Tweets and stories shared by the people you're connected to on Twitter.

Stories feature a design similar to the recently updated Discover tab, emphasizing who shared each story beneath summaries to help you decide which ones matter most to you. Click any headline to finish reading the story, add your take by tweeting directly from the email, and see related Tweets from the people you follow.

This new email digest also features the most engaging Tweets seen by the people you follow, even if you don't follow those who wrote them. You can see who from your network retweeted or favorited these Tweets and click "View details" to retweet, favorite, reply or view the conversation around them.

We're rolling out this new email out to everyone over the next few weeks, so keep checking your inbox for new messages from Twitter. Like other Twitter email notifications, you can manage your preferences for this new digest in your Notification Settings.
What's interesting about the wording in this announcement is that it Twitter has deemed it OK to simply opt every one of its users in by default. Take a look at our notification settings, for example:

We're not sure how we feel about being automatically opted in to these emails, even if they are weekly. How about you?