Previously known as Edicy, Voog is Berlin based multilingual website builder that offers an extremely simplistic way for users to create their own site.
Whilst it's not known as the most sophisticated website builder around, it does have a reasonable price tag attached, so I decided to check it out.
Getting Started
To get set up with Voog, simply click the 'Get Started' button on the homepage – which will bring you to the screen for selecting a template.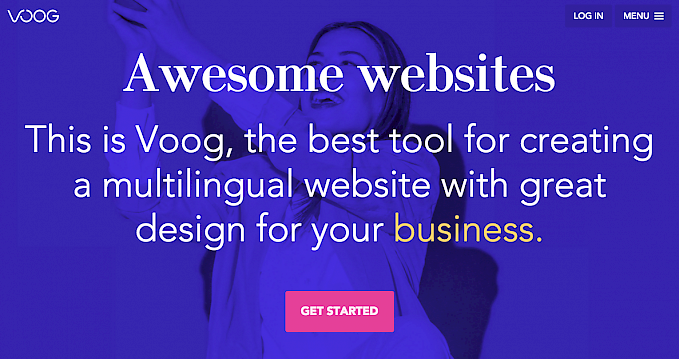 From here you select your theme, add in a few personal details (like your name and phone number), and you're taken to the editor.
Voog doesn't have a 'free' version but there's a 30-day free trial that you can access without entering any credit card details.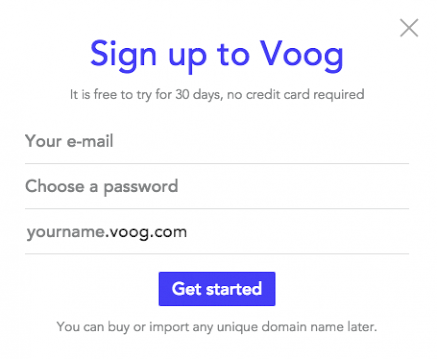 Design
The theme of simplicity runs through all of Voog's UI and UX. Everything is very clearly labeled and laid out. The Voog team have streamlined their process down to the bare bones of functionality and it works quite well.
The site is extremely easy to use and there's no real learning curve involved.
Their template choice is contemporary but quite limited and there's a very 'samey' feel to what's on offer. All of the templates have a very sparse, European arthouse style, and seem to be geared more towards artists, designers, or boutiques. If you're running a more 'corporate' business, you may not be happy with the selection available.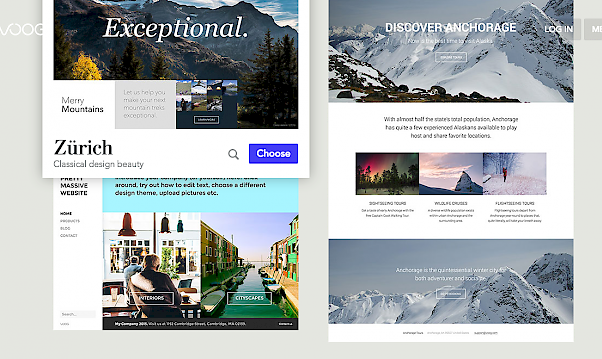 All of the templates are responsive by default, which is a plus. However, some of the templates that I tried out on iPad weren't retina compatible and looked a little blurry as a result.
Voog do have a very tasteful selection of fonts to choose from and I found it very hard to make an 'ugly' site with their system.
Editor
Voog's WYSIWYG editor is definitely easy to use, but it's completely rigid. Everything is drag-and-drop based and any text that's visible on the page can be clicked on and edited with the Rich Text Format toolbar.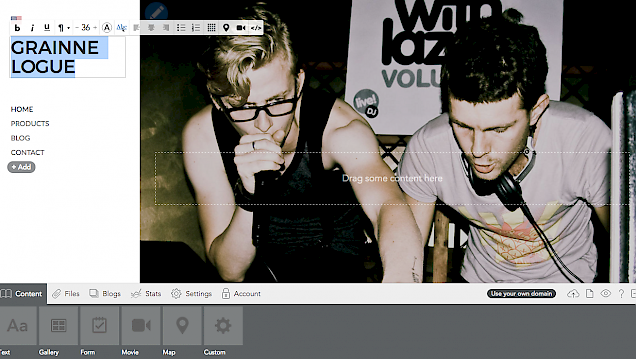 Features are pretty limited, and the elements you see at the bottom of the page – 'Text', 'Gallery', 'Form', 'Movie', 'Map', and 'Custom' – are all you have to work with.
If you want to add social media apps or anything beyond what you see here, you have to enter custom code through the 'Custom' box.
Rigid
Each design comes in two flavors – front page and common page – and you can't edit these in any way.
When I tried to add an element to my theme, I dragged it into the picture area and then discovered that I couldn't move it. It had a fixed spot on the design and I could only edit what was inside it, not where it was.
This applies to all of their other elements also.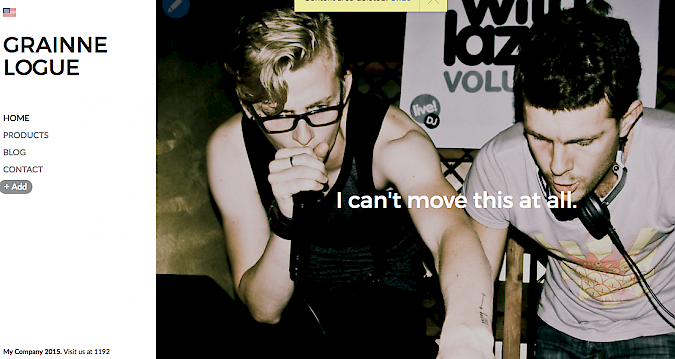 You can edit the themes if you know coding and CSS, but not everyone is going to be clued in on that side of things, and it's especially unlikely that people using a website builder this basic would be uber savvy about coding.
This is a bit of a let down from Voog and it leaves them trailing behind the current trend of site editors that allow complete control over your design right out of the box.
There are only 11 templates available, which means you don't have that much choice either.
Features
If you're looking for a site builder with a ton of apps, widgets, and features built-in, Voog is not for you. It's quite sparse, to say the least.
Their custom app allows you to insert script or raw HTML from Facebook or Twitter, but I found that complexity to be out of step with how basic everything else was.
One of Voog's key selling points is the multilingual feature. Everything can be listed in multiple languages (15 in total), which will definitely appeal to users selling items in multiple regions.
Everything on Voog is automatically optimized for SEO and there is a decent analytics package set up as standard also.
Blogging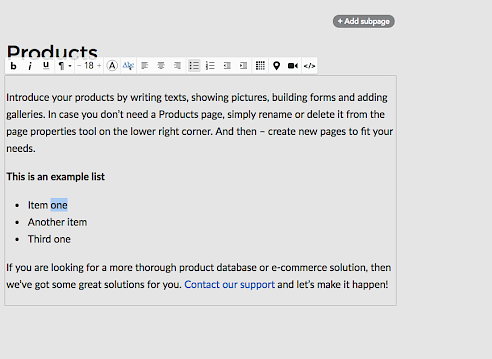 Voog's blogging platform is completely native and extremely basic. It's simple to implement on your page with the drag-and-drop functionality but seemed a little too simplistic to me.
If your business plans to utilize a comprehensive blog as part of your marketing plan, I'd think twice before basing your system on this.
If you need a basic blogging platform, this is about as basic as it gets.
eCommerce
There isn't any option to insert a web store or a web store element on the trial version, but the site says that you can insert a 'simple' web store by contacting them directly.
Pricing
Voog has a very simple and fair pricing structure that is completely in line with the site's philosophy.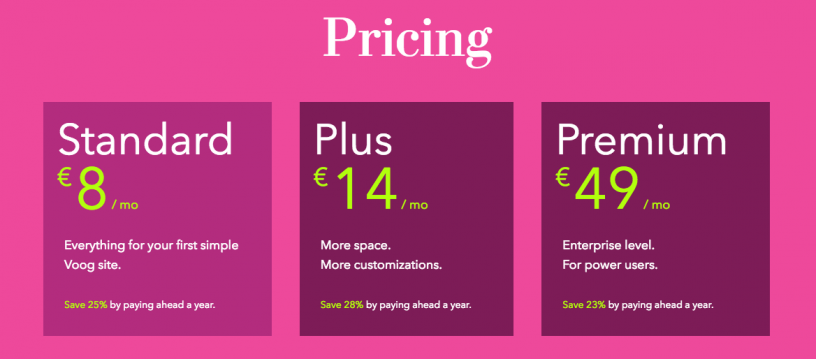 They have a Standard package for €8 a month that allows for 2 GB storage, 3 users, 30 pages, 3 languages, a custom domain, password protected pages, a fully customizable design (via code), and API access and developer tools.
This is quite a comprehensive package of Voog's core features and it's decent value too.
Their Plus version is available for €14 a month with all the Standard features plus 10 GB storage, unlimited pages, a free custom domain, and a database tool.
They also have a Premium version for €49 a month that gives you full features plus the ability to host Voog's system on your own hosting.
Voog doesn't have a free version outside of a 30-day demo.
Overall
Voog will be the perfect site builder for some users but it will probably be too sparse and basic for the majority of businesses. It would suit someone with a very basic understanding of web design who wants to insert their text in a nicely designed template.
The editor is as simple as it can be and very easily navigated.
Voog is a good option for the novice user who wants to build a simple site, but I wouldn't recommend it if you're looking for anything more than that.
The templates are nice but rigid, the features are limited, and the blogging and eCommerce functions are ultra basic.
This is a decent site builder that works well – but doesn't really measure up against the top competition in this field.
To check Voog out for yourself, just follow this link.
Pros:
Cons: