Since the birth of the Internet, website builders have always endeavoured to create online communities. Naturally, the emergence of Facebook marked the beginning of a new era in social networking, helping to bring people together in new, more innovative ways.
Ning, is a powerful, well balanced CMS which can offer you the perfect platform to create your very own social network.  With over 2 million online communities already supported, you can be sure that your online social project is in good hands. 
Using Ning, you can design, structure and control your online community in a variety of ways. Customizable templates and branding options allow you to make your social network unique, whilst extensive admin control features allow you to dictate the way in which users can view and interact with content. Ning also takes care of your hosting needs, helping you to launch a social network as part of an existing website, or even as a brand new venture, in a matter of minutes.
The Right Image
As with most websites, aesthetically pleasing design is vital. Moreover, when it comes to building a social network, you'll have to ensure that the overall feel, quality and professionalism of the platform, as well as the various interfaces, all work well together. After all, a social network should be easy to use for all its members, in order to increase their activity within the community.
Ning allows you to brand and personalise your network in any way you wish. Your fan base or community will no longer need to go through third-party platforms in order to view or discuss your content. Essentially, your social network will look and feel the part – and that's always a good thing.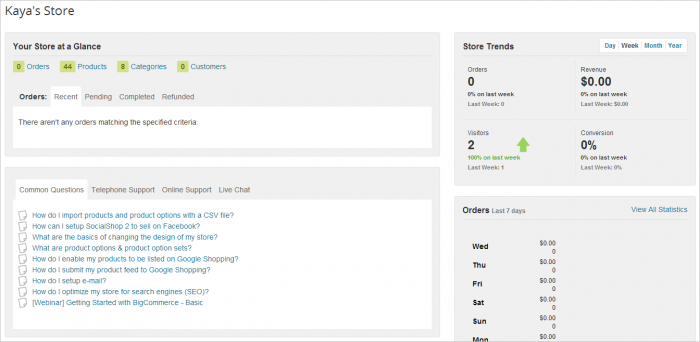 When it comes to actual design, Ning enables you to choose from a range of expertly pre-designed themes, whilst giving you the option to customize them to your hearts content. All of Ning's themes make use of HTML5 and are also responsive, ensuring that visitors can enjoy your community on any device.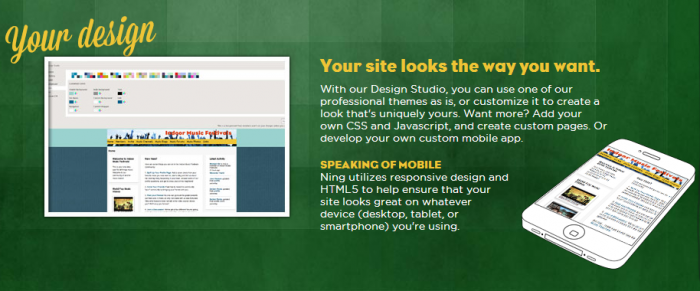 Although design and usability are important, they are of little use if there is a severe lack of features and activities for users to get involved with. Thankfully, Ning offers a wide range of community based mediums to enable your visitors to enjoy the overall interface of the website in a socially constructive way. These features include forums, user profiles, photos, liking, sharing and more.
These different social functions will not only enhance the beauty of your Ning website, but will also invoke a strong sense of community amongst regular users. 
Controllable Communities
One of Ning's strongest features, is the amount of control given to you as an administrator. Building your community is one battle, but being able to control and selectively give access to different member groups is something else entirely.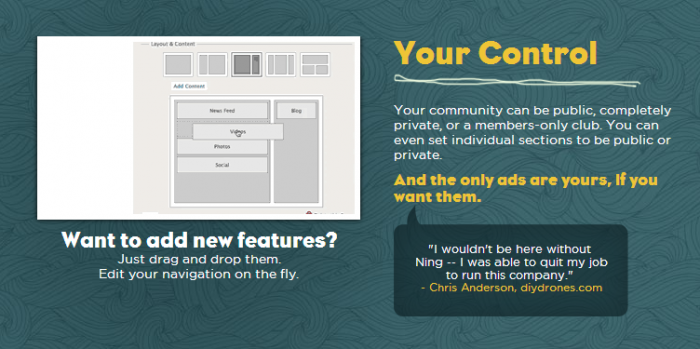 Using you admin powers, you can make your community completely public, completely private, or create sections for public and private mingling. You can make individual members moderators, and even charge membership fees in order for users to gain access to unique features.
Additionally, Ning allows you to integrate your social network with Facebook, Google+, YouTube and Twitter, enabling users to sign in using their existing accounts, with full access to their time line or feed. These social media integration options are also helpful when it comes to geting the word out about your own community. 
A Handy Head Start
With giants like Facebook and Twitter roaming the social networking world, it's safe to say that building your own online community from scratch will get a little challenging at times. However, whether you're looking to create a community, or simply looking to build a new home for an existing one, Ning offers you the best head start you could ask for.


Once you sign up, you'll have access to discussion boards powered by Ning's 2 million strong user base, all of whom are looking to share ideas, tips, tricks and answer any general queries. What's more is, Ning offers further support options by giving you the chance to ask questions to their in-house experts, who are always on hand to help.
To polish off their well-rounded support system, Ning's securely hosted platform ensures that your website stays up and running over 99.9% of the time, without you ever needing to worry about extra hosting costs.
Sound Good? Check out Ning's 14-day free trial.