Today's fast paced world results in code aging faster and faster. That in turn results in security holes in everything from our handheld mobile devices all the way to our webservers.
These security holes are not overlooked by hackers and their large cadre of tools used to look for weak websites.
As a small or medium business owner, you are surely concerned about your website traffic, ease of use and your customer's experience.
However keeping up with all the security vulnerabilities that could hit your website is a full time job.
SalvusAlerting.com answers that problem with its revolutionary new service designed to send you near real time alerts for software vulnerabilities that could affect you.
The subscription service, starting at only $15.97 per month, is built on a powerful engine that ingests vulnerability updates and reports from hundreds of known sources.
The engine reviews each and automatically categorizes them by type; the information is formatted and then sent on to the subscriber as an 'alert':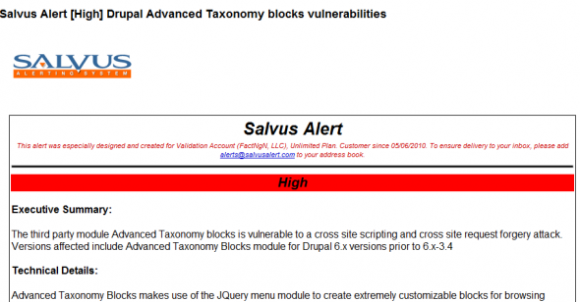 Each alert is categorized by Severity, Critical, High, Low and Informational, giving the subscriber an immediate visual clue as to the response priority.
The alert has three sections, Executive Summary, Technical Details and Recommendations for remedy.
Alerts are sent directly to your eMail account and starting in November 2010, SalvusAlerting.com will offer Direct Twitter messages and Text messages.
"Well I am thoroughly impressed with SalvusAlerting. I've been only a subscriber for about one month and I have found the information invaluable for not only myself but also my clients. – Mike Carson – JoomlaShowRoom.com"
SalvusAlerting.com tracks several hundred software and hardware platforms in the following categories:
Content Management Systems and 3rd party add-on's for Joomla!, Drupal, Plone, WordPress, and many others
Operating Systems – Linux distributions, Microsoft® , Apple, Palm®, Nokia, Droid®
Browsers – FireFox, IE, Chrome and others
Mobile Phones
Desktop Applications
Networking system
Web Servers
Apache, IIS, LightHTTPD and others
Security Tools
Databases
Mid Range systems
Various other server components
And many others
SalvusAlerting is offered in a monthly subscription and makes it very simple to keep up to date with the rapid changes occurring daily to your software and hardware platforms.
You can visit http://www.salvusalerting.com for more information