Even as we move through 2015, it's safe to say that the need for quick, pretty and professional websites is only increasing.
Across the world, businesses both large and small are still finding their feet online, whilst enterprises who have already established themselves on the web are constantly looking to reform and reinvent their digital presences.
It's hardly surprising then, that the website builder market is crammed with a diverse range of website builders, each trying to offer something palatable to both the local businessman and optimistic entrepreneur.
WebsiteBuilder.com is one such platform.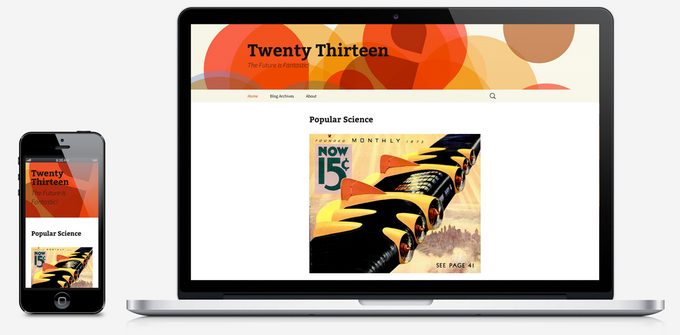 New to the scene, WebsiteBuilder.com was launched in 2014, and has been steadily improving itself since.
Unlike some other website builders, the platform allows you to publish a website for free so long as you're using a sub-domain. Features like personal domains and eCommerce features are reserved for premium customers.
So, with the pleasantries now out of the way, let's delve into WebsiteBuilder.com and figure out just where it stands in the crowded website builder market.
Initial Thoughts
If a website builder (or a CMS of any type for that matter) has a shoddy website, it's usually a sizeable red flag. It's the front door to the house, and that's why my reviews always begin there.
Thankfully, WebsiteBuilder.com is clean, crisp and to the point.
Design wise, it's all very flat — but in a good way. Plus, the simple colour scheme makes it cosy, a little playful, yet totally professional.
Pages detailing the process of building a website with them, as well as their product's general features, are all easy to read through. Nowhere is text heavy, and each page is relatively short in length.
Overall, I got a very good feeling about WebsiteBuilder.com as I wandered through their digital front door.
Getting Started
Starting up with WebsiteBuilder.com is easy. Clicking, the "Start Your Free Website" button on the homepage is the first step.
Then, you need to provide your name, email address and password to get started. After that, you get to choose your website template.
I'll touch on templates and design later on in this review, but to put it simply, there are a lot of templates. And I mean a lot.
Once you make your choice, the editor dashboard is your next (and final) destination.
The Dashboard
WebsiteBuilder.com has a fairly user-friendly dashboard.
Once again, the colour scheme is soft, approachable, yet professional. It feels like you're using a powerful piece of software, but not in an overwhelming way.
Design and customization options are spread across the top navigation bar and the sidebar. The sidebar gives you access to page management, stats, site settings and content modules.
The modules, which can be dragged-and-dropped anywhere, include images, galleries, text, icons, buttons, shapes, social buttons, eCommerce, documents and more. There are plenty of modules to choose from, and they're all extremely easy to position on a page.
New page sections can also be added by clicking "+" icons which divide existing sections. This opens up a list of section types, from combined video and text content, to popular section types like contact us and meet the team.
Across the top of the editor, you can skip between the desktop and mobile editor (something I will touch on later), different pages, undo changes, save, preview and more. But the most interesting feature here is the grid and measurement tools (another feature I will touch on later).
After a lot of tinkering and testing, I'm comfortable with saying that the WebsiteBuilder.com dashboard is simple and easy to navigate. There's not much to get confused with, and I didn't uncover any major flaws on any page or menu.
However, it would be a nice bonus to see some sort of step-by-step guide or instructional content dotted around, just to welcome new users a little more.
Manage My Websites
It's also worth noting that you can access the "Manage my Websites" page, which is the first page you will see whenever you log in.
Basically, it lists the websites you have built (or have saved as a draft), and gives you some further options via the sidebar.
These options include buying a domain name, gaining eCommerce features, personal emails, and more. I will elaborate further on these features later in this review.
Templates & Design
There are thousands upon thousands (Ten Thousand, to be exact) of WebsiteBuilder.com templates, and quite honestly, I am yet to see one that doesn't look fantastic.
You choose your template in the sign up and/or new website creation process, from no less than twenty-one different categories. Everything from one pagers to online stores.
Hovering over a template allows you to either preview, or edit it. Editing a template essentially means choosing it as your website template.
WebsiteBuilder.com even offers up some "blank templates" for you to unleash some creativity on.
Now, after digging around, I realised that once you choose a template for your website, there's no swapping. So, if you begin adding content to a template, and then wish to change it, you can't.
Sure, this is the case for many website builders out there. However, the overwhelming majority of them allow users to start from scratch with a different template, if they want to. They lose their added content, but that's as far as it goes. WebsiteBuilder.com though, seems to require that you make a brand new website before you can start again with a fresh template.
That's not good.
When it comes to actual design within the editor though, WebsiteBuilder.com provides an array of tools.
First up, WebsiteBuilder.com gifts users with a wide range of pre-uploaded images, all waiting to be used. Most are of a very high quality, too.
On top of dragging-and-dropping elements (like icons, buttons and images) anywhere on a page, you can click on any object in order to modify its appearance via three routes; settings, style and layout.
The settings allow you to customize HTML tags and behaviours (something I will come to later in the review).
The style option enables you to, well, customize style. This includes colours, borders, padding, roundness, shadow and glow effects, and more.
Finally, the layout option presents you with object measurements, alignments and visibility, all of which is easily toggled and modified.
In general, I was pleased with how design customization was handled. Everything is how you would expect it to be, and there were no issues — bar one.
WebsiteBuilder.com doesn't allow for bulk image uploading. Instead, you have to manually click "Upload", and find your desired file. Not ideal at all.
The Grid
Across the top of the editor, you will find three handy measurement tools; snap to grid, columns and rulers.
These tools are not unique to WebsiteBuilder.com, but I do believe that they are probably the most comprehensive within the website builder market.
I say this, because WebsiteBuilder.com allows you to specify exactly how page elements snap together, snap tolerances, and so on.
Furthermore, the columns grid feature presents you with vertical lines to help align elements correctly and attain symmetry.
More importantly though, these measurement tools help the other "standard" tools become more visually effective, without stifling the creativity of the user. It suggests, guides and helps users to build mathematically beautiful websites — but it doesn't force them to.
Essentially, WebsiteBuilder.com can be as precise or as fluid as you want it to be.
Not only is it nice to find these tools (because not every website builder provides them), but it's also nice to see that WebsiteBuilder.com has added their own spin to them via the extra options without complicating things too much.
eCommerce
If you're looking to sell products online, WebsiteBuilder.com can help you out, thanks to its Ecwid integration.
Ecwid is a popular third party eCommerce solution, famous for its wide range of integration options. WordPress.com, Drupal, Concrete5, Joomla, MODX and many other platforms make use of Ecwid.
Reserved for premium users, WebsiteBuilder.com's Ecwid-powered eCommerce features can be added to any template quickly and easily via the editor.
You can dedicate a new page to your store, make the store your homepage, or even add it as a section to an existing page.
Managing your store consists of accessing a store management page, which essentially enables you to start using Ecwid within WebsiteBuilder.com. As mentioned, Ecwid is a highly respectable platform, and it seems to integrate well with WebsiteBuilder.com.
The one gripe I had though, was with the slight lack of eCommerce dedicated WebsiteBuilder.com templates. To compound that situation, not many of the eCommerce templates actually look like eCommerce templates. At least, not in the traditional sense.
WebsiteBuilder.com has tried to be very modern with their approach here, and although that's awesome, they should also throw in some traditional looking eCommerce templates to make things easy for those looking to build something simple or old-school.
Then again, there are always those "Blank Templates" to build with, and eCommerce features can be used on any template, so it's not too much of an issue.
Blogging
WebsiteBuilder.com has recently implemented a new (and much needed) blogging function — and it works well.
Clicking the "Blog" button on the left inserts a new section which resembles a traditional blog, with its own sidebar and list of posts.
To create a new post, you simply click "Blog" again before selecting "Create New Posts". This brings you to the blog post editor, which is self explanatory and easy enough to use.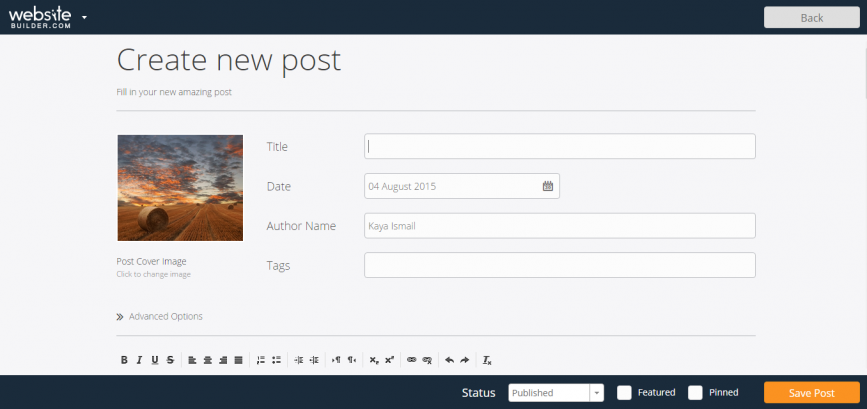 There's also an option to manage your posts. Here, you can see existing posts and drafted posts. Plus, you have the ability to make posts "Featured" and "Pinned". The difference between the two seems unclear, though. You can of course edit and delete posts from this interface.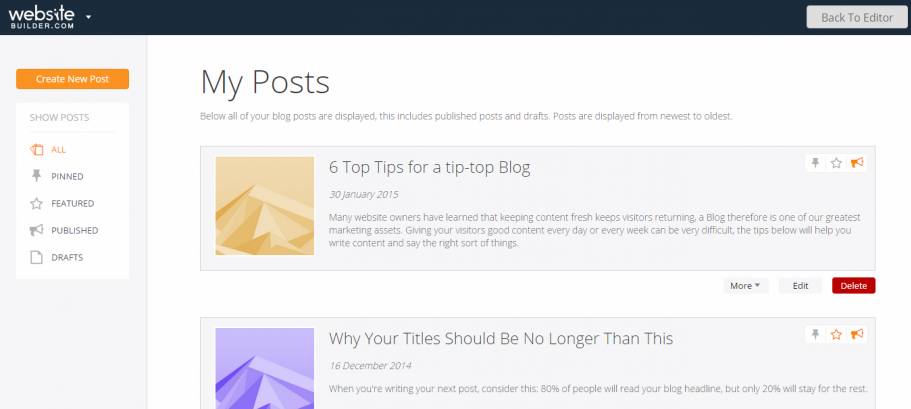 Furthermore, the blog feature also comes with some handy sidebar widgets; Featured Posts, Latest Posts and Tag Cloud.
Addons & Notable Extras
WebsiteBuilder.com offers a few addons and extras worth mentioning. Here they all are.
Element Behaviours
Here's an interesting feature.
Elements like images, blocks of texts and other objects can be given special behaviours. These include animations like rotation and pop ups, navigation buttons (so you can create slides, galleries, and so forth), scrolling and more.
Behaviours are easy to add, too. You just configure the behaviour, click an element, and click "Apply". It's simple, and it works very well.
Image Editing
I've already voiced my dismay at the lack of bulk image uploading, but thankfully, WebsiteBuilder.com offers a great set of image editing tools once you actually upload some snaps.
You can crop, resize, rotate and align images, as well as set opacity levels and give loading images progress indicators.
Not to mention, all images can be given behaviours, as mentioned above.
Mobile Editor
Within the dashboard, you can switch between the desktop editor, and the mobile editor using buttons on the top navigation bar.
The mobile editor allows you to preview your website as it appears on smartphone devices. You can use this editor to directly edit the appearance, just as you can for desktops.
New options are made available in the mobile view editor, some of which enable you to hide elements, adjust padding, alignments, and more.
It's a great way to make your website responsive, and it works brilliantly.
Statistics
Website.Builder.com allows you to keep track of your site's stats by integrating Google Analytics.
Sure, the metrics aren't built into the platform, but it's definitely a positive feature.
Marketing Features
On top of offering personal domain name support, personalised (Gmail powered) emails, and domain WHOIS privacy, WebsiteBuilder.com offers some additional marketing tools to help get your brand out there.
Firstly, free Google, Amazon, Facebook and Bing Ad credits are available, along with a bunch of search engine optimization tools.
This includes a free SEO eBook which can be studied, and some SEO tools that walk you through the basics on on-site SEO, and keyword density.
You can also set up an XML sitemap, and integrate with Bing and Google Webmaster Tools.
So, a healthy selection of resources and features there, which is nice to see.
Getting Help
WebsiteBuilder.com has a comprehensive support centre, full of documentation, FAQs and general help articles.
You can search for specific queries or browse through help categories like "Getting Started" and "Design". Each category is well populated, and the articles themselves are quite useful.
The only issue I have with the support system, is the accessibility. To access it, from the website, you'll need to scroll down the footer and click a rather small text link.
Accessing it from the editor is a little easier, with a small question mark icon located in the top right corner of the dashboard. It's small though, and it isn't labelled like all other icons.
Also, other than the excellently detailed documentation offered, the only other support route available is a simple contact form. It's not a ticketing system, so there's no way of knowing how long a response will take, no way to track responses, and so forth.
There is also no helpline or live chat in place. Granted, these would be bonus features, but it's worth noting because of the reliance on pre-written documentation.
So, despite the comprehensive documentation and FAQs doing a good job, extra support routes would certainly be welcome.
Pricing
WebsiteBuilder.com is priced fairly well, especially when you consider their offer of a free domain name and complimentary advertising credits.
If you choose to be billed for a duration of two years, the fees start from £4.47 per month, which is approximately $6.98. The monthly fee rises to approximately $7.76 for the Pro plan, and again to $9.69 for the highest plan.
Competitors such as Squarespace start from $8 per month, while Wix start their premium plans at $4.15. LightCMS begins at $19, and Weebly offers plans from just $3.29 per month when the plan duration is two years .
So, WebsiteBuilder.com isn't the cheapest, but it's not the most expensive either.
The Verdict
WebsiteBuilder.com can build powerful and unique websites quickly and simply, and is yet very affordable.
The sheer quantity and quality of the templates struck me as Websitebuilder.com's biggest asset. Users are literally spoilt for choice, and thanks to a range of customization tools (including handy grid systems, mobile editing and element behaviours), the end result can quite easily be unique, pretty, professional and responsive.
Sure, eCommerce and statistics features are only there thanks to third party solutions, but they are there, and they work well regardless.
On the other hand, I'm not convinced that Websitebuilder.com really sees itself as a stellar eCommerce solution. Their selection of eCommerce templates don't reflect anything traditionally online-store-esque. It's all a little bit out there. eCommerce seems to be more of an add-on, rather than a key feature.
The inclusion of a relatively solid blogging function really helps to bolster WebsiteBuilder.com as a platform. Sure, it's not the most powerful blogging tool around, but it's definitely enough to churn out, manage and present some blog posts.
I did run into a few minor issues here and there concerning menus not displaying correctly. Nothing major, but worth mentioning.
Overall though, I think we're looking at a very solid website builder with a brief past, and a potentially bright future.
Pros
WebsiteBuilder.com can build powerful and unique websites, quickly and simply.

10,000 brilliantly designed templates.

Design customization is effortless. Everything from text colour to image opacity is easy to manage.

The more recently introduced blogging function works very well.

Animations and object behaviours are handy features, and are easy to configure.

Grid and measurement tools are useful, and more powerful than they they are usually found to be with other website builder that carry them.

The mobile editor is seamless and very useful.

Setting up an online store within a page, or on a brand new page, is easy, thanks to Ecwid integration.

Google analytics integration lets you see your stats without leaving WebsiteBuilder.com.

Impressive pre-uploaded image gallery.

Option for personalised domains and emails, along with a free set of SEO guides and ad credits.
Cons
Templates are high in quantity (and quality), but there seems to be a lack of traditional online store and blog templates.

Not being able to swap templates and keep content is understandable, but not being able to swap templates at all (unless you create a brand new website), is not.

No drag-and-drop or bulk uploading for images.

No autosaving feature.

The support system is okay, but a ticketing system would bring it up to a healthier status.
Final Remarks
All in all, WebsiteBuilder.com is a very respectable piece of software. It's not full of bugs, nor does it lack polish, but it isn't quite the finished article either.
In any case, it has a lot to offer.
In particular, I was impressed by the customizable grid snapping, measurement, mobile editing and element behaviour features. They may be standard tools to many web developers, but WebsiteBuilder.com has managed to incorporate them in a user friendly way, despite adding some extra options where other website builders don't.
These design customization tools, along with a long list of usable elements, add to the already impressive diversity of what you can build with WebsiteBuilder.com, thanks to its huge library of templates. Buttons, galleries, colours, backgrounds, padding, borders and more can all be easily modified — all without touching any code.
Moving on to the flaws, there seems to be a lack of traditional-looking eCommerce and blog templates. Other issues include no bulk image uploading, autosaving or template swapping. The latter of which can become a real pain, especially for inexperienced users looking to experiement with design.
However, One must bear in mind that WebsiteBuilder.com is barely a year old. It's young, promising, powerful, flexible and certainly worth trying.