I love answering questions and sharing what I know with others but I also like reading opinions from people and one site I frequent daily is Quora. For those unfamiliar with the service, Quora is a question / answer site similar, I suppose, to StackExchange. I personally find the Quora visual experience more intuitive (not that StackExchange is bad, simply a preference of mine) and find myself answering questions on the go in the CMS category.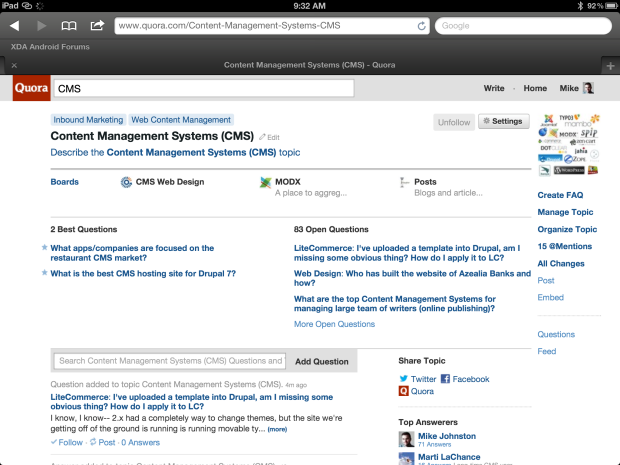 I find navigating Quora to be easy to do on my smartphone and even on my iPad as you can see from the screenshot above. I love that I can manage topics, have people follow me and that I receive notifications when people either vote up my answer or reply to it. This keeps me engaged in the topics and I'm quickly able to find open questions that nobody has answered  so I can see if I can assist.
You also earn and can spend points within the system. Here's an explanation as to how the credit system works on Quora:
Credits make content you care about on Quora more prominent. This prominence can help questions get answered, or get more attention for answers and posts.
You'll spend credits to add a question, ask someone to answer, or promote content. You'll earn credits when people vote up your answers or follow your questions.
The credit system is brilliant for one simple reason: I can use credits to promote a question I have so more people see it but in order to get credits, I need to work for them. It's a smart way to keep people interacting and sharing their knowledge.
Sites like Quora add a huge amount of value to the web. They bring subject matter experts together in an effort to provide a service that I think is essential to the way the web should work. The web has always been about knowledge gathering and questions via similar services such as Twitter for instance, tend to get buried quickly if you are following a large quantity of people. Quora focuses on doing one thing and doing it well, getting people to share what they can and helping people find answers. It's a hugely useful resource and if you haven't tried it out, I strongly recommend you take advantage of it and share what you know.
Just thought I'd share it for those who haven't heard of it. ?
Check it out here: Quora.com