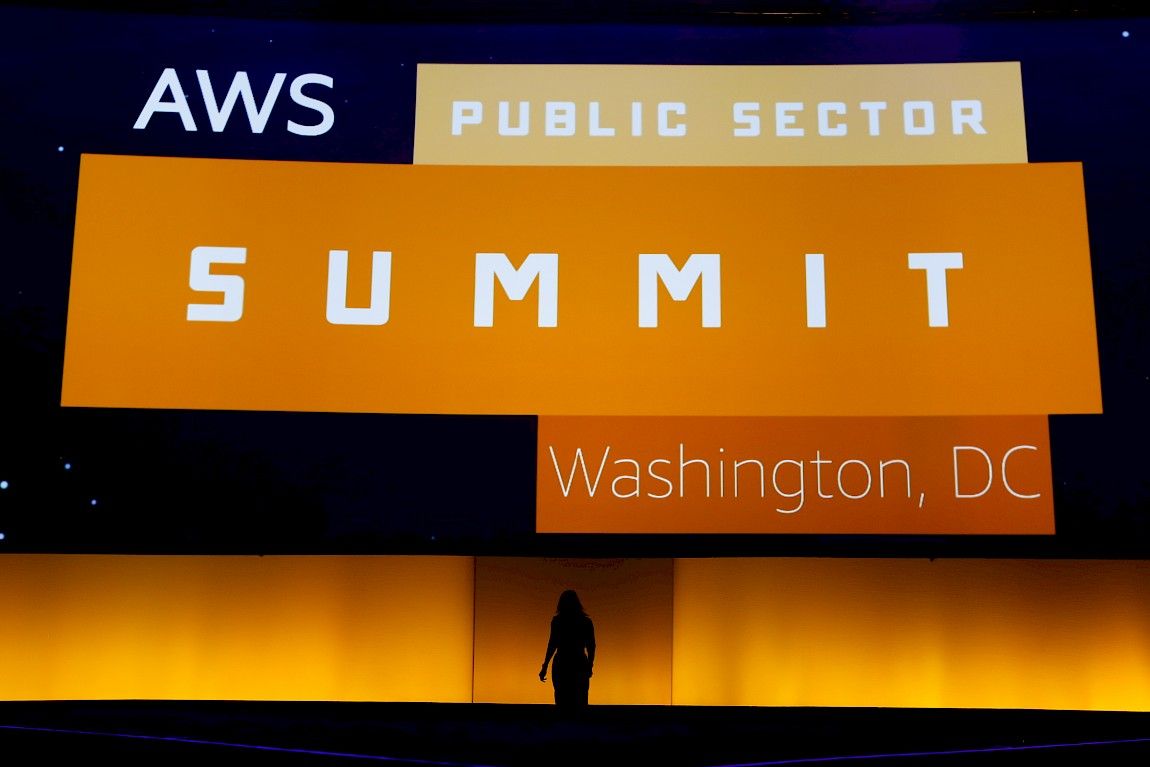 In this brave, new digital world, there are countless awards and accolades that celebrate the efforts of technology companies. But there are few competitions that highlight the true impact of innovative thinking for the customer.
Last week, government and tech titans from across the world converged in Washington D.C. for the annual Amazon Web Services Public Sector Summit. The purpose was the discussion and display of how government organizations and technology companies can continue to innovate in collaboration with one another – and how Amazon Web Services can help various government entities be more efficient, secure, and cost-effective.
But there was also a palpable vibe in the air. Who would go home with the coveted 'City on a Cloud Innovation Challenge' award for 2017?
If you're not familiar with this competition, here's the low-down: every year, Amazon Web Services recognizes institutions and AWS Partners that have gone above and beyond to innovate in their respective public sector fields. Despite tens of thousands of applicants, only three winners are named in each of three main categories. I'm proud to announce that last week, Solodev CMS clinched the win for 'Best Practices' in the Large City category with Seminole County Public Schools (SCPS) for their newly launched website. The project was created using the Solodev Web Experience platform, which is the only true CMS built from the ground up for Amazon Web Services.
Aside from the instant and vast global recognition and the strengthening of our partnership with Amazon Web Services, there's a monetary prize of $50,000 – all of which SCPS will reinvest in their online strategy. This includes the rollout of 57 new school websites across the district, all built on the Solodev platform. As a result, each school will have greater control over their individual web presence while saving the county thousands of dollars in management and hosting costs.
Making an impact in both the education and public sector fields isn't new for us. In fact, just days before winning the award for 'Best Practices', Solodev was officially named as one of the first AWS Partners to obtain the newly announced AWS Education Competency. This was a hard-earned validation, demonstrating our deep commitment to the Amazon Web Services Platform while focusing our efforts on the education community.
In recent months, Solodev has experienced tremendous growth with federal, state, and local government agencies, public academic institutions across the globe, and Fortune 500 companies working on a wide variety of projects leveraging AWS. This got us thinking: what is Solodev doing differently than the rest of the CMS pack to have grown from a small content management software company to a true disrupter – and the "go-to" Web Experience Platform for Amazon Web Services?
If I may be so bold as to borrow from Apple, then it's simple: we started thinking differently.
Our story began in 2014 with a plan to move from typical on-premise CMS deployments to the Amazon Web Services Cloud. It took a few years of blood and sweat, but within weeks of launching on the AWS Marketplace, Solodev was named the 'Best Cloud CMS of 2016' and one of a select number of AWS partners to join their new SaaS Subscriptions Program.
The catalyst for rebuilding Solodev for AWS was fairly simple: we wanted to disrupt the CMS market and create more value. It had been in a period of stasis with little to no change in product development or business model. While almost every other enterprise software vertical had moved to the cloud, the CMS industry just kept adding features or acquiring companies. Wasn't it time to evolve the modern CMS to a SaaS delivery model – built on the world's most advanced infrastructure? And what if we could deliver it all on-demand at a fraction of the average cost?
It would all be a game changer.
So we embarked on rebuilding Solodev layer by layer to fully leverage the power of AWS. After nearly four years of engineering, testing, re-engineering, re-testing, and turning our code base over to AWS for review, we were finally seeing our dream come to life. But the big moment came when we decided to deliver a new kind of CMS – one that empowers users to craft unique web experiences with total web design freedom, based on different customer segments. This completely changed the game not only for the CMS industry, but also for the entire digital world. CMS touches everything on the Web; every website, every mobile interaction, every digital experience. What we discovered was the value of the complete experience, and thus we dubbed our new innovation the Web Experience Platform (WXP).
Knowledge is the bedrock of humanity. So what better place to start our new endeavor than with education? While there are many challenges in the public realm, K-12 schools have increasingly struggled to compete with well-funded private institutions. The root of the problem wasn't actually the difference in quality of education; it was the perception of quality. And where is that perception shaped and influenced with the greatest energy? Websites.
The SCPS project was an opportunity to challenge myths, to trail blaze a new model for a public school's digital strategy. Despite the disparity in budget between public and private institutions, the Solodev Web Experience Platform made it possible for a district to enhance their digital brand presence and compete more efficiently and effectively. The entire project was a collaboration of creative, development, and marketing minds at both Solodev and SCPS, and the result has hence been dubbed the 'K-12 Website of the Future.' It's beyond gratifying to know that our innovation has resulted in their success – and helped an invaluable community resource secure its digital future.
So why did Solodev win the 'City on a Cloud' Innovation Challenge?
Because everything we did was about helping Seminole County Public Schools win with the Web. Because of our unshakable belief that websites are more than just websites – they're experiences that connect us, from across a classroom to the far end of the globe. Yes, we've worked tirelessly to raise the bar for the industry, but with the goal of making CMS a more valuable and reliable asset for every company. We must always find new ways to innovate and improve. The world depends on all of us.
Whether you are a technology executive, web developer or designer, marketing professional, or dreamer, we have built the platform of your dreams – one where you can finally unlock your full potential, and build your own city on the cloud.
Are you still skeptical? Visit www.solodev.com today and get started with the next step in the evolution of web content management.