WordPress have announced the official release of WordPress 3.6 "Oscar", lovingly named after the famous Jazz pianist Oscar Peterson. 
New features include the all new Twenty Thirteen Theme, an improved menu editor, a built-in HTML5 video & audio player and enhancements to post revision, autosaving and locking.
To grasp the basics of WordPress 3.6 Oscar, take a quick peek at the snazzy introductory video laid out by WordPress below.
http://youtu.be/gu0B7OQZ2mY
New Twenty Thirteen Theme
WordPress' default themes are traditionally neat, bold and professional, with the new Twenty Thirteen theme being no exception.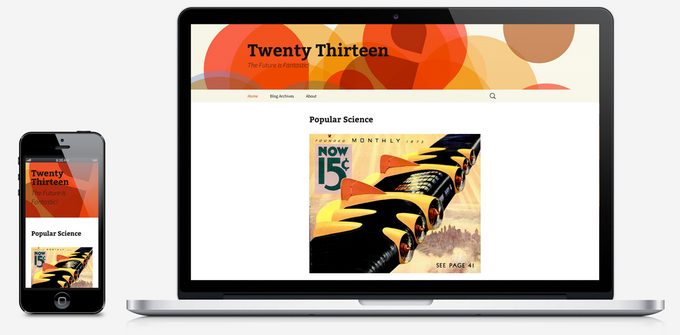 The theme's design was inspired by modern art, and aims to help focus the message of your content to readers and visitors via a single column layout.
WordPress' all new Twenty Thirteen theme is also as flexible as it is vibrant. The clean design works well on any device, both big and small, helping your blog or website to reach a wider audience.
Built-in Media Player
Instead of having to rely on third-party video and audio platforms, WordPress now supports its very own built in HTML5 media player. The design of the Twenty Thirteen theme certainly seems to encourage the use of video as a means of communication, and WordPress' new native media player will only make it easier to publish such content on a more regular basis.
What's more is, WordPress 3.6 also introduces built-in support for both Rdio, SoundCloud and Spotify, making it faster to embed and share audio content.
Enhanced Autosaving, Revising & Post Locking
When it comes to blogging and publishing content, every word counts. So, a new autosave feature brought about by WordPress 3.6 ensures that your content is safely saved after every keystroke.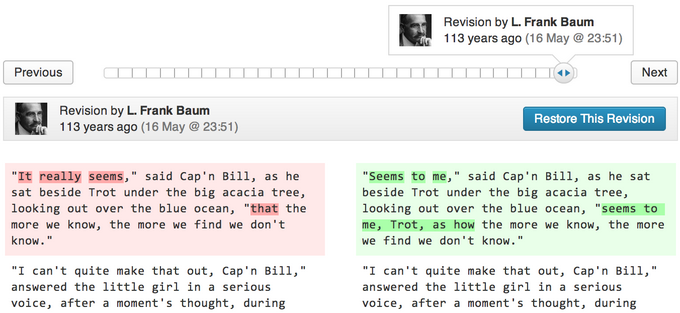 Revising your posts is also now easier than ever. A brand new revisions interface enables you to scroll through every single change made to a post, and informs you of the changes made by each individual author. A clever colour coder also breaks down posts into revisions made, helping you to identify who said what, and when.
Additionally, an enhanced post locking feature ensures that whenever one author is reviewing or editing a post, all other users are locked out, thus preventing any editorial mishaps.
Without doubt, each of these new features will be of huge benefit to websites who rely on numerous authors to submit, review and publish their content.
Developer Extras
As expected, WordPress 3.6 Oscar also brings about a host of new options for developers to get their teeth in to.
These include a new video & audio API, HTML5 markup options, better filters for how revisions work, and so forth. A full list of developer features can be found via the WordPress Codex .
For additional information on WordPress 3.6 Oscar, and for some deeper insights into the features listed above, check out the official release notes.