It was just over a decade ago that WordPress was first released as a free and open source blogging tool. Since those good ol' days WordPress has grown up; it has gone from a simple blogging platform to a fully fledged CMS (content management system) that literally has no boundaries! Has WordPress gone too far from its roots though -so far even that a new platform needs to exist?
Apparently John O'Nolan and over 5,000 backers think so. The Ghost blogging platform is a new contender that recently entered the blogging ring, ready to throw some jabs at the blogging giant. The question that has come to mind is…
Should you ditch WordPress and start using Ghost?
Installation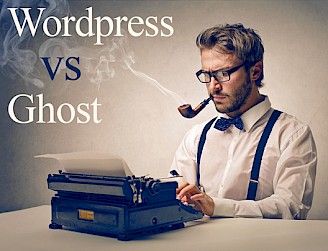 You would expect a platform that describes itself as a simple blogging solution to have an easy installation; however that wasn't the case with Ghost. The most important thing you need to know about doing a self-hosted Ghost blog is that your server MUST support Node.js. If your hosting provider doesn't, than you are plain out of luck.
This was the case for me since I use a bulk account for hosting about 45 websites. I was forced to make the decision of either upgrading to a dedicated VPS or going elsewhere for my hosting. Fortunately there are a whole slew of providers that offer suitable hosting for Ghost for as low as $5 / month.
Although the installer documentation is still a work in progress, I will say it was pretty thorough and helpful. Just don't expect a 1-click install at this point without some terminal based action.
Since WordPress along with numerous other popular applications are built with PHP, nearly any hosting provider will support it. Not only that, but WordPress has the clear upper hand advantage with it being tweaked and optimized over the past 11 years.
Installing WordPress is relatively painless and straightforward, especially if your hosting provider has Installatron or Fantastico installed. Regardless of whether you use a guided installer application like those mentioned or install WordPress manually, it can be up and running in 10 minutes or less.
Both of these platforms threw some punches, but WordPress stood out as the clear victor when it comes to installation. I do believe that given more time, that Ghost will be better supported and easier to install.
UI Experience
Now we get it to see each of these contenders throw some hurtin' bombs! Let's start with usability.
I've got to be honest with you, I am really enjoying Ghost's user interface. It is completely different from what WordPress offers and I mean that in a good way.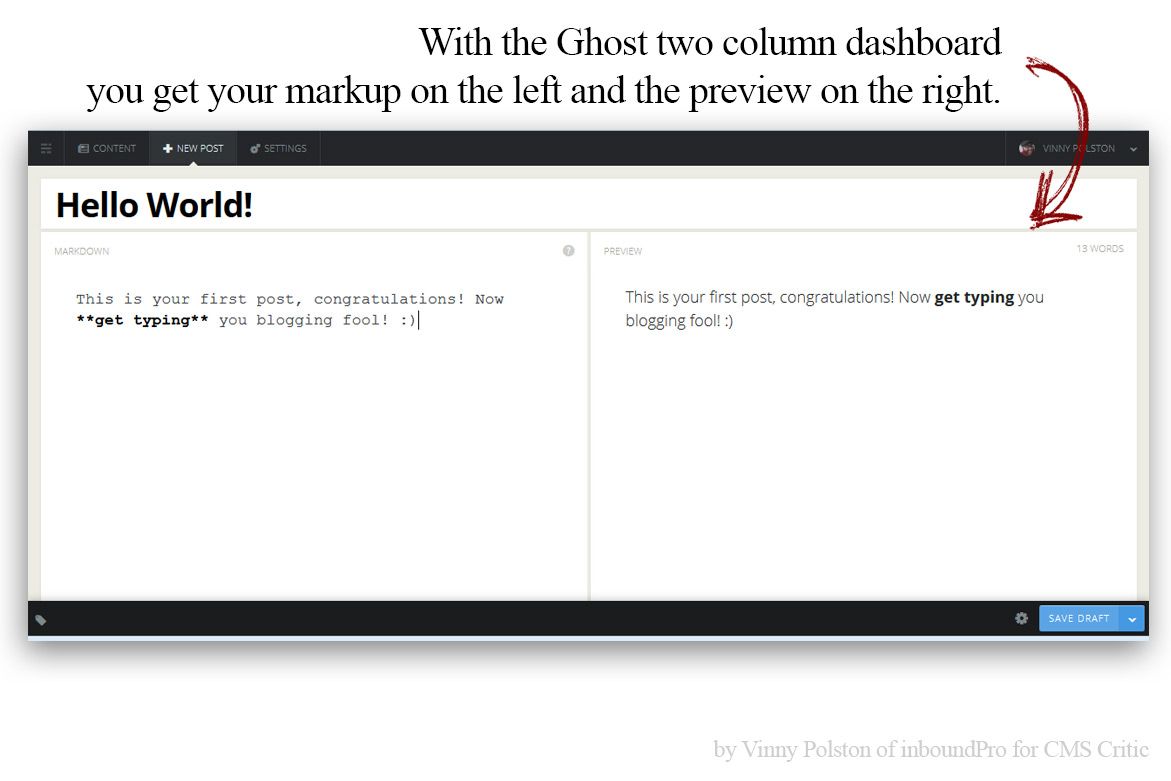 Creating new posts in both platforms is extremely straightforward and easy. What really sets Ghost apart though is its two column system.
It is obvious that a lot of thought was put into the user experience. You would almost expect that O'Nolan had previous experience in user interface design; oh wait, he does! O'Nolan was deputy head of the WordPress user interface team for two years.
Simply put, the two column system is intuitive, well put together, and easy to use. You get your markup on the left and the preview on the right. Not sure what the shortcode is for a specific font styling? It's as easy as clicking on the 'markdown help' to have a lightbox pop up with all of the shortcodes listed.
Creating and updating posts on WordPress is completely different from Ghost. With WordPress you get a traditional WYSIWIG editor along with a 'kitchen sink' full of goodies.
You do have the option to preview your post before publishing, which opens a secondary tab showcasing exactly what your post will look like when live.
I have used WordPress and built literally hundreds of websites with WordPress over the past few years -and it works great! What I don't like is having to have multiple tabs open at the same time as well as going back and forth so much.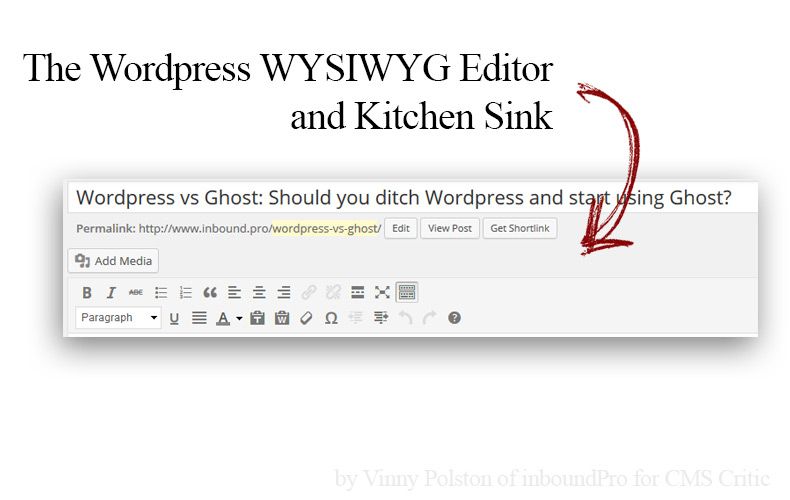 I can see why WordPress still maintains using this traditional editor though. With many themes and plugins you install, it adds more to the kitchen sink through added columns, shortcodes, and features.
What's happened over the past few years though is that it really has gotten so feature heavy that it doesn't always have the best user experience; everything is clearly labeled and in obvious locations but leaves you clicking back and forth much of the time. As you keep adding plugins and shortcodes the kitchen sink can become cluttered.
So, what 'blogging platform' has easiest to use? It was a close match but I would have to say that Ghost is the victor if you're looking for just blogging. The two column system just works.
Hold up though, the fight isn't over yet! Yes, Ghost won the battle for user friendliness.. but what about features?
Features and Customization
Right out of the far corner WordPress comes out swinging! WordPress is so feature packed that it can be overwhelming sometimes, especially with using a 'high end' theme that wants to be your everything.
Before moving forward I want to make a note of exactly this whole theme debacle. WordPress by itself is a great platform for running your website. What has happened, especially over the past two years, is that 'premium' themes have taken over. WordPress really is more than just a blogging platform and wants to be your entire CMS.
Theme developers have really taken things too far in my opinion. There is nothing wrong with having a multi-purpose theme that would work for a portfolio, business, personal, any niche website. The problem that has occurred is that themes have become so feature packed that they overly complicate standard WordPress use. It isn't uncommon in today's market for premium WordPress themes to have 20+ pages of documentation. Is that really necessary?
Whoa, sorry for that tangent! Anyways now we're back to features. Since WordPress has been out for so long there are literally thousands upon thousands of free and premium plugins available. Need a secure contact form? No problem! How about a pop up generator to reduce your bounce rate? Again, no problem.
WordPress has a whole slew of free plugins over here and you can get some really nice premium plugins over at CodeCanyon.
Ghost, being so new to the market, already has a nice set themes available. If you take a look at the Ghost Marketplace you can see some beautiful themes have already been developed.
Plugins for Ghost on the other hand, are few and far between. The Ghost forums are pretty active on plugin development, but there just aren't many released yet – just as you would expect with it being such a new platform.
So when it comes to features, WordPress would be the clear winner. You are literally just a Google search away from any feature you would require with WordPress. In all fairness, however, Ghost never set out to be a feature rich CMS -it was created simply for blogging.
Your Turn
It was a brutal match and punches were thrown with WordPress emerging as the victor. But for how long? I can definitely recommend Ghost if you are looking at running a blog; but if there is even the slightest chance of growing that blog into a complete website you should still consider WordPress.
Will Ghost continue to stay the straight and steady course to becoming the best solution for blogging? Or will it strive to be more competitive with WordPress CMS and other platforms? Time will tell and this match may have to be revisited.
Don't forget that when you go to set up your Ghost or WordPress website, you'll need a reliable web hosting company. We recommend Arvixe. They are currently offering great discounts to our readers, so be sure to take advantage of the offer before it expires. Click here to get cheap, reliable hosting from Arvixe.
Do you agree with the outcome? Did I miss covering something you think is crucial? Make sure you let me know below!