After realizing that some of my personal websites had been infiltrated by malware, I decided to use the services of WP Fix It, a company that pledges to quickly remove malware and fix any issue on a WordPress website.
Founded in 2011, WP Fix It have been cleaning WordPress websites for five years, and they have a fairly good reputation for it.
To date, they have serviced over 43,000 tickets from almost 6,000 customers, and they promise to fix any WordPress issue, or give you your money back. You can't say fairer than that.
So after reviewing their website and reputation, I decided to go with their malware removal service. Plus, I thought I'd document my experience in order to review WP Fix It. Here goes.
Getting Started
Instead of going straight to the checkout, I wanted to chat to a WP Fix It representative to explain my situation. I emailed them using their website's live chat system (all their support staff were busy, so email was my only option).
Thankfully, I received a response quite quickly (within forty-five minutes), and had all my queries answered. The support staff I dealt with were polite and responsive throughout our email discussion, which ended with me processing my payment for their malware removal service.

To kick start my malware removal process, I paid through their website and was directed to a ticketing service, where I filled out some details along with the login credentials to my hosting account. They wanted my WordPress login details too, but after I explained to them that access to the website had been totally restricted, they got to work without those passwords without flinching.
WP Fix It kept me posted through emails, asking me questions about specific files, and telling me what they were working on. It was all very professional, and very reassuring.
At one stage, they saw fit to delete some files which I saw no use for – but they still added them all to DropBox and gave me seven days of access in case I wanted them back – which was thoughtful of them.
The Results
Eventually, they told me that their final infection scan was underway – and although it would take a while – everything came back clean. I also checked my sites using the renowned Securi website security scanner website security scanner and received the all clear. Score.
They had cleaned up my sites, and they also installed the Securi WordPress plugin to keep it that way. To finish off the job, they sent me an email with a list of highly recommended tasks (including password changes for my FTP and hosting panel) that would help ensure the security of my sites.
At the time of writing, days have passed since the guys at WP Fix It healed my websites, and they're still going strong.
Plus, the WP Fix It website ensures a re-clean should the malware return within 90 days. So, I feel like my websites are pretty safe and sound right now.
Pricing
For malware reoval, WP Fix It charges $87 per WordPress install, which is quite reasonable, considering that they ensure a clean website and 90 days worth of support/re-cleaning if necessary.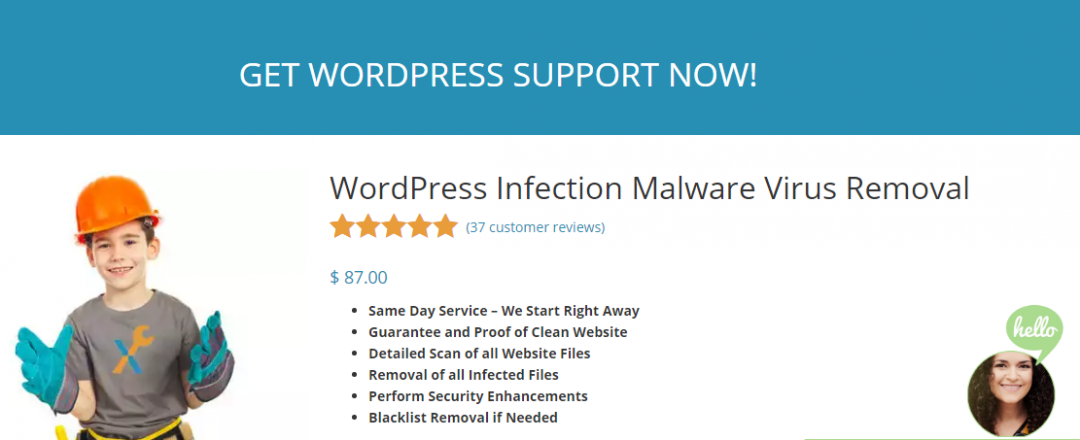 Rival malware removal service providers like WP Security Lock charged a whopping $497 per WordPress website. SecurePress on the other hand, charges $79 per website. My own website hosting company also quoted me $249.99.
So if you ask me, WP Fix It is ticking all the boxes in terms of pricing, too.
For more general WordPress website fixes, WP Fix It charges a fee of $37 per website, which is also very reasonable.
The Verdict
Removing malware from any website can be a nightmarish process. Thankfully for me on this occasion, WP Fix It made it sublimely simple.
In the past, it's a task that has either consumed days of my time, or way too much of my money. But WP Fix It did the job in less than 24 hours for a very decent price.
WP Fix It's support staff were polite, helpful and quickly to respond to my queries – and their helpful advice after the cleanup process was also came in handy.
Pros
WP Fix It remove malware from WordrRess websites within hours
They keep you posted every step of the way via email
If files need deleting, they'll back them up for you on DropBox
They install the Securi WordPress Plugin to maintain your site's security
They send you an email with tips and recommendations that they encourage you to follow in order to preserve their security work.
Cons
They don't seem to offer a multi-site discount, which may sting you if you have run multiple websites on the same hosting account.
Their website is a little on the tacky side, which is a shame, because their service is impeccable.
Overall, it's a giant thumbs up from me. Kudos to the guys over at WP Fix It!