Yammer is a private enterprise social network that makes collaboration easy for employees across departments, locations, apps and devices.
Over 200,000 companies around the world use Yammer as their internal networking platform, including the likes of Shell, DHL, eBay and many more. In fact, over 85% of Fortune 500 companies make use of the platform. 
With Yammer, you can engage with colleagues by; posting on the company-wide social networking feed, sending instant messages, participating in groups, and so forth. All of which are private and cloud-based, away from public eyes. 
Since Yammer is one of the world's most trusted enterprise social networks, I decided to give it a whirl for myself.
The Yammer Homepage
After signing up with Yammer (which was in all honesty, a slightly drawn-out process), I was presented with my clean and simple Yammer homepage.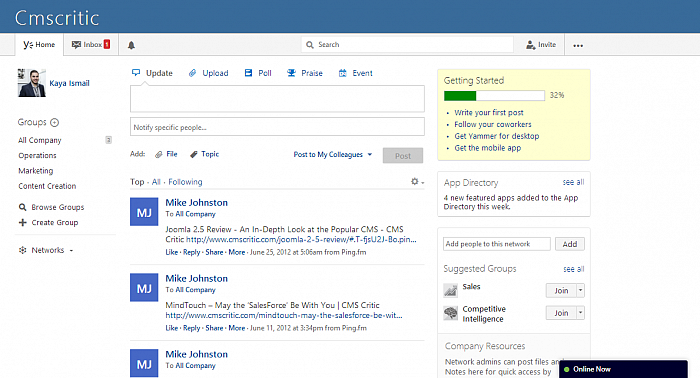 On it can be found the groups you currently are a part of, links to download Yammer for desktop and mobile, suggested groups, and more. The most important feature however, if the activity feed – which dominates the interface.
The activity feed works in a way which social networkers will be familiar with, Yammer lets you post text updates and links, whilst business-themed extras include colleague praising, polls and events. You can even upload files and attach them to your post for all to see and download. You can also tag users in your updates, which alerts them to the post.

Activity is presented in a neat list, and users can freely like, comment and share status updates with their selected groups. Also, you can bookmark updates, subscribe to them, email them to yourself, and so forth.
Personal User Profile
Yammer isn't just a digital chalk board for discussing tasks. It's a platform that gives you an identity to voice opinions and show some personality – both of which are vital to building relationships with colleagues.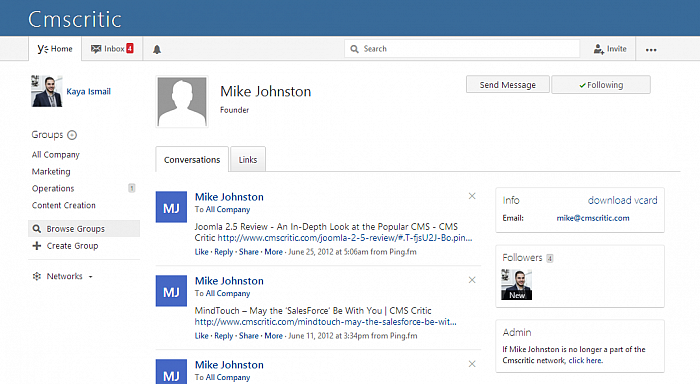 Your profile can be modified easily to display a profile picture, job titles, short bios, interests, websites, social networks and more. 
Visitors to your profile can also see your recent activity, groups you are a part of, and any bookmarked items you have. They can also send you a message and follow you for further updates.
It's great to see Yammer offer this personal dimension, but I definitely think it can be improved. User profile pages look a little bland in the header section, and although this fits in well enough with the rest of the platform, it would be great to see users get more flexibility when it comes to the look and feel of their profile page. Optional header images for example, would be a simple yet effective way for users to show a little more personality.
Get Together in Groups
Yammer allows you to create and join groups within your company's internal network. So, the marketing team for example, can form a group specifically for collaborating on marketing projects and tasks.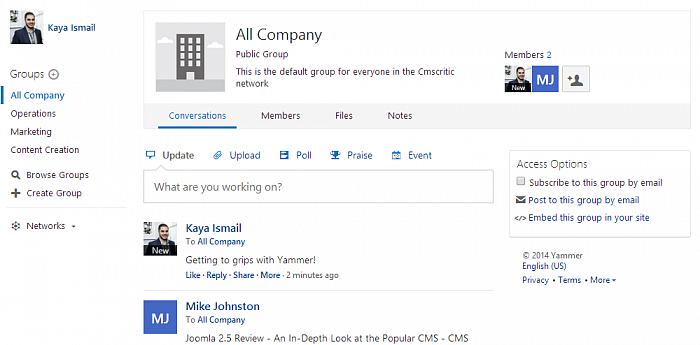 Groups work in a similar way to how the broader network functions, with the only exception being that group members alone are notified of updates and conversations. 
Yammer groups can be public or private, and can serve as a great solution to long, unproductive office meetings, as well as never-ending email chains. It's a great way for larger companies to segment workflows in ways that are helpful to different teams and departments.
Constant Collaboration
With Yammer, you can stay connected with all of your colleagues in a number of ways.
Groups, as previously mentioned, help split workforces into relevant sections, while the Yammer homepage acts as a meeting point for all workers to come together both socially and professionally.
And yet, Yammer still has room for more collaboration.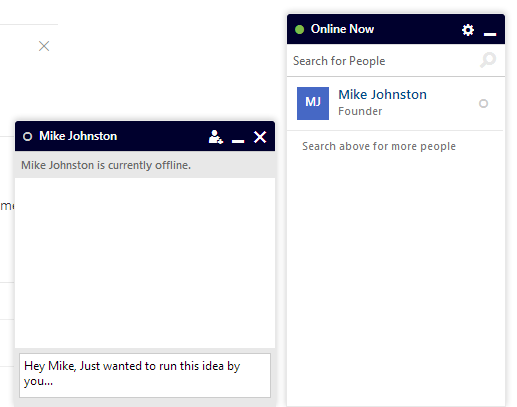 Instant messaging for example, is built right into the Yammer interface. It's private, quick, casual and perfect for a quiet word between co-workers. You can even see who's currently online and ready to chat.
For more information on how Yammer can keep you and the rest of your team connected, check out all the platform's key features in detail.
On another note, you can start your free Yammer network today.