If you're the type to judge a book by its cover, then you'll love Yola straightaway. The site has a really friendly, fun, and inviting look that will appeal to pretty much everyone. But, what's behind that pretty face?

Yola was set up in 2007 and it's helped to create more than 10 million websites since then. It was first launched as 'SynthaSite' but the name wasn't a hit with initial users – who complained that the name was too difficult to say or even remember.
As a result, SynthaSite became Yola – the Hindu word for 'hatch'. This meaning is reflected in one of Yola's key slogans 'Yola is where you hatch your big ideas'.
Yola is hardly a new kid on the block, so I decided to check it out and see whether it's been keeping up with the plethora of new website builders on the market. Read on to find out.
Getting Started
Getting setup with Yola is simple, just insert your email address and password and you'll be logged in with a free account straightway. After this, you just have to type in your chosen domain name and your home/office address details also.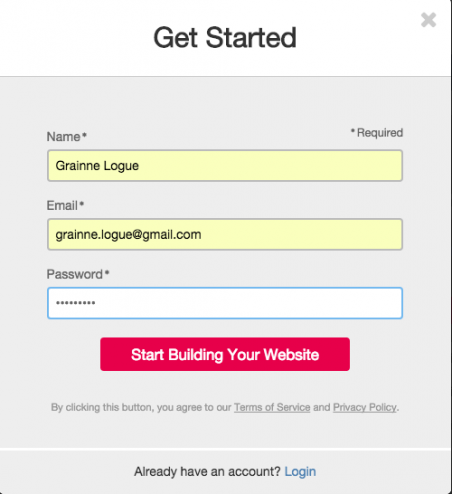 Themes
Once you've set up your Yola account you'll be presented asked to select a theme for your site. However, there are only 10 themes available on the free package and the quality of the templates seems inferior in comparison to Wix.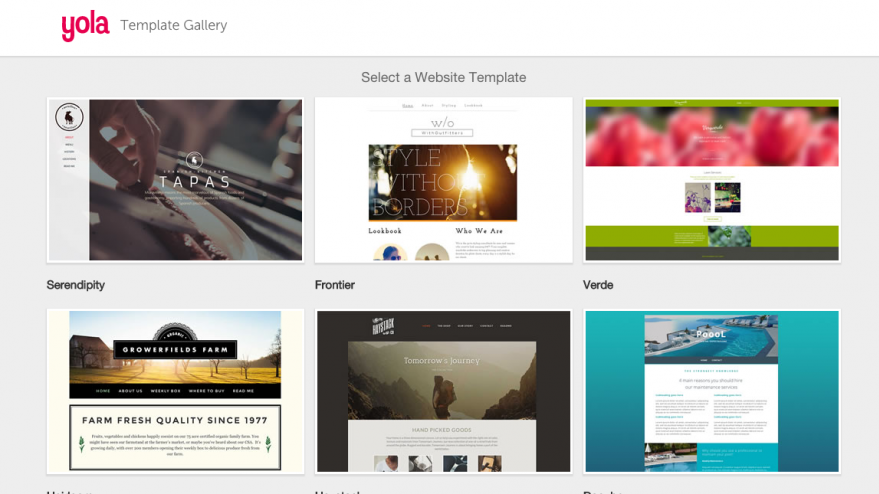 After you begin editing your site, a number of premium theme options will also appear – but these are also pretty unremarkable. Of course, you can edit and customize your site to the way you want it, but that takes time and effort that not everyone has to spare.
Ease Of Use
The Yola interface is quite easy to use and little 'pop up tips' follow the user around the site to ensure that it's easily navigated.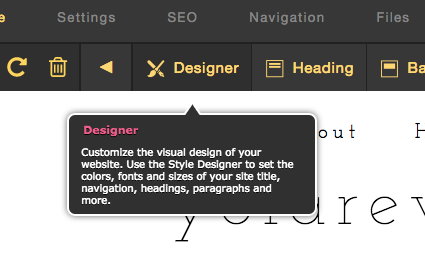 However, the drag-and-drop editor on the free version is quite restrictive in comparison to other website builders and it's not very intuitive. The drag-and-drop is actually limited to page sections, so you can't drop elements wherever you like on the page which it takes a bit of getting used to.
Features
On a basic level, Yola offers the same DIY building blocks as other website builders. For more tech savvy users, the advanced functionality allows for HTML/CSS coding also.
Yola's features on the free version are pretty sparse, but I was impressed with the SEO capability with allows you to edit your meta tags and page descriptions.
The premium package will also grant you access to ecommerce functionality, mobile and facebook publishing, and more advanced analytics and SEO options.
Yola's internal blog creator discontinued in 2012 (why?!), but Yola does allow users integrate with a Tumblr blog. I don't know how if many businesses are using a Tumblr blog, though.
Customer Support
The customer support seems pretty standard with Yola. There's a chat function which is 'live' Mon-Fri from 3am-5om EDT, and this is supported by a community forum, training webinar, and help center. Users can also speak with a Yolo expert via email or phone.

Pricing
Yola is a offers a freemium service. The free version will only allow you to set up a Yola site with 3 pages and a subdomain, so it's likely you'll opt for a paid plan if you're using Yola.
The paid plans consist of Bronze ($4.16/m), Silver ($8.33/m), and Gold ($16.99/m). For more on pricing, click here.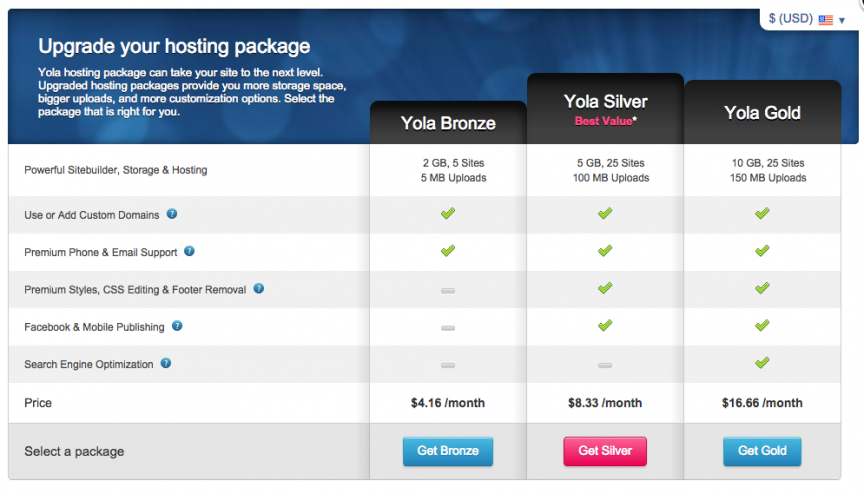 Pros:
Beginner friendly: easy to use and navigate

Solid ecommerce offering

HTML/CSS coding option available

Good SEO capability
Cons:
Themes are a little dated and the selection isn't great

Drag-and-drop feature is a little restricted compared to other site builders, and it's not as intuitive

Free version is pretty sparse

No internal blog
What's The Verdict?
Overall, Yola is a decent website building platform. It's definitely not one of the better platforms I've tried – but I was limited to the free version which really isn't very extensive in its offering. That said, it's definitely beginner friendly and the ecommerce functionality looks pretty solid at a glance.
Personally, I think that Yola could get a little more creative with the interface and features offering if it wants to keep up with its competitors. So it'll be interesting to see what if it expands its offering over the next year. If you'd like to try Yola out for yourself, you can sign up for a free account here.
What's your website builder of choice? We'd love to hear from you in the comments section below!