Zikula is the reincarnation of the content management system formerly known as Postnuke. I'm not sure why the name change has occurred or what the objective was but perhaps we can find out from someone within the project. This is an interesting project that has seen alot more activity as of late. We'll have to keep a watch on it to see how it proceeds. Let's examine this new incarnation in this Zikula Review and see if it's up to par.
After downloading and unpacking the latest release, we begin the install process and are greeted with the following screen: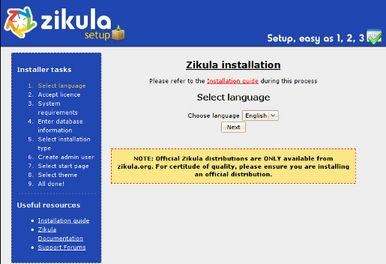 Note the quick links on the left side to the install guide and documentation, this is good. After selecting the appropriate language, we are greeted with the license agreement as shown below: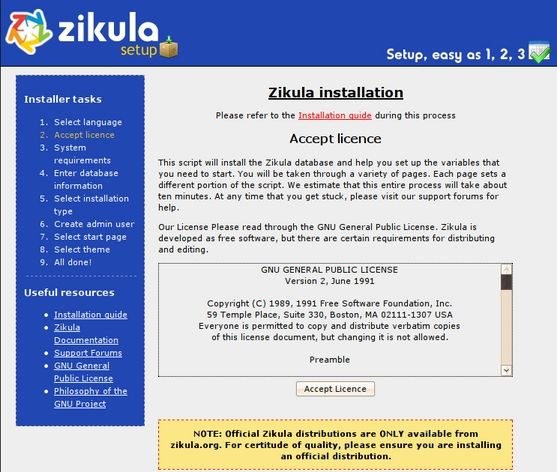 Proceed after accepting the license: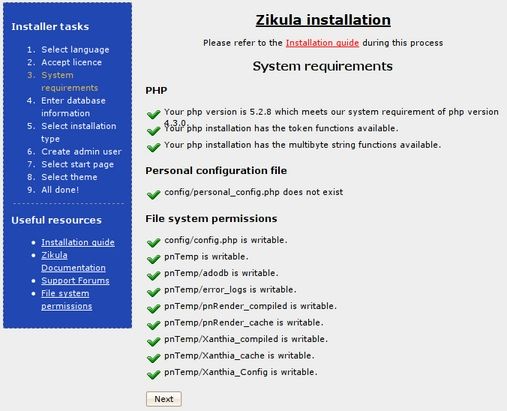 If you are greeted with anything other than the green checkmarks above, you will have to make the necessary changes requested.
We then enter the database details: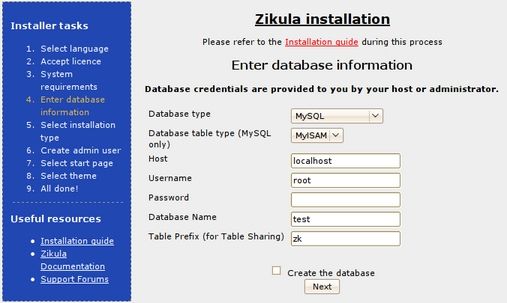 And proceed.. Here you are allowed two options, basic install or
complete. Complete installs all available modules included with the
download and basic just those required to operate. It's nice that they
provide the option as there may very well be some users that do not
like or utilize some of the built in modules: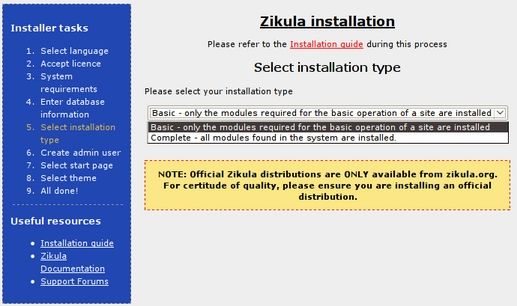 We are then presented with the option to select a module to add to the start page. The default TOUR module is selected and since we selected "Complete" we have a large number of options which we can select from: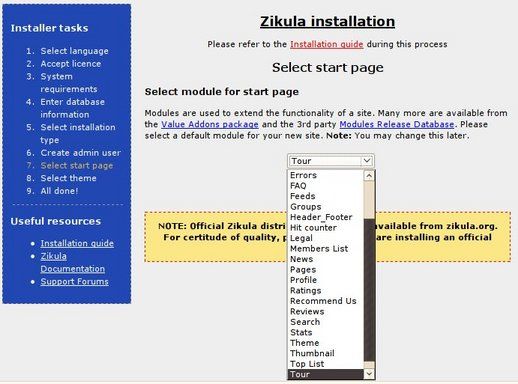 I feel the need to pat someone on the back for providing at least 3 default theme options to choose from. This is a nice simple touch that needs to be seen more often.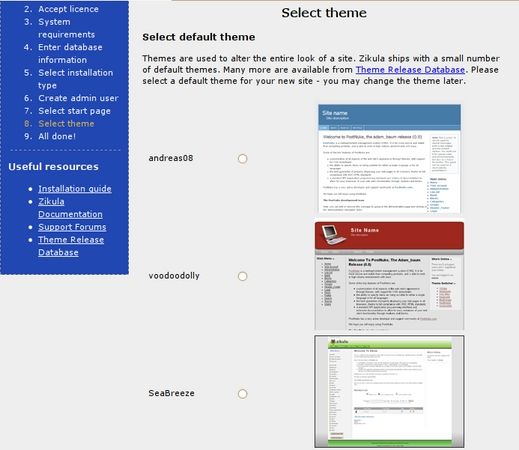 Personally, I find the Seabreeze theme the most appealing so I selected that one. Here's the default look of the home page: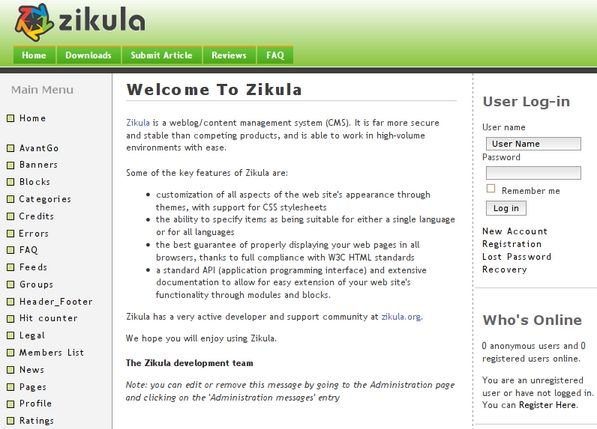 Not bad, much better than some of the other ones I've seen in previous reviews. Unfortunately, this is one of the few nice themes that Zikula has going for it that I know of. I've checked their theme repository and it's not very large or updated very often. Perhaps as they begin to expand in size, this will change but in the interim unless you are a designer, you may find it hard to find a large number of themes to choose from. Having said that though, I do believe most older postnuke themes should work.. although I'm not positive on that and haven't tried. If someone could confirm, that would be appreciated.
Here is the Admin Panel. It hasn't changed much from the Postnuke days.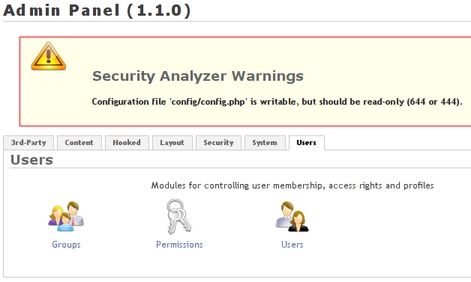 The admin panel is pretty clean and easy to use, one thing I think needs to be done more on this system is it needs to be made more
userfriendly in terms of verbage and perhaps popup hints as to what some of the menu items do. When navigating the admin panel, if you are new, it can get a little confusing to figure out where things are. It certainly serves its purpose but could be a bit easier.
Overall, I think Zikula is a good CMS that needs a bit more attention to get it on par with competing systems. It's nice but is lacking in module attention and themes. Would I recommend it? Yes, but only to people that have a bit of experience and aren't new. I don't
think it's quite there yet for newbies.
I would love to see the default theme that the Zikula.org site uses in their themes listing for instance and I think that a few more like
that will add the right touch.
Overall Ratings:
Community 8/10 – Pretty busy community with plenty of posts. Appears to be quite active.
Expandability 8/10 -Not a huge database of modules but definitely quite a few. Modules database needs to be cleaned up and
some of entries re-worded to make the individual listings more understandable. Found it a bit confusing and overwhelming.
Themability 7/10-Themes are available but as I said earlier, I think it would be best if the Zikula team could create a few nice
starter themes other than the usual Andreas, etc that are so common among CMS platforms. Uniqueness is a good thing.
Useability 7.5/10 – Perfectly usable, but a bit overwhelming for the new user.
Overall Score: 7.5/10