When it comes to eCommerce solutions, they need to be able to handle high load, a high number of transactions and do it all without flinching. This is where powerful enterprise ecommerce solutions come into play.
Today, we're going to announce the winner of the 2014 People's Choice CMS Award for Best Enterprise eCommerce Solution.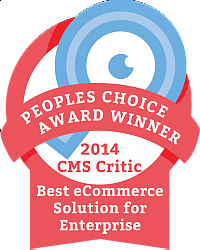 Contenders this year were BigCommerce, Shopify and Prestashop.
The winner this year was Prestashop.

They took the lead early on and refused to let it go, which makes this a double whammy this year with their other win as Best eCommerce Solution for SMB
The runner up this year was BigCommerce.
Congratulations to the team at Prestashop on their double win. Obviously your customers love you and so do our readers!