Considered to be one of the biggest names in eCommerce industry, Bigcommerce has just released an interesting new feature, named Bigcommerce Insights.
Bigcommerce already has an analytics system in place for its merchants, but the platform seeks to add a whole new layer of effectivity through the introduction of Insights.
According to Bigcommerce, "Bigcommerce Insights is a brand new premium report in Bigcommerce Analytics that automatically interprets your product and customer data, and then delivers actionable recommendations you can use to improve your business. Like your very own data analyst, Insights works for your store, helping you to identify opportunities to drive more revenue. "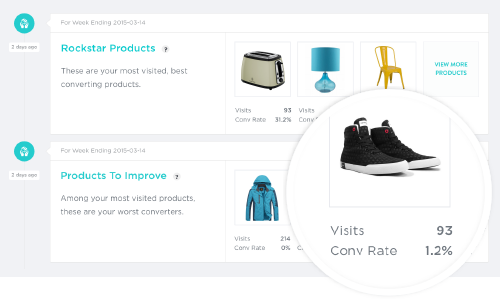 Marketers Rejoice
Clearly, this new feature is one for the marketers among Bigcommerce's user base.
The added performance metrics will help marketers make better decisions about their campaigns, while recommended actions will only make life easier.
Here's a break down of all the new features that come with Bigcommerce Insights.
Product Insights
Products to Improve: Among your most visited products, these are your worst converters.
Rockstar Products: These are your most visited, best-converting products.
Non-Sellers: These products are not selling at all.
Most Discounted Products: See the performance of your discounted products.
Hot Products: These products had the most revenue growth from the week prior.
Cold Products: These products had the largest revenue drop from the week prior.
Products Purchased Together: For each of your top-selling products, this shows the related product with which it is most frequently sold.
Customer Insights
Best Customers: These recent customers purchase often and spend the most.
Customers at Risk: These are high-value customers who last ordered between 30-365 days ago.
Repeat Purchase Rate: The percentage of customers who made a repeat purchase, and how long in between orders repeat purchases take place.
Best Products for Repeat Purchase: Customers who purchased these products were most likely to purchase again.
Viewed But Did Not Purchase: These customers viewed the same product more than once but didn't purchase.
Customer LTV (Lifetime Value): This is the average amount the customer has spent by a certain point after registering.
Best Full Price Customers: These are your customers that buy even without discounts.
Low AOV Customers: These are customers who are in the top 20% for orders but lowest 20% for spending.
Abandoned Cart & Marketing Insights
Most Abandoned Products: These products have the most associated abandoned carts.
Customer LTV By Channel: This report shows which marketing channel brings customers with the highest lifetime value.
You can read more about Bigcommerce Insights via the official blog announcement.
Also, be sure to explore more of Bigcommerce via our CMS Directory. Plus, you can check out our Bigcommerce review right here.