No list of ecommerce platforms is complete without the inclusion of Bigcommerce – and for good reason. The popular platform currently supports over 36,000 online stores throughout 65 different countries, making it one of the proven giants of the ecommerce world.
Bigcommerce is all about offering merchants of all backgrounds and sizes the ability to create a fully functioning online store in a matter of seconds.
Hosting is taken cae of by the Bigcommerce servers, and details such as your domain name, logo and overall design can be easily adjusted, allowing you to concentrate on the core content of your store.
The slick, user-friendly admin panel allows you to seamlessly add or import products, drag-and-drop widgets and market your store through a variety of methods. Additionally, extra applications and tools are on hand to help customize and enhance your store even further.
As well at catering for newcomers, more experienced users can also have their fun, by delving into the coding behind the scenes to inject some originality into their online store.
Initial Thoughts
A quick glance at the Bigcommerce website will tell you everything you need to know about their platform. Every aspect of their design and layout has been meticulously polished, and thankfully, this has continued throughout the store setup process, all the way to the various pages of the admin panel.
The Bigcommerce signup form – which simply asks you to name your store, is neatly presented on the homepage amongst some impressive statistics and testimonials.

After delving deeper into Bigcommerce's website, it becomes clear that their CMS offers a huge range of tools to help get the ball rolling for you. These include built-in website analytics, default SEO friendly foundations and settings, social sharing options and a myriad of customer conversion tools.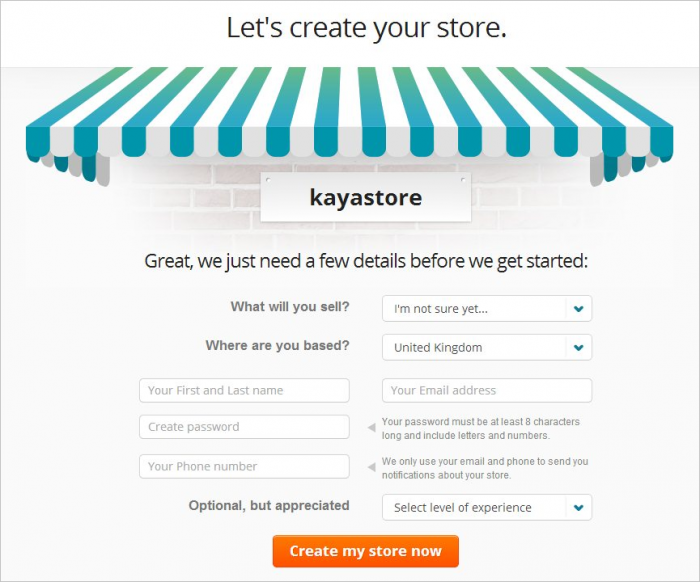 The platform itself is packed full of helpful features, and yet the Bigcommerce App store  is still able to provide further assistance in a variety of areas. 
From the outside looking in, one thing is for sure; Bigcommerce is bursting with functionality.
Getting Started
Signing up for Bigcommerce is a breeze. After entering your store name along with a few other essentials, the software gets to work on building your website.
The process is quick and easy, setting the standard for the main store setup which is still to come. Once your website is ready to go, Bigcommerce will alert you with the option to either begin customizing your store, or to head over to your brand new store front, which will boasting the default, yet pretty Bigcommerce theme.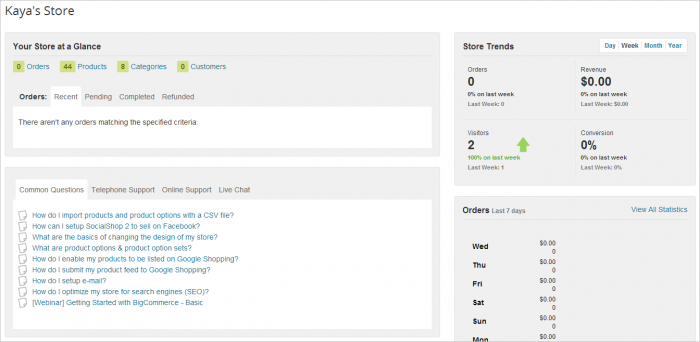 As aesthetically pleasing as Bigcommerce is throughout its platform, it's also worth mentioning that the entire signup process provides a great sense of stability and assurance to users who may be unfamiliar with ecommerce. The friendly message presented once your store has been readied for example,  will make all the difference for inexperienced online merchants. 
Once you have arrived at your admin panel dashboard, the neat, simplified display tells you that Bigcommerce is focused on providing as much as possible, in a way which is accessible for merchants of all kinds. Although, it should be noted that – after getting past the signup process, the platform seems to be geared towards users who possess experience in the world of ecommerce.
The Quick Launch Wizard
Bigcommerce accommodates the new comers to ecommerce by providing them with the handy Quick Launch Wizard, which is located at the top of the admin panel. The Wizard is designed to walk you through the basics of getting your website up and running.

The steps within the Quick Launch Wizard include Storefront, Products, Checkout and Launch. Each step contains a number of sub-steps which are either mandatory, or optional. By following the lead of the wizard, you will be guided through the basics of your store settings, anabling you to launch an online store that meets the minimum standard.
Starting with the Storefront, Bigcommerce prompts you to set a name for your store, configure important settings, select a theme and assign a logo. The Products step takes you straight to the page where your items can be added and modified. 
Checkout, which is the third step, enables you to configure your checkout settings, which include payment, shipping and taxing options. Finally, the Launch process is made up of reviewing your store settings, alongside a few recommended extras suggested by Bigcommerce, which include purchasing a domain name, bookmarking your store, and so forth.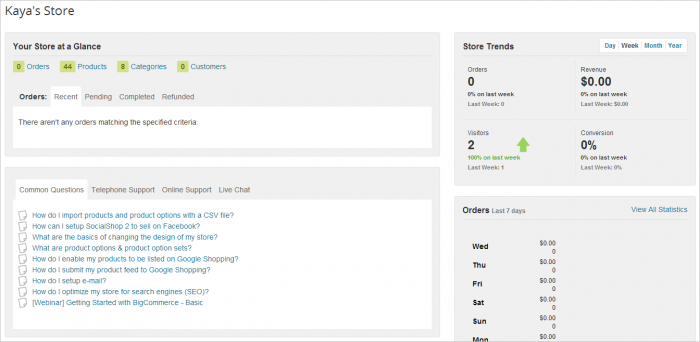 Despite the simplicity of the Quick Launch Wizard, it must be said that Bigcommerce could have offered more to walk users through many of the more complicated processes. For example, merchants who are new to ecommerce may find payment and shipping configurations a bit tricky, yet once the wizard has directed them to relevant page, they are left to fend for themselves.
So, although it is helpful, an intuitive walk-through guide for the vital steps would most certainly be a welcome addition to the Quick Launch Wizard.
Adding Products
Whether you need to add your products from scratch, or import them from another source, Bigcommerce has you covered. Using either the main menu or the Quick Launch Wizard, you can navigate to the "Add a Product" page to get started.
The Add a Product page enables you to categorize your items, label them as physical or downloadable, add images, video and a variety of other custom additions.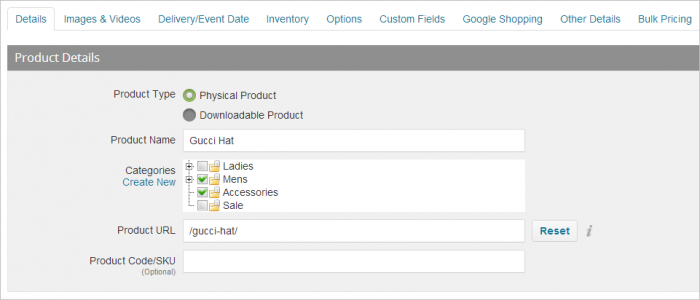 Bigcommerce also provides you with a WYSIWYG (What You See Is What You Get) editor, which makes typing up and editing your product descriptions a whole lot easier. Additionally, you also have the option to enable Google Shopping for each particular product, which will almost certainly help when it comes to reaching a larger audience.
If you already have your products stored in a CSV file, you can also import these products instantly via the Bigcommerce admin panel.
One thing missing from the process is the ability to preview your product page before you publish it. Although the editor and form fields helps keep a healthy appearance for all published content, it's always nice to be able to preview your new content before it goes live. 
Themes & Design
When it comes to customizing your online store to achieve a unique, aesthetically pleasing design, it's difficult to find fault with what Bigcommerce has to offer. Clicking the "Design" button on the right-hand side menu will bring you to the relevant page.
To begin with, Bigcommerce has over 125 free themes, each offering their own unique charm. Many themes are generic in nature, allowing you to sell almost any type of product, whereas other themes are built to be more industry specific.

Bigcommerce's themes are generally of an exceptionally high quality, yet there are one or two in the mix which lack as much polish as the rest. However, thanks to the sheer size of the catalogue available, this doesn't create too much of an issue.
As well as browsing and applying the various available themes, there is far more to the Bigcommerce store design process, if you want there to be.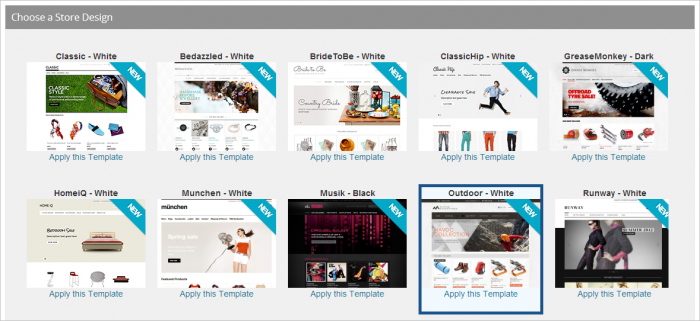 Further options including logo text or image uploading, website header modification and favicon customization are all available. Additionally, Bigcommerce allows you to access your website in "Design Mode" which leads you to your store front along with a drag-and-drop tool. Using the drag-and-drop tool enables you to move menus, modules and products to different areas of the page with a simple dragging motion.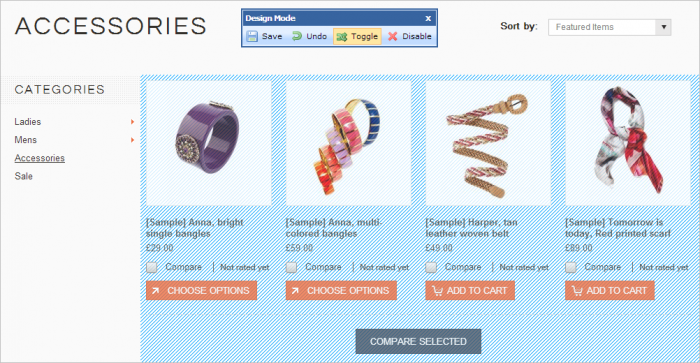 This kind of simplified web design is ideal for inexperienced users, as well as users who just wish to tinker with their design quickly and easily. The tool is very responsive, and will work within the parameters and limits of the theme you are using. 
Domain Names
When you first create your Bigcommerce store, you will be accommodated by their servers, and will thus be given a sub-domain, which would look something like, "my-store.bigcommerce.com".

Naturally, in order to obtain a more professional image for your online store, you will need to be using a personal domain name. Bigcommerce allows you to either buy a new domain name via your admin panel, or to link your account to a domain name which you already own. In fact, Bigcommerce even recommend this step during the final stages of their Quick Launch Wizard. 
Payment, Shipping & Taxing
Arguably, the features and options surrounding shipping and payment can make or break an ecommerce CMS. Thankfully, Bigcommerce continues to over-deliver on this front. To save time browsing for the three pages in question, the Quick Launch wizard does a good job of getting you to each relevant page as you go along.
Bigcommerce is absolutely bursting with payment methods. Popular options such as PayPal, Google Checkout and Worldpay make their appearances alongside a vast range of over 70 checkout options.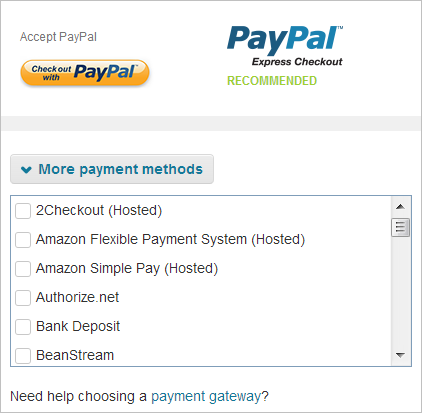 When it comes to shipping options, Bigcommerce yet again offers some diverese options. You can set an unlimited amount of customized shipping zones, which can be assigned either by country, province or ZIP/postal code.
The process is simple enough, and leads to you building up a list of your shipping zones which can be modified or deleted at later dates if neccessary.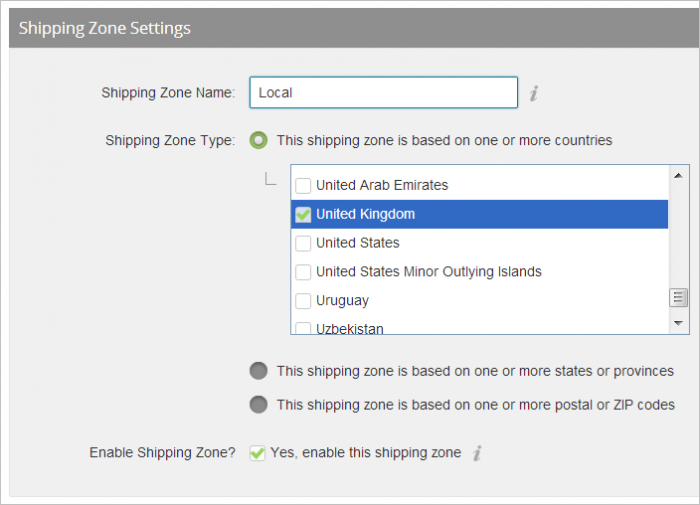 For those of you who require tax configuration, setting up your taxing options gets slightly more tricky. 
You will need to decide on whether your taxes will be calculated on shipping addresses, billing addresses or store addresses, as well as what kind of shipping tax class you will be requiring. If your online store offers gift wrapping, there is also a tax option available for such a service.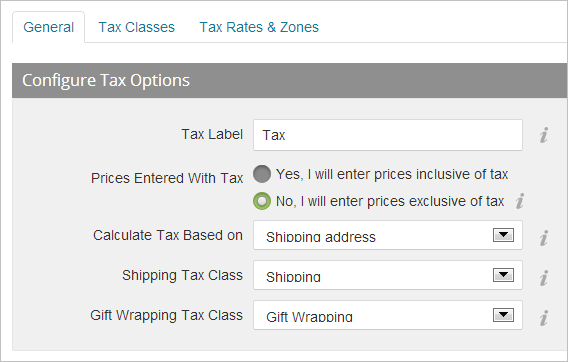 You can also set your own tax classes and tax zones similar to the shipping zones mentioned previously.
These extensive tax options are great for larger companies who require them. Their complexity means that multi-national stores or ecommerce giants will have no problem configuring their complicated tax requirements. However, for the smaller business or inexperienced merchant, these options are nothing less than dizzying. 
Pages
As with most types of website, being about to create and modify pages is essential – and ecommerce is no exception. My using the main menu across the top of the admin panel, you should be able to navigate to the "Create a Web Page" button.
Much like the product description page, Bigcommerce also offers you a WYSIWYG editor when creating pages, which provides the standard text and image editing options which you would find on most CMS.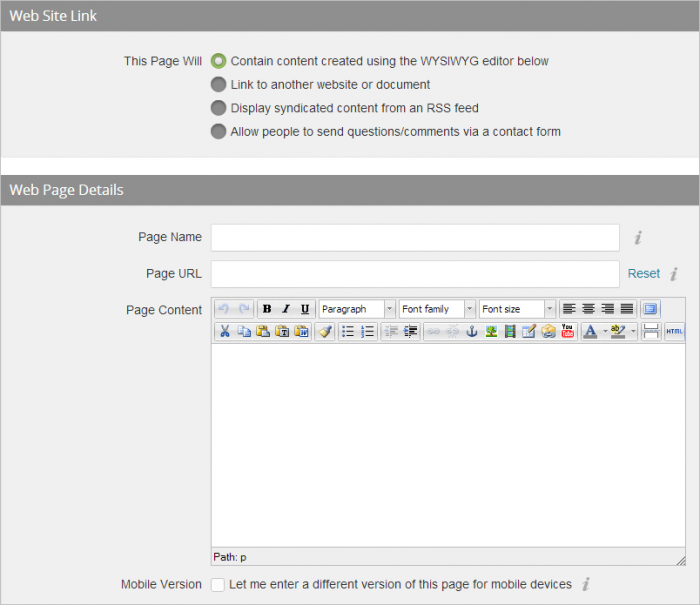 The page creator allows you to specific the type of page you wish to create. You can choose between content generated using the WYSIWYG editor, syndicated content from an RSS feed or a page which incorporates a contact form. Additionally, your page can be set to link to another website, page or document of your choice.
Search Engine Optimization also has a role to play when creating pages, as you are given the option to specify META keywords and descriptions, as well as list a number of relevant search keywords.
Unfortunately the lack of a page preview option is continued when it comes to page creation. The WYSIWYG editor will certainly suffice for some as a good enough preview tool, yet others will definitely prefer an actual page preview before publishing their content to their audience.
Apps & Extras
Bigcommerce currently has over well over 100 apps, each one capable of adding a new dimension to your online store.
You can access the Bigcommerce App Store by clicking the "Apps" button located on the top right-hand side of your admin panel. The apps are categorised by functionality. Some focus on accounting and analytics, whilst others give you intuitive options such as live chat.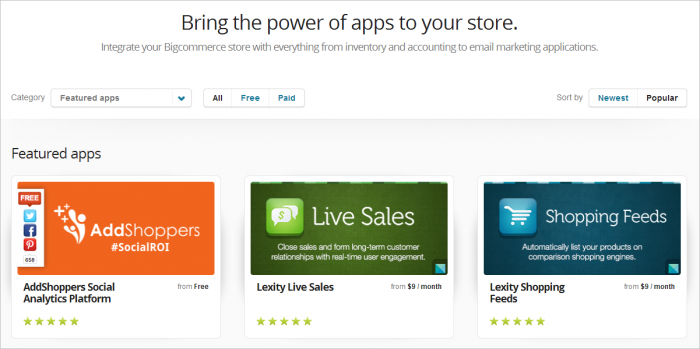 Naturally, not all apps are free, with some of them requiring a one-off payment, whilst others operate via a monthly subscription. Whilst there are many free and reasonably priced apps on offer, you will find that specialized applications can cost you up to $199 per month.
Mobile View
All Bigcommerce themes are responsive, ensuring that customers visiting your store from a tablet or mobile device will still get a comprehensive overview of your store. Heading back over to the "Design" button, you will notice a button which reads "Mobile".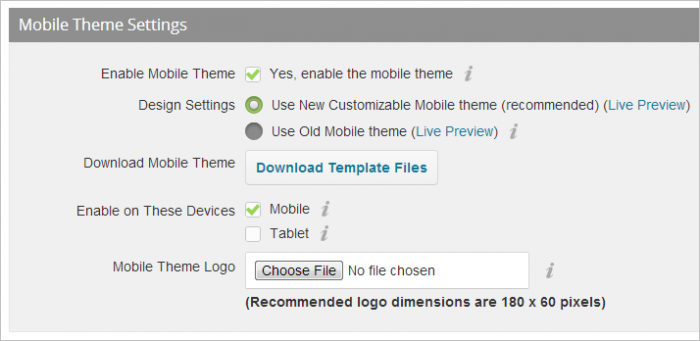 The corresponding page offers you some useful options for customizing and optimizing your store for mobile devices. You can toggle your website's mobile theme on and off, configure design settings, access template files and even upload a custom logo.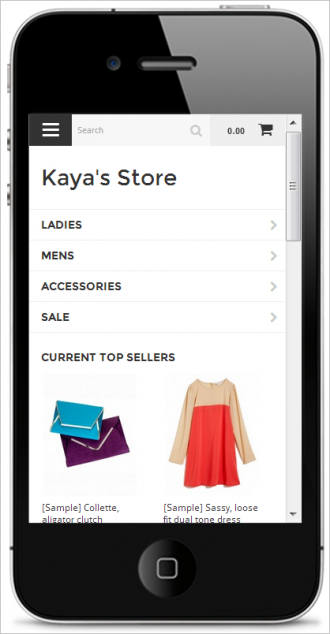 Additionally, Bigcommerce offers a live preview option, which presents your online store as it would appear on any smart phone. Using this live preview, you can assess the design of your mobile store, and make changes accordingly – if necessary.
Marketing Your Store
Marketing tools make up an essential arm of any website. Selling products online is never easy, and so it is absolutely vital that your marketing strategy is up to scratch. Thankfully, Bigcommerce provides just about everything you need to start marketing your store and all of its products.
Promotions & Coupons
One of the many marketing tools available to you is trackable coupon codes, time-limited promotions and even gift certificates.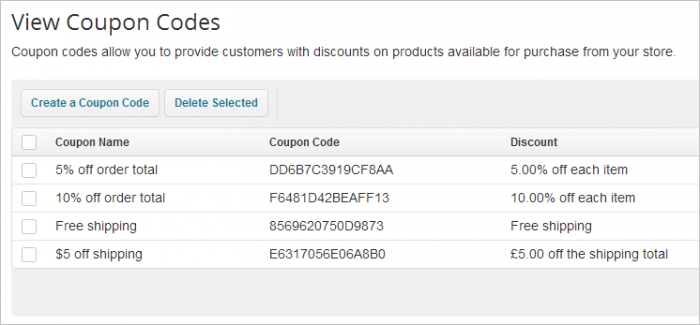 Coupon codes can be set and gift certificates can be purchased via the admin panel, where you can also set up promotional offers such as buy one, get one free. Such offers and customer incentives can really boost the professionalism of your online store in the eyes of your customers.
Email Marketing
Bigcommerce allows you to sync the email addresses of your customers directly with your email marketing lists. Also, a range of third-party email marketing apps exist on Bigcommerce, making the syncing process even more worthwhile, thanks to an abundance of extra features.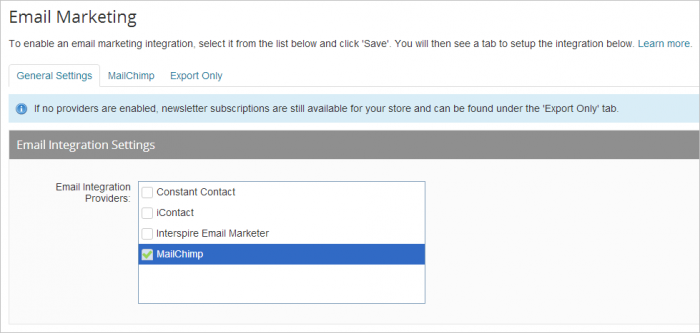 All you have to do is input some very basic details into Bigcommerce, allowing it to sync with your email marketing platform. Once you have set this up, all new customers will be automatically added to your mailing list, without you needing to lift a finger.
Abandoned Cart Saver
For Gold, Platinum and Diamond subscribers can enjoy the benefits of an abandoned cart saver. Essentially, this tracks the email of customers who abandon their cart at the last moment, and sends them timely email prompts.

The email prompts can be customized in terms of their timeliness and content, and they can also be accompanied by a coupon code, if you so wish.
SEO & Analytics
Bigcommerce is built from the ground up to be SEO friendly, and also allows you to add title and header tags, search keywords,  and META content to your website. Additionally, built in analytics help you to monitor the progress of your store.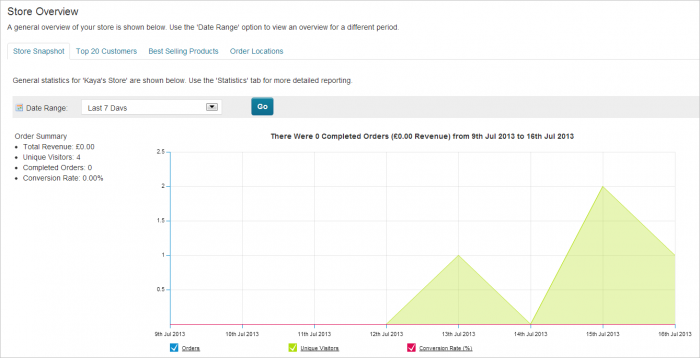 The built-in analytics gives you a comprehensive overview of your store. Visitors, revenue, popular products and even regular customers are all tracked and reported on in a way which is easy to understand.
Facebook, eBay & Google Shopping
Selling your products via your online store is all well and good, but being able to sell on a variety of platforms all at once, is brilliant. Thankfully, Bigcommerce allows you to do just that.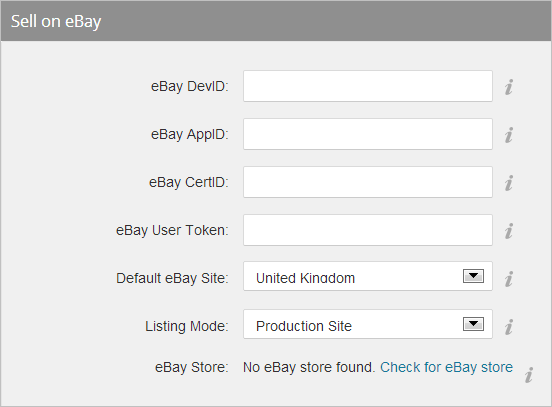 By setting up free applications and inserting basic information about your Facebook & eBay accounts, you'll be able to get your products listed in almost no time at all. Google Shopping and other product comparison sites are also extremely easy to sync with via the Bigcommerce admin panel.
Social Media
How your store is received on social networks will say a great deal about you. As social media continues to thrive, you'll need to be active in the various online communities in order to make an impact. All Bigcommerce themes allow you to incorporate slick, stylish social network buttons into your website.

These buttons can be clicked on by visitors and customers to share certain products amongst their friends, or even just to generally recommend your online store.
Although Bigcommerce's marketing arsenal is extremely comprehensive, it is unfortunate to see that a built in blogging platform has not been integrated into the CMS. Many websites, including online stores, swear by blogging as a means of marketing, and so it is surprising to see such a feature left out.
In fairness, it wouldn't be too difficult  to use a third-party blogging system, but it would have been the icing on the cake if Bigcommerce were to provide such a service themselves. 
Getting Help
Being able to seek help within a CMS is vital, especially during the initial setup period which you will inevitably undertake. Thankfully, Bigcommerce does a fantastic job of providing clear, easily attainable help features.

On the admin panel dashboard, you will be able to access an array of commonly asked questions, telephone support, online support and even live chat with a Bigcommerce staff member. 
Price Plans
Bigcommerce currently offer five different monthly price plans, ranging from $24.95 to $299.95. The prices are set out to appeal to both start-up online merchants, as well as big time ecommerce experts.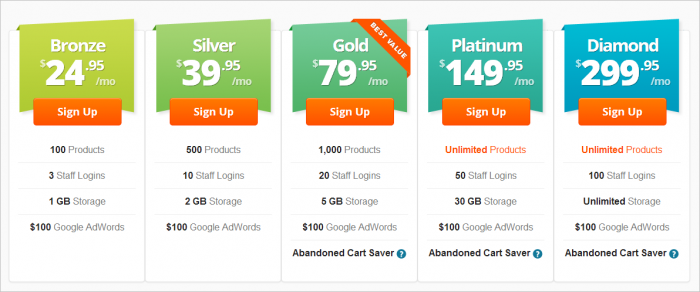 Offering five different price plans is a good way to capture the attention of a variety of different users. Very many ecommerce CMS price out potential customers with hiked up fees, whilst others offer extremely low deals, yet hold back on functionality as a result.
After reviewing the sheer amount of features and applications available to Bigcommerce users, I was convinced that their pricing would not dip low enough to accommodate ecommerce newcomers. However, when it comes to price, Bigcommerce absolutely nails it. 
When compared to their rivals Shopify and Magento, Bigcommerce is more expensive – but only at first glance. Both Magento's and Shopify's cheapest deals come in at $15, yet Shopify charges a 2% transaction fee for every sale made, which will prove to be far more costly in the long run. Additionally, Bigcommerce offers a handy $100 of Google Adwords credit, which is always pleasant.
Certainly, when you take the flexibility and functionality of Bigcommerce into account, it is extremely difficult to argue with their price plans.
The Verdict
To put it simply, Bigcommerce offers almost every single feature you need to run a successful online store. Impressively, the colossal range of features which have been packed in to the CMS have been presented it in a way which is incredibly accessible and easy to use.
The dashboard is clearly built to make life easy for day-to-day management, and although it is a shame that the dashboard widgets cannot be modified or added to, it still offers a holistic view of your store's growth and progress.
Overall, Bigcommerce certainly proves its worth as a ecommerce CMS giant. It's features are vast in number and comprehensive in functionality. However, it is perhaps that reason precisely which would stop me from recommending it to an ecommerce novice.
Pros
Bigcommerce is up, running and ready for action within minutes.
The admin panel is neatly and professionally presented.
Product creation and importing is quick and easy.
An intuitive drag-and-drop editor makes life easy when it comes to design and layout.
There are over 125 free themes to choose from.
Both desktop and mobile themes can be modified in terms of colour, font, images, and more thanks to theme HTML, CSS & JS access.
Promotional offers such as buy one get one free, coupon codes and other incentives are easily created and managed.
Integrated email list building works with a variety of popular email marketing software.
Built-in analytics helps you to keep track of regular customers, popular products, revenue, and more.
There is a gigantic array of payment methods to choose between.
Pricing is extremely reasonable given the features and functionality on offer.
A 15-day free trial helps you get used to Bigcommerce before taking the plunge.
Cons
There is no preview option for newly created products or pages, which means that any potential mistakes will be live until you revise them.
Despite a selection of marketing tools, Bigcommerce offers no blogging ability to its users.
The Quick Launch Wizard could be a little more helpful by walking users through the basics of the store setup. The current setup will almost certainly leave many inexperienced users lost and confused.
Final Remarks
Essentially, Bigcommerce offers a fantastic, complete and competitive ecommerce package. It does everything it says on the tin, and so much more. With over 125 free store themes, with an app store bursting with a vast array of additional tools, which only exists to complement the already feature-packed CMS that Bigcommerce has to offer.
Of course, the platform isn't perfect. The absence of a built-in blogging platform is unfortunate, whilst the entire admin panel setup would probably seem a little intimidating to a merchant who is new to the world of selling online.
However, despite these issues, it's hard to argue with the fact that Bigcommerce offers one of the most comprehensive ecommerce experiences that the Internet has to offer. If you're looking to expand or construct your online store to reach new heights, Bigcommerce makes a pretty reliable platform to build upon.