BigCommerce is a popular eCommerce platform that helps newer, growing brands take their business to the next level with a free 15-day trial. On average, those stores that use BigCommerce grow twice as fast as the industry average!
Because BigCommerce is designed for growing brands, the process for using it should be pretty straightforward and intuitive.
The platform is updated regularly, and it has been proven to appeal to both new and seasoned businesses. Must be pretty diverse, right?
I decided to check it out for myself. Keep reading for my BigCommerce review.
Getting Started
It's definitely easy to get started with BigCommerce. It's an easy sign-up and log-in process. Here's how it went down:
First, you enter your login information. This will take you to a screen where you select what you want to do.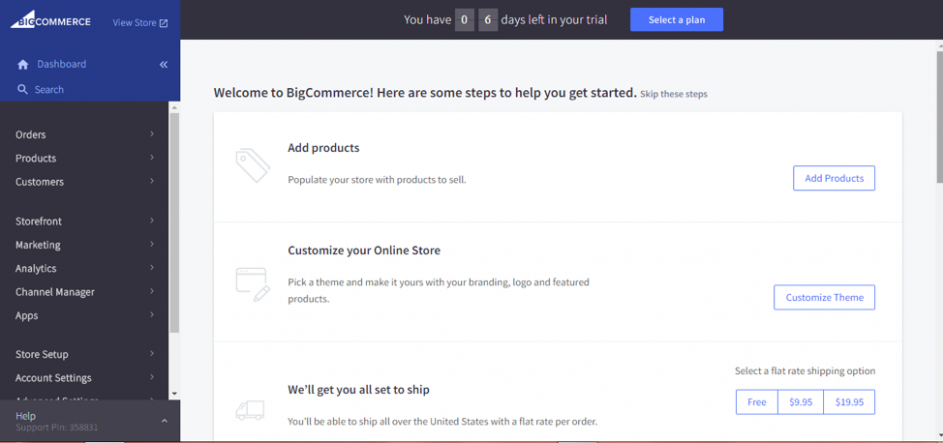 If you still aren't entirely sure what to do, you can scroll down and select one of the links. I found that to be particularly helpful.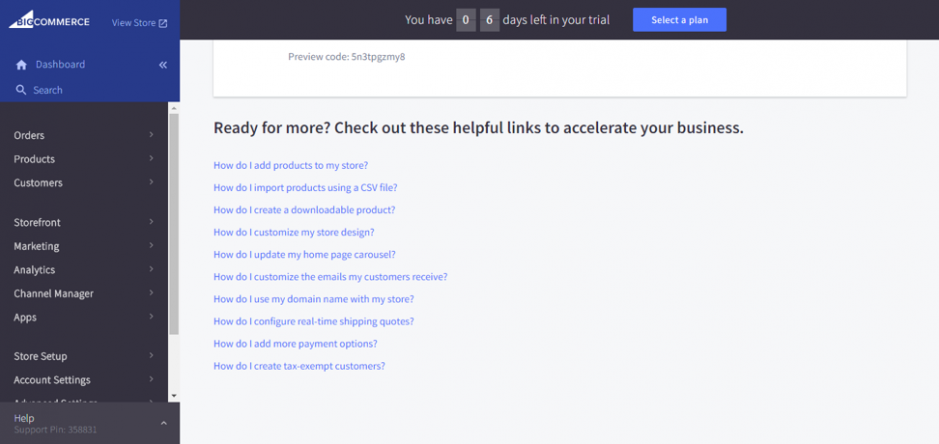 From this Dashboard view, I first started out by customizing my store. I wanted to focus on creating an ecommerce space that followed the same branding as the rest of my business.
Usability
From the dashboard, I chose the 'Storefront' tab, presented on the left scrollbar with white text on a dark grey background. Overall, this looks very sleek and user-friendly.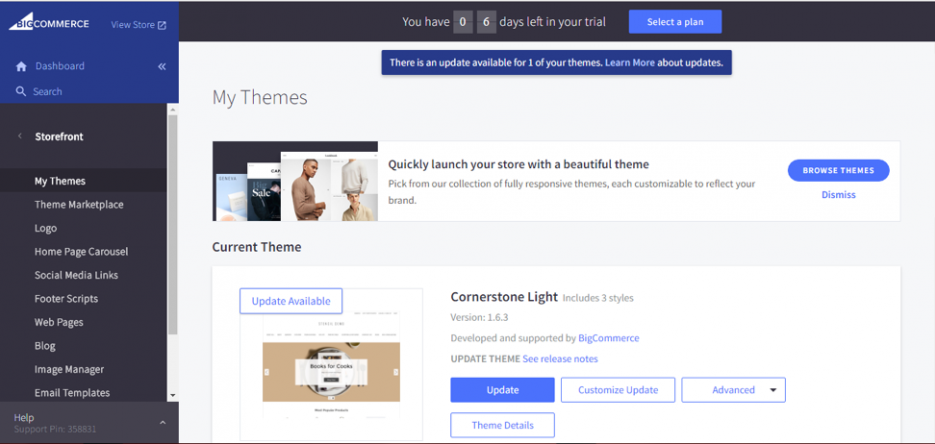 There are drop-down menus to give users additional options, something that is especially helpful when you're still figuring out the best way to go about things.
A great number of free themes are available, but you can also choose to purchase a theme. The process is easy and it's simple to navigate.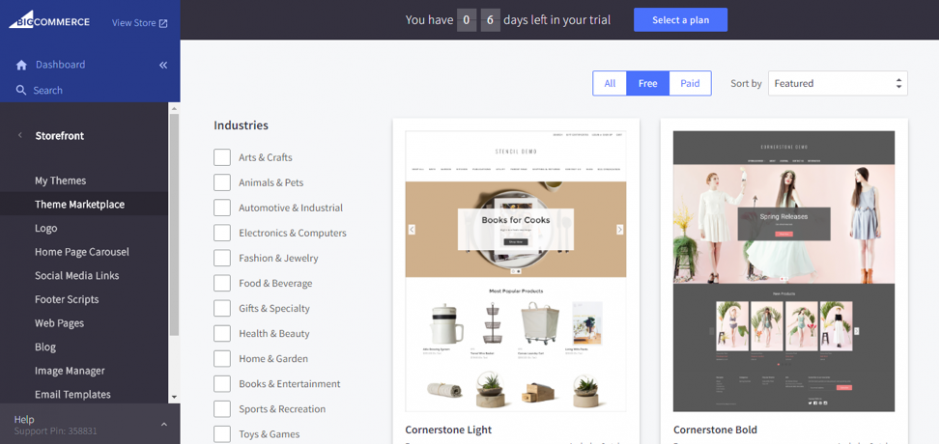 There are themes available for each industry, better enabling users to offer the best shopping experience possible for their customers and maintain consistent branding.
For each theme, there are updates, different style options, and some helpful information.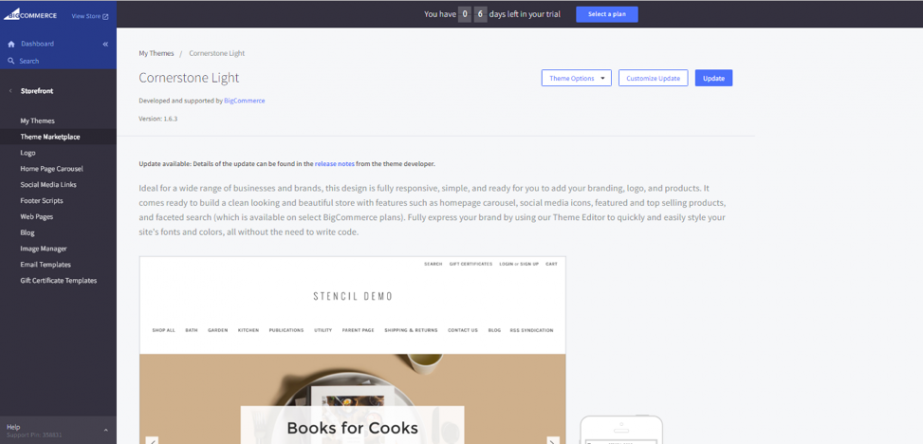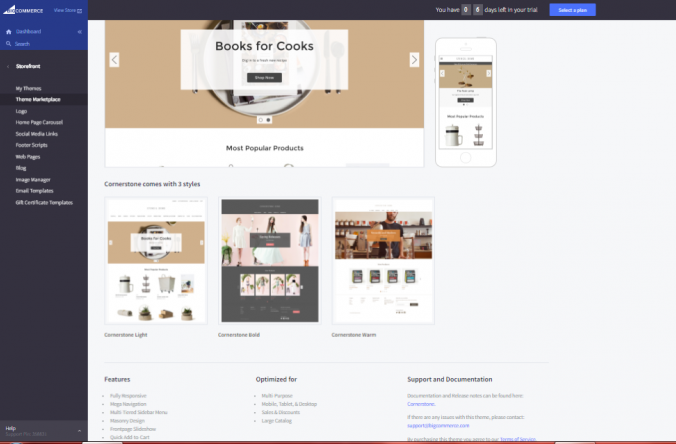 It gives you a list of all of the features each theme offers, tells you what each theme is offered for, and then gives links to resources for when you need help and documentation.
Once you've got your theme chosen, you can move on to the logo portion of the setup.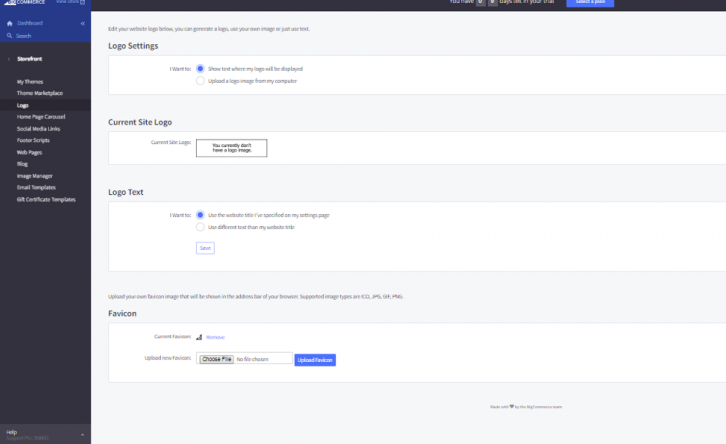 This area's super easy to navigate, straightforward, and versatile. Upload your logo, or add some text as a placeholder, and you're good to go.
You can also add a Favicon, located at the bottom there, which adds a little icon to the tab on the user's browser. This is a great way to further maintain consistent branding, and lets users know which page they're looking at just by glancing at the tabs.
From there, you can start setting up the carousel of your homepage.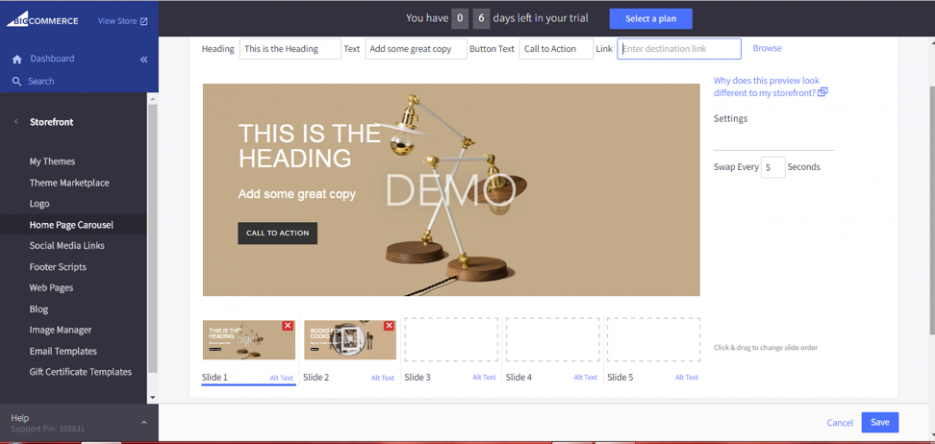 This is SUPER easy to use, with text boxes that are easy to type in and edit. In the screenshot above, I've swapped out the default text for some of my own, giving you a better example of how this section is done.
Moving on down the left menu, let's go to 'Web Pages', which is where you piece together your actual store.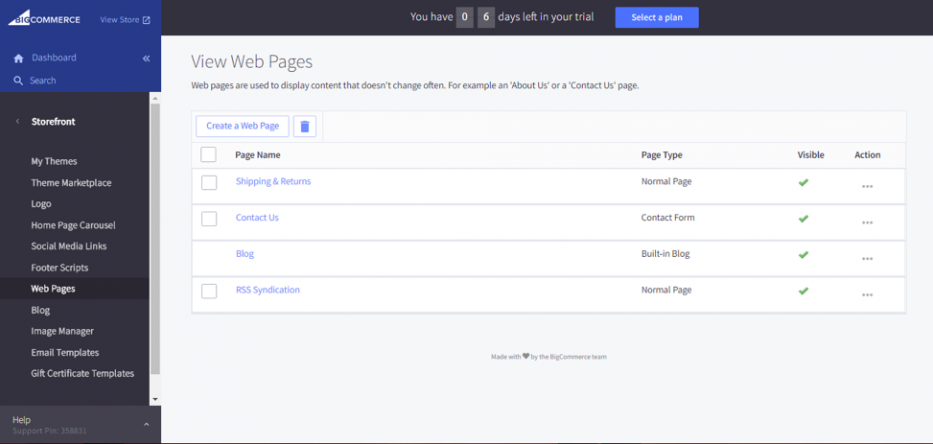 Click on a page to get started. In this case, I started with 'Shipping & Returns', because it was first.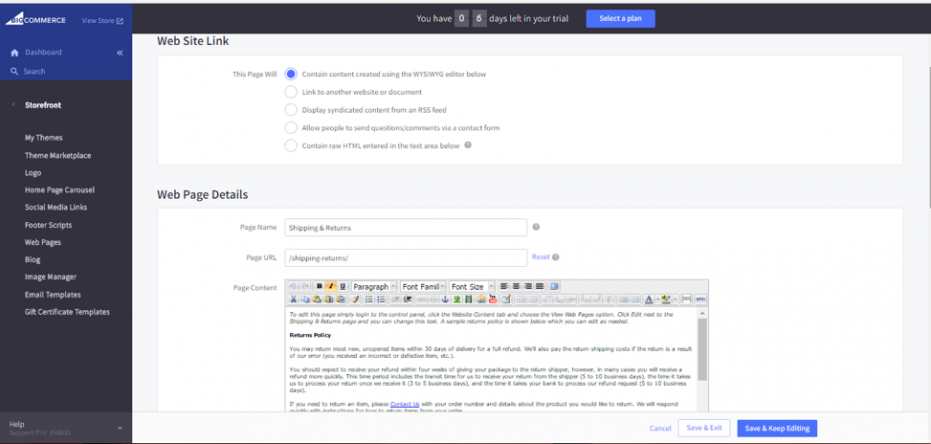 Once you click on it, you're taken to the above page. There are several options, but it's easy to understand and not the least bit overwhelming.
There's an easy-to-use text box, so you can edit your content directly. Once you're done with the content of your page, you can scroll down for the remaining options.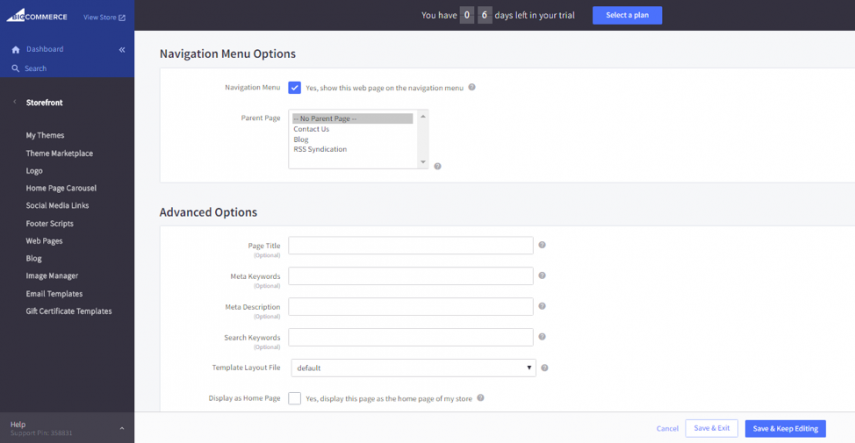 Design
Responsiveness
BigCommerce has definitely taken great strides to make sure their store templates are as responsive as possible, complete with mobile optimization. As demonstrated in the above screenshots, this platform makes it possible for users to customize a lot of the template elements, making it more unique to their business and brand.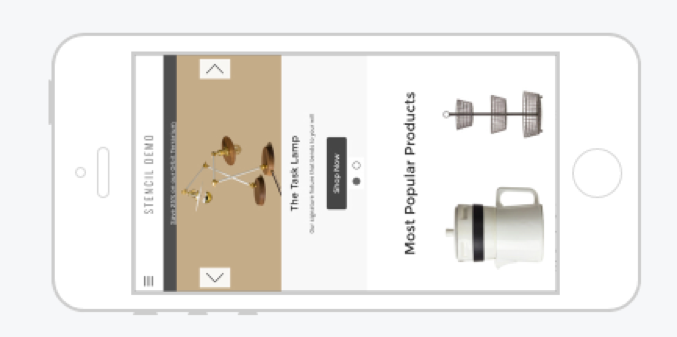 This screenshot is an example of that. As you can see, the template fits neatly within the borders of the screen, and the design is sleek and user-friendly.
It's easy to navigate, and doesn't look cluttered or misaligned like many other ecommerce platforms do when viewed from a mobile device.
Store Templates
BigCommerce offers a huge range of ready-to-use templates in various styles, allowing users to meet the branding requirements that best align with their business.
Even better is the fact this platform takes things one step further and arranges the templates by industry, making it easier for users to select the most effective theme possible.
Features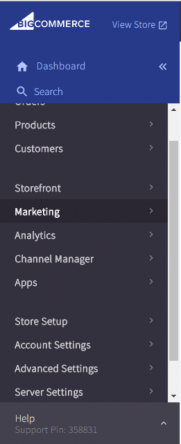 Marketing
BigCommerce has tons of marketing options for your store, all of which are pretty easy to use and allows you to track them with various types of analytics.
From there, you can streamline your channels to better allow you to serve customers across your various social media platforms.

It works really well, but it would be helpful to have a few more channel options available, such as Twitter and Google+.
Apps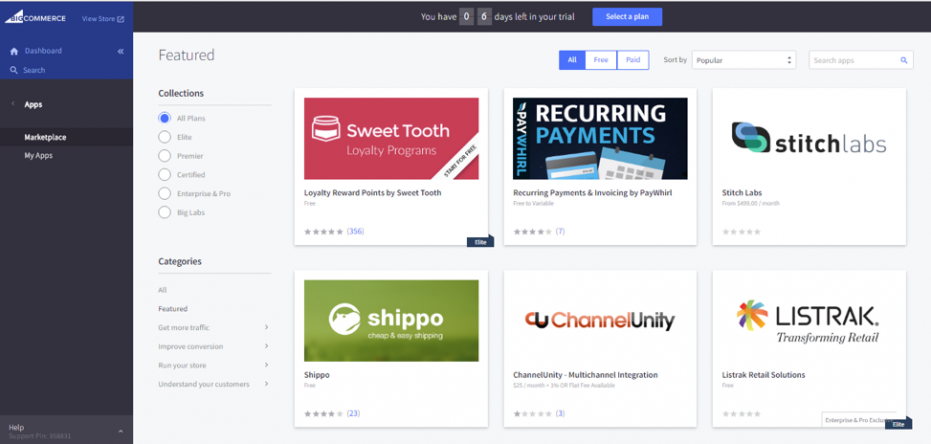 A wide range of useful apps are available, including both paid and free apps. They are broken up into categories, so users can best determine which apps will accelerate the growth of their business.
The apps all seem to be very reasonably priced for everything they offer.
Extras
With BigCommerce, there are several extras available to users. This includes additional social media links, email templates, and even gift certificate templates.
Blogging
There is a blogging option available through BigCommerce, which has a very basic blogging platform that resembles WordPress.
It's easy to use, straightforward, and even has SEO options available to help boost the visibility of the user's content.
Pricing
BigCommerce offers a 15-day free trial period, which gives you plenty of time to decide if this platform is the right one for you and your business. After that, you have a range of price options, all with their own features. All options include a 10% savings if you pay annually, rather than monthly.
The most basic price option is a full-featured online store for $29.95 per month, which comes with a whole host of features and everything you need to run a successful eCommerce store.
The next option offers optimized lead conversion and customer group management, with a price of $79.95 per month. The next, and final, option starts at $249.95 per month and offers everything plus high-volume security and faceted search.
The pricing page clearly showcases which features each package comes with, both with text and visuals – making it very easy to determine which package is right for you.
Conclusion
BigCommerce is an easy-to-use, highly efficient option for ecommerce owners. It's got plenty of features, including marketing and offering the ability to streamline consumer shopping across multiple channels.
The template options are customizable and versatile, and the high level of security on the Pro package is definitely worth the price.
Blogging for your business is a great way to reach new audiences, interact with current customers, and keep your sales funnel alive and thriving. The blogging feature built into this platform makes it easy to regularly publish (and schedule) content for your customers.
For more information, visit the BigCommerce site here.
Have you used BigCommerce, or are you interested in giving it a try? We'd love to hear your thoughts in the comments below.