As the name aptly implies, Bigcommerce has had a big role to play in the eCommerce industry over the last few years, and it's just undergone a massive rebranding process that pushed it to new, highly professional heights.
Bigcommerce covers all the bases by offering an inclusive range of price plans, as well as a 15-day free trial. Their user base consists of small businesses, enterprise-grade companies, and everything in between.
According to a Bigcommerce statement, their new brand, "reflects our long-term commitment to powering growth, removing complexity and supporting businesses around the world."
Bigcommerce's Big Makeover
Bigcommerce now sports a new (and very slick) logo, which sends out a far more executive vibe than its predecessor. Their website has undergone a total makeover too, with new fonts, colors, shapes, and messaging.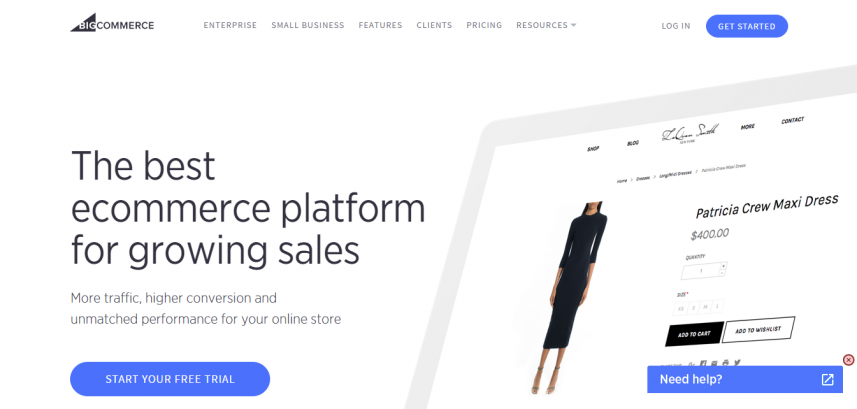 Here's what Bigcommerce had to say on the matter:
"This new brand helps better convey our story, and the story of our merchants. Just as with the businesses that rely on our platform, design plays a vital role in how customers interact with and experience our brand.

The changes to our website and control panel were informed directly by our customers and partners, and are designed to make interacting with and discovering information easier and more efficient. This is represented in our new logo — an ode to the "growth chart" used in boardrooms and offices around the world to quantify progress.

At its core, our logo is a dramatically simple composition of elements that convey our brand's promise to help merchants grow "up and to the right"."
Although this "update" is primarily aesthetic, I feel it's a big milestone in Bigcommerce's history. And I think it will shape the way it approaches its future, too. As far as I can see, this rebranding event seems to be an attempt to push Bigcommerce in the direction of higher-end clients.
The previous branding was welcoming and happy-go-lucky. But now, Bigcommerce looks like it means serious business.
It may not directly impact user experience, but I'm sure it will help attract more large and enterprise-scale companies (which Bigcommerce seems to be chasing more ardently than ever) towards the platform.
More details can be found on the Bigcommerce blog.
Additionally, you can explore more of Bigcommerce via our CMS Directory.