Graphic design has always been one of the more elusive layers of the digital stack. While websites have become increasingly more dynamic (think FontAwesome for iconography), custom graphics – at least the really good ones – continue to rely on third-party apps like Adobe Illustrator or Photoshop.
For CMS users, that means generating graphics outside the system and bringing them in separately. And for many content creators, it means relying on a graphic designer to do the job – someone who knows their way around Bezier Curves, or if a font is serif or sans serif.
For many design professionals, the more advanced tools of the Adobe suite will likely stay the course (although Sketch and UXPin have become great alternatives for prototyping). But they're also not the domain of the layperson or laydesigner who simply wants to jazz up their blog or social post with a cool graphic.
Now, thanks to Canva, almost anyone can produce beautiful, custom graphics that feel like they were created by a professional agency – and start for free.
While Canva's paid subscriptions offer more robust features and access to enhanced imagery, even their basic account lets you create some pretty awesome stuff. In just a few minutes, you can watch a design tutorial, master their intuitive tools, and drag your way to a gorgeous social media graphic or poster art.
Canva isn't new to the graphic design scene, but they're now integrating with CMS platforms to streamline content creation. We did a fresh review of the platform and its features, and checked out their Canva "Button," which makes it even easier to launch Canva within your app or page, make a dynamite graphic, and publish it to your website without leaving your platform.
What is Canva?
Canva is a SaaS-based graphic design platform that lets users create beautiful graphics and visual content. That can be almost anything: presentation elements, posters, templates, background patterns, photographic imagery, and more. It's available for both desktop and mobile, and features millions of graphics, images, fonts, templates, audio, video and other assets that are "off the shelf" and available to use in your own designs.
Founded in 2012, Canva has been something of a startup wunderkind. Last year alone, their valuation doubled from just over $3 billion to $6 billion – and they now boast an active global user base of 15 million subscribers across their free, Pro, and Enterprise offerings.

How was Canva able to grow so rapidly? Well, it's more than just having a great product and word-of-mouth social exposure.
Simply put, Canva solved a problem that no one had managed to crack: making good design accessible to everyone.
There's no questioning the value that design brings to a brand's communication and its impact on customer experience. It's like an unspoken language that can either help – or hurt – your brand's perception and reputation. While every business relies on design to reach and influence their audiences, it's not always attainable or cost effective for basic, everyday applications.
The other problem has been the complexity of graphic design programs. Photoshop can takes weeks (or more) of training to perform even the most foundational tasks, and may be overkill for most content creators. Vector graphics are on a whole other level of complexity, and really necessitate a skilled designer to create custom logos, iconography, and other assets.
This is where Canva is changing the game by offering a platform for novice or even non-designers. It simplifies the process by offering libraries of beautiful, modern design elements that are easy to access. Users can select from stock photos, background patterns, fonts, templates, and even music and videos inside an intuitive drag-and-drop interface – and customize them into their own graphic design creations.
Guy Kawasaki, who joined Canva in 2014 as Chief Evangelist, describes it as "a platform for democratizing design" – just like how Macintosh democratized computers and eBay democratized commerce.
Create all kinds of visual content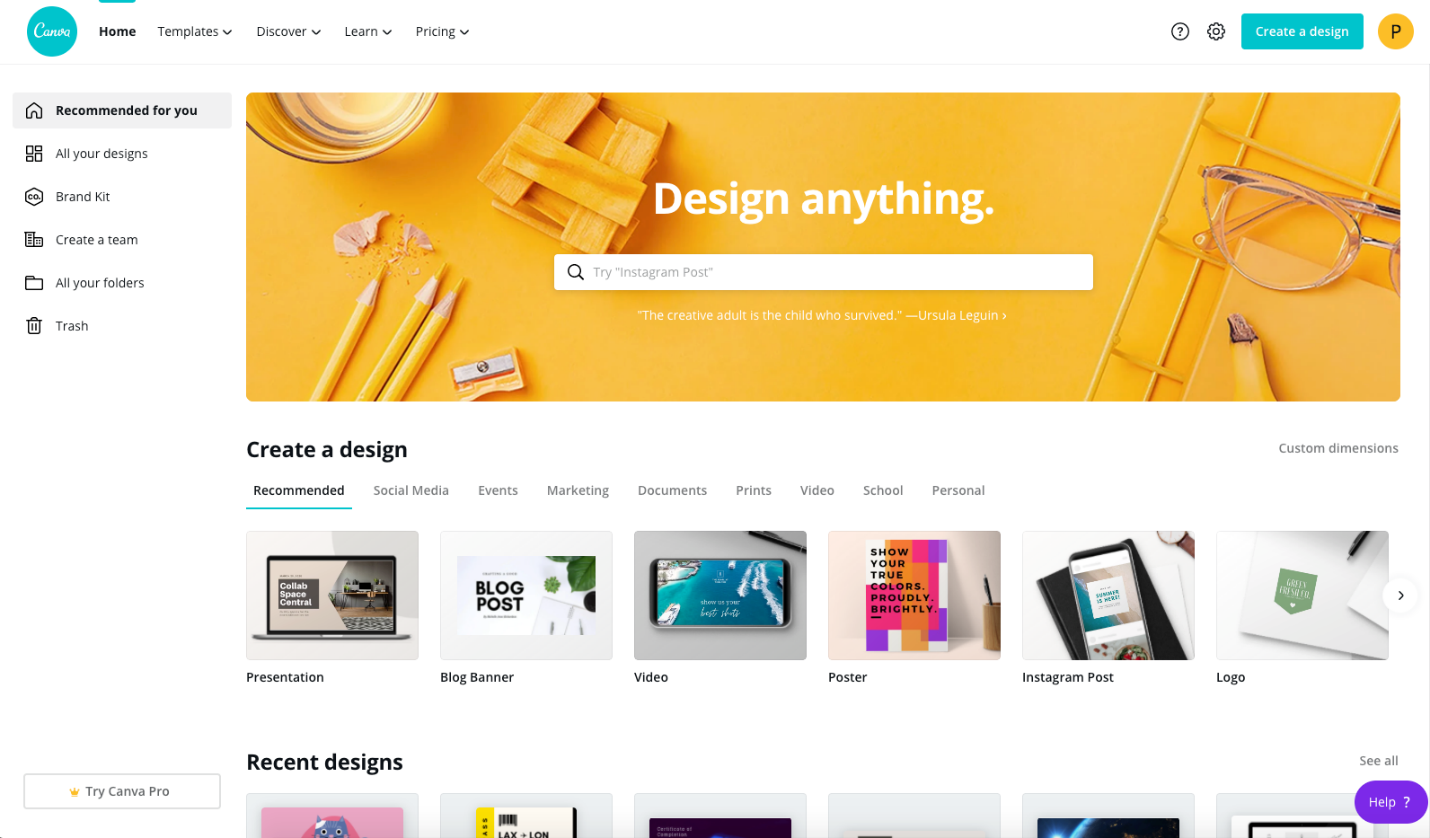 Canva offers a sandbox of design tools and learning resources which are all available through its online SaaS portal. You can sign up for free in just a few seconds and even connect with your preferred social media account.
The first thing you'll notice on the Canva website is the Template categories. This makes it easier for casual users to find what they need quickly and not fumble through expansive libraries like the major stock houses provide.
What's great is that all of the template elements are ready-to-use. That means they work seamlessly on your "canvas," allowing you to drag and reposition in exactly the way you want. You can also import your own logos, images and graphics and instantly remove solid backgrounds to isolate elements (think of a headshot getting cut away from a background to use in a new layout).
Once you settle on your graphics and images, it's simple to add custom text to promote sales offers, event details, and more.
The main design sections include:
Social Media: Create graphics for channels like Instagram, Twitter, Facebook, and Pinterest.
Personal: Design custom invitations, postcards, planners, t-shirts, and even resumes to promote your personal brand.
Business: Build presentation templates, website graphics, logos, business cards, and tools like invoice and proposal templates.
Marketing: Make posters, flyers, infographics, brochures, newsletters, menus and more.
Education: Create lesson plans, worksheets, certificates, storyboards, bookmarks, class schedules and other educational resources.
There is also a "Trending" section where the most popular templates are displayed. These can include seasonal specific elements for major holidays or events. Need to make a Christmas graphic for your homepage hero? You can quickly create a custom holiday theme with beautiful images, iconography, background patterns and more.
Canva Features
It's true that Canva has a lot of off-the-shelf components, and some users might worry that they'll be using the same graphics as other brands. But Canva allows you to be free with your own designs, giving you the ability to edit graphics and templates, compose unique layouts, import your own logos and elements, and truly make any design your own.
Canva's user-friendly editor makes it all possible. The sidebar menu includes:
Templates: Search thousands of templates by keywords to find exactly what you're looking for.
Uploads: Import a custom image, logo, or video from your computer and place it in your design template.
Custom graphic control: Group and position elements on a page and hyperlink graphics.
Edit imagery: Adjust the transparency and settings on photos, add artistic filters, and crop to custom sizes.
Elements: Select from a huge cache of free illustrations such as geometric shapes, stickers, charts, gradients, lines, connectors, and icons.
Text: Add and edit text within your composition. You can add a heading, subheading, or body text to your template, and also add links.
Videos: Browse a wide variety of free videos to add to your webpage or post. You can choose from one of the main categories or search for specific content.
Backgrounds: Add colors, patterns, or create your own custom backdrop.
Folders: With a paid Pro or Enterprise subscription, any images you purchase with a license will be displayed in a "Purchased" folder – and the photos and elements you like will be displayed in a "Likes" folder. Additionally, you can create your own custom folders.
These are just some of the core features that Canva provides, but what's really amazing is how simple it is to start using the entire suite of tools. Unlike Photoshop, there's no complexity around layer controls or color settings. In minutes, the most novice technical user can get a sense of the navigation and start creating custom graphics.
Learning, Training, and Tutorials
Canva's learning resources are a huge part of their value offering. From the "Learn" tab on their homepage, you can access a library of resources, from design basics to business branding. You can also browse ideas and inspiration from articles that show you how to edit photos or design for print applications.
Canva offers its tutorials through their "Design School," which features classes like "Personal Branding with Dr. Talaya Waller." Each course provides a wealth of insights and actionable instructions for creating your own successful projects.
As if the software wasn't awesome enough, the learning resources make Canva nearly indispensable – which explains their explosive growth.
Canva Integration
Canva's API has everything developers need to integrate Canva with their apps, enabling access to photos, images, and online media inside the editor. Currently, Canva has integrations with major platforms such as Facebook, Instagram, YouTube, Dropbox, Giphy, and Mailchimp.
The newest and most popular integration is called the Canva "Button," which allows users to design with Canva without leaving the webpage they're working on. Imagine writing a new blog and suddenly needing a custom graphic. By clicking the Canva Button, you can automatically launch the Canva editor and design a graphic or select an image. Once completed, you simply click "Publish" and your creations are pushed to the appropriate part of your page or experience.
It only takes a few of lines of code to add the Canva Button, but it does require a Canva account for a user to make the activation. To learn more about the Canva Button and how to integrate it with your website, click here.
Canva and Content Management Systems (CMS)
Canva is steadily broadening its integrations with CMS platforms. For content creators, this eliminates the extra steps of uploading designs manually from Canva and switching back and forth between apps. It also gives the non-designers on any team the ability to add beautiful images and graphics to their pages within the CMS, making their content more compelling.
While several platforms already offer a native integration, WordPress provides a plugin for designing custom graphics for your blog or website. Browse millions of graphics, images, and layouts in Canva – and once you're finished designing, your creation is automatically inserted into your WordPress post for publishing.
Pricing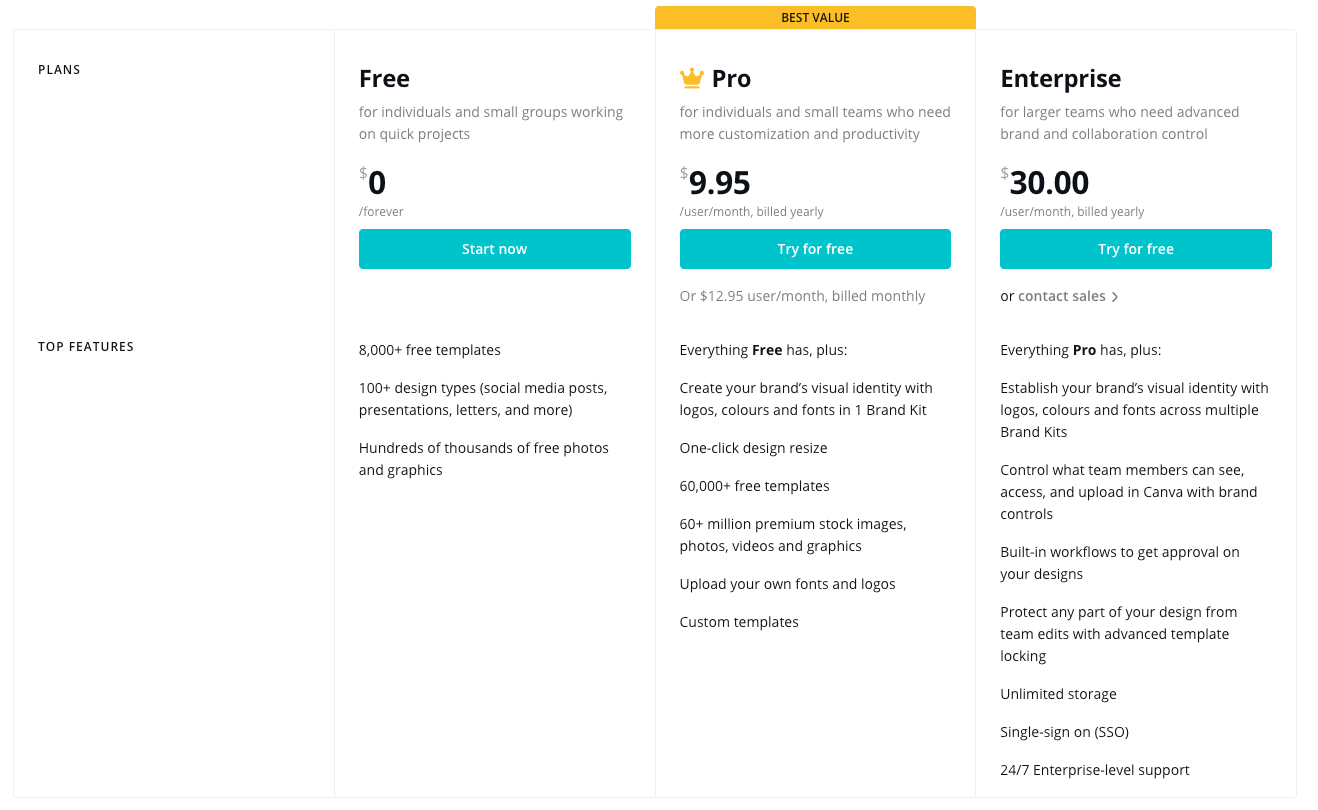 Canva offers three plans: Free, Pro and Enterprise. Anyone can sign up for a free account and start creating right away. But like any "freemium" software model, it does have its limitations. For example, you can't resize your designs for different form factors, and there are only a few hundred graphics and images to choose from. But with 8,000 templates to peruse, you can create some pretty cool designs – and it's all free.
The Pro subscription, which is considered the "best value," is $9.95 per user per month (if paid annually). It's really an incredible deal when consider what you get: access to an expanded library with millions of images and graphics, over 60,000 templates, and the ability to create your own custom "Brand Kit." This is one of the most powerful features in the Pro, as it gives you control over your visual identity by collecting reusable assets like logos, fonts, colors and more – so you can maintain your brand standards.  
The Enterprise plan is built for teams, enabling you to manage Brand Kits for multiple properties or customers. You also get access to permissions that lock down template elements and limit access to specific team members, so you can protect your brand ecosystem. There's also 24/7 support, which is more apropos for an enterprise engagement with lots of customers and users.
Licensing for graphics and images can always be tricky, particularly with stock libraries. With Canva, there's an upside and a downside: if you cancel your subscription, you won't be able to access or use any of the elements that were stored in your account. However, you can continue using the elements you created during your subscription period (for example, a blog image on a specific post).
Conclusion
Canva is making good design more accessible, and it's worth checking out – particularly if you're a content manager or digital marketer. It's a natural addition to your CMS stack, but also brings significant value to gig-minded solopreneurs and enterprises alike.
Like the name suggests, it's your "canvas." But you don't have to be Picasso to make it beautiful.
To get started with a Canva account, click here.
About Canva
Canva empowers users to create social media graphics, presentations, posters and other visual content. Featuring a simple drag-and-drop user interface and a vast library of templates and design ingredients such as fonts, illustrations, stock photography, video and audio content, and the power to include content from the web such as Giphy and Google Maps, anyone can take an idea and create something beautiful. Canva  is available on the web, iOS and Android.