As the U.S. heads into the Fourth of July holiday weekend, we've got some fireworks on display across the digital experience stack.
Let's light things up with some of the biggest news we've been following this month.
Constant Contact to acquire SharpSpring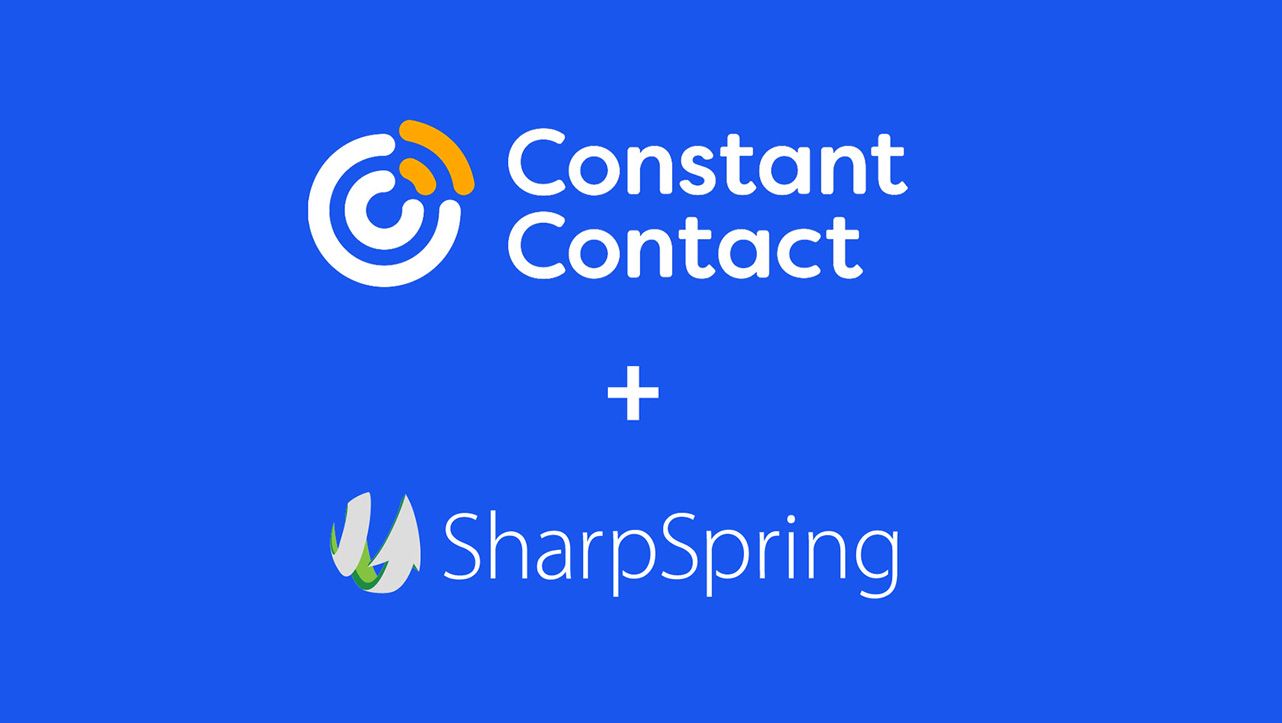 Constant Contact, the e-commerce focused marketing platform, announced it has signed a definitive agreement to acquire SharpSpring. Backed by Clearlake Capital Group and Siris Capital, the all-cash transaction is valued at approximately $240 million.
SharpSpring is a cloud-based marketing automation platform that improves the effectiveness of marketing strategies for small businesses (SMBs). A preferred toolkit for digital agencies, SharpSpring helps generate leads, improve conversions to sales, and drive higher returns on marketing investments.
Nearly a household name across the digital marketing community, Constant Contact is a legacy platform that provides a full suite of marketing tools catering mainly to small businesses, freelancers, and nonprofits. Constant Contact continues to be one of the most recognized services for managing email marketing campaigns but has more recently added website building features and social media marketing capabilities. 
With the integration of SharpSpring, Constant Contact's users will be able to easily engage customers throughout their journey and deliver better marketing-driven results. SharpSpring also brings a layer of CRM capabilities to the mix, allowing Constant Contact to elevate and evolve the customer experience.
"Constant Contact and SharpSpring share a mission to help small businesses succeed, and this acquisition represents a powerful opportunity to combine our best-in-class email and e-commerce offerings with SharpSpring's strong suite of revenue growth and marketing automation tools," said Frank Vella, CEO at Constant Contact. "Today's Constant Contact retains the customer-first culture that defined our heritage, and I am excited to expand upon that with a commitment to innovation that will accelerate our growth and build upon the passion and agility that has made our brand a leader in digital marketing for so many years."
WP Engine launches Premier, its new enterprise WordPress platform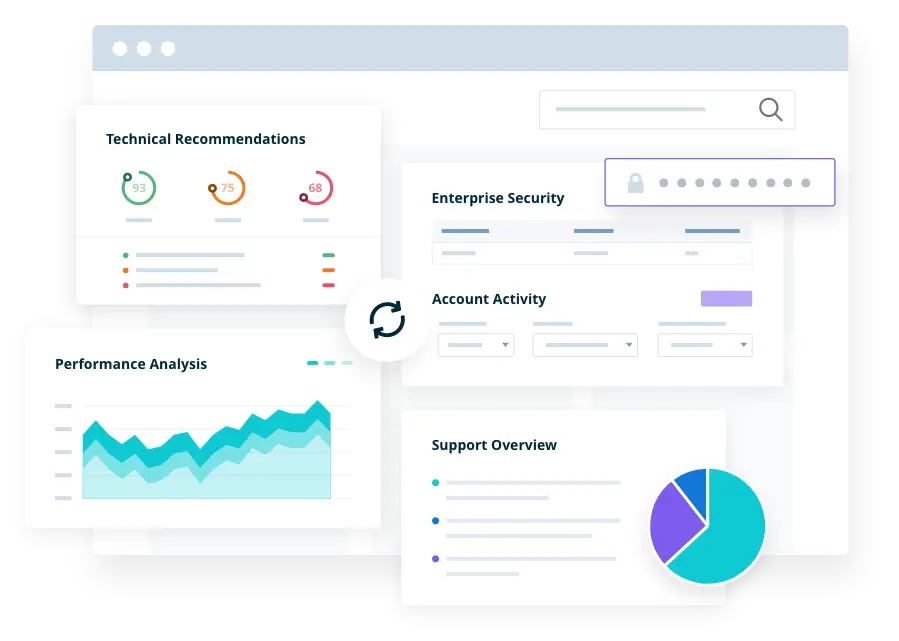 WPEngine, a digital experience platform for WordPress, has announced the launch of Premier – a new enterprise platform that delivers improved security, performance, and scalability. 
An established leader in managed WordPress hosting and services, WP Engine powers the top 200,000 websites by traffic, making it one of the most trusted brands on the market. Now, with the addition of Premier, the DXP will offer enterprise-grade security for WordPress – a sought-after requirement for many organizations concerned about the risks posed by WordPress.
As part of their enterprise strategy, WP Engine completed a SOC 2 Type II examination to ensure that Premier met the highest standards of security and availability. It also features protection from unauthenticated file system access, managed web application firewall (WAF), DDoS mitigation, and encrypted global network routing.
For WP Engine customers, Premier is an island of stability in a sea of open source. The new platform boasts a 99.99% uptime SLA, a global network of data centers, managed CDN, WP Engine Evercache (proprietary front-end caching), and automatic PHP and WordPress updates. This mix could have a dramatic influence on organizations as they consider modernizing and re-platforming on WordPress for enterprise applications. 
"Enterprises need more time focusing on their customers and growing their business, rather than worrying about the security and scale of the technology they use," said Lisa Box, Senior Vice President and General Manager, Enterprise for WP Engine.
To learn more about WP Engine's Premier Enterprise WordPress platform, visit the Premier web page.
Salesforce and AWS expand partnership with key integrations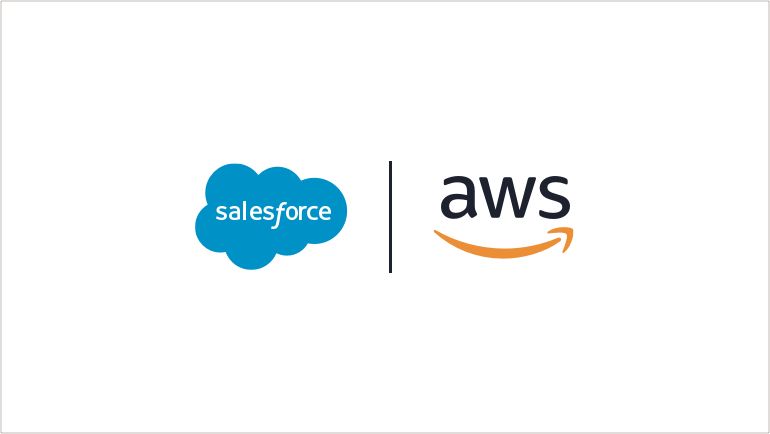 Salesforce, the world's leading CRM platform – and AWS, the industry's undisputed champion of the cloud – announced a significant expansion to their global partnership.
While the two tech giants have had an existing relationship for some time, they are now offering an enhanced set of capabilities that will make it easier for developers to build and launch custom applications in Salesforce that natively leverage AWS services. This tighter integration will also connect data and workflows securely across both ecosystems.
Custom coding has long been a requirement for integrating AWS and Salesforce, but this expanded offering will enable customers to use both platforms seamlessly through a set of unified capabilities. The companies have also collaborated on new low-code tools to help customers build innovative applications that connect data in real-time between Salesforce applications and AWS services. 
"For more than five years, our customers have benefitted from a tight relationship between AWS and Salesforce. Now, we are taking the partnership to the next level by integrating our offerings so developers using both AWS and Salesforce can build unified applications much faster and simpler than ever before," said Andy Jassy, CEO of Amazon Web Services. "With this partnership, we are significantly simplifying developers' lives and empowering them to develop applications however they want, from wherever they want globally, at any scale."
You can read all the details of the new capabilities in the Salesforce press release.
Joomla 4 RC 1 and Joomla 3.10 Alpha 8 are here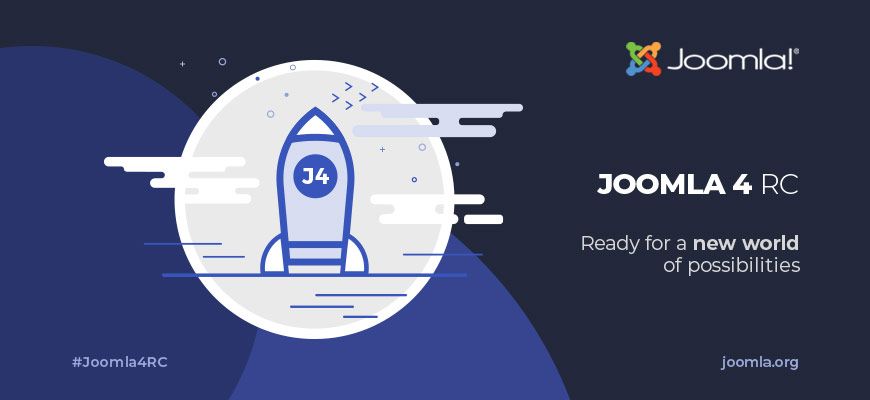 The Joomla! Project announced the availability of the first Joomla! CMS 4.0 Release Candidate 3 and Joomla 3.10 Alpha 8. These releases are aimed at extension and template developers so they can prepare their products for the stable release of Joomla! CMS 4.0. 
Here are a few of the standout features:
Joomla4Accessibility: Accessibility is a must with every modern digital experience, and Joomla! 4 delivers some marked improvements from the ground up. The platform aims for W3C Accessibility Guidelines (WCAG) 2.0 with AA compliance – and the layout, contrast, and infrastructure all have accessibility built-in at a foundational level.
Joomla4Speed: Whether a website is focused on e-commerce or static content, speed is one of the top factors impacting conversions. With Joomla! 4, users can benefit from increased load time and performance, which can improve the overall customer experience. 
Joomla4Workflows: Combined with a number of improvements in the media manager, Joomla!'s new workflow and media manager are designed to streamline processes and help users work more efficiently with their content operations. 
Joomla4Emails: From a marketing automation perspective, Joomla! now lets you craft and deliver customized emails with its new templating system, allowing for greater control over branding and formatting.
Joomla4Search: With advanced filtering and indexing, Joomla! 4 boasts a boost to search with its enhanced capabilities.
OpenText and Hyland named "Leaders" in Content Platforms by Forrester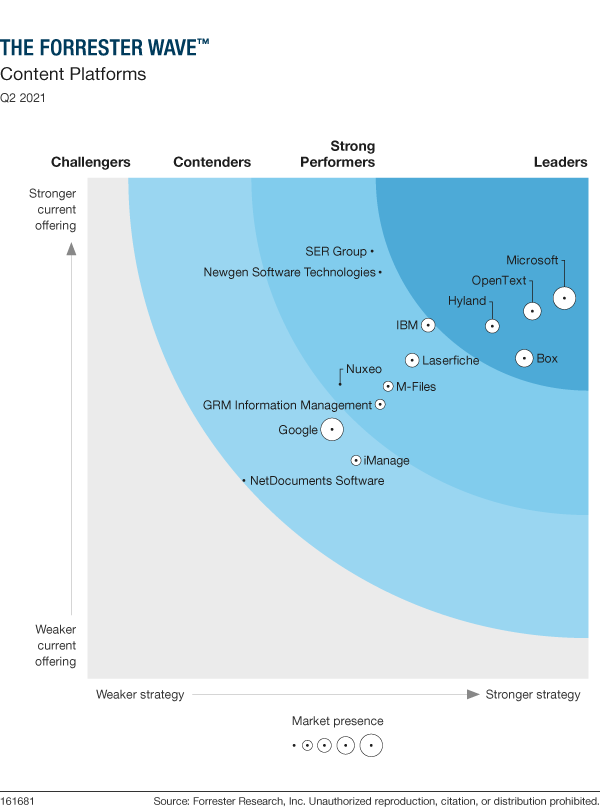 It's hard to believe that it's already Q2 of 2021. Like clockwork, Forrester has issued its quarterly Wave Report for Content Platforms, and both OpenText and Hyland are battling out the pole position with Microsoft. 
OpenText announced that its Extended ECM has been named a "Leader" in the Q2 2021 Wave Report, receiving the highest possible scores in the criteria of support for team or project workspaces, packaged applications, integration and interoperability, and lifecycle management.
OpenText's product strategy and focus on enterprise applications have been amplified by its multi-year cloud investment. In April, OpenText also launched its cloud-native SaaS offering, Core Content, built on its OT2 platform. All of this is shifting the dynamics in its favor, and Forrester is clearly taking notice – as they are only trailing Microsoft. 
Likewise, Hyland has also been named a "Leader" in the report, buoyed by its cloud and innovation strategy and its vertical focus. If you recall, Hyland purchased Nuxeo in March of this year, giving the platform some extra juice with both enterprise content management (ECM) and digital asset management (DAM) capabilities. 
Hyland is clearly driving digital transformation with a modern and forward-thinking approach, leveraging a cloud-first vision and a variety of scalable cloud offerings – including the Alfresco Digital Business Platform. Additionally, Hyland is gaining ground with its wide array of options, including open platform development, low-code toolkits, and repeatable, specialized industry and departmental solutions. 
Firecrackers, anyone?
We prefer bottle rockets, but that's just us. From the entire staff at CMS Critic, we wish you a safe and happy Independence Day.