Evoq Social 2.0 has arrived. It comes bearing an array of features designed to empower online community managers, primarily through enhanced community monitoring tools.
DNN Software provides a suite of solutions that make designing, building and managing feature-rich sites and communities fast, easy and cost-effective.
The DNN Platform CMS – which powers Evoq Content – is the foundation for over 800,000 websites around the world.
Evoq Social is DNN's newest solution, which enables businesses to create immersive and interactive online communities.
Now, let's take a look at what version 2.0 of DNN Evoq Social brings to the table.
Powerfully Enhanced Community Management
Evoq Social's new dashboard offers up some powerful community monitoring and analytical tools.
For example, graphs reporting on things like Adoption & Participation, along with a breakdown of the areas where your members are most engaged are displayed. The dashboard also lets you monitor popular trend tags and content, or get basic (but essential) stats like how much time is spent on the site.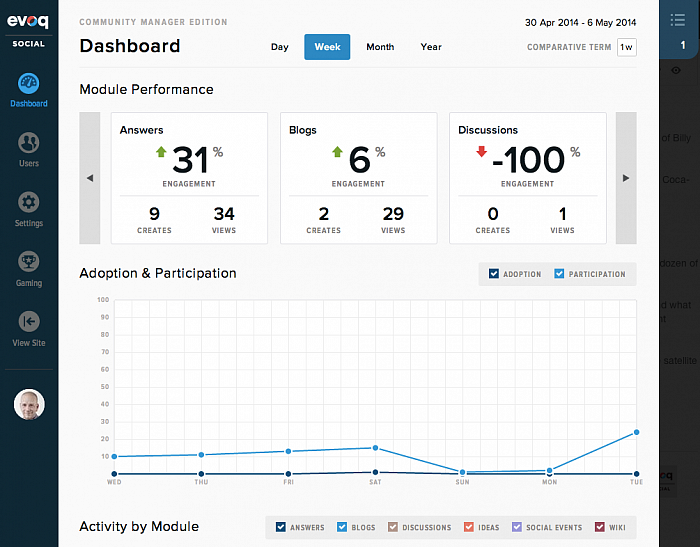 Interestingly, the new dashboard also lets you quickly see which members of your community are the top contributors, influencers, and reputation leaders.
You can delve far deeper into these stats to get filtered details about each module, or change the comparison period.
"Community Health Cards" are specific to the module being viewed, identifying several potential problem areas within each module. This will naturally help community managers take a proactive rather than reactive approach to community management.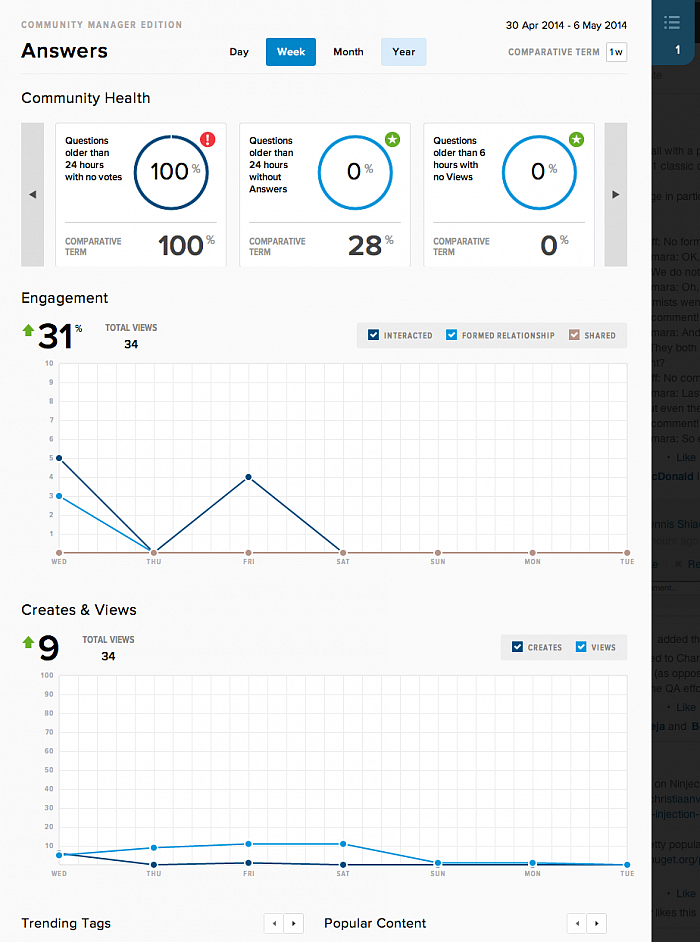 Areas of the community in question that are in bad shape are easily identified with red warning icons and listed first in the list. Other areas of the community which are doing well can be identified with a green icon and are listed last in the list.
User Management & Tasks
Managing users in an online community is typically quite different from managing users in a CMS – but is no less important. After all, different user roles are necessary in order to keep communities running smoothly.
For example, as a community manager, you may need to promote a normal user to moderator status – but at the same time, you may wish to restrict some of their capabilities. Evoq Social 2.0 gives you that power.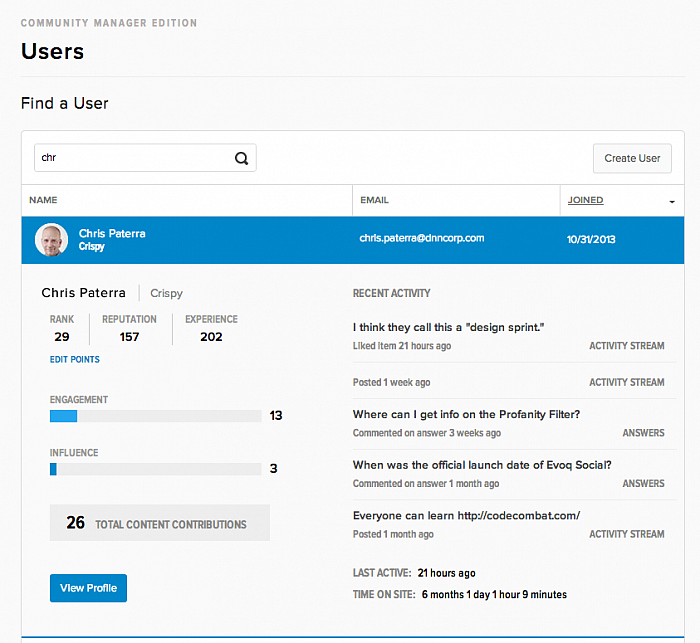 You may also need to see details about the user's engagement with the community. For example, their most recent site activities, what their engagement/influence scores are, and so forth. Once again, Evoq Social now makes that happen with ease.
Furthermore, "Tasks" have been introduced to notify community managers of things like content pending moderator approval or reported content that hasn't been reviewed yet.
This persists throughout all views of the dashboard and helps community managers not only address the notifications from within the dashboard but also helps identify bottlenecks within the community.

The Tasks section also groups similar notifications, such as two users reporting the same piece of content, in order to make addressing the potential issue easier by handling all grouped notifications with a single click.
These grouped notifications can be expanded and paged through if necessary, so you can see who reported it, when they reported it, and why.
Mobile-optimization & Much More
All of these newly introduced features can be made use of via a tailored mobile device experience. Community managers can any mobile device – wherever they are – to keep their community on track.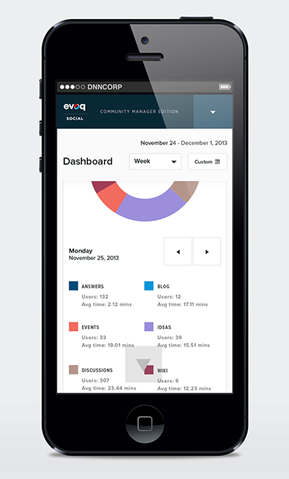 Several sections of the dashboard make use of gestures and are displayed in different formats when compared to desktop views. For example, line charts become donut charts, grids have fewer columns, and so forth.
Additionally, here are some miscellaneous improvements introduced by Evoq Social 2.0:
Enabled friendly URL's for the six main content-oriented modules. The friendly URL's help with SEO and also avoids duplicate page titles.
Surfaced comment moderation in additional areas: Discussions, Events and Ideas.
Added "Upcoming Events" view in Social Events and made it the default view. It shows only events currently in progress or scheduled in the future.
Overall, version 2.0 of Evoq Social gives online community managers a boost in analytical firepower.
From anywhere and on any device, they can understand top performing areas, monitor participation in popular trending topics, and moderate discussions. Data-driven decisions can also be made, helping to keep engagement of membership at its peak performance.
To dig deeper into the features Evoq Social 2.0 brings, check out DNN's latest blog post regarding the release.
DNN Evoq Social offer a free trial, so be sure to test it out.
Also, you can explore more of DNN Evoq Social via our CMS Directory.