Branded as their "biggest release in over a decade," eZ Systems has just unveiled new versions of both eZ Platform, their open-source product, and eZ Studio, their commercial product based on eZ Platform.
eZ software is trusted by the like of; The Financial Times, Harvard University, Elle, Hootsuite, and Orange.

Back in September, eZ Systems' Director of Product Marketing, guest posted here on CMS Critic to give us a sneak peek at both of these updates. He stated that they, "[signified] a leap forward" for eZ Systems as a company.
We also recently enjoyed a featured week with eZ Systems, where I personally got to explore some of the core features of the company's flagship CMS, eZ Platform, including multi-site management and eCommerce.
Here's an overview of what's new.
Right Content, Right Channel, Right Time
eZ Platform is the open-source core for developers, while eZ Studio is the fully integrated set of tools for editors and marketers.
According to the eZ team, their aim with this broad update is to ensure that brands get the right content flows into the right channels at the right times, whether on desktops, tablets, phones or the Internet of Things (IoT).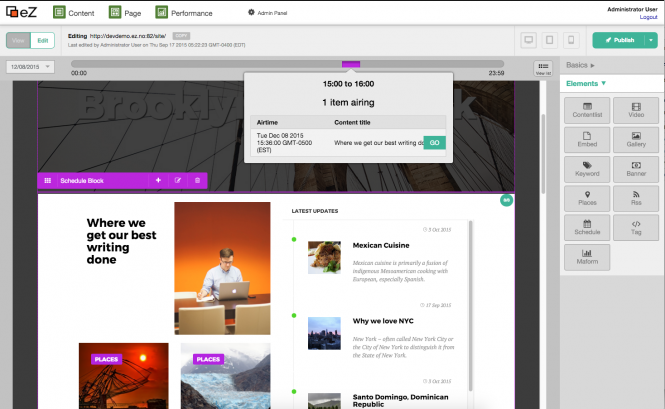 eZ's software also allows organizations to manage multiple sites or apps from a single, secure platform, and deliver their content in different languages to engage local audiences.
eZ Platform: Content-centric Websites & Applications
The core of eZ's new solutions, eZ Platform is an open source software that provides developers a Web framework, rich APIs and a structured content repository for building websites and apps.
This update brings about a fully redesigned user interface to manage the repository. Like its predecessor eZ Platform 5.x, eZ Platform is based on the Symfony full-stack framework, the leading PHP framework today.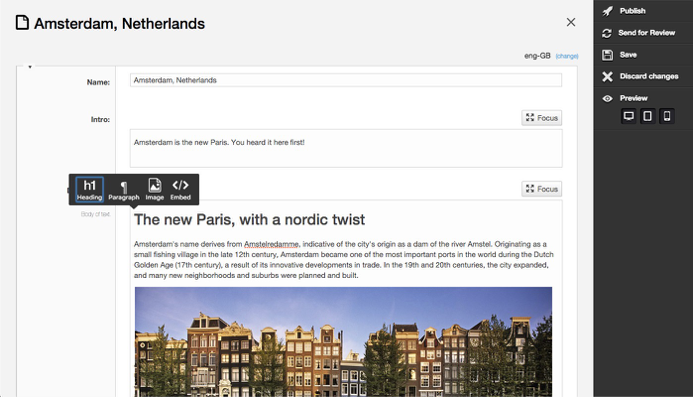 Roland Benedetti, Chief Product and Marketing Officer at eZ, had this to say upon the announcement:
"With our fully featured REST API and content repository, eZ Platform allows developers to build, extend and scale sites and apps with more ease than ever before. We welcome developers to download the software today and start experimenting."
eZ Studio: Content Management Simplified
eZ Studio is the commercial solution based on eZ Platform.
This premium offering now serves up additional, fully integrated features that allow editors and marketers to better manage a website or app built with eZ Platform. Those features include; in-page preview and editing, easy-to-use tools for managing complex landing pages (such as drag-and-drop blocks), automated content scheduling and customizable workflows.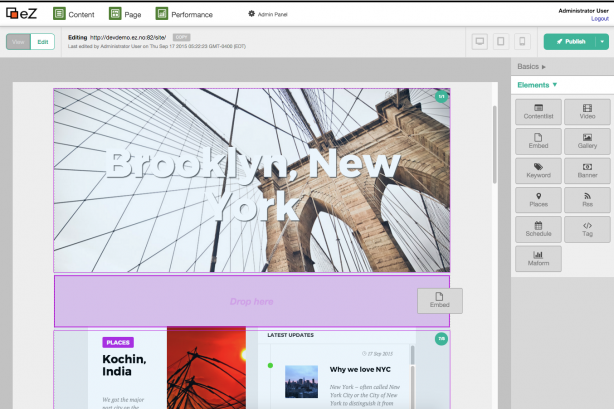 According to Aleksander Farstad, eZ Systems' CEO and Co-Founder, brands making use of eZ Studio are about to experience vast improvements:
"In eZ Studio, editors and marketers will see vast improvements in the user interface design and editorial tool.

This will lead to increased productivity, faster time-to-publish and a smoother editorial experience."
Both eZ Platform and eZ Studio are available as a fully integrated product through the eZ Enterprise subscription, which also provides support and maintenance services.
eZ Systems also offers Cloud Services, including eZ Personalization, eZ Smart Analytics and eZ Marketing Automation, which complement eZ Platform and eZ Studio.
To find out more about eZ's content management systems, check out eZ Systems' website, or explore their offering through our CMS Directory.