When any web or digital professional thinks "analytics," the first name that comes to mind is Google. And for good reason: the Google Analytics platform is the most widely used on the planet. Every day, millions of individuals and organizations rely on Google's insights as their "source of truth," helping them to better understand their customers and improve their digital experience.
Google Analytics 4 was just released, and everyone from developers to digital marketers have been eagerly anticipating this update. The good news: it doesn't disappoint. Not only is there a much deeper integration with their popular Google Ads platform, but the new Google Analytics offers some cutting-edge, AI-powered enhancements that are certain to delight users across the digital spectrum.
Google Analytics has a legacy that's almost as old as the tech giant itself. It began when a still-youthful Page and Brin acquired Urchin in 2005, adding their innovative web statistics and analytics technology to the Googleverse. Shortly thereafter, Google Analytics was officially launched, and has continuously evolved its core features for tracking and reporting on website traffic. Today, it's a keystone of the Google Marketing Platform brand, and provides an SDK for gathering usage data from iOS and Android via their Google Analytics for Mobile Apps.
The Google Analytics 4 release is a milestone, as it's the first major deviation from the Urchin framework – providing a new, more intelligent analytics platform that builds on the foundation of the Google's App + Web property introduced last year. Google previously had two separate analytics tools for web and apps (Google Analytics and Google Analytics for Firebase), but the App + Web resource combines everything to present a holistic view of customer data.
New insights and predictions powered by machine learning
By applying advanced machine learning models, Google Analytics 4 can automatically alert you to significant trends in your data – like products experiencing increased demand around specific customer needs. With enhanced predictive modeling, it can even anticipate future actions your customers may take. For example: it can help calculate churn probability so you can more efficiently invest in customer retention at a time when marketing budgets are under pressure.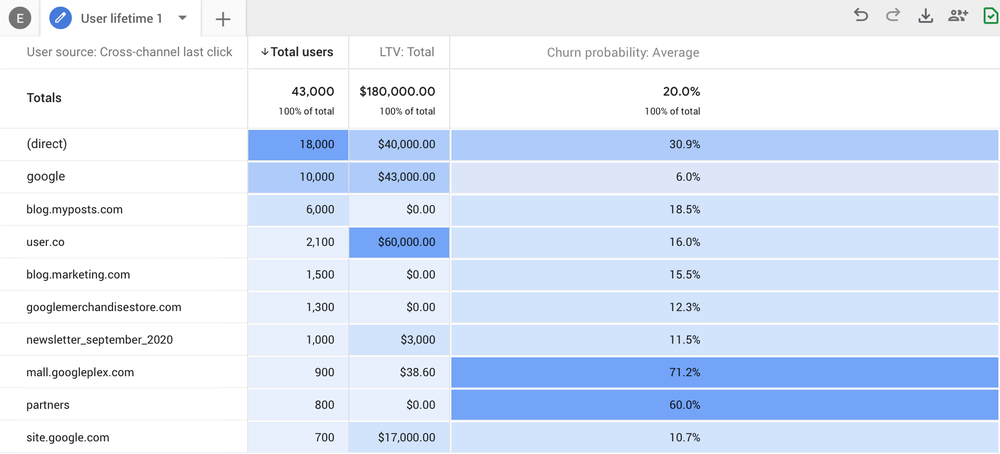 Customer-centric measurement without fragmentation by device or platform
Google Analytics 4 uses multiple identity spaces, including marketer-provided User IDs and unique Google signals from user opt-in ad personalization – giving you a more complete view of how users interact with your brand. For example, you can track if customers first discover your business from an ad on the web, then later make purchases in an app or from a website.
You'll also get a better understanding of your customers across their entire lifecycle, from acquisition to conversion and retention. As has long been the case, Google enhances attribution and intent, giving marketers greater insight to power their Customer 360 strategies.
Deeper integration with Google Ads
Google Analytics 4 also offers a deeper integration with Google Ads and the suite of Google marketing products, letting you create custom audiences based on your web and app traffic. Now, you can better reach your customers with more relevant, personalized experiences to drive higher conversions. These optics are designed to improve the overall ROI of your marketing spend.
More granular data controls
GDPR and CCPA have had a profound impact on digital practices, and Google has been at the center of it. What's great is that Google Analytics 4 offers enhanced features for managing data privacy and compliance. With these granular controls, marketers can confidently manage how they collect, store, and leverage their Analytics data.
Conclusion
Google Analytics has been around the block – and for such a mature and megalithic brand, it's sometimes hard to expect a lot of product or service innovation. While the core features are still well-represented in this new version, the big shift is the around the unification via App + Web, enabling a more holistic view of the customer experience across both channels. With so much complexity around website traffic and users, making sense of the data is key – and Google seems to be doubling down on that mission.
The tighter coupling with their Google Marketing Platform, specifically Google Ads, is more evidence that the "search king" is connecting all of the various endpoints along the journey. The intended result: a more seamless, end-to-end marketing platform that is becoming increasingly automated by the day.
If you'd like to upgrade to Google Analytics 4 from your existing analytics setup, you can create a new Google Analytics 4 property alongside your existing properties. This will allow you to start gathering data and benefit from the latest innovations as they become available – all while keeping your current implementation intact.
If you haven't used Google Analytics yet… well, 2005 is calling. But it's not too late. Click here to get started for free.
About Google Analytics
Google Analytics is a web analytics service offered by Google that tracks and reports website traffic, currently as a platform inside the Google Marketing Platform brand. As of 2019, Google Analytics is the most widely used web analytics service on the web.