Design agencies are in high demand, as just about everyone needs to maximize their digital footprints these days. But not everyone possesses the technical skills or composition know-how to create a visually stunning, intuitive, and search-visible site. This is where agencies come into play.
Fortunately for agencies and their clients, there are several web design platforms that make the task straightforward, efficient, and even (gasp) a good time.
The right site builder must also give agencies the flexibility to build and scale over time as well. So that limits the playing field.
WordPress is often the first tool that comes to mind. However, this platform can be unnecessarily complex, buggy and expensive.
What most agencies need is a feature-rich, easy-to-use, powerful yet intuitive platform to work with. Choose one with too few features, and you'll soon hit growth limitations; too many, and you'll get dragged down by undue chaos and confusion. So let's stick to the middle of the road.
To help you separate wheat from chaff, we are going to analyze three of today's best website creation platforms. Hopefully, this will help you identify the one best suited for your growing agency's needs.
Duda
Like many site creation suites, Duda is a platform for creating fully optimized multi-screen websites. Duda is well-suited for small and medium-sized businesses, as this is their primary audience.
Duda offers a myriad of beautifully-designed templates, a drag-and-drop interface, eCommerce options, and a plethora of elements for design agencies to work with for budding brands. And using Duda helps streamline site development. As the site puts it, "digital publishers on Duda average more than a 50% drop in website build times."
This is a bold claim for agencies looking to optimize production and site turnaround times. And Duda has a lot to offer in this realm.
Firstly, Duda's white label options enable agencies to create a fully immersive, customized experience that screams of professionalism. This includes compelling options for custom login screens, custom color and logo implementation features, and other branding options. Duda also offers user migration and "content injection" options to help migrate existing sites over to its platform. It also features one-of-a-kind templates that can be automatically pre-populated with clients' business information.
On the communications front, Duda's white label features provide automatic email generation components that present clients with site stats, analytics, and onboarding instructions for their accounts. Additionally, the content collection form makes it easy to send clients data sheets that include instructions on how they can send exactly what is required to build a stunning website.
What helps makes Duda a premier option for agencies is its rich team collaboration and client management options. Through this builder, users can generate unique dashboards for clients, enabling varying roles and permission levels based on their technical prowess; this includes potential access to publishing and editing permissions, eCommerce enablement, developer access, and more.
What is particularly outstanding is that Duda supplies agencies with a custom widget builder. This enables brands to not only integrate third-party services, but to build unique, native widgets for clients. This feature can help agencies provide massive customization value to client builds.
And of course, Duda has developer capabilities for HTML/CSS/JavaScript integration, automatic SSL certification (for white label dashboards), and gives a remarkable amount freedom of freedom for SEO optimization.
Squarespace
Squarespace is one of the more popular website builders on the market today, and with good reason.
Like Duda, Squarespace features stunning, mobile-responsive templates that are eye-catching and polished.
This platform gives users various styling options to help customize websites and give them a more branded look. Like the previous platform, Squarespace enables users to tailor their site's appearance without having to dive into coding languages; this greatly simplifies the processes for designers. Though, if a client requires it, coding can be applied for a more customized destination.
When compared to Duda, however, Squarespace is less intuitive; this can slow things down and cause frustration.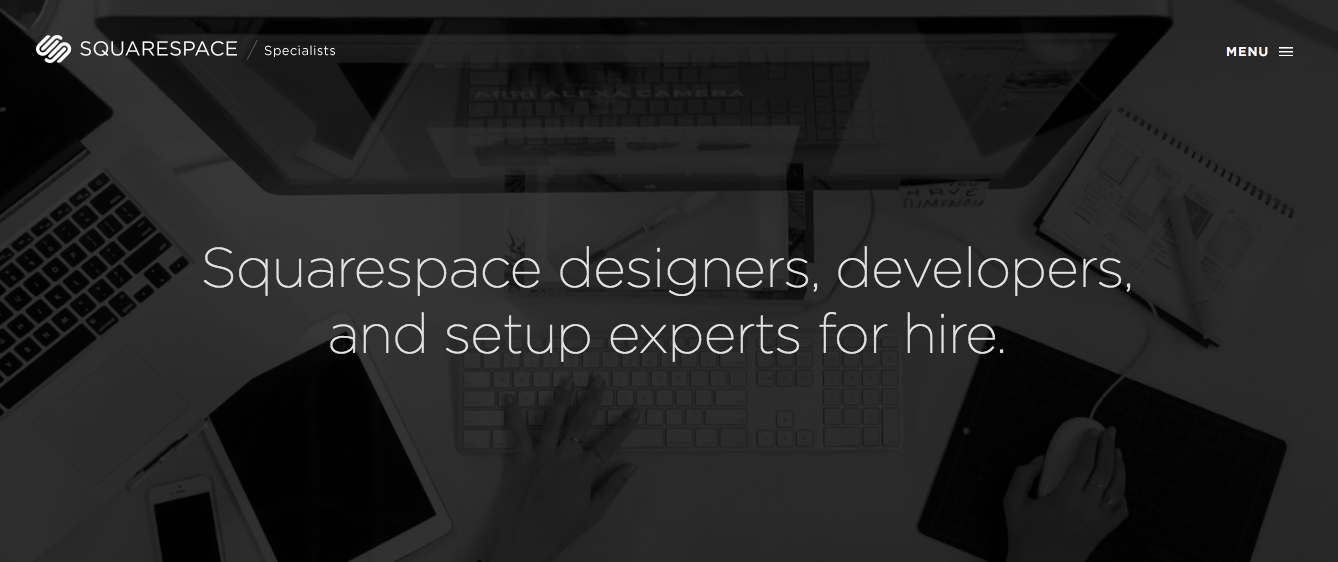 Squarespace is lacking in scalability, and SEO is minimal too. Furthermore, integration features for Google Analytics and Search Console, Facebook retargeting, and other necessary marketing elements are hidden within the platform's Advanced Settings and need to be added using the Code Injector tool. This isn't exactly client or novice coder-friendly, but at least these features do exist.
When a brand expands their offerings, clients are likely to request the implementation a variety of third-party apps or extensions to enhance functionality. This is where the platform falls epically short of the mark as new features must be rolled out by Squarespace.
Another drawback for Squarespace is its responsiveness. While the site claims to tout fully responsive designs, the site's contents can often shift when viewed on mobile devices. This means that users are likely to not have complete control over their sites' appearance, which can certainly be problematic for agencies, as clients demand certain levels of uniformity and professionalism.
But Squarespace has a solid audience for many legitimate reasons. Functional, beautiful sites can be built in a small fraction of time, and updates, articles, images, videos and blogs are a synch to create and publish.
The tool makes integration with other platforms like MailChimp, Gmail, Facebook, and oodles more marketing and social interfaces a snap – they know how to play well with others. It's a very, very good option if ease and speed are your agency's priorities.
Wix
Wix is another popular option, but it has its own set of pros and cons too.
This platform boasts over 500 templates done by professional designers, making custom designs a breeze. These come pre-populated with content, meaning that designers merely need to replace the existing assets with their own materials.
The platform's drag-and-drop builder makes site assembly a snap. Wix also features a new AI-based system that will automatically create the first draft of a site for its users.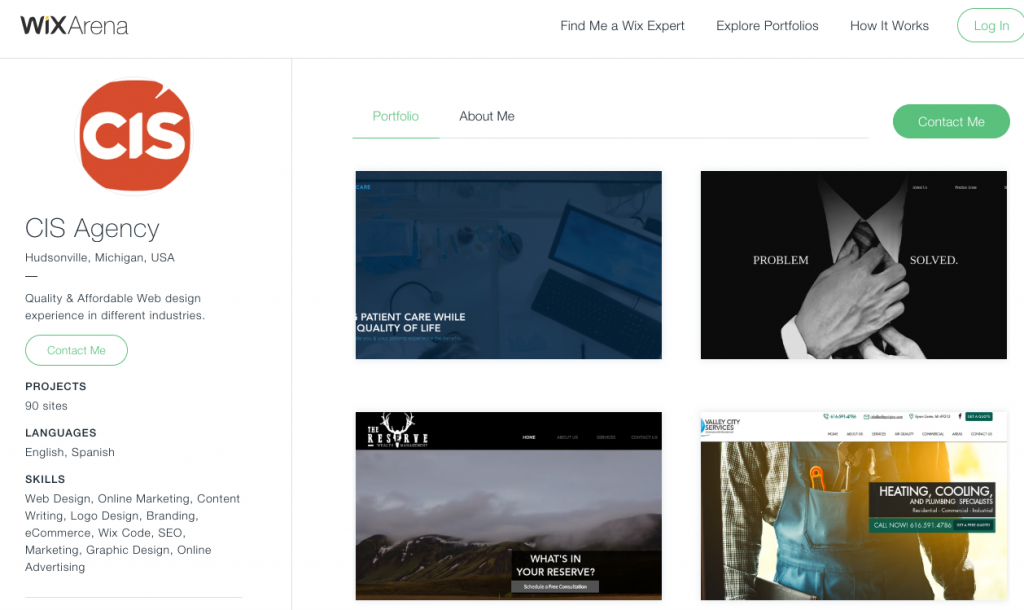 On the downside, Wix makes switching site designs a significant effort. If you opt for another design later down the road, you will need to re-insert your content all over again. It's essential to feel certain about a template before diving in. This can be quite problematic for agencies seeking to optimize their efficiency as clients may want to apply a different template later in the process, ultimately creating a massive slow-down in production.
This also doesn't lend to simplicity when a brand scales and needs to re-format a customer's offerings.
Wix is also not all that SEO friendly. This is the single most prevalent issue brought up by Wix users; there are many observations that SEO is not a strong suit, so it requires you have your own SEO expertise to ensure you are not forgotten by Google's algorithms. Again, this can create significant problems for less technically-inclined clients.
If you have your own SEO expertise, however, Wix can be a stellar option for newly-minted businesses and those who need a stunning site with intuitive versatility.
The Verdict
You know what your agency really needs to get a sophisticated and impressive site up and running. Narrow your focus to these three excellent offerings and find the one that fulfills most of your business's needs.
Choose the one that will enable your company to turn professional websites around the fastest, and that will allow you to scale with minimal issues.