As winter tightens its steely grip across the Northern Hemisphere, digital experience platform vendors have been clenching their jaws in anticipation.
But the wait is finally over.
Recently, Gartner – the hallowed court of tech industry analysts and prognosticators – published its 2021 Magic Quadrant for Digital Experience Platforms. And like every one of their ubiquitous grids, it has once again rattled the market with questions.
When it comes to enterprise software, a Gartner Magic Quadrant (MQ) is Biblical. With one simple graphic, it instantly tells the market who the leaders and laggards are and ultimately what platforms a customer should be evaluating.
Those of us that vigilantly watch the CMS and DXP industry know that the MQ shouldn't be the only resource used to evaluate vendors. And yet, where a brand sits on this revered matrix can greatly influence a company's decision about stroking a check.
Which brings us back to the 2021 MQ for DXP: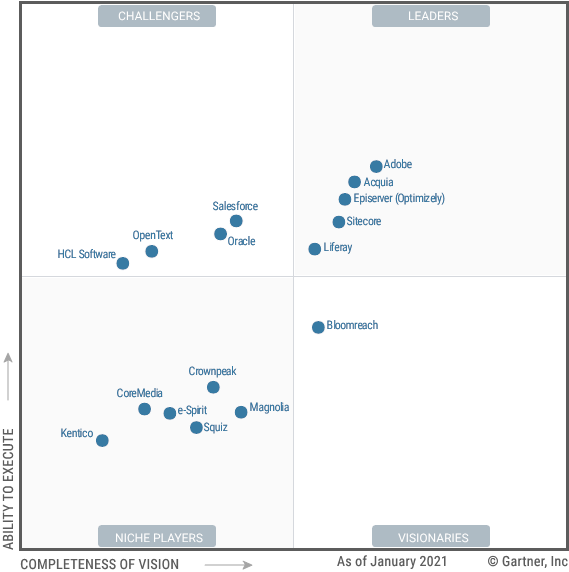 While the vendor names weren't shocking per se, the shifts behind the scenes are certainly worth exploring. As the Covid-19 pandemic ignited digital transformation throughout 2020, we've witnessed significant change across the CMS and DXP industries, and that's clearly playing into the calculus for every vendor in 2021.
There are a few key takeaways in this new quadrant – and we'll share them here. Of course, if you want to go deeper into the report itself, you can purchase it from Gartner's website.
Understanding the Gartner Magic Quadrant
While most of our readers are familiar with the Gartner MQ report, we'll do a quick primer on the basics.
The Gartner Magic Quadrant is a long-established authority for assessing the landscape of leading software vendors. It is a simple graphic reflecting Gartner's research, conducted by analysts with relevant category experience.
Here's how it works: each software vendor in a category (like DXP) is placed on a matrix with four quadrants and an axis for "Completeness of Vision" and "Ability to Execute."
A vendor's ranking – based on a myriad of stringent criteria like annual revenue, operating budget, clients, and more – will land them in one of these quadrants: Leaders, Visionaries, Challengers, and Niche Players.
As you might guess, the Leader quadrant is the most coveted. These companies deliver mature offerings and influence the market's direction. Visionaries are pushing the boundaries but have less-proven capabilities. Challengers are well-positioned but often lack a multitude of things like human and financial resources – or even vision. Niche Players tend to do well in specific market segments.
The MQ for DXP vendors provides an overview of market trends and cites the best digital experience providers that generally lead the category (and meet certain thresholds). For clarification, Gartner defines a digital experience platform (DXP) as a "well-integrated and cohesive set of technologies designed to enable the composition, management, delivery, and optimization of contextualized digital experiences across multiexperience customer journeys."
So, what's changed since 2020?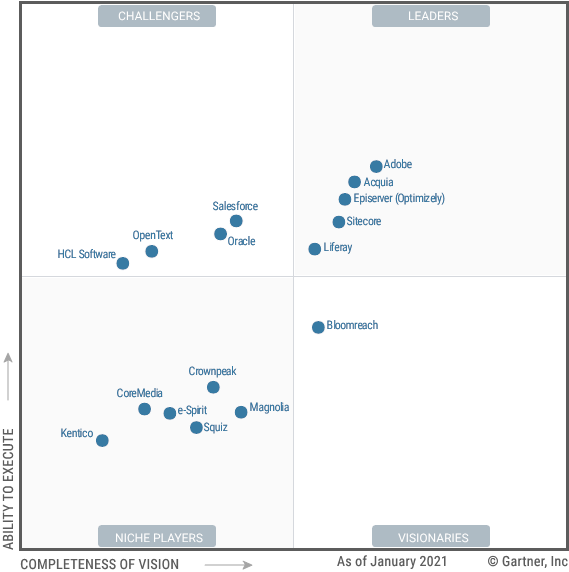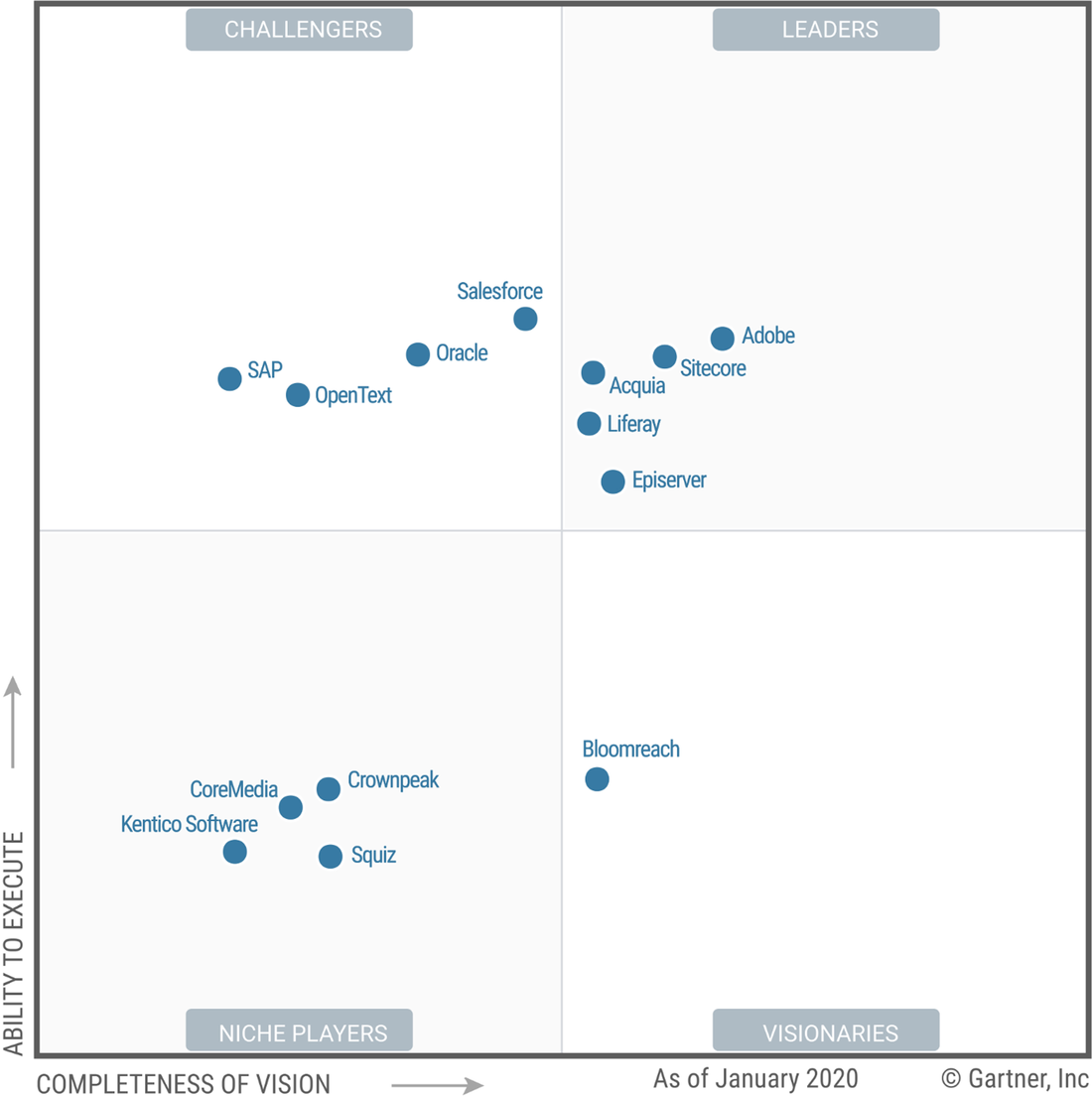 Generally speaking, the same rank and file have maintained their positions in each quadrant with some shifts. Adobe continues to reign over the landscape, but Acquia and Episerver (Optimizely) are riding its coattails.
Competition is clearly heating up, and three new vendors have joined the party in 2021: e-Spirit, HCL Software, and Magnolia. Interestingly, only SAP is missing from the mix.
Gartner maintains stringent guidelines for vendors to be considered for any Magic Quadrant report, including DXP – which replaced Gartner's Web Content Management (WCM) category in 2019. This change has forced vendors like Magnolia, which was not included on 2020's DXP MQ but was a fixture on WCM, to reposition themselves against Gartner's DXP requirements to make the cut.
Consolidation is changing the field
If anything defined the 2020 DXP market (and 2021 thus far), it was the endless news cycle of acquisitions and strategic partnership announcements.
What's clear is the profound impact of the Covid-19 pandemic. It catapulted everything forward as organizations struggled to adapt to a new wave of digital consumers. Websites and applications were barraged. E-commerce was no longer a luxury channel. Opportunities for transformation exploded – and so too did the competition.
As some CMS and DXP vendors doubled-down on releasing new features, others went all-in on acquiring strategic technologies to expand their breadth. All in all, it was a busy 12 months – and we'll try to square our own observations to help make sense of Gartner's pecking order.
Adobe is still leading, but competitors are closing in
Adobe has held its grip on experience management because of its trusted partner footprint in web-focused fields and an established reputation as "best in class." They have an extensive ecosystem of partners that include design and creative studios, system integrators (SIs), and marketing and advertising agencies.
These channels have enabled them to stay top of mind in a growing field of competitors while offering a wide range of partners to help build or implement very complex solutions.
It's easier for an enterprise to adopt the Adobe DXP when they're already in the Adobe ecosystem, making their integrated platform more attractive. Their personalization capabilities are also far more robust than other vendors on the map, giving them a consistent edge. But all of that said, their closest competitors are offering parity in a number of areas, making it a tight race at the top.
Acquia
Acquia, who now has surpassed Sitecore, is the closest to Adobe in the Leader quadrant. Acquia received a significant investment from Vista Equity Partners last year, and with that investment, funded their Acquia Open Digital Experience Platform – which launched in July.
The Acquia Open DXP comprises both the Acquia Marketing Cloud and Acquia Drupal Cloud and integrates their acquired technologies – including AgilOne, Mautic, and Cohesion – with their existing core. With its new DXP, Acquia further leveraged the power of open-source Drupal CMS capabilities.
The Drupal open-source community of contributors is extensive and vibrant, and Acquia's symbiotic relationship with users has helped increase the recognition of its brand worldwide. This could be a significant key to their rise in the ranks.
Most recently, Acquia has launched its Acquia Digital Commerce together with partners commercetools and Lucidworks, creating another successful integration. While Acquia Open Digital Platform brought marketers and developers together, Acquia Digital Commerce seeks to make the commerce experience more personalized and user-friendly.
Acquia has demonstrated a deep understanding of the DXP market – and their investments seem to have paid off. Its acquisitions – which have provided a deeper bench of digital marketing capabilities, a customer data platform (CDP), and a low-code site builder – reflect current market trends and address the data requirements that DXP platforms must deliver. Add to that the open-source community and they have everything they need to compete for the top spot this year.
Episerver (Optimizely)
Episerver surged quite a bit from its 2020 position. While the Optimizely acquisition was a bold move, what further shook the CMS/DXP world was the revelation that they would re-brand as Optimizely in January of 2021. Interestingly, these moves coincided with investment announcements from both Acquia and Sitecore, giving Episerver more attention at the top of the ticket.
Behind the news is a deeper signal that Episerver is redefining the next wave of DXP and experience management. They didn't just acquire optimization – they are becoming a leading voice with their "Optimization as a Service" position. The fusion of these technologies has the potential to strengthen their capabilities in experimentation and progressive delivery with more extensible testing and AI-powered personalization.
Sitecore
This is now Sitecore's fourth year in a row as a Leader in the MQ. Last year, Sitecore announced major releases to its flagship products Sitecore Experience Platform (XP) 10 and Sitecore Experience Commerce (XC) 10, creating efficiencies for both marketing and IT departments by delivering full container support with the former, and providing dynamic product bundling and new promotion capabilities with the latter.
Even though Sitecore maintains its place in the Leader quadrant, it has fallen behind its peers. The reason may have to do with a lack of differentiated capabilities in more commoditized areas (such as WCM) compared with less expensive alternatives. It will be interesting to see how Sitecore maneuvers this position in the market.
Recently, Sitecore announced that it has secured backing for a large-scale growth plan fueled by $1.2 billion in investment. One can only speculate, but it seems a safe bet that 2021 will see new products emerging from Sitecore as they battle at the top.
Bloomreach
While Bloomreach retains its position as the sole Visionary in the MQ, it's clearly trending towards the Leader quadrant. Its DXP, Bloomreach Experience (brX), provides content management, personalization, search, and merchandising in a single platform, and offers a hybrid cloud solution (partly PaaS and SaaS).
Bloomreach acquired Exponea, a Customer Data and Experience Platform (CDXP) platform, in early 2021. With the acquisition, Bloomreach integrated their e-Commerce capabilities with Exponea's best-in-class customer data (CDP) and marketing automation platform.
By combining marketing automation and hydrating their ecosystem with the all-important CDP layer, Bloomreach seems well-positioned for growth in the coming year. Additionally, they announced a $150 million investment to power their e-Commerce SaaS expansion. It wouldn't be a huge surprise if their trajectory landed them in the Leader quadrant in 2022.
Salesforce didn't explode the marketplace… yet
While unicorns are something of legend now in the CMS/DXP category, Salesforce continues to challenge the myth that monoliths are dead. The CRM leader shook the world in November of 2019 when it announced that it would offer a homegrown content management system as part of its ecosystem – which, in addition to CRM, includes marketing automation via Salesforce Pardot and Marketing Cloud.
Salesforce's DXP, dubbed Salesforce Experience Cloud (formerly Community Cloud), combines their CMS, personalization, AI, CDPs, and integrations all in one place – giving users a single, unified platform.
In the 2021 MQ, Salesforce has maintained a solid Challenger position but moved slightly towards the Leaders quadrant. On the upside, the Salesforce DXP – when augmented by their CRM and CDP – provides the most complete ecosystem of digital experience services. On the downside, it's still new and lacking in feature parity and maturity when compared to other vendors.
If there's one thing in common with every DXP on the Gartner MQ, it's that they are all integrating with Salesforce. Many industry watchers mused about the impact the Salesforce CMS would have on the market – and while that remains to be seen, DXP vendors must continue to play nicely from a workflow perspective.
Salesforce may not be trying to compete head-on with the bigger, well-established CMS/DXP providers – at least not right now. They already have an advantage from the data side of the ledger. But there are significant limits on the experience side, and the cost and challenges of being a single, monolithic vendor can have a chilling effect on choice.
Oracle
Oracle remains in the Challenger category. Its DXP, Oracle Customer Experience (CX), includes Oracle Content and Experience, Oracle CX Marketing, and Oracle CX Service, among other products. It offers capabilities such as content management, AI, analytics, and security.
Like Salesforce, Oracle has a strong global presence and extensive partner ecosystem that should benefit its DXP customers. But Oracle is like IBM: they're big, global, and have lots of different services. As a result, the general market awareness for Oracle's DXP is lower than that of most vendors in this Magic Quadrant.
Oracle's DXP is mostly preferred by Oracle-centric organizations, where it can be integrated within the ecosystem. This is another common trait with Salesforce, where embedded customers may add the Salesforce DXP because of their trust and dependence on the CRM.
Niche Players
Niche is still evolving, given that WCM vendors continue to transition to DXP. As mentioned, Gartner retired its Web Content Management Magic Quadrant in June of 2020, citing "Commoditization of WCM functionality." With the WCM market becoming more homogenized, client demand has been shifting to DXP.
Since 2020, two more players have entered the Niche quadrant: Magnolia and e-Spirit. Like the other vendors in the region, they have momentum in key areas but are limited due to a number of factors. The real test for these players will be their ability to execute against larger market competitors and drive new innovation.
Magnolia
Magnolia is an open-source "hybrid headless" enterprise CMS. A previous player on the Gartner WCM MQ, this is Magnolia's first time on the DXP MQ. Open source certainly brings advantages to Magnolia, such as transparency, flexibility, and a supportive developer community. Their modular architecture, which enables faster, more efficient digital experiences via best-of-breed components, is also key to their growth.
e-Spirit
Another new entrant to the MQ, e-Spirit is also a hybrid headless CMS. Its DXP, FirstSpirit Digital Experience Platform, combines the power of an enterprise-class CMS with the agility and flexibility of a headless CMS. With a penchant for powering progressive web apps (PWAs), e-Spirit provides easy multiexperience orchestration with great AI personalization capabilities.
Crownpeak
Maintaining its position as a Niche Player, Crownpeak offers an intuitive and user-friendly UI as well as a transparent pricing model. They are also pushing a "zero infrastructure" position focused on simplifying the economics for customers. Like Magnolia and e-Spirit, they provide hybrid headless capabilities, but they also claim to have the only true SaaS DXP with a drag-and-drop website builder and decoupled architecture for custom integrations and development.
Kentico
Recognized for the fifth consecutive time on the MQ, Kentico has established a growing presence, focusing on midsize organizations in government, education, retail, healthcare, and manufacturing verticals. Kentico has two products: Kentico Xperience, which is Kentico's Digital Experience Platform, and Kentico Kontent, which offers a headless web content management (WCM) system. Kentico Kontent is not a part of Kentico's DXP, so prospects need to be careful choosing the right Kentico product for their organizations.
CoreMedia
CoreMedia's DXP, CoreMedia Content Cloud, is primarily at home in retail, telecommunications, manufacturing, financial services, and media and entertainment verticals. Similar to Magnolia, CoreMedia has a modular architecture and a vast suite of integrations including commercetools, Salesforce (Salesforce Marketing Cloud), and SAP (SAP Commerce Cloud).
Personalization is more important than ever
The search for the "Holy Grail" continues, as personalization is once again front and center with every vendor on the Gartner MQ. When as much as 48% of consumers leave a company's website because of a poorly curated experience, personalization is becoming a more essential differentiator.
To that end, Sitecore has rolled out two main tools for personalization in recent years: Sitecore AI, an auto personalization feature embedded in Sitecore XP versions 9+, and Sitecore Cortex, which offers personalization suggestions, automated optimization, and content-tagging features.
Episerver's (Optimizely) acquisition of Idio also enhanced its personalization capabilities with real-time analytics, helping enterprise clients serve their end customers with timely, relevant, and cross-channel experiences.
Customer Data is now a core requirement
It's clear that Gartner is weighting the role of customer data as paramount. The platforms that have addressed this piece of the equation are generally pulling ahead, such as Bloomreach with their acquisition of Exponea.
Just like Salesforce entering the DXP game (combining customer data platform with content management), Adobe also tossed its hat into the CDP ring. By integrating their homegrown Adobe Audience Manager with Adobe Experience Platform, they can now bring together known and anonymous data to activate real-time customer profiles across multiple channels throughout the customer journey.
Acquia's Marketing Cloud also brings together the power of customer data, cross-channel campaign management, and website personalization through bidirectional, real-time, API-based integrations.
Pricing Structure and Transparency Matters
Gartner rates their MQ vendors on the transparency of their pricing structure. Some vendors – including Episerver (Optimizely), Crownpeak, and Kentico – have transparent and easy-to-understand pricing structures, while Sitecore lacks the necessary granular detail in their pricing proposals. This may be another contributing factor to Sitecore's slip in the Leader rankings.
So, where's the magic?
If there were any rabbits being pulled out of hats in 2020, it was on the digital transformation stage. For the most part, the CMS and DXP sector saw significant activity as businesses pivoted to e-Commerce and digital experiences. Whether this Covid-induced exuberance continues to drive investment remains to be seen, which is why many vendors are rapidly consolidating to gain a stronger position.
The real tricks came in the form of strategic acquisitions, which seem to have played into the calculus for analysts. Big investments made headlines as large enterprise players announced deal after deal. But will they pay off?
There seems to be a dichotomy settling over the CMS and the DXP markets. Many vendors on the MQ are offering an "à la carte" menu of products rather than generic, monolithic solutions. At the same time, they're racing to "bolt on" more capabilities. No doubt this is contributing to confusion in the market about which direction to go, particularly as many functions become increasingly commoditized.
Some of the strongest signals in this year's MQ seem to be coming from leaders like Optimizely. While they might be retiring the Episerver name (they're certainly not in the "server" business), the shift to embrace data and optimization appears to be the next evolutionary step for DXPs.
2020 was anything but magical. While no one can predict the future, Gartner's MQ is a reminder that a lot can change in a year – and we'll be watching each of these vendors as they attempt to conjure their own magic in 2021.