Queue the fireworks.
Amidst the explosion of acquisitions and partnerships across the CMS and DXP industries, Kontent.ai – now formerly Kontent by Kentico – has officially declared its independence.
After securing a whopping $40 million investment from Expedition Growth Capital (EGC), the headless Content Management System is now a standalone enterprise for the first time. The next stop on the growth path: enhance its product by bringing AI deeper into its CMS.
Currently powering over 2,000 projects – from websites to apps to headless commerce experiences – Kontent.ai came from humble beginnings. Originally started in 2015 as a business unit of its elder bootstrapped parent, Kentico, Kontent now boasts a roster of global brands, including Algolia, Anaplan, SonarSource, and Zurich Insurance.
Kentico's fledgling division already employed over 120 staff across five offices on four different continents before the announcement. As a newly-minted independent company, Kontent.ai already has plans to increase its headcount by 100 over the next 12 months.
By channeling investment into "human power," Kontent will have the resources to expand its global footprint by amping up marketing and sales. It will also have ample funds to further innovate and enhance composable AI across its modular content platform.
Kentico's rise in the headless CMS market
Let's face it: headless is hot. In fact, the headless CMS market alone is projected to reach $1.6 billion by 2027.
In its "Adopt a Composable DXP Strategy to Future-Proof Your Tech Stack" report, Gartner estimates that organizations that have adopted a composable approach will outpace the competition by 80% in 2023 – specifically when it comes to new feature implementation.
CMS and DXP vendors are rapidly embracing MACH and the composable revolution. With this spin-off, Kontent.ai appears to be taking a major step towards becoming a composable DXP. While competition across the stack has been increasingly fierce, Kontent has a critical advantage by not being "the new kid on the block." 
Kentico has been helping to shape the CMS landscape for almost two decades. As a stable fixture in Gartner's Quadrant for Digital Experience Platforms, it has juiced Kontent's prospects significantly – giving it an edge towards success.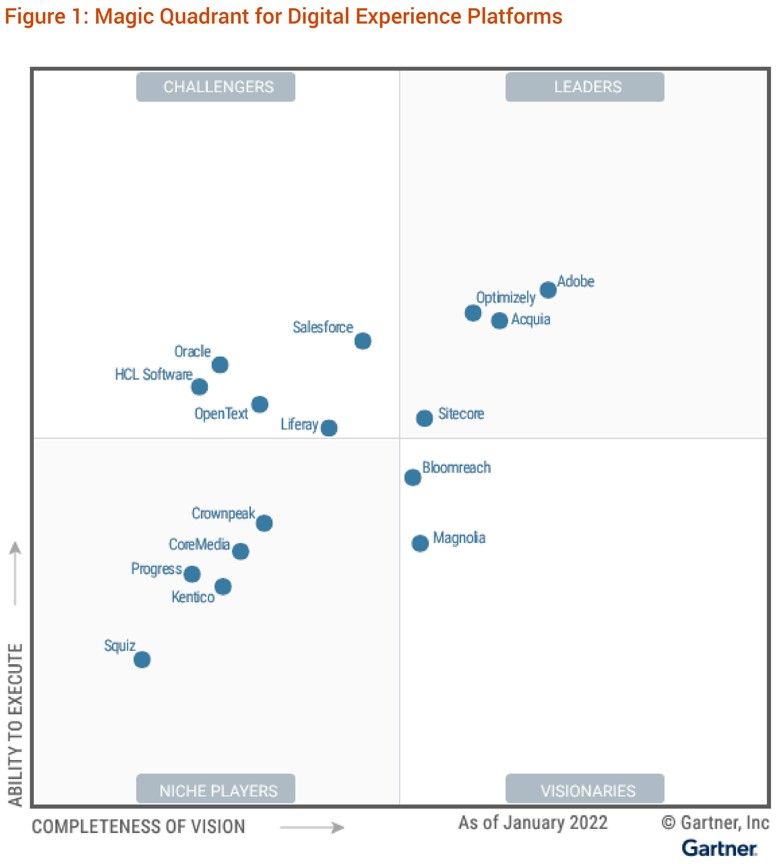 Despite the blessing of Kentico's DNA, the dream of Kontent.ai has been seven years in the making. During that time, Kontent has established itself as a contender in the headless CMS market, powering content delivery and collaboration at scale. 
Kontent.ai brings advantages to marketers and developers
These days, it may sound cliché to position a CMS or DXP as a platform that "unites" marketers and developers. But Kontent.ai believes that both parties have a stake in the digital experience – and by adopting Kontent as their platform, a business can unlock the potential for both parts of its team.
From a marketer's perspective, Kontent's modular capabilities help organizations unify, organize and manage all business content in a cloud-based repository. Its intuitive authoring experience allows for simultaneous, collaborative work at every phase of the content lifecycle. Using Kontent.ai, content teams can easily plan, create, and review content with streamlined workflows and approvals. Editors can also focus on content without being blocked by structural design choices that govern how and where their content will be displayed.
From a developer's perspective, Kontent's modern, microservices-based architecture allows for seamless integration with other applications and technologies. Robust APIs, webhooks, and flexible content models give developers full control over the structure of their content and how it's delivered to their websites and applications. This ensures clean, organized content can be pulled into any experience or technology stack, saving developers time and allowing them to focus on the best way to display information. Meanwhile, the cloud-based infrastructure means there are no concerns over maintenance – and virtually no downtime or performance issues.
Delivering centralized content to distributed organizations
According to the company, there has been an ever greater need for Kontent following the rise of hybrid and remote work. As global companies shifted due to the pandemic, they needed to centralize content and reproduce digital experience at scale while employees leveraged and produced across different locations.
Using Kontent.ai, multinational organizations are able to ensure consistent content across languages and regions, with no need to jump in and out of other apps. The result: improved real-time collaboration and planning that saves both time and money.
Using composable AI to evolve content management
It's clear that Kontent.ai is looking to push the boundaries on technology. Following its recent investment news, the company has been doubling down on the development of its composable AI features.
So what is "Composable AI" anyway? According to Kontent, it's the application of machine learning capabilities directly within its CMS, so it's available where its needed – and can be distributed to support specific teams, workflows, use cases, or delivery channels.
Kontent believes that for AI to bring true value, it needs to be purposeful, targeted, and actionable. In achieving these things, AI will enable Kontent's customers to improve all aspects of content operations, from creating more relevant content to optimizing results to automating repetitive tasks. 
Rapid change ahead as Kontent.ai and Kentico appoint new CEOs
As part of the announcement, the separation of the two companies will also bring changes to the captain's chairs: the newly formed Kontent.ai will be led by Bart Omlo, while Dominik Pintér will take the helm at its former parent. Kentico's current CEO and founder, Petr Palas, will become Chairman of the Board for both companies.
"With this investment into Kontent.ai, now as its own company, we're excited to expand our global footprint helping enterprise teams scale their content operations, make the most of machine learning and AI, and deliver exceptional digital experiences," said Omlo. "With Kontent.ai's modular content platform, we push the boundaries of content management to give our customers the competitive edge."
Kentico recently introduced a new cloud-native version of its digital experience platform called Xperience by Kentico – which was chosen as Gartner's Choice for DXP last year. Xperience is a separate tool designed for midmarket companies, and Kentico plans to continue supporting its growth and enhancement. Additionally, the company is investing heavily in product development – and as part of the funding announcement, will also receive an additional $20m of committed capital from EGC that will be used to support its growth in the future. 
About Kontent.ai
Kontent is the world's leading cloud-based headless CMS platform. Robust APIs, webhooks, and flexible content models give developers full control over the structure of their content and how it's delivered to their websites and applications. The APIs deliver clean, structured content that can be pulled into any experience and technology stack. On top of this headless foundation, Kontent includes an intuitive authoring experience that lets marketers focus on content creation, allowing developers to focus on building engaging online experiences that look great in every channel. Kontent's customers include AC Milan, Oxford University, Konica Minolta, REWE Group, and Vogue. Learn more at www.kontent.ai
About Kentico
Kentico Software is an established global company with two award-winning content management and digital experience products: Kentico Xperience, a fully integrated DXP platform, and Kentico Kontent, an enterprise headless CMS. Kentico has customers in over 120 countries, with offices located in six countries on four continents. Over the last 16 years, a community of 1,000+ partners has formed around Kentico. Learn more at www.kentico.com