In Hollywood, sequels are a roll of the dice. Few manage to capture the magic of an original film, and most burn up on re-entry. I won't partake in any "sequel shaming," but the list of losers is long.
But then there's "Top Gun: Maverick," a film that surprisingly managed to earn $1.4 billion globally. While not the biggest franchise follow-up (that still belongs to Marvel's "Avengers: Endgame"), it cemented its place at the top.
At this year's MACH Two Conference – the sequel to the MACH Alliance's inaugural event in 2022 – Tom Cruise wasn't piloting any box office blitz. But as the final session wrapped, there was more Maverick in MACH than anyone could have predicted.
I had the opportunity to attend the much-anticipated event in Amsterdam this week at the swank DeLaMar Theater. And while dodging airport delays with international connections was nerve-racking, it was well worth the effort.
Because MACH Two was, in a word, awesome.
Don't take my word for it. As Netlify co-founder Chris Bach observed, it was the "crème de la crème of events, and I wanted to talk to everyone."
While the MACH Alliance is still a relative newcomer to the tech landscape, its signature conference has already attained world-class status. Along with an impressive lineup of 36 speakers, the event featured expert practitioners, technology vendors, integrators, and brands willing to share their MACH journeys.
Betwixt the lively keynotes, there were numerous workshops, a co-lab zone, learning circles, social groups, afterparties, and more. Even the tasty plant-based bites provided by Food Line-up – Europe's first B Corp caterer – were sustainably produced (and you know how boring conference food can be).
Over the two days of the conference, I connected with Alliance leaders, sponsors, and attendees to discuss MACH and how it's shaping the composable landscape. While innovation and technology were central to the content, it was evident that the "Art & Science" of this event's theme had more to do with people and community.
I met so many great people and there are too many stories to tell, so I tried to compress everything into six big takeaways that made MACH Two a winning sequel.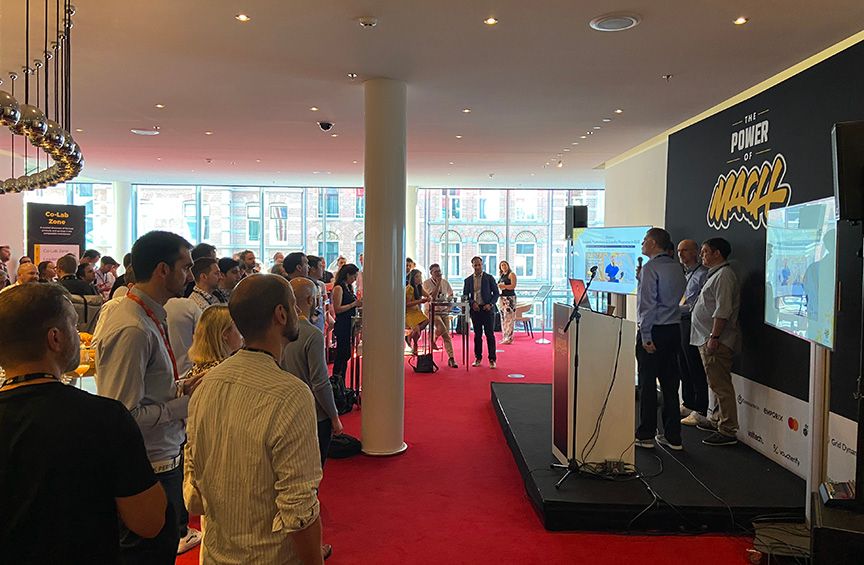 1. Interest in MACH and composable is growing in a big way
During Tuesday's opening keynote, the lower bowl of the DeLaMar Theater was solidly packed. This echoed what MACH Alliance president Casper Rasmussen said during his opening remarks: "The footprint has grown."
To be sure, last year's shindig was smaller – which makes sense when you're throwing a party for the first time. During the planning phase for MACH One, a few Alliance members admitted to me that they weren't sure if anyone would show up.
But that wasn't the case this year. With just over 600 attendees from numerous countries, things sometimes got elbow-deep.
Since last year's event, the Alliance has grown to nearly 90 members, with a pipeline of new applications streaming in. AWS joined as an Enabler in 2022, bringing industry-leading brands to the ecosystem ­– and that trend has continued. In fact, as the show was opening, it was announced that Stripe had joined the ranks.
At one point during the opening session, Danielle Diliberti of Sommsation (who shared MC duties with Naill Edwards of Lego Group) asked for a show of hands to see who was attending their first MACH event. It looked to be around 60% – evidence that interest is swelling, and the market sees more potential than it did just 12 months ago.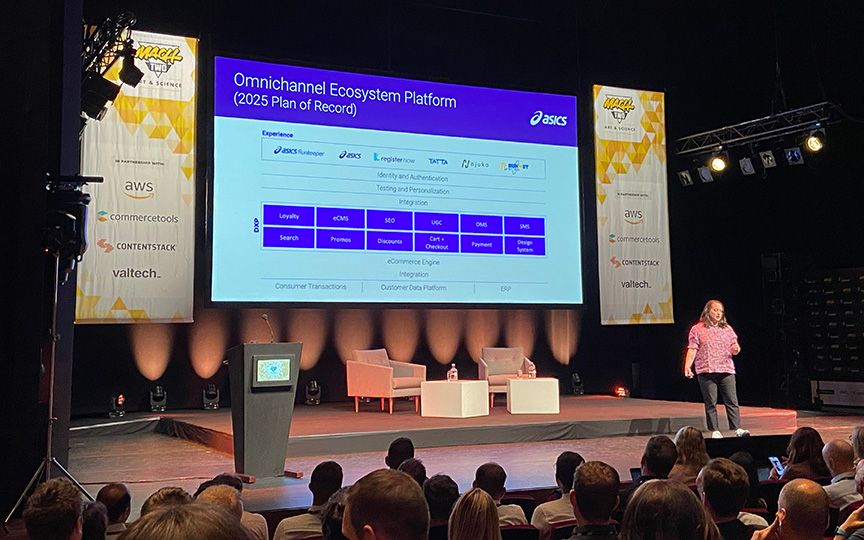 2. MACH has moved from early adoption to real impact
One of the most notable transformations from MACH One to MACH Two is the shift from ideas to successful implementations. Across both days, the event featured customer stories from an array of verticals, all told through the voice of the internal MACH champion. In every example, we saw the realization of the MACH journey through working architectures and KPIs.
Each use case was brilliant, from Interflora to IKEA to M&M. But as a runner, I was a bit partial to ASICS, the international sportswear brand. With a global omnichannel platform serving Japan, Europe, North America, and Australia, it was a perfect example to showcase the potential of MACH at scale.
Mindy Montgomery, Associate Director of Product Management at ASICS, gave a fantastic overview of how her company evolved beyond a purpose-built eCommerce solution and broke its monolithic dependency. Starting with a change in mindset, her team built a modern DXP to support loyalty, search, promotions, design systems, and other functions across its digital business. She's now looking to make parts of the stack available via headless for other company initiatives.
One concept that kept surfacing with ASICS and other brands is the concerted move to a product-led philosophy. As Montgomery explained, removing the small, feature-based approach was critical to embracing MACH. She also emphasized the importance of having a trust-based relationship between product and engineering to improve delivery.
AI made its way into numerous stories, and ASICS was no exception. Montgomery admitted that the emergence of ChatGPT forced them to pause and rethink their product search initiative. The company is now considering a generative AI application to augment its shoe finder experience.
One key takeaway: while AI might be changing the game, composable could make the pivot much less painful.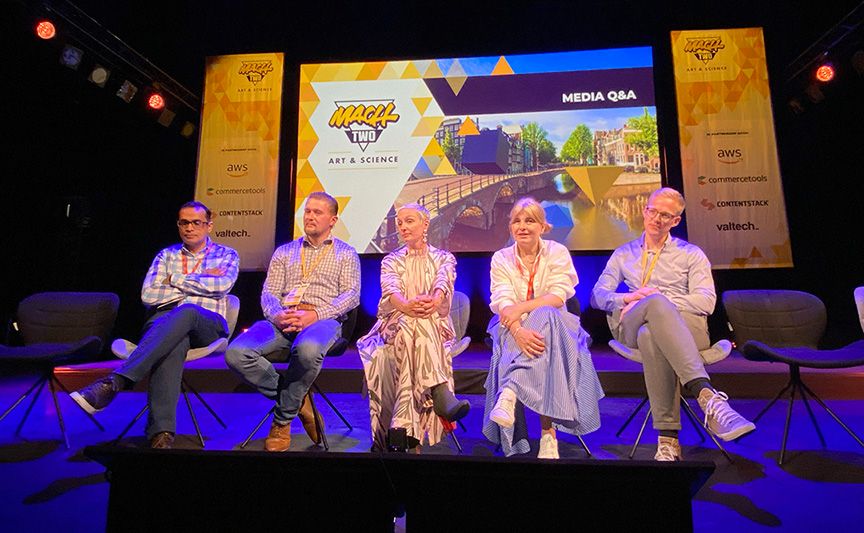 3. More education, tools, and transparency are on the way
During a dedicated media Q&A on Tuesday, I had an opportunity to engage with a panel of Alliance leaders and ambassadors. In addition to Casper Rasmussen, the group included Kelly Goetsch, MACH Alliance Chair & CSO of commercetools; Jasmin Guthmann, Alliance VP & Head of Corporate Communications at Contentstack; Balki Subramanian, VP Digital Experiences, Mars; and Anca Iordanescu, VP Engineering at IKEA.
When asked about what's changed since MACH One, Rasmussen said, "MACH is at an intersection, " leading to more opportunities. He suggested that it also requires a carefully managed expansion that relies on improving interoperability and standards for new and current members.   
Kelly Goetsch also reflected on the last year of growth, saying MACH "now feels like the default," and that "we're no longer advocating from the sidelines." Jasmine Guthmann also suggested that the MACH philosophy will play a bigger role moving forward, helping reinforce the organization's spirit.
There was a clear consensus around the need for more education, a key requirement for improving adoption. Along with a cache of thought leadership content and other knowledge resources, the Alliance just launched a new MACH TCO tool, and plans to release a maturity assessment tool that focuses on 6 key pillars, such as governance.
Later this year, we can expect new educational programs for brands and members, and Rasmussen hopes to offer some degree of certifications based on different levels of MACH expertise. This would include foundational programs, developer and architecture modules, and even a "MACH Expert" certification.
Rasmussen also talked about the evolution of MACH principles. He said that two years ago, we didn't talk about MACHifying operations or enterprise resource planning. To that end, the framework needs to be flexible, as definitions and criteria will continue to change over time.
The panel shared a few other insights worth mentioning. First, there's been a noticeable growth of MACH requirements in RFPs. In fact, one brand mentioned that MACH membership had become a baseline requirement when picking technologies – positioning MACH as a standard for the future.
The other topic was transparency. At both evening mixers, I heard from multiple ISVs and SIs about their concerns regarding the membership selection criteria and wanting more visibility into the process. According to Rasmussen, 53% of membership applications are rejected – but the majority resubmit. He noted a clear evolution in those resubmissions, suggesting that companies understand the gaps and adjust to meet the criteria. That said, the panel recognized this need for even more transparency and expressed a commitment to deliver it.
4. Relationships and trust continue to drive value
One of the persistent gaps in composable strategies is the responsibility model. Monoliths provide one throat to choke, while composable architectures might require seven.
Researching, procuring, and managing multiple technology partners can be challenging and time-consuming. More importantly, when things go sideways – and they always do – who takes responsibility? Who owns the issue?
For vendors like Contentstack, its "Care without Compromise" provides an SLA-like template for handling problem resolution. But not all vendors have that kind of framework in place.
Over the last few days, I spoke to numerous SIs and ISVs about their composable partnerships and how they handle the hard stuff. I kept hearing the importance of their human relationships and the clear reliance on trust.
In one such example, an agency praised a headless CMS and its dedicated customer service manager, crediting them for their ongoing success. In another conversation, I used the word "vendor" to describe a platform, and was politely asked to use "partner" instead.
I heard several attendees talk about the need for more guidance when handling these partnership challenges. There may not be a common template or SLA yet, but it's evident that MACH members are investing in the quality of their relationships to deliver and maintain high-value customer outcomes.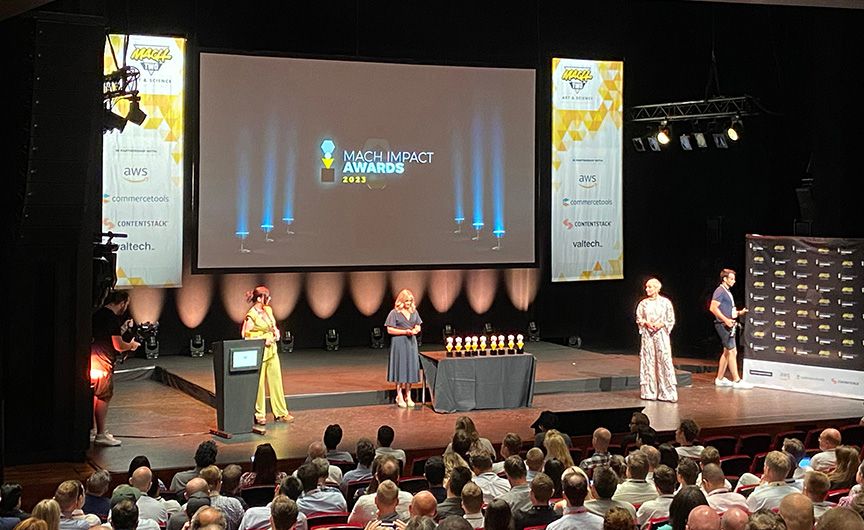 5. The Impact Awards is a win for the MACH movement
It was an honor to help judge the MACH Two 2023 Impact Awards. Over the last month, I read through dozens of detailed entries, each with a compelling story of composable transformation. They were bold, ambitious, innovative… and sometimes downright scary.
I say that with the greatest reverence, but I won't pull any punches on the level of complexity in some of these use cases. But that's just it: MACH isn't for the faint of heart. Building a composable stack requires the right use case and a thoughtful implementation strategy. As Kelly Goestch once said on LinkedIn, "I love MACH, but regularly tell people 'MACH is not for you' – and then promptly refer them to Shopify."
American Bath Group, winner of the "Best Overall Change Project," truly brought the rain from an innovation perspective. Not only did they embrace MACH tenants at a foundational level, but they embodied the MACH mindset from planning to best practices. From an architectural perspective, this was all reinforced by its agency partner, Konabos, and its headless CMS, Kontent.ai.
The winners in each category were all well-deserved. At the same time, the bulk of the 150+ entries showcased how far MACH has progressed. Sonja Keerl, former president of the MACH Alliance, spoke about the importance of demonstrating real change when selecting the Impact Awards – and American Bath Group delivered the most compelling results from end to end. You can read the complete case study here.
Even if you didn't take home a statue, the Impact Awards represent a win for the MACH movement. With this much adoption and successful implementation, we can only expect more entries next year.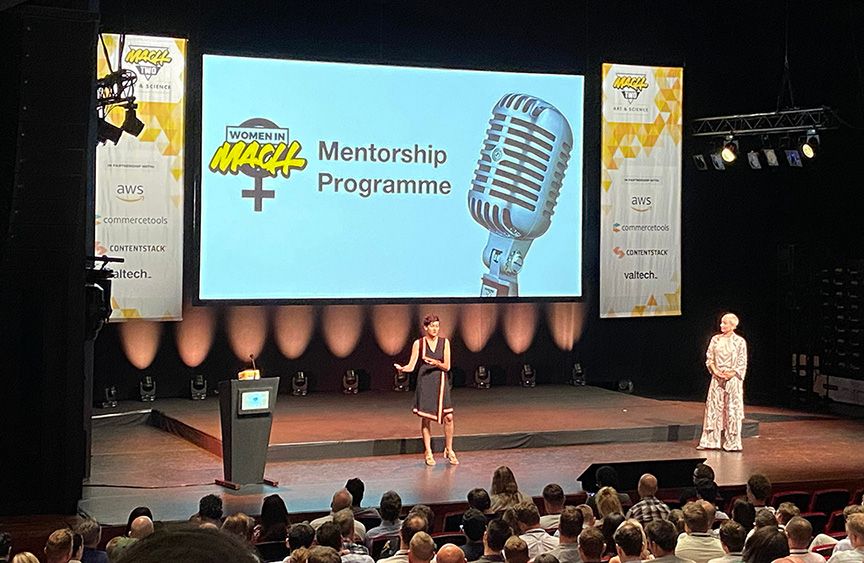 6. Women in MACH, mentoring, and other initiatives are becoming top of mind
Above all, the MACH Alliance is a community that strives to put people first. That was made abundantly clear throughout MACH Two, just by watching the networking and interactions between attendees – many of whom were experiencing a MACH event for the first time. Even the Whova conference app encouraged social engagement, with groups sprouting organically around various business and personal interests.
Aligning with this cornerstone of its mission, programs like Women in MACH took on an elevated level of visibility within the physical event space and throughout the MACH Two communications. The group is still relatively new but has already established an important role within the Alliance community.
While credit is due for making this effort, there's still work to be done across the tech industry to shatter the silicon ceiling. We need more allies to support programs like this – and for businesses to truly walk the talk.
Surely, we can do better by emphasizing STEM education and career mentoring at the earliest stages. But here and now, we need more female tech leaders in MACH and a continued focus on diversity. In his closing session, Casper Rasmussen called for more female representation, and this is where the Alliance is acting as a conduit for change. 
In addition to people, there's our planet, and several attendees inquired about the roadmap for weaving sustainability and green technology initiatives into the fabric of the MACH Alliance. Rasmussen also touched on this in his final presentation, suggesting that more can be done with partners like AWS to enable greater sustainability in the cloud – and that more is coming.
Accelerating ahead to MACH Three
I'm still feeling the sonic boom of MACH Two. It might be hard to top the success of this sequel – but with so much growth and potential ahead, MACH Three could be an even bigger story.
As more brands evaluate MACH and composable strategies, hearing successful use cases from actual stakeholders might be the best way to overcome reluctant executives. Couple that with a community of ambassadors and members – many of whom are willing to share their time and expertise – and you might build consensus at MACH speed.
While no specific date or location has been publicized, MACH Three is tentatively planned for 2024 in North America. We'll keep you posted on the details as they emerge.