MX Linux is a popular and fast Linux distribution based on Debian stable that is currently in version 18.2. Today, I'm going to take you through my MX Linux Review to see why this distribution is so popular.
One of the best things about MX Linux is the variety of custom tools that have been built to make the life of the user easier. The team of developers at MX Linux have really outdone themselves making every single possible need as easy as possible with their MX apps.
This review has been updated and is now based on the most recent MX Linux 18.2 release.
What is MX Linux?
According to the MX Linux website:
MX Linux is a cooperative venture between the antiX and former MEPIS communities, using the best tools and talents from each distro. It is a midweight OS designed to combine an elegant and efficient desktop with simple configuration, high stability, solid performance and medium-sized footprint.
Installation is super smooth using their custom installer and I experienced no issues whatsoever with the process. From my experience, there were also no hardware issues but I'd be curious to know the experiences of others as well so please let me know in the comments.
The MX Linux Desktop
Upon first boot-up, you are presented with their customized XFCE desktop.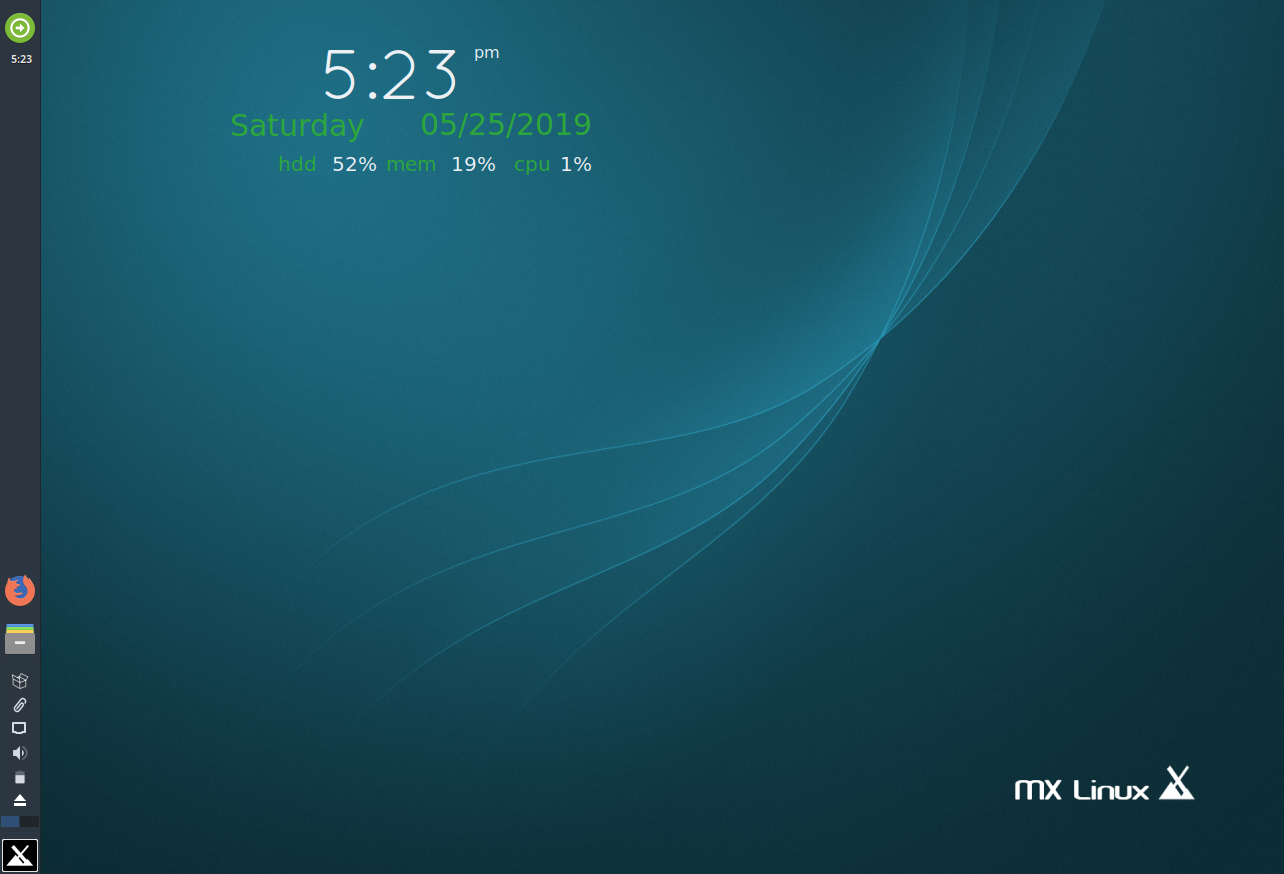 MX Linux – The Desktop
One of the first things you'll notice about MX Linux is that the panel is assigned to the left side of the screen. This may initially seem a bit weird but I found that once you got used to it, it actually works quite well. Having said that, moving the panel to another location is quick and easy.
MX Apps
The developers at MX Linux have built a number of apps to allow you to do everything from tweaking your desktop, managing repositories and users and more. I won't go through them all here but I will focus on some of the key ones.
MX Welcome
The welcome screen that pops open offers links to the various resources on the web for support, discussions and video tutorials as well as their tools, tweak panel and more.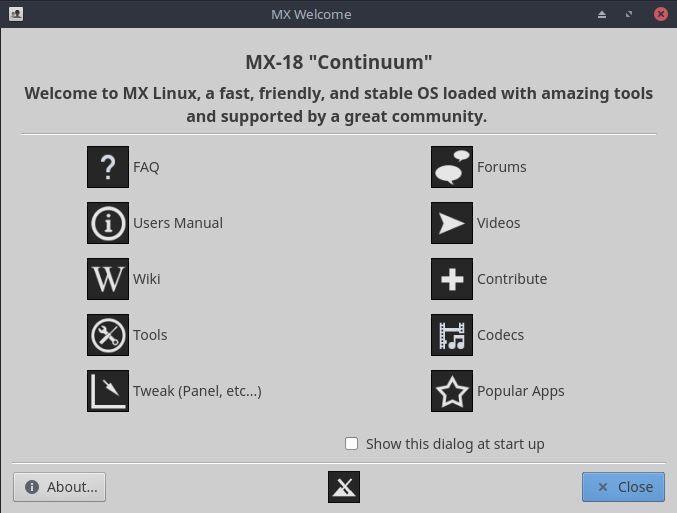 MX Linux Welcome Screen
MX Tweak
MX Tweak is a simple tweak tool built by the developers to make modifying the desktop quick and easy.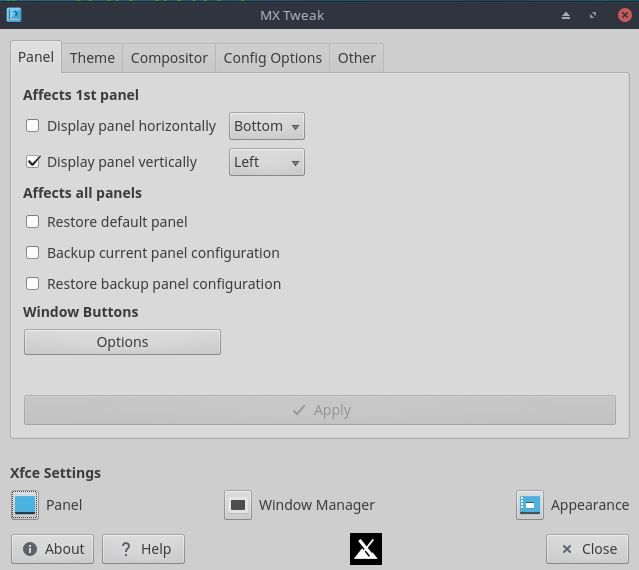 MX Tweak
The tweak tool allows you to make adjustments to the panel positioning, changing the desktop theme and adjusting the compositor and more.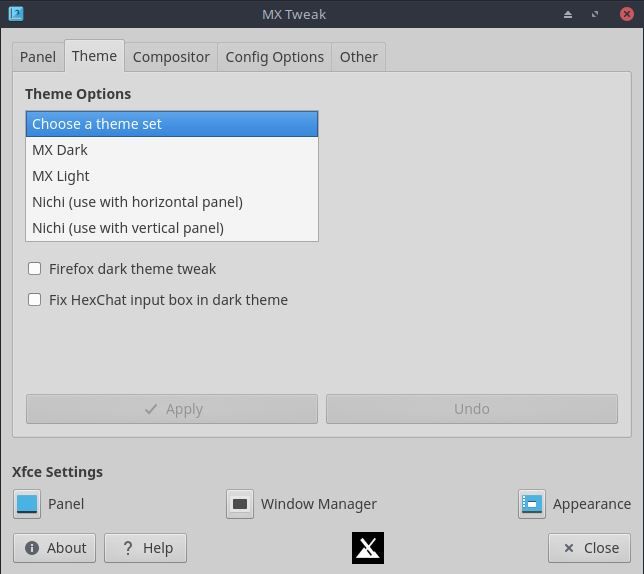 MX Tweak – Theme Selection
MX Tools
Next up is the MX Tools menu. This is where the magic happens people! There's an app for almost everything you could want / need and they all work wonderfully to get the job done. Check it out: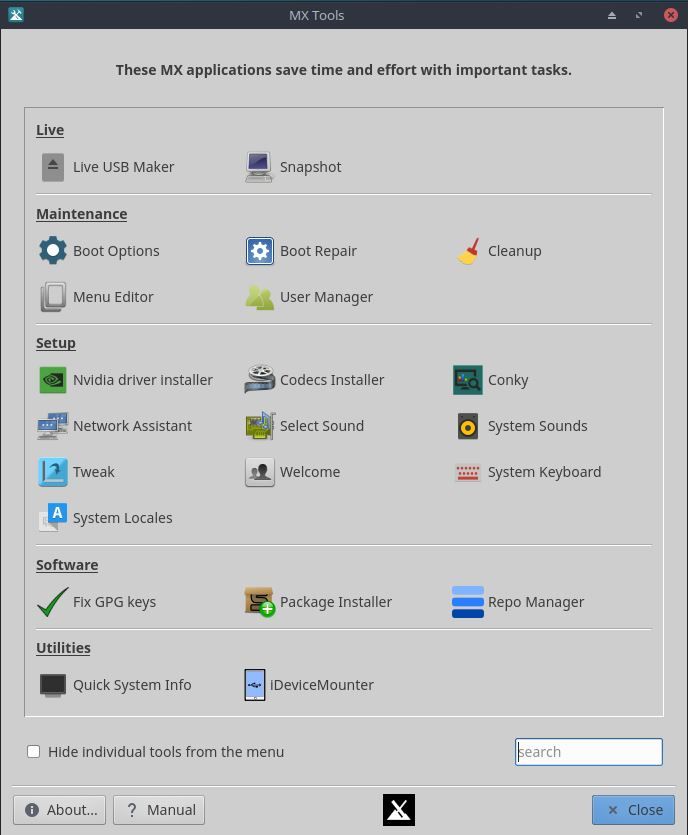 MX Tools
MX Conky
One such tool that does a great job of making things easy is MX conky. With it, you can quickly load a Conky and position it, change the colors and format without ever having to touch a conky.rc file.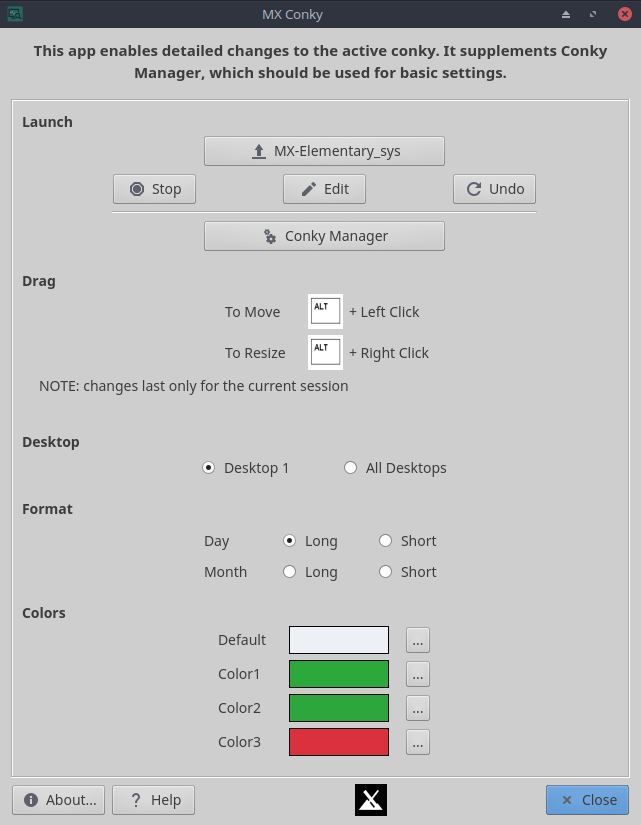 MX Conky
MX Package Installer
One particularly good (and super fast) app that I'm a huge fan of is the MX Package Installer. Here you can easily manage installed apps and search for new ones with ease. Results are returned very quickly.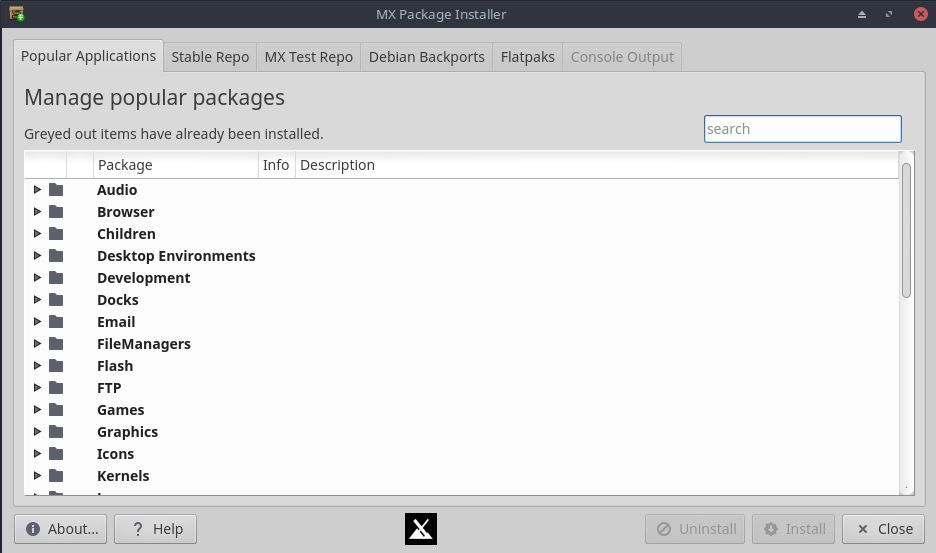 MX Package Installer
You can explore even further into the application catalog by switching repositories between Debian Stable, MX Testing and the Debian Backports.
What's even cooler is the recent addition of FlatPaks to the package installer. Now, if you click on the tab, you'll see an imported list of available FlatPak applications!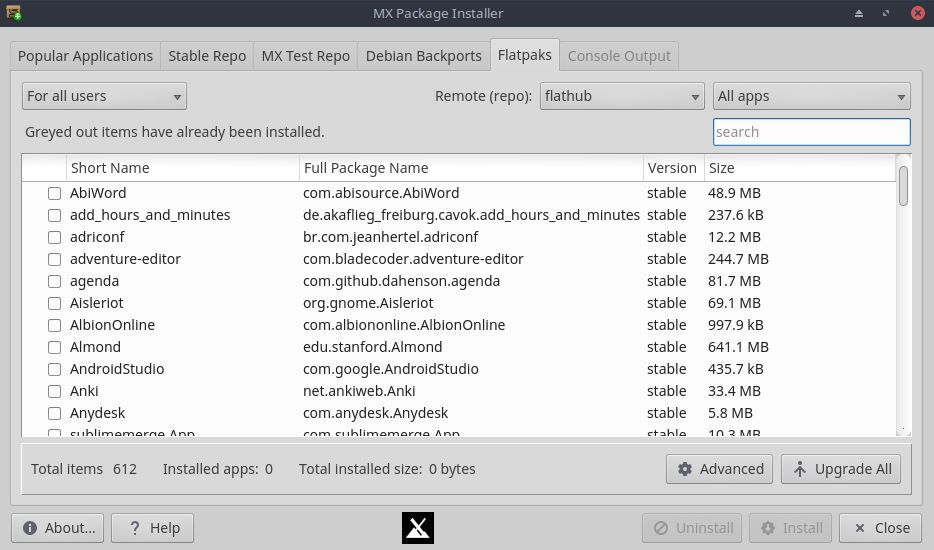 MX Linux Review – Performance
From a performance perspective, when running the full desktop environment as well as a file manager, GIMP image editor, Firefox and a game, MX was showing less than half of the ram on a 2G system and minimal CPU usage. From my point of view, that's an impressive result.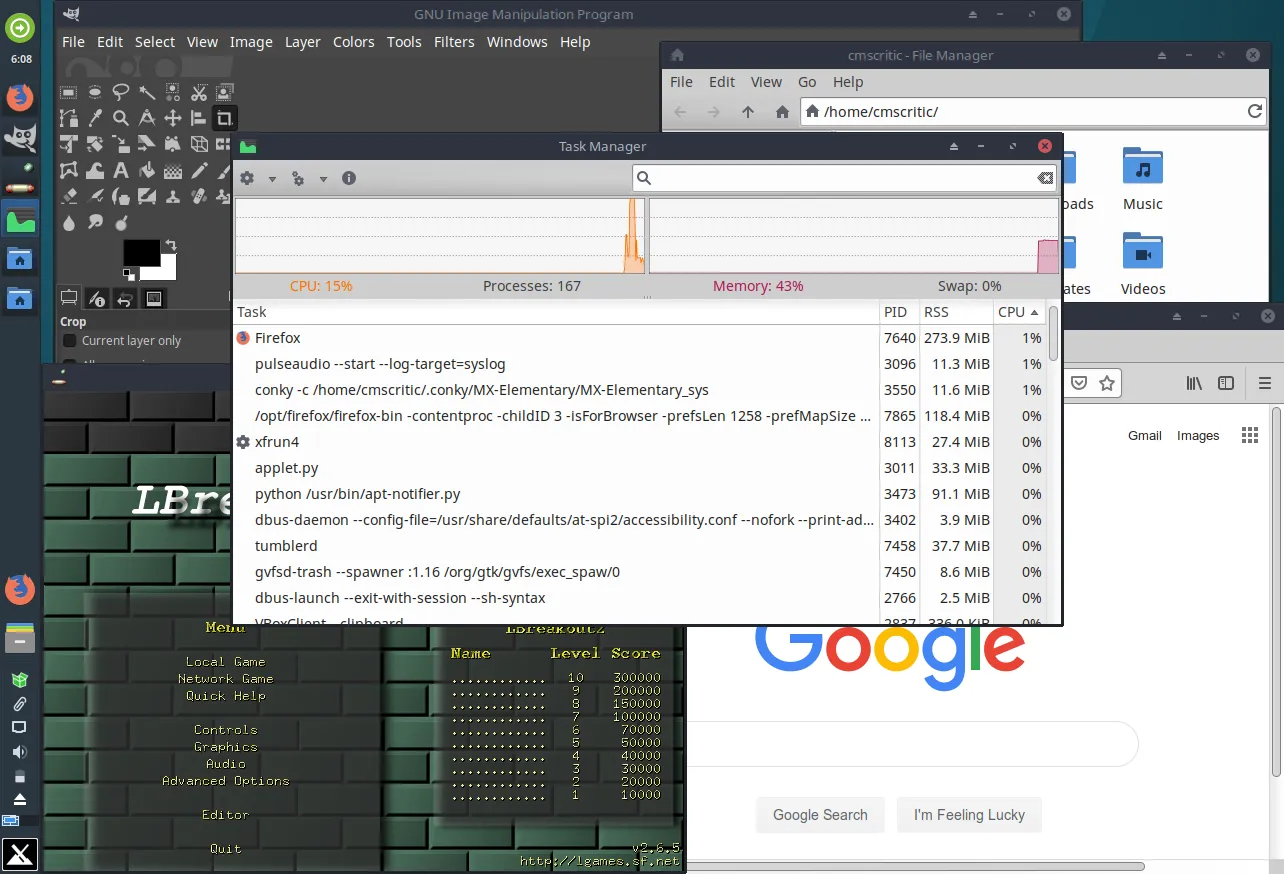 MX Linux Review – Performance
MX Linux Review – Final Thoughts
Overall, MX Linux 18.2 is a fast, responsive, and well put together distribution. It includes tons of tools to help users and administrators get things done and it's built on a rock solid base with Debian. While it's may not be as beautiful as a desktop-like Budgie (in my humble opinion) it's definitely benefiting from a much larger selection of software than even the large Ubuntu repositories and is certainly chock full of useful applications and functionality.
Don't forget to also check out our Solus Review – Budgie Edition and Ubuntu MATE Review as well.
Have you tried it? What are your thoughts?