This year's winner of the People's Choice Award for Best Enterprise CMS is Liferay!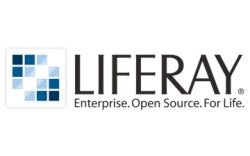 Congratulations to everyone at Liferay for their awesome work and on this win. It certainly is an excellent option for enterprise users.
Liferay is an open-source enterprise portal solution. Some of the key advantages that the system offers is its ability to be deeply integrated with various web technologies (.NET, PHP, Java & More). Liferay Portal  includes document management enhancements and the company has introduced the Liferay Marketplace, a new app store for its growing community of customers, developers and partners.
Liferay also offers Liferay Social Office, a social collaboration suite for enterprises. Their customers often select it for its lean qualities, although the company is building out a more comprehensive UXP with content management capabilities and its Liferay Social Office product. Liferay is very easy to adapt and customize to suit a variety of needs.
This isn't the end of the awards, however, as the Critic's Choice portion of the awards which will be selected by CMS Critic will be announced soon.
Liferay
Adobe CQ
Sitecore
Drupal
Typo3
Thanks to all for really driving hard for the votes and don't forget to stay tuned to our site to find out which of our five shortlisted competitors below takes the Critic's Choice Award, to be announced soon.