phpFox is one of many social networking packages that are commercially available for those looking to deploy a Facebook or MySpace style social network. Given the response I've had to our Social Engine Review and the apparent lack of support offered by that company, I thought we'd explore some other, potentially better supported social networking options such as this one in order to provide alternatives. As a result, I bring you my phpFox Review. This social networking software is very popular with a large community and today, we'll find out if it's a suitable option for those in the market.
For those unfamiliar with phpFox, it has been on the market for quite some time and offers a well priced system packed with quite a few features such as: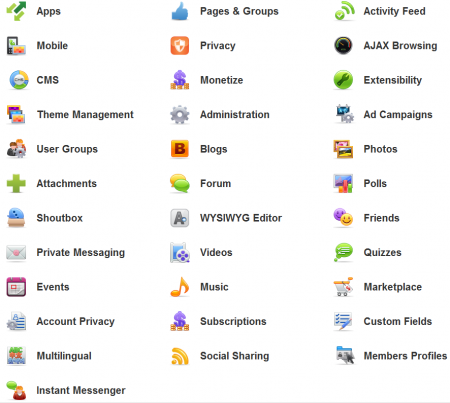 First Impressions
The interface is simple but functional and as you can see from the screenshot below, once populated with content and users, the system has a nice clean flow to it. It resembles what we've all come to expect from most systems of this caliber.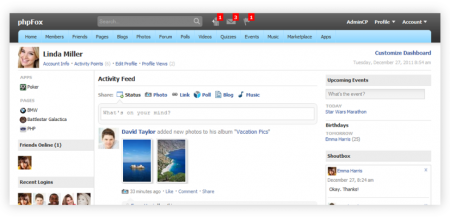 I chose to use the phpFox demo as the basis of this phpFox review since it's already populated with some content and member profiles.
Signing up for a new account on the demo site was fast and painless and I received a confirmation email immediately. Moving around the interface and adding profile data was both snappy and easy to do. In a matter of a few moments, I had customized my profile, added a profile pic and cropped it.

Adding blog posts, videos and comments works without issue and I did not detect any issues doing so. The system seemed to respond quickly to every task I've tried so far without issue.
Every installation of phpFox comes with a mobile friendly version as well which is great for those looking to be accessible on multiple platforms. Here's a screenshot of the mobile version of the site: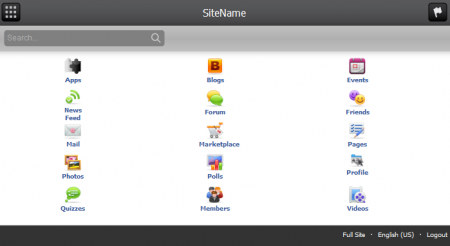 Everything on the mobile system from my tests was without incident and worked as expected as well.
I'm not going to focus too much on the front end of this system as it's fairly easy for you to test it out for yourself using their demo system. What I will say is that it works and appears to not have any glaring bugs that I can see!
Administering the System
Once a user has been set up as an administrator of the system, an AdminCP link becomes available on the top right of the main site once you've logged in. Clicking on this brings you to the admin dashboard where you can modify the settings for the system.
As you can see, the user of drop-down menus is applied to the admin panel giving you quick and easy access to the settings within each setting of the CMS.
Should you wish to modify any of the many menus on the website itself, you can do so quickly and easily using the Manage Menus option under CMS. From there, you can change the order, edit a menu item or delete it completely. If you wish to simply deactivate it, you can do so with a simple check box.
Adding menus or individual items is extremely simple and is done through the following interface: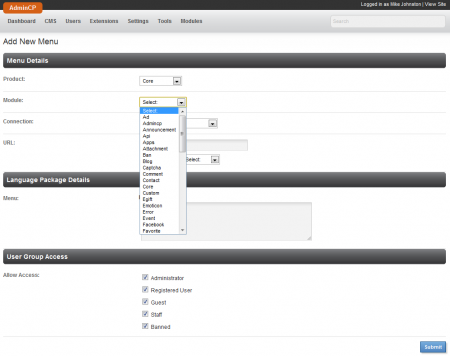 The system layout is handled using blocks, which can be managed in two different ways depending on your tastes. The traditional interface or a slick visual drag and drop mode.
Traditional: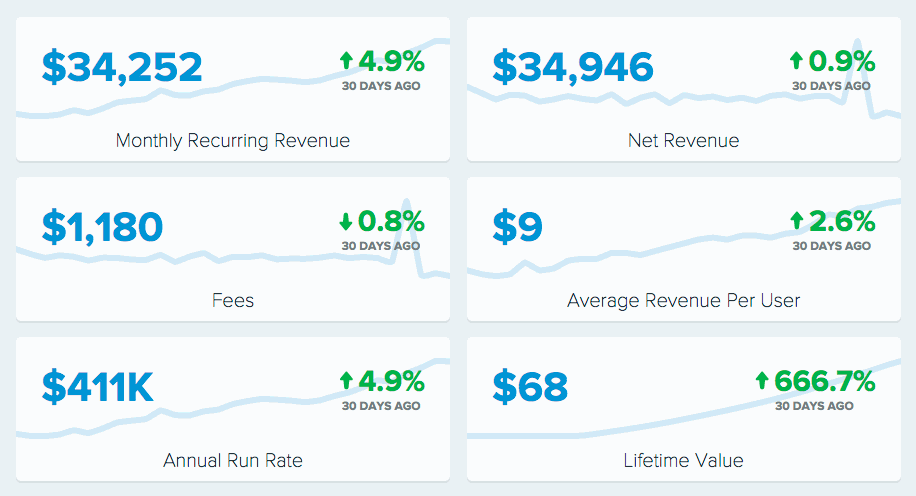 Drag and Drop: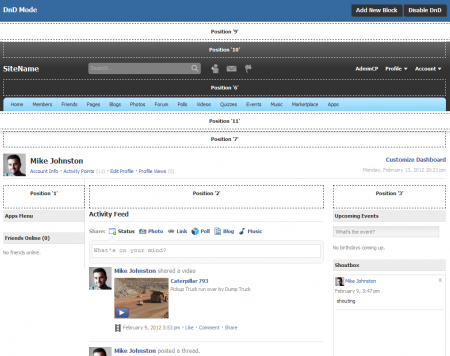 Regardless of which way you choose, adding content to the various areas of the site is quick and easy.
Taking a look at user management, I was surprised to see how granular one can be with security permissions.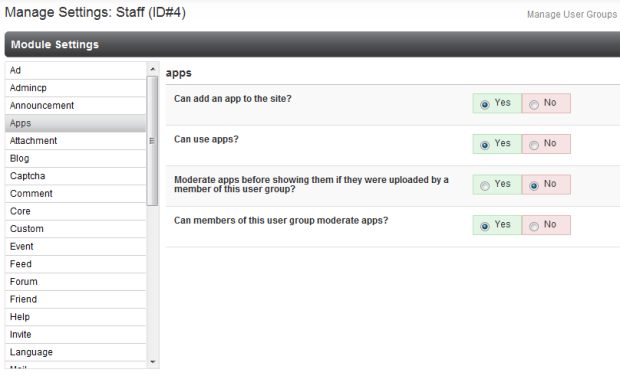 I've used a number of scripts similar to phpFox and a large number of them are lacking in the area of user security so it's nice to see this one is the exception to the rule.
On the expandability front, there are tons of themes and plugins for phpFox, all of which can be managed from within the Extensions menu. You can even create language packs, manage phrases and much more. On the phpFox website, they also list a number of user created modules and themes which are available both for purchase and free. At a glance, it appears there are over 400 apps/modules and over 100 themes available through their website.
On the social front, phpFox provides the ability for your users to use their Facebook, Twitter, Google, OpenID and more to login to your site and if speed is a concern, it can also be configured to work with Amazon's CDN network.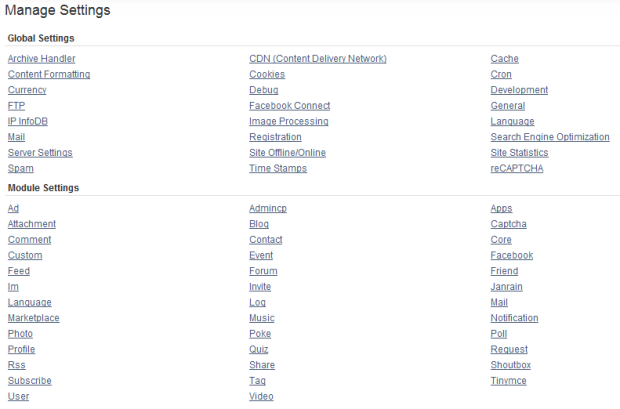 Looking to integrate a payment system into your social networking software platform? phpFox has you covered there as well with integrations from PayPal and 2checkout.
The list of configurable options goes on and on and there is no way I can hope to cover them all in this review other than to say, there's a lot you can configure if you choose to do so. One key thing I do want to highlight is the maintenance and backup options within the admin panel. This is a great addition and gives administrators the ability to optimize and repair tables within their database as well as the option to perform backups quickly and easily.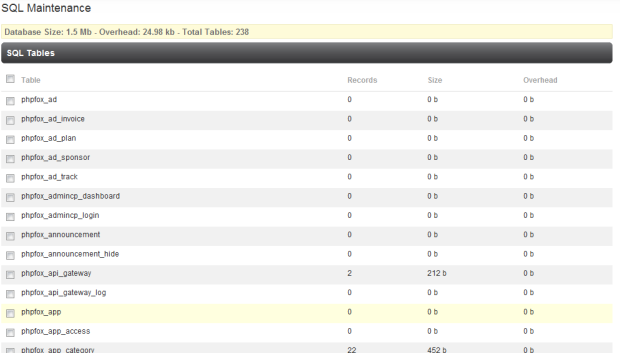 Conclusion
The purpose of this phpFox review was to determine if the software was suitable for the average consumer and I can confidently say that yes, it is. If you are looking for social networking software that offers a myriad of options with a great community and ease of use, look no further. Using the system was a pleasure and throughout my testing I did not encounter any bugs or hiccups within the software. Therefore, I have no problem recommending this as a solid solution to those in the market for social networking software. What do you think of phpFox? Did this phpFox Review help you? Let us know in the comments below or Check out phpFox today.