There's a little-known psychological condition called footballis doldrumus that affects millions of people each year.
This peculiar phenomenon strikes around mid-July – the "dog days," as we say – causing North American football fans to incessantly pine for the pigskin. The hotter the summer, the more intense the craving. And this has been a hot one.
Symptoms include (but are not limited to): listing the season opener as a holiday on your Outlook calendar, leaving messages on refrigerator wipe boards that read "6 weeks left 'til kickoff," and waking up from a deep sleep and shouting first and ten for no apparent reason.
It's a sinister malady that Joel Varty is undoubtedly familiar with, given his own experience on the field. When we met in New York City this past May, he told me about his son's goal of playing football at the collegiate level, and perhaps one day in the NFL. I learned later that Joel played during college, and has a passion for coaching. 
As a victim myself of footballis doldrumus, talking with Joel was a bit like a support group on multiple levels. I resisted any mention of Tom Brady for fear of getting too off-topic (or sounding like an insipid fanboy), and we focused instead on the real-world challenges impacting the content management game.
In his role as Chief Technology Officer at Agility – a headless CMS – Joel is facing a deep bench of competitors with similar strengths on the field. As many platform features become commoditized, executing the right plays to differentiate is essential to win.
When I learned that Agility was releasing new updates to its UI, I caught up with Joel to learn more about his company's strategy and get his perspective on the marketplace. We talked about how composable is changing the game, why trust is critical to customer experience, and how he's quarterbacking his own way to victory.
Coaching the long game in CMS
Like most content management veterans, Joel's path to product was circuitous. While playing football at the University of Guelph in Ontario, he parlayed a love of prose into programming and graduated with honors in English and Computer Science.
It's not an uncommon story in the development world. Some of the best coders I've ever worked with started analyzing James Joyce before JavaScript.
Guelph is also where Agility's CEO, Jon Voigt, attended – and the two have been teaming up ever since. They both endured the rise and fall of the dot.com era, and that lead to a stint of website consulting gigs that encompassed the buildout of their own CMS.
"[I think] everyone has said, 'hey, I can build my own CMS' at some point," he recalls with laughter. "We started ours around 2005 and kept doing it because we really like working together. But by 2017, we decided we didn't want to build websites anymore – we just wanted to build a CMS, and we think headless CMS is the way to go."
Joel also said that one of the catalysts for this shift in priorities was the maturity of the Agility CMS itself. Not only was it stable and trusted at a foundational level, but it now had enough customers running on it to make financial sense. As a totally bootstrapped company with solid profitability, they were able to sell off some of their existing contracts in 2018 and go all-in on the CMS.
---
"I think where Agility shines isn't in a specific vertical market. It's with folks who have complex, unique needs – and you have to approach those in a special way. We love to teach our partners how to do that."
---
"It was really hard to let go," Joel admitted. "Giving [our business] to partners was a double-edged sword, but it was great to stop competing with our partners. We were always the first party vendor building stuff, so we didn't feel it was fair to have a product we have an upper hand with."
I asked Joel how they made the transition successful, particularly around client care. I've heard this projects-to-products story many times, but the failures often come from a lack of top-down leadership and cultural investment – like a self-inflicted form of pass interference. 
"We actually looked at our core values as a company, and really focused on teaching," he said, "so we took the lessons we've learned and started teaching our partners how to do things. I think where Agility shines isn't in a specific vertical market. It's with folks who have complex, unique needs – and you have to approach those in a special way. We love to teach our partners how to do that."
Teach... or coach? Either way, Joel and his team have made the knowledge transfer a big part of the Agility experience. This includes clear documentation, tutorials, transparent practices, and regular communication with their community of users. 
Outplaying sameness with service
At a recent event, I was discussing the headless CMS category with several attendees, and the subject of commoditization came up (as it frequently does). One of the pedaled analogies was that DXPs are akin to "apples and oranges" based on their feature sets, while headless CMSes are more like red apples versus green.
I asked Joel about this swelling box of apples and how he views the commoditization challenge.
"It's interesting because there's almost more of a move to be enough of the same so that you're recognizable across vendors – like things have to be 'same enough,'" he observed. "If you're too different, that's not actually a good thing, because it's hard to compare in a DX or composable space. So we strive to be 'same enough' while being unique."
Commoditization is a real threat, but Agility is rising above the challenge by investing in its customer experience. This is embodied by its "White Glove Service," which assures each client receives human interaction – which Joel admits is a challenge for most vendors as it inhibits scalability. But when the average lifetime of an Agility customer is eight to ten years, there's value in this hands-on approach.
This felt like a key differentiator to me, so I asked if it was a key selling point for Agility.
"We haven't been using it enough," Joel said. "We need to listen more to that part of our customers' reactions. Our product was built based on customer feedback, and that's how we decide what we're going to do. It's 100% customer driven. We spent a lot of time and effort tracking what people say and want regarding features. And that's how we decide what we build into the product."
To that end, Agility continues to provide transparency around its roadmap, engaging with its users via roadmap.agilitycms.com around ideation. Joel said developers are very vocal within their community, but Agility strives to ensure that marketers and business decision-makers have a voice. That's important, given the critical role of content operations within most enterprises.
"Our ideal customer needs to understand the value of content," he explained. "Sometimes it's the developer, an information management role, a head of marketing, a CTO – maybe even the CEO of a smaller company. But if they can get the value of that content… then that's going to be a good fit for Agility."
Tackling the composable hype-cycle with trust
As a headless CMS, I asked Joel what he thought about the growth of composable and the advent of DXC (digital experience composition) and other categories emerging in the space. On the one hand, DXC vendors like Uniform are solving the visualization challenges for headless CMSes. But are these TLAs (or "three-lettered acronyms" for the unindoctrinated) helping or hindering our understanding of the composable space?
"My opinion is those acronyms are holding us back as much as they bring us forward," he said. "They give us something to talk about, but you always have to go beyond that. There's always some explaining that has to happen when you're talking to someone who actually wants to use this in their business. I think it comes down to having more trust between people."
That trust is hard-earned, as Joel explained. Cineplex, one of Agility's customers since 2007, has relied not just on its CMS, but on the expertise of a team that understands their business imperatives. Over the years, trust in Agility has guided the cinema giant's digital transformation, from site rebuilds to infrastructure changes. This ingredient of trust has shaped Joel's perspective on composable, which is as much about the business considerations as the technology posture.
"I think the idea of enterprise software should mean long-term ROI, not just fast ROI," he said. "How can you take a piece out and put it back in, or fix something that you don't like? That, to me, is like the best of composable."
I probed further about the importance of composable standards and the rise of the MACH Alliance over the last few years. The organization has advocated for best-of-breed technologies that meet the rigid standards of MACH (Microservices, API-first, Cloud-native SaaS, Headless). Are relationships with vendors in DXC, e-Commerce, search, and other categories becoming an important growth channel for headless CMS?
"Yes, and the long-term goal is to have a combination of technology and relationships accelerated, where it's like a pre-built stack or grid that everyone knows works," he said. "So CMS is going to be hosted here, and it will have this for search, this personalization, and this for commerce. We know how it all works together – and everyone trusts it."
Joel admitted that we might be three or four years away from any broad market buy-in, suggesting that it's still a hard sell given the institutional culture of some IT departments. This is why the efforts of thought leaders within the MACH Alliance community have been key to advancing the growth of composable.
"They won't get it until they trust it," Joel punctuated.
Agility's new UI delivers more than a fresh uniform
I heard Agility's plans for its new user interface some time ago, well before its scheduled GA. While modernizing a UI is an accepted part of any software lifecycle, it offers as many opportunities as challenges. Most people loathe change – so any modification can be met with temperamental responses. That's why this UI "refresh" is as much about empathy and sentiment as it is about systems and processes.
I wanted to hear how Agility approached this undertaking, and what stood out for Joel.
"Interestingly enough, we started this new UI project about 18 months ago," he revealed. "The last time we redid our UI was in 2015, and Jon [our CEO] and I knew that you always do it once and then refresh it after everyone's already had a chance to see it. We started base testing with cohorts of new or existing users, and we actually brought design in-house – which, for a smaller company, was a big deal. We also have this amazing person who A/B tested different things and conducted interviews to determine what makes [users] feel better. And we focused as much on that as we could and tried to be very consistent about how we handled content."
As Joel detailed the process, it was clear his team didn't cut things out or remove extraneous elements just to satisfy the simplification goal. To his point, CMS users claim to want all the features – even if they won't be using them.
"There's a real balance there," he continued. "But overall, we wanted things to be faster and easier across the board and ultimately make people feel better."
I had a chance to peruse the new UI while comparing it to the classic version (which will continue to be available to users). Right off the bat, the visual design system is cleaner and more streamlined, offering a modern lightweight experience that feels more like an app. The main navigation panel provides more contrast, aimed at reducing eye strain during prolonged use. The authoring tools are still intuitive and familiar, a staple of Agility's previous UI.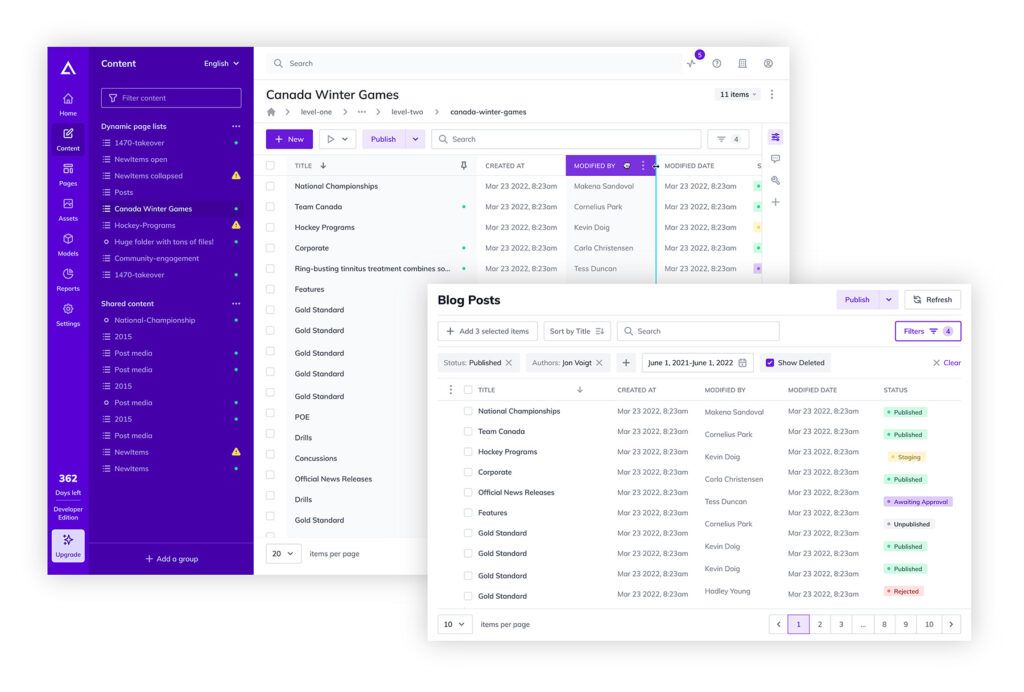 You can read about the full scope of features in our previous post, but a few stand out, including new filters that offer augmented search. Users will find the new org selector handy, and there's a slick heartbeat indicator coming that will provide greater visibility around specific events and tasks. Also noteworthy are the drag-and-drop model editor and the table column reordering, both designed to simplify and accelerate tasks.
You can check out the UI for yourself by creating an Agility account at www.agilitycms.com. While Joel and his team are still fine-tuning some details, scope creep has pushed the original launch date into late July – a frustrating reality of software launches.
"But I think it will be worth it," he said. "Our company anniversary is July 19, so I'm kind of thinking maybe that's a good day."
Keeping the game fun – even with AI on the field
I've already waxed extensively about Joel's affinity for football. But that affection is grounded by a deep gratitude for his family and their shared pastimes. Much like his dual pursuits of literature and computer science, he blends a love for athletics and a passion for art and scholarship in his life outside Agility.
"I am super blessed with two really, really cool kids," he said glowingly. "My son plays football, and I've been a dedicated 'dad coach' for that. But my daughter is super into theater, and I love directing, being on stage, or getting involved from a community standpoint. It's got nothing to do with technology – it's just having fun."
As we rounded out our time together, the subject of AI meandered into the conversation. What does Joel think about the advent of this technology and its impact on content? He has, after all, helped shape the CMS space over the last two decades. What does the world look like now that ChatGPT is a growing fixture in the creative process?
"I look at it like this: ChatGPT needs us," he said. "It copies ideas. Nothing comes out of thin air, and someone has to come up with the ideas."
Kind of like a quarterback audibling on the field. Sometimes, human instinct takes over – no matter how rehearsed the play might be. And while AI may prove its worth as a key automation tool, it's heartening to hear from a content veteran that people are still core to the process.
As a headless CMS in a densely-packed market, Agility is executing in all the right ways. And with so many seasons under its belt, the platform and its people have proven resilient in the face of change. That speaks volumes about its vision and go-to-market strategy, which gives it a strong position in the new composable game. 
I still reserve the mantle of GOAT for Tom Brady, but Joel definitely has my vote for the "CMS Hall of Fame."