cmsWhen it comes to email, it's a very personal thing. Some people want more features and others want less but overall, we all want three important things: reliability, solid spam filtering and an easy to use interface. In this article, I'm going to take you through my ProtonMail Review and explain why they are now my email provider of choice.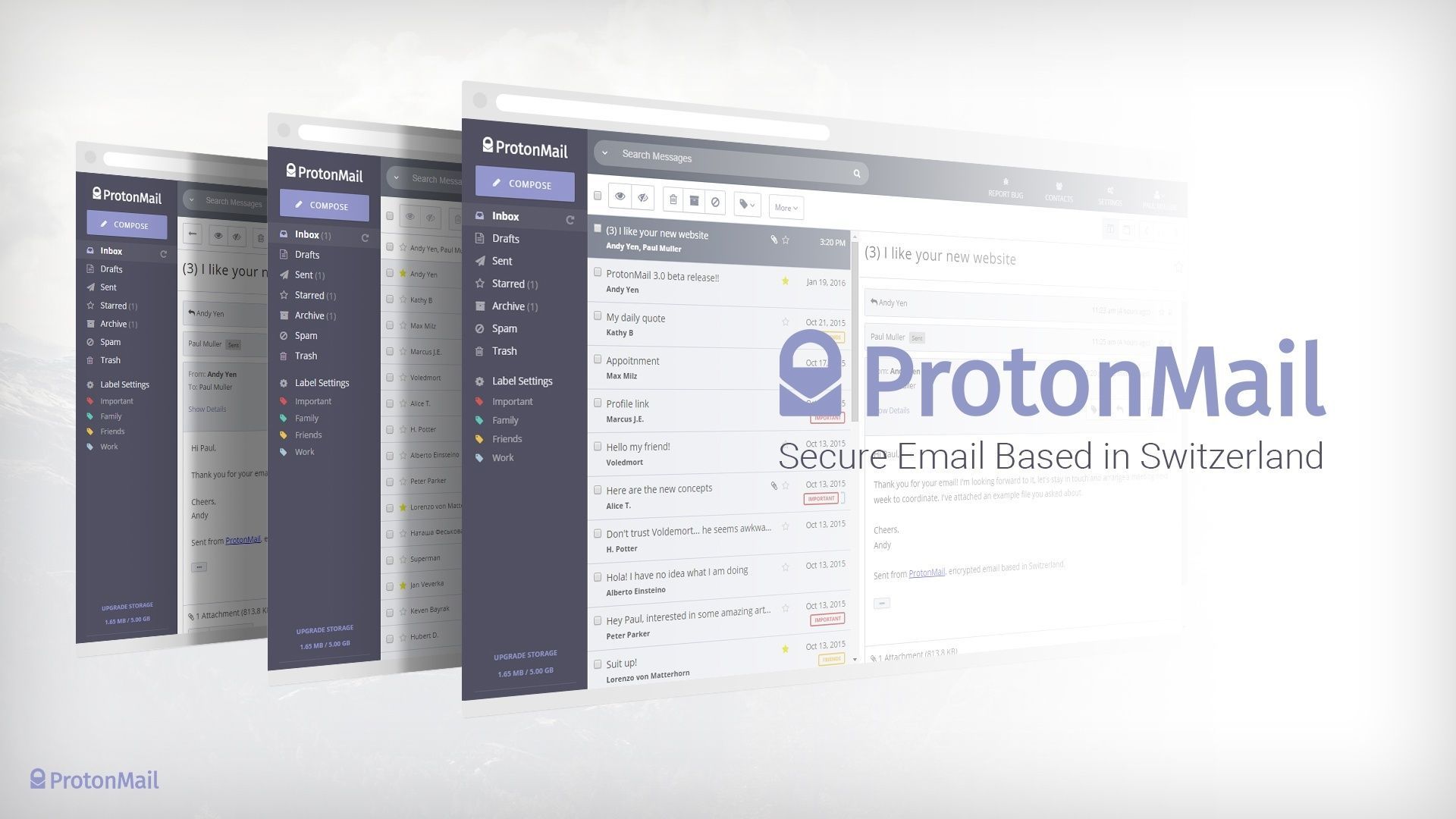 ProtonMail offers a great interface and encrypted / secure email for the web and mobile.
ProtonMail is an open source secure email provider based in Switzerland. They offer a very solid web based email client as well as apps for all major devices. I
Since discovering ProtonMail, I've switched all of my CMS Critic email over to it from Gmail and I won't be switching back. Not only do I prefer the client and it's layout to that offered by Google but I also love the full email encryption.
Furthering that, it's open source and as a fan of open source software and an avid user (all of my computers run open source operating systems) it was a natural fit.
You do not need to provide any personal information to create a secure email account with ProtonMail and they do not keep IP logs that can be linked to your anonymous email account.
Here's a breakdown of the security features included with ProtonMail:
End-to-End Encryption
Messages are always encrypted and transmitted in encrypted format between their servers and your device. If you are emailing other ProtonMail users they are also fully encrypted within their secure server network.
Zero Access to User Data
The makers of ProtonMail have absolutely no access to your data. They use what they call a zero access architecture which means the data is encrypted in a way that makes it inaccessible to them.
Open Source Cryptography
ProtonMail uses open source cryptography which means they use well tested, trusted encryption algorithms.
If you want to learn more, you can visit this page: ProtonMail Security Features.
Free or Paid? The Choice is Yours
It's easy to sign up for ProtonMail and they offer a quick and easy to set up free offering. With it you receive the following features:
500MB Storage
150 Messages per day
Limited Support
They also offer two paid plans; Plus and Visionary which offer more advanced features and range from $4 – 25 USD / month.
The Plus account includes:
5 GB storage
Send up to 1000 messages per day
Labels, Custom Filters, and Folders
Send encrypted messages to external recipients
Use your own domain (ex: john@smith.com)
Up to 5 email aliases
Priority Customer Support
The Visionary account includes:
20GB storage
Up to 50 email aliases
Support for up to 10 domains
Multi-User Support (6 total)
No sending limits*
Labels, Custom Filters, and Folders
Send encrypted messages to external recipients
Early access to new features
Includes access to ProtonVPN
Getting a Free Account
Getting a free account is easy, you can sign up with very little information. Literally, they just need you to select a username and password with an optional recovery email. For the purposes of this ProtonMail review, we'll set up a free account.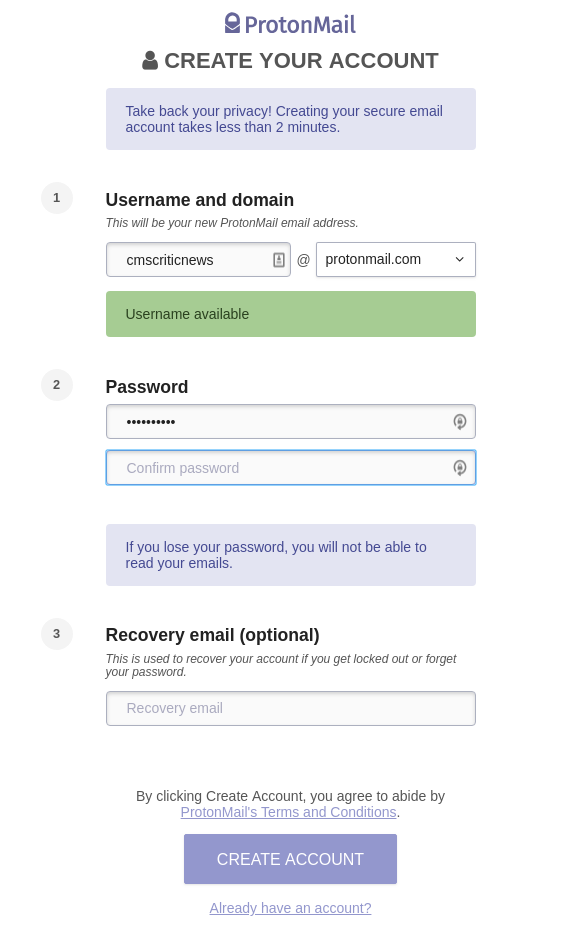 ProtonMail Review – Setting up an Account
Once signed up (and verified by either having a code emailed or sent to your via SMS) your account will be created and you'll be redirected to your new inbox.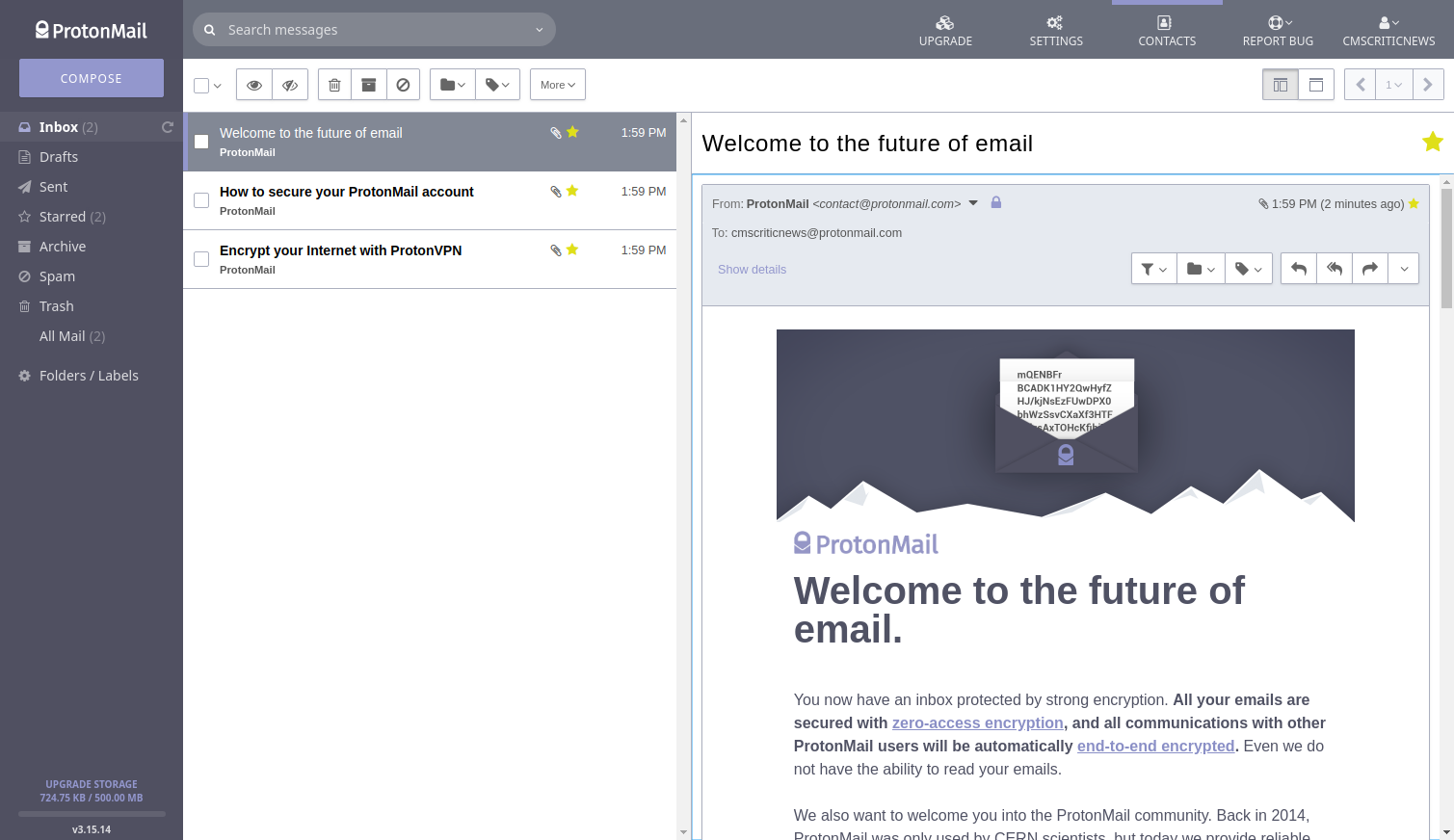 ProtonMail Review – The Inbox
The Interface
The same features you'd expect from any web based email are present along with those specific to ProtonMail.
When sending a new message, for example, you have two new security based features available if you choose to use them; expiration time and encryption for non-ProtonMail users.
To enable an expiration time, from the new message window, select the small hourglass icon in the bottom left and you'll be presented with this screen: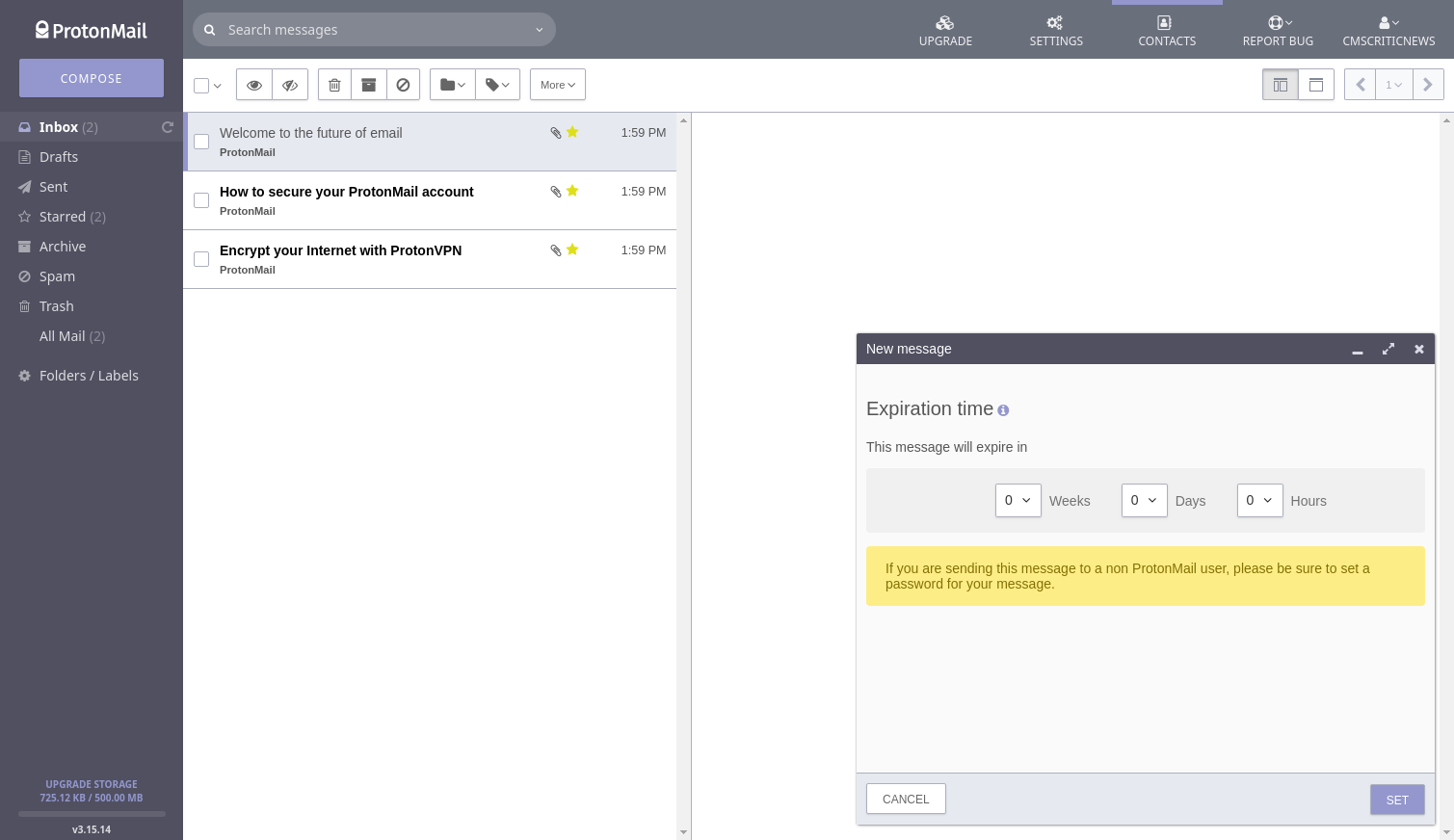 ProtonMail Review – Setting an expiration time for an email.
To enable encryption for non-ProtonMail users, you can set a password which you would then provide to the recipient. To use this, you would click on the padlock icon in the bottom left of the new message window.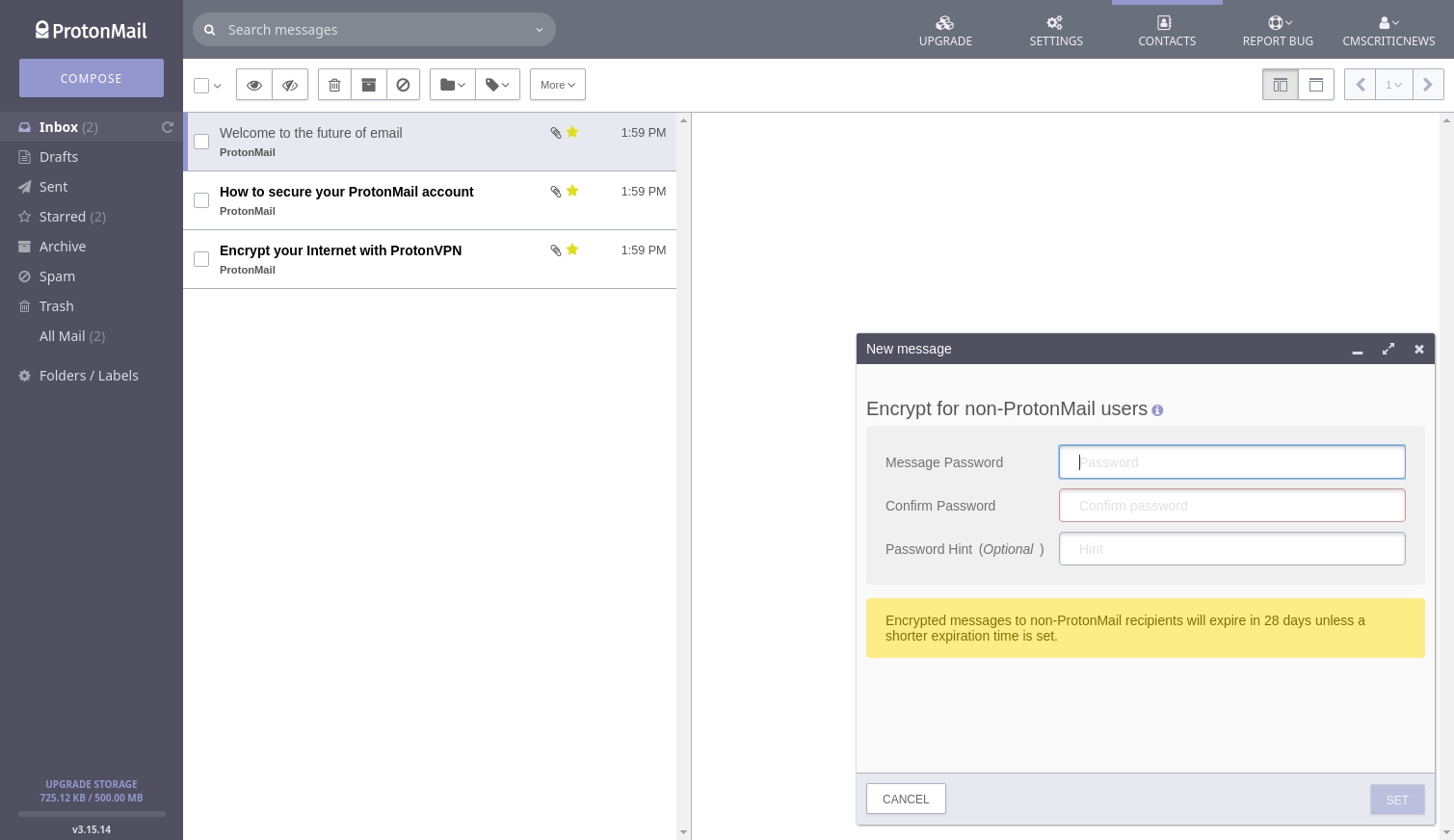 ProtonMail Review – Setting up Encryption
Along with these inbox features (and the typical ones you'd expect from any email client) there are a number of ways to migrate to ProtonMail from your existing email provider.
Migrating to ProtonMail
If you choose to migrate over to ProtonMail, there are a number of ways to do so. ProtonMail offers an easy way to import your contacts which you can access from the contacts tab.
Clicking import will present you with the following screen: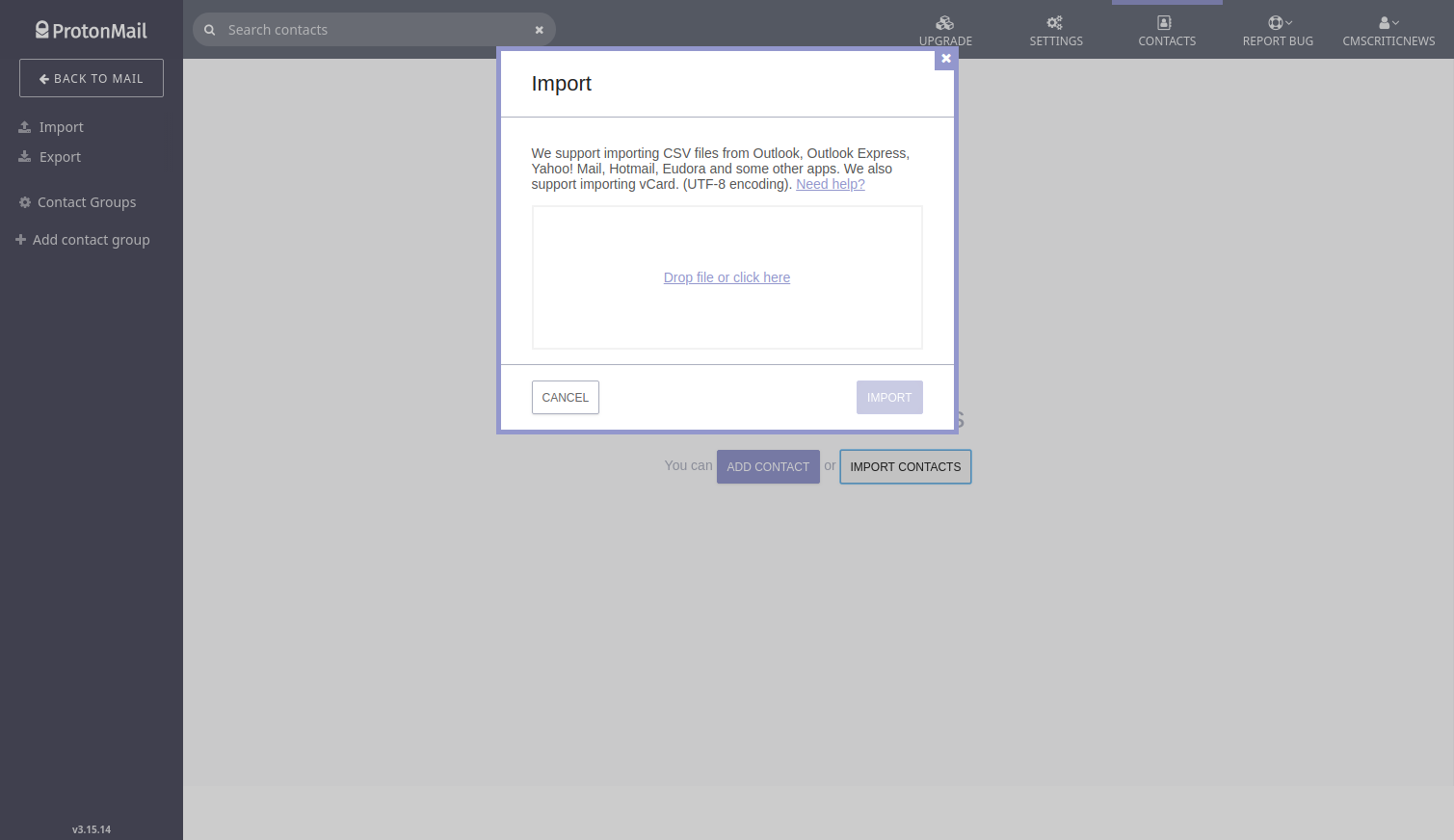 ProtonMail Review – Importing Contacts
ProtonMail supports importing CSV files from Outlook, Outlook Express, Yahoo! Mail, Hotmail, Eudora and some other apps. They also support importing vCard. (UTF-8 encoding).
Importing Email
To import email into ProtonMail, you'll need a paid account as their import/export tool is only available to paid users. Fortunately, however, the cost of a paid plan is incredibly reasonable and affordable for everyone. The Import/Export tool works for Windows and Mac users and allows you to import your email from another email account or from a local MBOX or EML file on your device.
You can learn more about the app and how it works on the Import/Export tool page.
Other Security Features
Along with your typical settings which you can find by clicking the settings tab, you can also find information via the Security tab. This tab shows you past logins and current and previous sessions, amongst other things.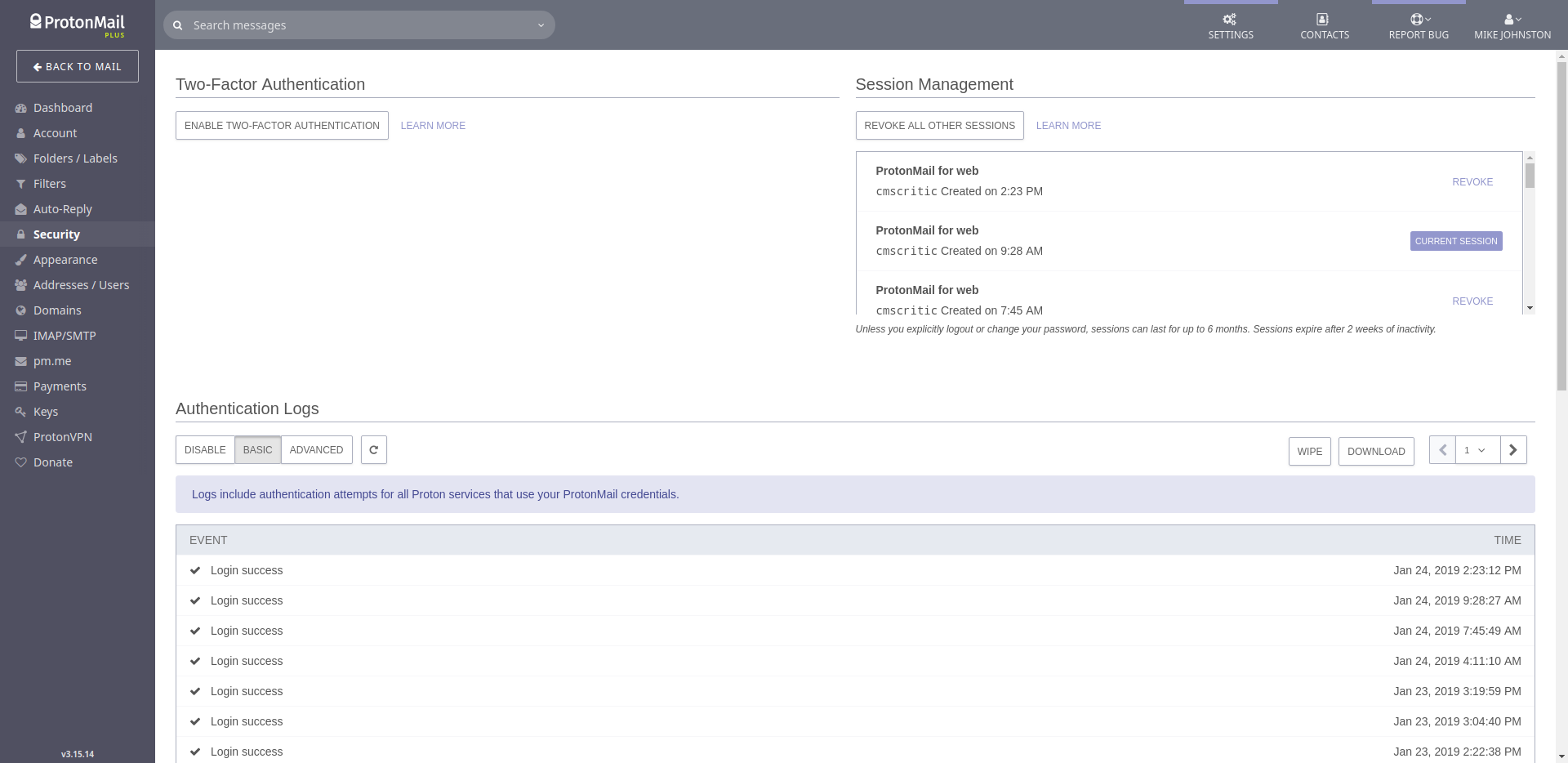 ProtonMail Review – Security and Session Management
My Experience So Far
Overall, I've found that I thoroughly enjoy using ProtonMail. I prefer their platform and the simplicity offered by the interface. There are, however, a few things I'd like to see added / improved upon which I'll get into in my pros/cons list below.
Pros
Simple Interface that is easy to use.
Encrypted email.
Price point is very reasonable for personal users and business users.
Highly secure.
Plenty of features.
Easy to migrate from other platforms.
Excellent help and documentation.
Available smartphone apps.
Cons
No scheduling option for emails to allow me to remind myself to reply to it at a later date.
In their mobile apps, there is no way to select multiple emails at once and mark as read or archive them in one go, things must be done individually.
No calendar with which to integrate.
Overall, I think ProtonMail is an excellent option but I would love to be able to migrate my calendar over from Google and make the transition a complete one. For now, however, I'm stuck using it there until that time comes.
Have I convinced you to try it? Go ahead and sign up and see for yourself.