At the end of May, Janus Boye and his Boye & Co organized two meetups in Europe with Scott Brinker, the famous author of the Marketing Technology Landscape infographic, Editor at chiefmartec.com, and VP Platform Ecosystem at HubSpot. Janus also invited some other speakers to showcase the reality of martech development in different types of companies. Since Kentico was sponsoring the event, I was lucky to attend both of them and can summarize the most interesting takeaways.
MarTech Supercollision
Let's start with Scott Brinker's presentation, "MarTech Supercollision," covering several marketing technology topics. He discussed companies' varying levels of maturity with marketing technology, emphasizing the need for investment in people in addition to technology. Scott also explored the concept of composability in marketing, including its importance in creating personalized customer experiences. He analyzed the three different trends in MarTech, calling it "Supercollision" because each would be big enough to shake the industry. Still, they are now happening all at the same time: data, composability, and AI.
Scott has been exploring the MarTech landscape since 2011. There has been a 7,258% growth in the number of martech solutions in the last 12 years. The 2023 infographic contains 11,038 solutions – that's an 11% increase from 2022, even though there was a 7% churn rate.
And as we discussed during the event, we can expect an even bigger influx of new niche solutions since the development of AI has completely shaken and democratized software development. It's unexpectedly easy to brief an AI tool to create the right app for your needs and put it to the market.
In my insightful interview with Scott after the event, the conversation also revolved around the rapid influx of tools and innovations in the market and how companies can embrace these changes. Scott emphasized the importance of maturity in utilizing MarTech, stating there's a wide distribution in how mature companies are with leveraging marketing technology. He referred to Avinash Kaushik's 90/10 rule, where 90% of the investment should be in people and only 10% in technology. Scott stressed the importance of investing in people, not just in terms of individual skills training but also in evolving the organization to support what those people want to do.
We also discussed the concept of composability in martech. Scott explained that while there are different levels of composability, most companies are currently at a stage where they are composing relatively lightweight but very useful things. He emphasized the importance of creating a supportive culture that encourages people to experiment with applying these tools. He also highlighted the need to adjust processes to remove some friction, making it easier for people to use these tools.
I found Scott's analogy of composability to LEGO clever for explaining it to non-tech marketers. However, I argued that in many cases, companies do not need to buy thousands of small bricks to build a LEGO ship. They can use pre-built sets, put them together, and have fun with the result instead of spending hundreds of hours sitting with the most expensive building kits. Sure, there are people who love to spend this time building it from scratch, and it's fine. It's just not the majority.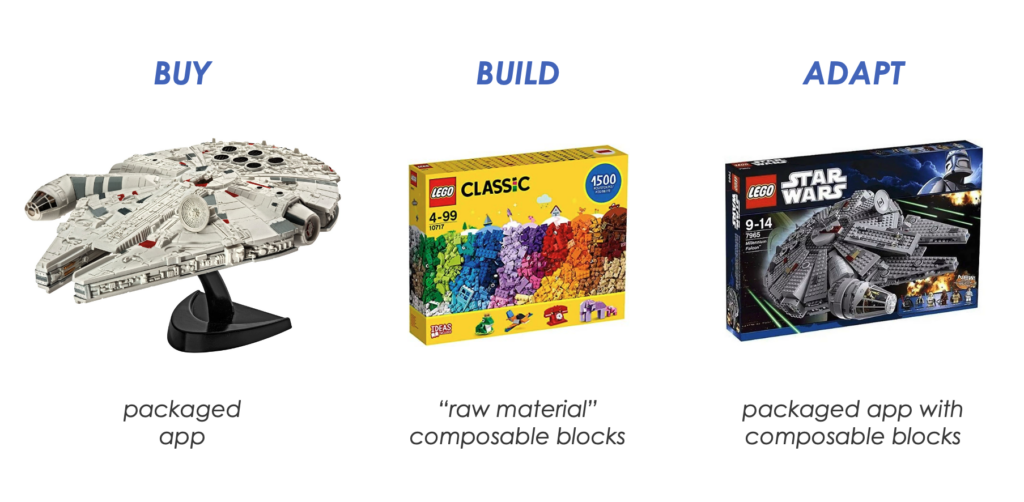 What about people?
I already mentioned that Scott emphasized the importance of people during our interview, but there was also another presentation called "The hidden success factor behind MarTech" by Angelika Gust, Head of Marketing at S-Bahn Berlin, focusing on this.
Angelika argued that martech should actually be called "Communication Technology (CommTech)" since it should help anyone in the company, not just marketing people, communicating with the customers. And very often, she said, these hidden champions, employees with direct or indirect customer touchpoints, are not digitally native and savvy.
To maximize the potential of MarTech, companies should focus on transforming these employees into enthusiastic MarTech users. Angelika underscores the need for roles like Data Translator and MarTech Operationalizer, who can bridge the gap between MarTech specialists and other employees. She also highlighted the importance of addressing fears like job loss due to AI advancements.
The digital experience maturity journey
The journey towards digital experience maturity is a shared endeavor, as evidenced by the contributions of our own Kentico partners and customers at these two events. Co-founder of ACTUM Digital, Jan Havel, along with Delfin Vassallo, Marketing Director at Uponor, and Roel Kuik, Kentico Practice Lead at Aviva Solutions, alongside Michael van Dijk from APS IT-diensten, all shared their unique experiences of re-platforming.
The key takeaway from these presentations is the vital importance of ensuring that technology is in harmony with the specific needs and objectives of the business. By doing so, companies can optimize their technology solutions for the greatest impact. This alignment boosts operational efficiency and enriches the user experience and satisfaction, improving engagement metrics.
Furthermore, these insights highlight the necessity of flexibility and the courage to shift towards different goals and strategies when needed. Whether it's crafting a user-friendly interface for content editors, establishing a unified component library, or tackling industry-specific challenges in B2B e-commerce, the capacity to adapt and pivot is crucial.
In summary, these insights reinforce the mantra of "Listen to understand." Companies can make well-informed decisions about their technology implementations by attentively listening to the needs of the business, the users, and the industry. This approach, combined with a commitment to employee satisfaction and a willingness to embrace change, can substantially enhance business performance and user experience.
Jenda Perla is VP of Marketing at Kentico, and a CMS Critic contributor.