Communication has always been at the heart of Twilio's mission, and this week's acquisition of Segment – a leading vendor in the red-hot Customer Data Platform (CDP) space – sent a clear signal to the market.
With this latest addition to the cloud communication provider's portfolio, Twilio is doubling down on the digital world's unquenchable thirst for data. Segment's ability to process events at scale (roughly 500 billion a month) amplifies Twilio's focus on customer engagement, helping developers connect with customer data across multiple sources.
This move also demonstrates the impact of accelerated digital transformation in a COVID-19 world, where organizations require more access to data-driven tools to grow and compete. Both Twilio and Segment have seen greater opportunity as businesses shift to a digital-first model in the wake of the pandemic – and that shows no sign of slowing down.
While Twilio's cloud communication platform enables developers to build integrated solutions with text, email, telephony, chatbots, and more, it lacked direct access to customer data – which is where Segment excels. The combination of their API-driven platforms could lead to even greater innovation around purpose-built apps that enhance the digital customer experience.
The deal, first announced on October 12, was closed earlier this week – and Segment had been valued at $1.5 billion according to The Wall Street Journal. The $3.2 billion price tag is only the latest in a long line of strategic acquisitions for Twilio – and a "hair" more than the $3 billion they paid for transactional email platform SendGrid in 2018.
Customer data meets customer engagement
Twilio is on a mission to become the leading customer engagement platform. While they have the infrastructure in place, they needed the essential data layer to provide a more complete view of the customer. For developers, this means more access to data intelligence, allowing them to build more unique and purposeful applications with Twilio's APIs.
"The one thing that's always been missing from Twilio as we've been building up this customer engagement platform is understanding of the end-users themselves," said Twilio co-founder and CEO Jeff Lawson. "We power the communications, but we don't actually know who the customers are."
While the applications have yet to be written, it's all but certain that Twilio will add Segment's core capabilities to their cloud communications platform to enhance a wide variety of channels including SMS messaging, voice, video, e-mail, the Internet of Things (IoT) and more.
Unifying data sources with Segment
As the leading customer data platform, Segment enables developers to unify customer data from every customer touchpoint, and empowers marketing, sales, and customer service leaders with the insights they need to design and build relevant, data-driven customer engagement.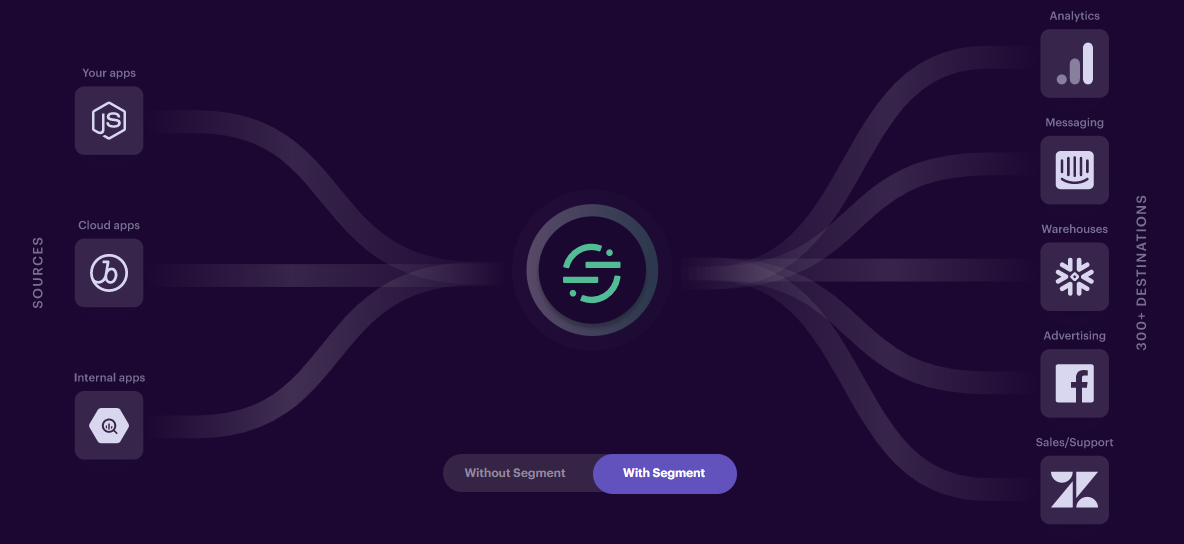 Armed with these data optics, Twilio's developers will now have the ability to craft apps and experiences based on a more holistic view of the customer. Segment unifies a wide range of data from multiple sources like Facebook, Salesforce CRM, websites powered by CMS, eCommerce platforms and more.
"Exceptional customer engagement requires not only high-quality data, but the infrastructure to activate those insights across every channel and customer interaction," said Peter Reinhardt, co-founder and CEO of Segment. "By bringing Twilio and Segment together, we will help businesses build a foundation of actionable insights critical to engaging with customers based on their needs and preferences to deliver a positive, seamless and effective customer experience."
Destroying the data silos
Getting the data is only half the battle. The real challenge lies within an organization's data silos: isolated sources of data that prevent access from users, groups or applications. Breaking down these silos has become a critical objective for data-driven organizations, and the Twilio/Segment union promises to "bring down the walls" so organizations can realize true data integration.
Data silos destroy great customer experiences.

Segment lets developers and companies break down those silos and build a complete picture of their customer. Combined with Twilio's Customer Engagement Platform, we can create more personalized, timely and impactful engagement across customer service, marketing, analytics, product and sales.

- Jeff Lawson
Attacking the data silo problem takes time. By leveraging their flexible APIs, Twilio and Segment will be able to accelerate the process by connecting developers with a more diverse ecosystem of data sources – such as web apps and analytics tools – all without having to write new code. This will eliminate countless development hours building custom integrations.
Why the Acquisition Makes Sense
When Twilio acquired SendGrid, they already offered a broad range of communications services through a set of APIs, allowing developers to integrate custom phone numbers, manage services such as SMS and voice, and tap messaging channels like Facebook, WhatsApp and Google Home. But e-mail was a missing link – and SendGrid closed this gap.
Twilio and Segment are a good fit for many reasons. They're both API-first products, they're both developer-centric, and they already offer an integration.
While it's still early days, it's clear that the market sees significant value from this match. CDP continues to be a growth space, so investing in Segment can certainly provide more wind in Twilio's sails. But their unique focus on powering developers with more access to data aligns perfectly with Segment's mission, and gives the platform greater reach and appeal.
With a proven infrastructure for handling billions of customer-generated events, Twilio now appears to have everything a developer or organization needs to build data-driven apps – and improve the end-to-end customer experience at every touchpoint. In effect, it will create a single, unified view of the customer journey – making it a holistic customer engagement platform that could rival Salesforce and Adobe.
The real question is: what will Twilio buy next?
About Twilio
Twilio is a cloud communication company that powers the future of business communications, enabling phones, VoIP, and messaging to be embedded into web, desktop, and mobile software. They take care of the messy telecom hardware and expose a globally available cloud API that developers can interact with to build intelligent & complex communications systems. As your app's usage scales up or down, Twilio automatically scales with you. You only pay for what you use - no contracts, no shenanigans.
About Segment
Segment is a customer data platform that democratizes access to reliable data for all teams and offers a complete toolkit to standardize data collection, unify user records, and route customer data into any system where it's needed.
Segment collects user events from every customer touch point (your website, web and mobile apps, tools) and provides a complete data toolkit to every team in your org. They take care of the redundant and repetitive work that comes with integrating new tools, maintaining data pipelines, and managing data quality.
Today, over 20,000 companies across 70+ countries use Segment, from fast-growing businesses like Instacart, Peloton, and Bonobos to some of the world's largest organizations like Levi's, Intuit, and FOX. With Segment, companies can connect and activate reliable first-party data across 300+ marketing, analytics, and data warehousing tools.