Weebly is a user-friendly website builder that first launched in 2006 and hit 1 million users by 2008. The platform now hosts over 30 million sites and it's touted as one of the most popular drag-and-drop website builders around.
Weebly has undergone many revamps since its initial launch, and its latest facelift for 2016 offers more features than ever before. The popular site allows individuals to create a website in less than an hour, regardless of their level of expertise, and it's become popular with both hobbyists and professionals alike.
Seems too good to be true, right? I decided to check it out and see for myself.
Getting Set-Up
Getting started with Weebly is simple. Users can log in with Google Plus, Facebook, or by inserting their email address – all you need for this is your name, email, and password.
One thing I'd add here is a 'sign up with Twitter' function, as it just seemed a bit odd to have left it out. Maybe that's just me, though, being the Twitter addict that I am.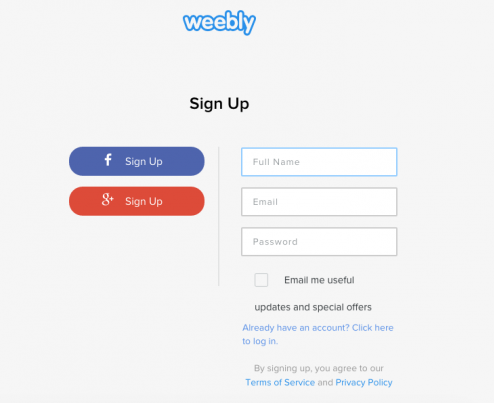 There's a little box you can tick if you want to sign up for updates and offers which is pretty standard, but what I really liked about this was that it was unticked by default. Many sites leave it ticked automatically, so you have to go and untick it if you're not actually interested in receiving these emails. It's one of my pet peeves because you just know they're trying to catch you out. Sneaky rascals.
Once you've registered, the below screen will pop up and you'll be asked what the focus of your site is, i.e. standard website, blog, or store.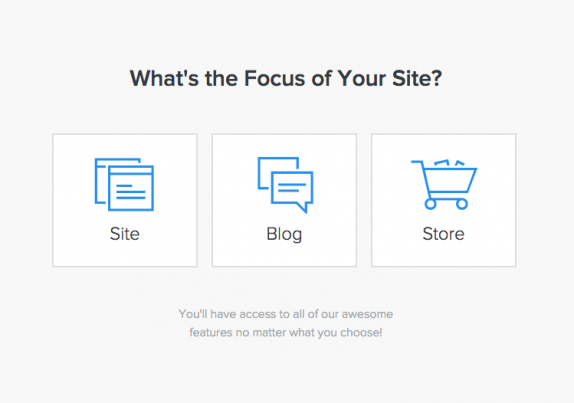 After this, you can categorize it as business, personal, group/organizational, wedding, education, or portfolio. If you don't want to or none of these apply, you simply can tell them to stop asking you (they're cool like that – there's even a tick box for it).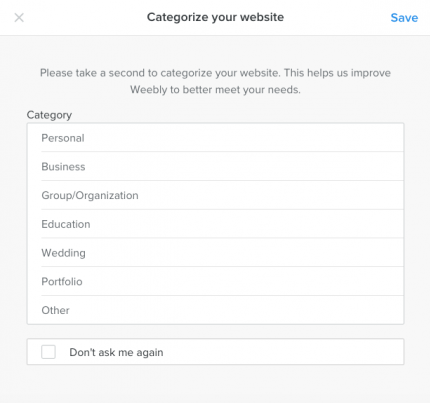 Then comes the fun part, choosing a design theme.
Themes and Design
Weebly offers over 100 attractive, professional, and well laid-out themes, so it'll be difficult not to find one you like. Most come with customizable color sets too, so you're spoilt for choice.
Every single theme is mobile responsive and just one click at the top of the screen allows you see your site as a mobile viewer would. You can't add elements to the mobile version but you can get a like for like preview that should allow you to see them.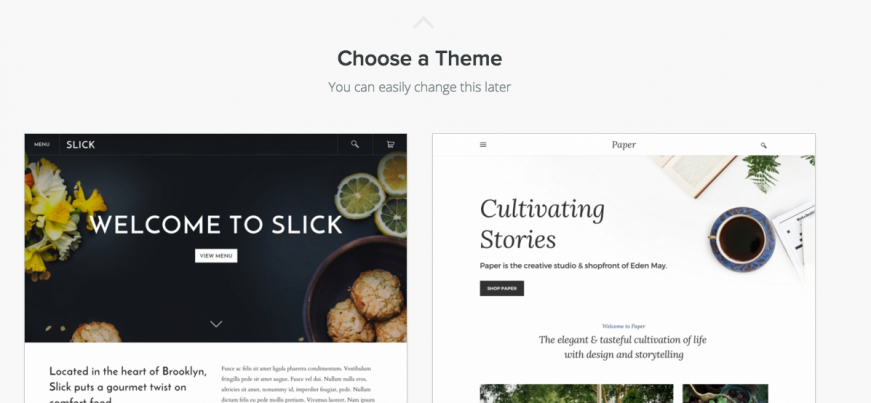 Choosing Your URL
If you have a free account, you'll receive a 'weebly.com' domain name. If you want your own custom domain then you'll have to sign up to a $39.95 registration fee. Is it a little high? Maybe, but I think it's worth it if you want to create a professional site. Weebly make this whole process really easy, but you can also run it through an independent domain registrar such as Godaddy.
Website Editing
The website building interface is very easy to use, with a double row of elements/apps on the left hand site and a menu bar at the top. In a lot of sites like Weebly, adding pages can be a bit of a treasure hunt. But Weebly has its Pages section clearly labelled and easily editable, so you can just add pages and rearrange them with your mouse as you see fit.
Designing each page is simple. Want to edit that title? Just click on it and type. Want to make it bold? There's a familiar toolset to let you edit it on the screen. There are no gimmicks and no multiple click paths – you just edit what you see and it's done, instantly.
Everything is very clearly labeled and users can design a site by dragging elements onto the various pages. There are a variety of elements available such as a contact form, map, social buttons, slideshows, and more.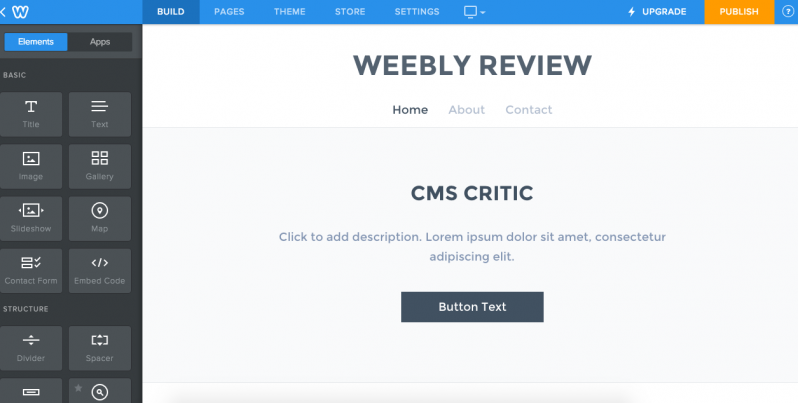 The contact form offers tons of options, such a custom confirmation URL, file uploads, drop-down selects, a phone number field. It definitely gets a thumbs up from me.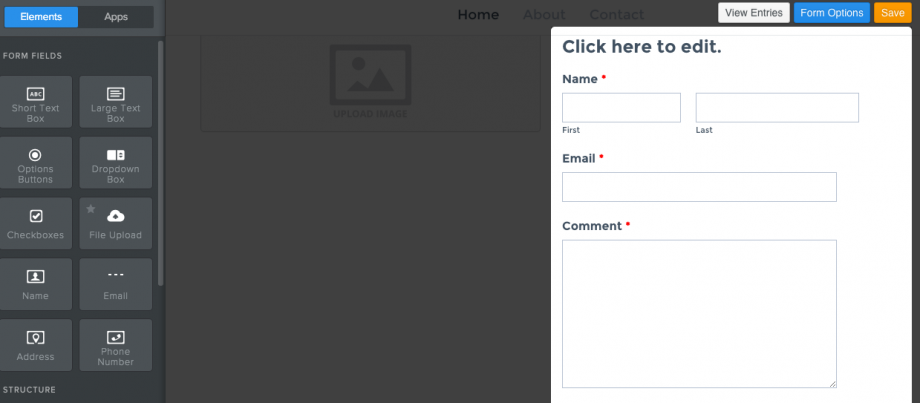 However, the real player here is the App Center which launched in August 2015. The new and improved App Center is a real bonus to the site, and you can now add any number of site boosting elements to your Weebly site with a minimum of fuss.
Everything is drag and drop. They have a number of apps for free and, as you'd expect, a number of premium ones too. All of these add value and are handily categorized into their retrospective uses – Marketing, Site Tools, eCommerce, Communication.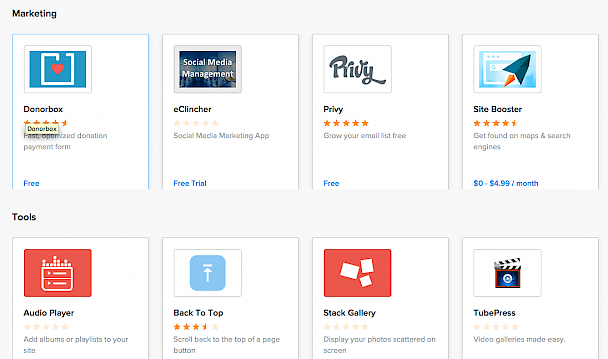 Everything is cleanly laid out and all of the apps are compatible with Weebly, so you won't encounter any of the plug-in mishaps that can happen with sites like WordPress.
Pricing
There are 4 pricing options available on Weebly, ranging from Free, Starter ($4 p/m), Pro ($8 p/m), and Business ($25 p/m). The free account is decent enough and provides unlimited pages, but you'll also have to deal with Weebly branding and promotions. With the Starter Plan, you can add your own URL and the Weebly branding is removed. You also get to avail of premium support.
If you opt for the Pro account you'll get additional multimedia features and added password protection. And the next step after this is a Business account, which offers SSL support and fully integrated ecommerce. For more on the specifics of each package, click here. The choice is yours.
Pros:
Extremely user friendly with a drag-and-drop system
Variety of professional, sleek, and mobile responsive designs available that can be further modified with HTML/CSS
Pre-designed layouts
New and improved app centre
Good eCommerce functionality
Cons:
You need to fork out for the Business package for fully integrated eCommerce
Customization options are limited if you are a coding whiz-kid
Should You Use Weebly For Your Website?
For me, it's a no-brainer. Weebly is a superb site with an excellent and intuitive design system that makes everything as easy as possible, for even the most novice user.
Weebly's biggest strength is the intuitiveness of its layout. Everything just 'makes sense', and everything that is clickable – is editable.
It really seems to have something for everyone. Want a simple drag and drop? It's there. Want more sophistication? You can add media, embed code, add Google Analytics – all from the one page and taskbar.
The learning curve is very graduated and it can be scaled to adapt to the skill levels of all users. Personally, I'd rate this as the best site builder out there right now.
The prices are pretty reasonable too, with Weebly's premium package coming in at a quite reasonable $25 a month. The basic package is maybe a little thin on features like HD video and audio, but they are the little extras worth paying extra for.
The guys behind Weebly seem to really care about their users and continuously strive to meet the needs to those users by improving their service offering. If you'd like to know more about what they provide, check them out over here (their blog is worth a look too).
Have you used Weebly yet? Why not share a link to your Weebly site with us in the comments section below.