Want to win a copy of  Drupal 7 Explained: Your Step by Step Guide by Stephen Burge? We're giving a paper copy away to one lucky reader. This is a great book that gives your pretty much everything you need to know about Drupal and it's written by a top Drupal trainer.
We'll ship it straight to your door. This is for North American readers only (sorry!) – If you prefer a digital copy, we can do this as well.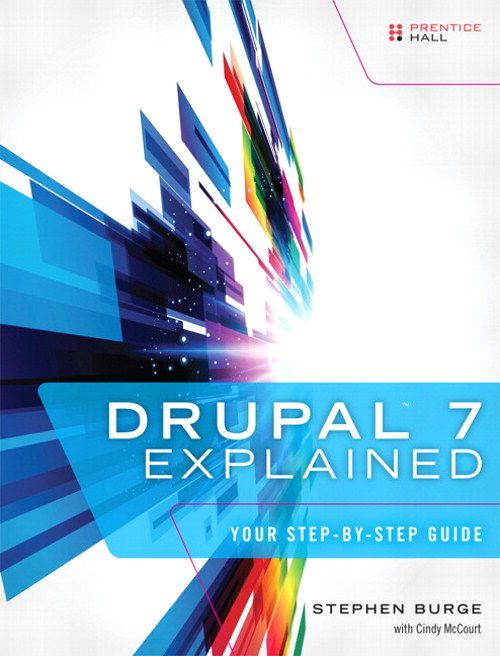 At last: Drupal made truly easy! Master Drupal 7 hands-on, step-by-step, through easy examples from a leading Drupal trainer!

Drupal 7 is an amazingly powerful web content management system. But many newcomers find it confusing, and most Drupal books are just too complicated to help. If you want to spend less time struggling with complex instructions, and more time building sites that make you proud, this is the book for you!

Top Drupal trainer Stephen Burge teaches everything you need to know—and nothing you don't need to know! You'll master Drupal one easy step at a time, through a complete, real-world sample project. You'll find crystal-clear visuals, simple explanations, perfect analogies—all extensively tested with real Drupal beginners.

This Guide's quick, easy coverage includes:

Planning a site that will be easy to build and manage
Installing Drupal and setting it up to work reliably and securely
Quickly finding the Drupal tools and features you're looking for
Mastering an easy 3-step workflow for creating new content
Delivering more interesting content with fields and new content types
Creating intuitive site structures and user navigation
Adding powerful site features with just a few clicks
Completely redesigning your site in minutes with Themes
Adding site search, registration, and more
Presenting content in tables, lists, grids, or photo galleries
Creating advanced layouts and 2- or 3-column designs
Controlling what users on your site can see and do
Preparing your site for launch
Administering and updating a live site efficiently and safely

Drupal 7 Explained requires absolutely no experience with Drupal, content management, website construction, programming, scripting, or even HTML. Stephen Burge has taught thousands of beginners—and thousands more who've experimented with Drupal but haven't mastered it yet. Nobody knows more about guiding Drupal users up the
learning curve—from confusion to results!
How do you enter to win?
Simply post a topic in our forums and then let me know (either by commenting here or tweeting to @CMSCritic). It can be anything from a question to a general post showing your support for a nominee in the Critics Choice CMS Awards.
Good luck to all who enter!