Zesty is an enterprise-grade modern SaaS (Software as a Service) CMS that has a demolition plan for "traditional" enterprise content management systems. The ones that, at present, dominate the enterprise market.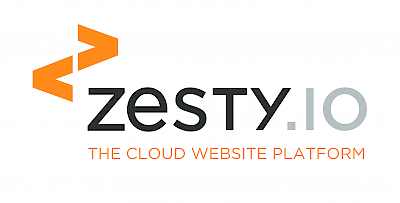 The claim is simple. Zesty provides an avenue away from these traditionally inefficient and clunky platforms, offering up a leaner and more flexible approach thanks to newer, versionless technology, combined with all the other benefits of the SaaS model.
To suggest that the end is nigh for such big market players is bold, but Zesty certainly has its reasons.
Patchy & Community Reliant
Zesty has sprung from the notion that "traditional" open source, on-premise, and, "cloud based" web content management systems hinder business to keep connected to customers.
Too often, we see brands failing to adapt to customer demands and market trends, typically because of a slow-moving CMS that neither boasts the features nor the flexibility to produce what is required. And what's required is constantly changing.
Why? The accusation is simple, and difficult to argue against.
Many leading WCMS are patched together platforms. They are the result of years (and sometimes decades) of community input, cemented together by vendor updates – many of which only serve to throw a spanner in the works of the platform's existing features and plugins.
Zesty's solution, lies in SaaS. That means it's versionless, infrastructure-less, and requires a whole lot less input from IT.
A Look at Zesty's Core Features
Zesty is a modern SaaS enterprise-grade platform that empowers businesses to build and deploy intricate and effective web properties with efficiency.
It was built to support and empower mid-market brands who have stuttered in the face rapid market change, due mainly to their sluggish CMS.
According to Randy Apuzzo, Zesty's CEO, Zesty customers see:
Reduced IT costs
Accelerated deployment of digital web properties
Server management costs cut to zero (all infrastructure is covered in license)
Reduced implementation labor costs
Page load times faster than leading competitors
Reduced team facilitation and communications time
More accurate, usable, customer data when tracking conversions
Guaranteed uptimes of 99.99%
Highly flexible data management capabilities
Zesty Satellite & Zesty EcoSystem
Zesty comes in two flavours.
First up, is Zesty Satellite™. A Zesty Satellite setup is built to equip brands with a one-stop-shop platform, providing everything needed to easily create, deploy, maintain, and optimize enterprise web properties with a lean attitude.
The same lean attitude that produces the benefits listed above.
Alternatively, Zesty EcoSystem™ puts brands in a position to oversee all of their Satellite™ properties from one, unified platform.
With an EcoSystem™, businesses can manage a group of websites and gain valuable insights on multi-site performance, like traffic analytics and user behaviour.
Furthermore, third party analytics systems can seamlessly integrate, to work alongside, or instead of, Zesty's native features.
Lean Machine
Zesty claims that their technology enables brands capture data more effectively from across multitudes of web properties and mobile applications. Multi-site traffic analytics and user behavior reporting is built in while seamlessly integrating with third-party analytics platforms.
All of these features provide brands more time and energy to innovate and drive revenue instead of worrying about IT and deployment challenges.
To sum up, Zesty has been built with speed, efficiency and end-to-end lean deployment in mind.
To learn more about Zesty, check out their website.
Also, be sure to explore more of Zesty via our CMS Directory.